The Animaniacs are back, and Yakko, Wakko, and Dot are causing plenty of havoc—and joy—on a streaming service.
Hulu, whose reboot of Animaniacs will premiere next month, debuted the first look at the reboot during New York Comic Con over the weekend. It's a meta-commentary on the return of Animaniacs, which has been off the air since 1998 baked into the nostalgia that comes with recreating Jurassic Park's most iconic scene. Instead of dinosaurs in the park, Alan Grant and Ellie Sattler are witnessing an impossible event: The return of the Warner brothers (and Warner sister).
The recreation is so spot-on that when you place the two versions side-by-side, it's practically a shot-for-shot rendition. Some elements differ, such as the fact that Grant and Sattler can physically interact with Yakko, Wakko, and Dot, whereas it was kind of impossible to do that in the actual Jurassic Park.
But just about everything else works. Steven Spielberg (who is an executive producer on the Animaniacs reboot) is standing in for park owner John Hammond. Jeff Goldblum's Ian Malcolm watches from a nearby car while one of Hulu's lawyers, who practically has dollar signs in his eyes, notes that "we are gonna make a fortune with this show."
Hulu's rollout of Animaniacs also highlights one of the pitfalls of launching a new reboot in 2020. The show's handle is @TheAnimaniacs, mainly because the @animaniacs handle was already claimed.
Warner Bros. TV, which makes Animaniacs, reached out to @animaniacs in an attempt to get the shorter handle for the show. According to @animaniacs, it ended up being a misunderstanding. She thought that Warner Bros. TV wanted to take the handle away from her by force and she soft-blocked them. But when Warner Bros. TV reached out, she wasn't able to connect via DM.
"what happened was last monday @warnerbrostv followed me and i freaked out bc i thought it meant they were making moves to force me out of my account so i softblocked them," she wrote. "AFTER i did that they finally tweeted at me for them to dm them and i literally spent an entire week asking them to follow me again so i could. yea i fucked up but wb had their chance to get back to me!!! i didn't force them to settle for shit they fumbled just as much as i did."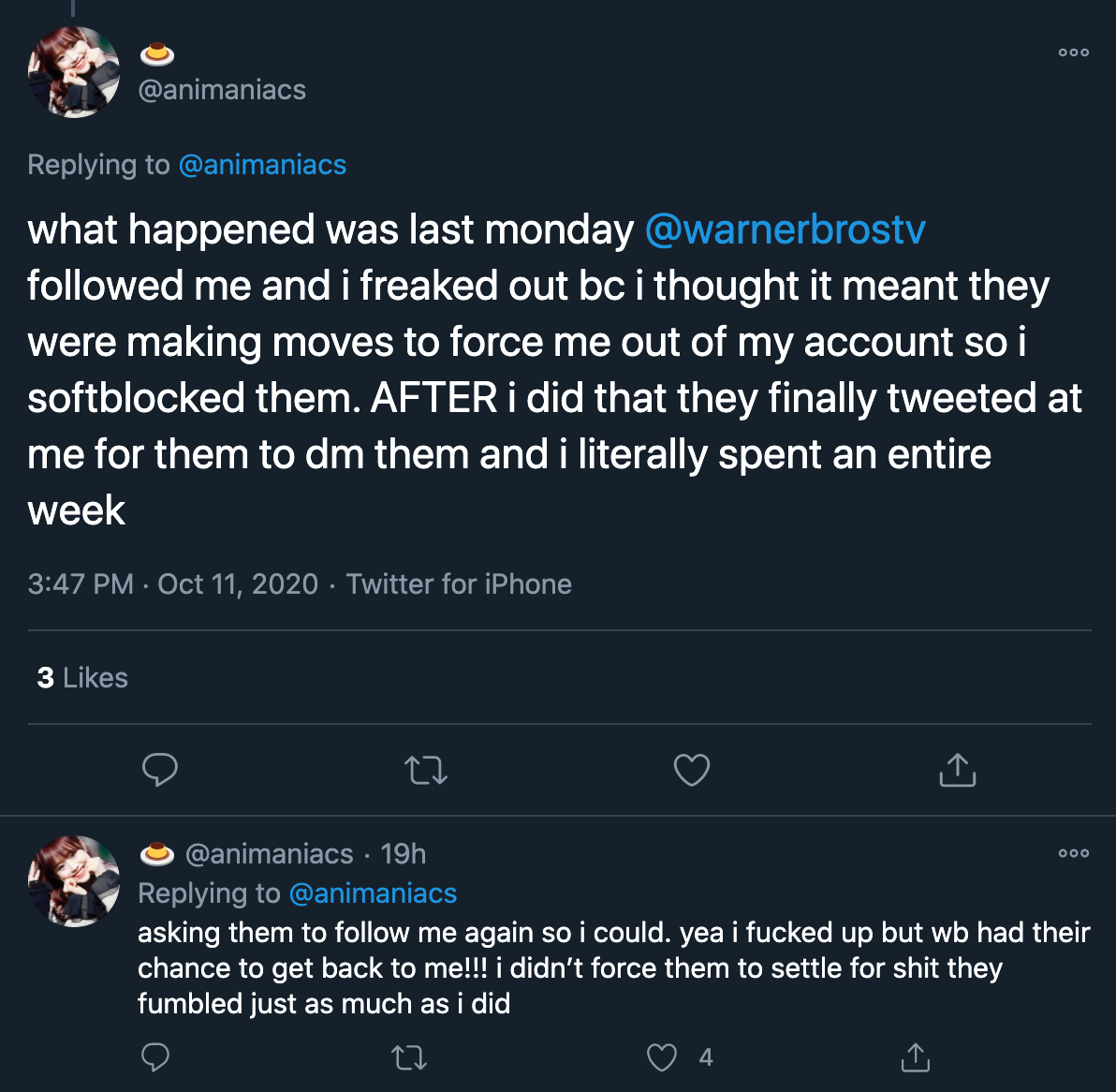 Eventually, Warner Bros. TV just went with @theanimaniacs handle on Twitter. But @animaniacs has taken to trolling the corporation for not being able to get the handle—and even offered it up.
"hey @TheAnimaniacs my dms are open if u still wanna talk," @animaniacs tweeted.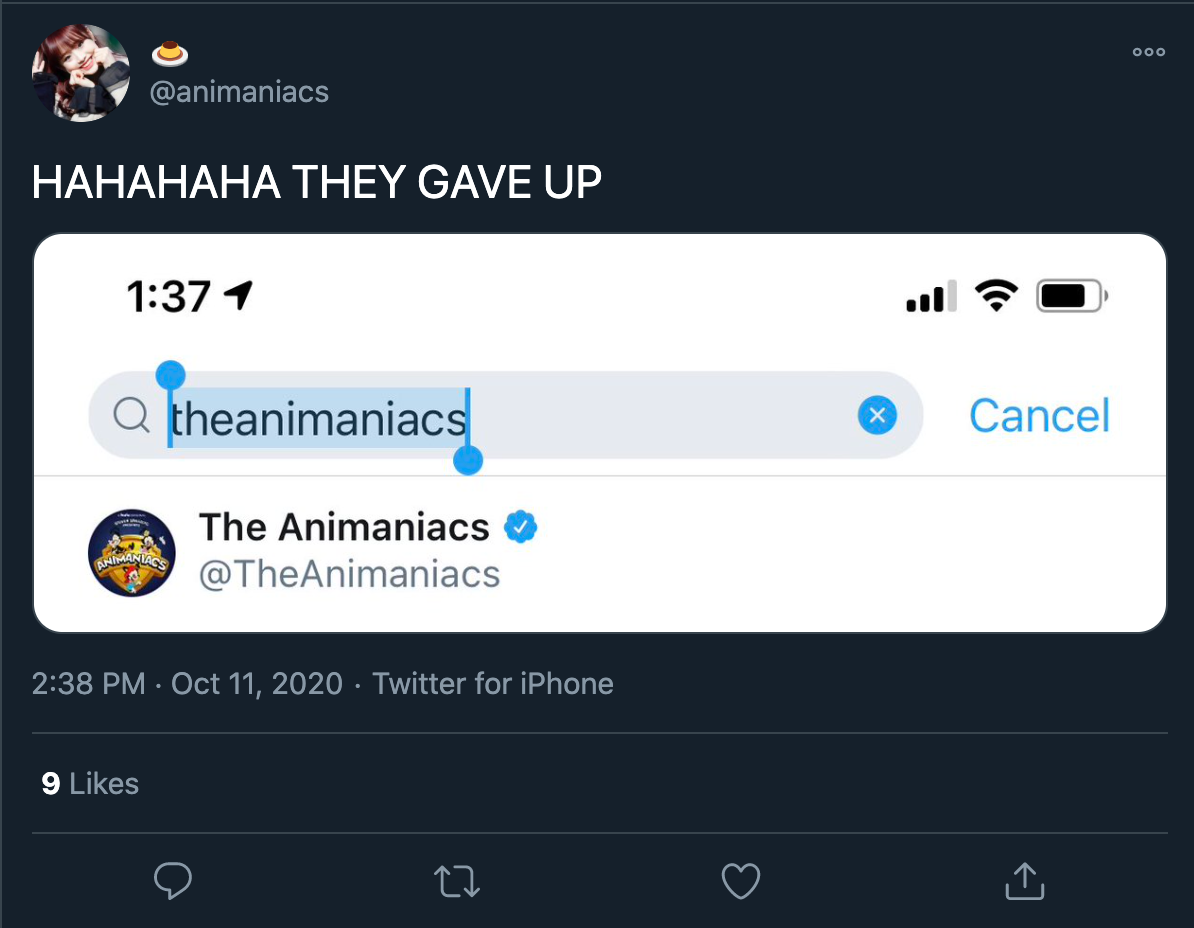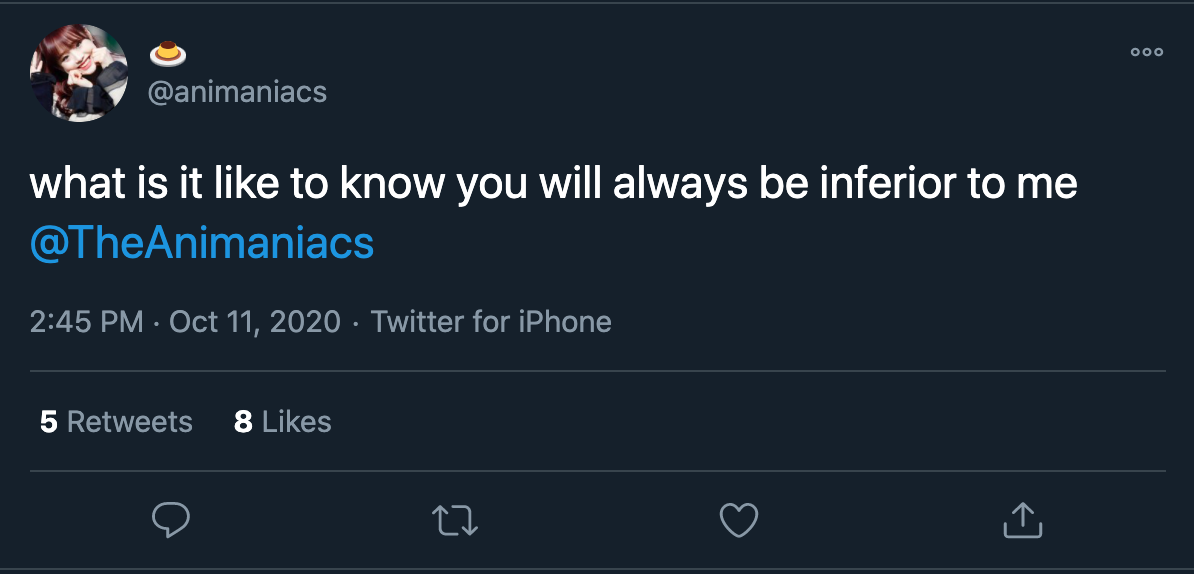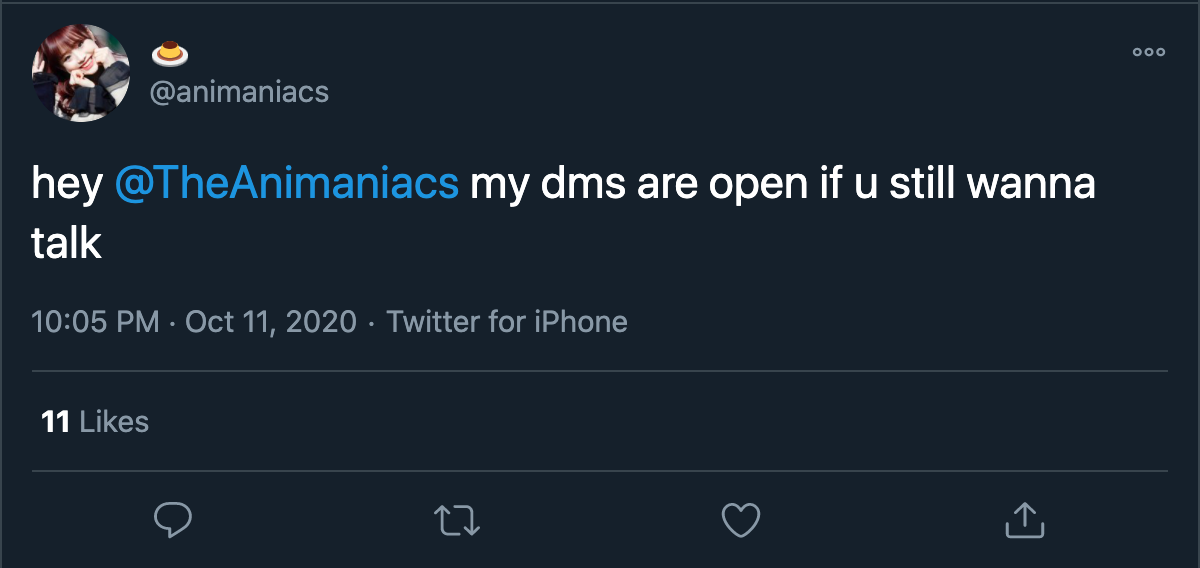 Animaniacs will debut on Hulu Nov. 20.