Whether to mask your identity or just pull a quick prank on your friends, changing your voice over Discord is easier than ever. Modern voice changer software requires minimal setup, features a wide range of custom presets, and gives experienced audio engineers a toolbox to let loose on gamers. Not to mention, some of the best voice changers for Discord are free to use.
While Discord doesn't have any official voice changer plugins, any Windows Discord user with an internet connection can hop online and find the right modifier for them. For the best choices available, here's where you should look.
How does a voice changer work?
Voice changers take real-time input from your microphone and alter how your voice sounds on the fly. That means all you need to do to change your voice is download a program, run its setup instructions, set up your voice changer's audio output with Discord, and make sure Discord plays back your modified voice correctly. Once everything is ready, just speak, and the voice changer will do the rest.
When choosing a voice changer software, there are a couple of things you'll want to keep in mind. For one, make sure you have a relatively decent microphone attached to your computer. There's no point using a voice changer if your audio sounds muffled to begin with. On the software side of things, the ideal voice changer should have a pretty immediate response time and take up minimal system resources so you can quickly communicate with others without any serious performance impact on other programs, such as multiplayer games, OBS, or Discord itself. If you're running your voice changer on older hardware, make sure to close out any unnecessary programs you have up too, such as Google Chrome or VLC Media Player.
To keep things as streamlined as possible, you'll probably want to download Discord onto your PC if you haven't already. Head on over to the program's official website to get started.
The best voice changers for Discord
1) Clownfish Voice Changer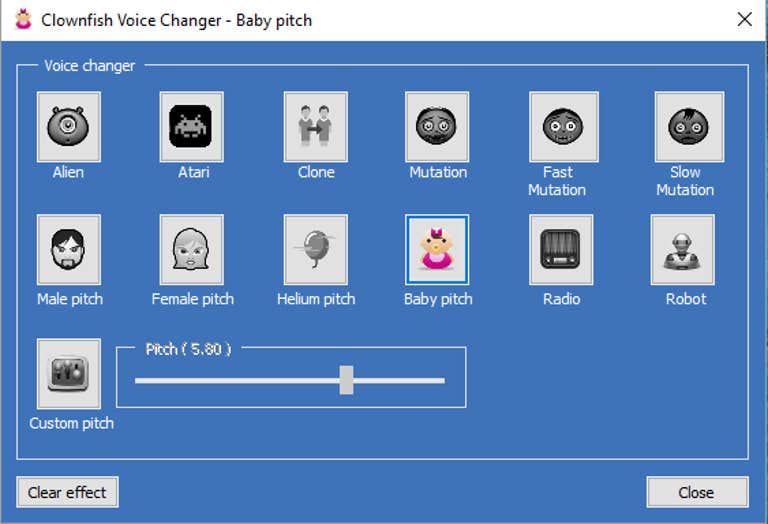 Clownfish Voice Changer is easily one of the most popular voice changer programs out there—and for good reason. With Clownfish, users can change their voice to anything from an alien to a robot to a female speaker. While it certainly isn't the most powerful or convincing voice changer out there, and you'll need a Windows PC to use it, Clownfish works with a wide range of programs, is easy to use, and requires minimal setup. It's perfect for pranks, joking around with friends, or anyone who just wants to change their voice as fast as possible.
Alongside its voice-changing capabilities, Clownfish lets users play music over a microphone, send text-to-speech audio over voice chat, or play sound effects through a soundboard. Don't expect Clownfish to hide your identity in a discreet and professional way, but for a quick fix, it shouldn't be missed. For more information, head over to Clownfish's official website.
2) Voxal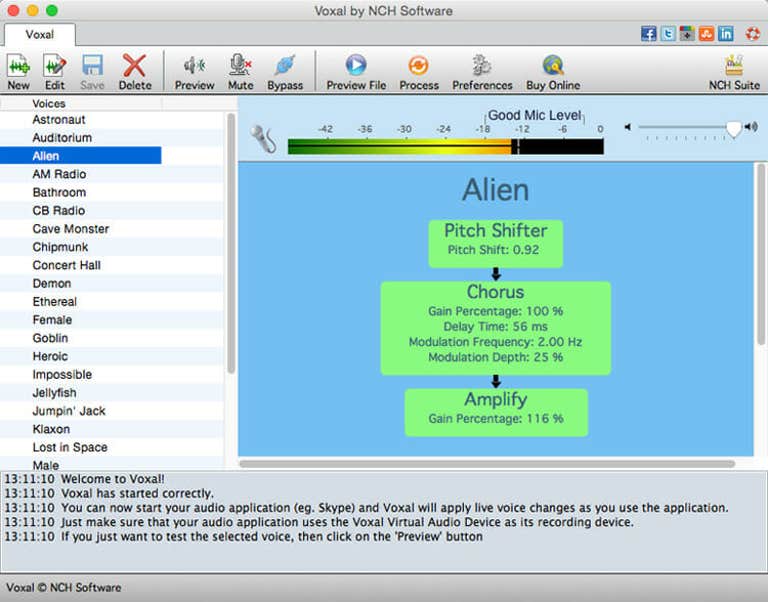 If you're interested in playing around with your voice presets, you'll want something a little more powerful than Clownfish. That's where Voxal comes in. It's a free-for-personal-use software program that lets users choose from a wide range of voices or create their own.
Voxal features several varying categories for users to pick and choose from, from fantasy and sci-fi voices to special voice-over effects, such as a stadium announcer sound. In Voxal's case, each preset comes with a flow chart demonstrating how the user's voice is changed, and the software suite lets users change up the presets or add their own additions. From adding an echo or reverb, a vibrato to a "wah-wah" effect, experienced audio engineers have a lot of control with Voxal's features, making it a solid pick.
Voxal is available for free for non-commercial users, although to unlock the program's full features you'll need to purchase a Voxal Voice Changer Plus license. Visit Voxal's official page for more information.
3) Voicemod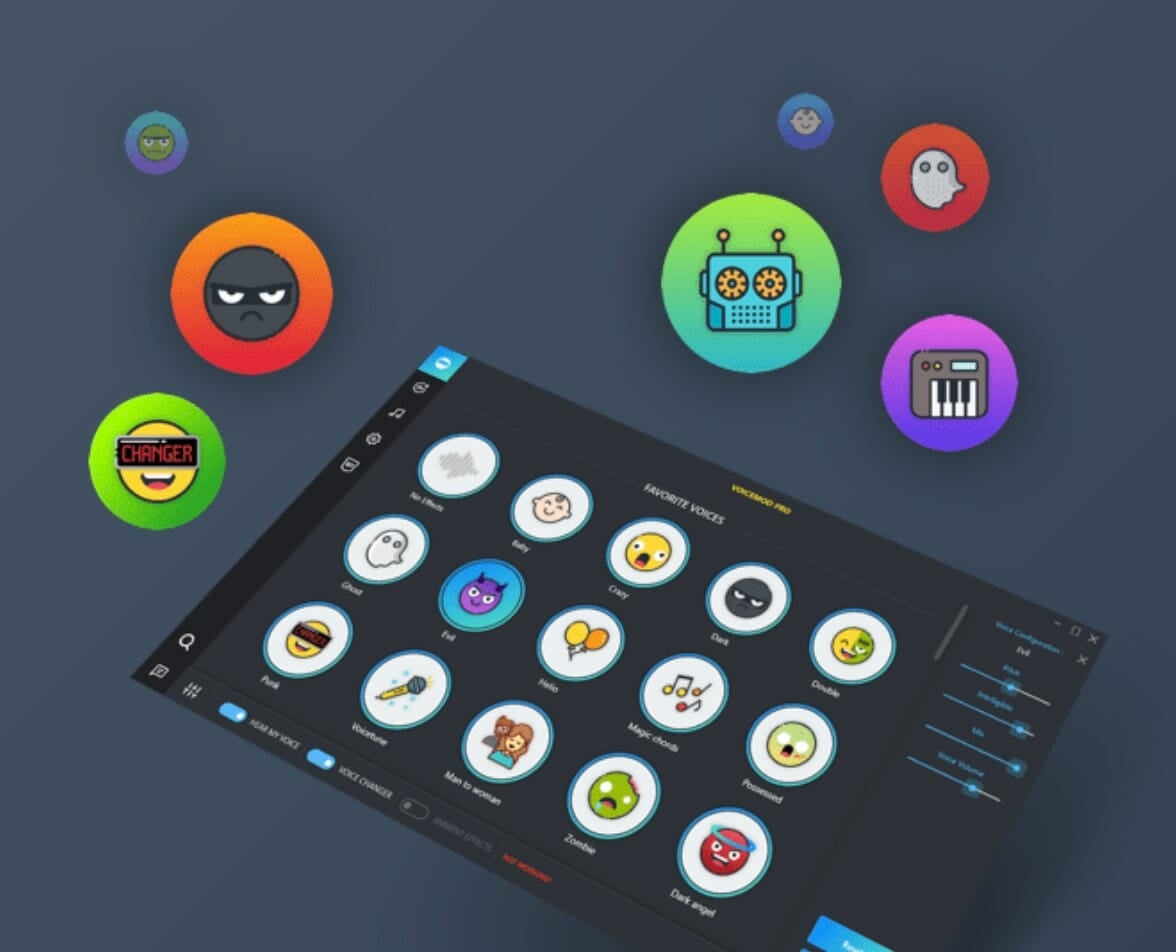 Easily one of the most popular voice changers available for Discord, Voicemod is a versatile audio program that lets users choose from over 70 preset voice mods. From a cop radio to a robot to a female voice, Voicemod's changes are high-quality options that sound believable to listeners while requiring zero setup on the speaker's behalf: Just click the option you want, and Voicemod does the rest. For Discord users who want a powerful voice changer that's as easy to use as it is convincing, Voicemod is a must-have, especially for those that want to do roleplays, mask their identity, or change their voice while streaming on Twitch.
Voicemod comes in two different iterations: a free-to-use software and a paid professional license. The program's freeware version rotates through random voices each day, whereas an annual or lifetime license will grant you every voice available along with a wide range of options to edit and customize its sounds. For more information, head over to Voicemod's official website, which also includes instructions on how to install the program and use its presets.