Flappy Bird is gone, but fans definitely still want to play. And if they're not ready to pay $99,000 for a phone with the original app, you can bet they're searching furiously for somewhere to download it for free.
That's where the hackers and scammers come in.
Trend Micro reports that fake Flappy Bird apps are spreading, taking advantage of the game's surreal Internet buzz to charge unwanted bills and steal personal information from oblivious customers..
The fake apps, especially rampant in Vietnam and Russia, work by sending messages to premium numbers and adding hidden charges to the victims' phone bills.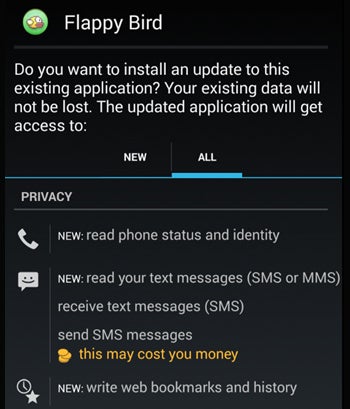 Screengrab via Trend Micro
But this is nothing new. Popular mobile games like Candy Crush, Angry Birds, and Temple Run have all been targets of smart cybercriminals who know how to find a victim. 
Trend Micro, an Internet security firm, offers a guide to checking the legitimacy of Android apps but also recommends installing a security app to do the job for you.
Screengrab via Flappy Bird (Remix by Jay Hathaway)