After Flappy Bird developer Dong Nguyen followed through on his decision to pull Flappy Bird from both the Apple App Store and Android Marketplace, fans with the game installed are attempting to cash in by listing their phones on eBay.
Just hours after the game was taken down from the App Store on Sunday, iPhones with Flappy Bird installed began appearing on eBay, listing the "rare" game as the reason for their high starting prices. One used iPhone 5S has reached almost $100,000 in bids, making an iPhone with Flappy Bird installed almost as expensive as a pristine condition vintage Porsche. An eBay search for 'Flappy Bird iPhone" lists 1,620 results, almost all of them are used iPhones being sold with the game installed.
This listing has 63 bids. It's already up to $90,100: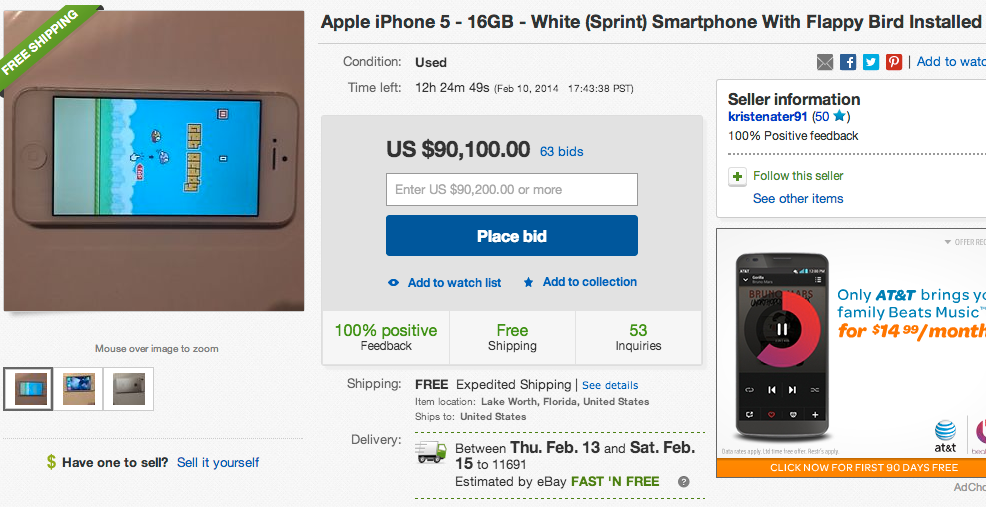 Flappy Bird was the first success for the low-profile Vietnamese game developer Dong Nguyen, who created basic games largely by himself. When Flappy Bird began to rocket up the App Store charts, he expressed concern that people were overusing his game.
@MattJayYoung @trueflappybird @listicleco Yes. I like it. People are overusing my app :-(

— Dong Nguyen (@dongatory) February 8, 2014
Following his announcement that the game would be removed from the App Store, Nguyen has remained silent, sending no tweets. Angry Flappy Bird fans, believing that their games would stop working, threatened to kill the developer unless he restored the game to the App Store.
@dongatory Fuck you asshole, I'll fucking kill you if I have to. Put back Flappy Bird on the market or I'm afraid I'll have to meet you.

— Jim Clisby (@arrowtotheKirby) February 10, 2014
@dongatory YOURE A FUCKING PUSSY!!! And this game sucks anyway. But you're still a pussy. Kill yourself.

— Naor Daniel (@Deraifus) February 9, 2014
Other social media users keen to monopolize on the hysteria surrounding the removal of Flappy Bird have created fake accounts for the game's developer, urging Twitter users to retweet them to help bring the game back.
10,000 Retweets and I will put Flappy Bird Back in all the Online stores!! #flappybird #dongatory

— Dong Nguyen (@dongatory_) February 9, 2014
This fake "backup" account claims that the game is being remade from scratch.
Thoughts of progress? Not done yet!! #dongatory #flappybird pic.twitter.com/V2fan0Mi6S

— Dong Nguyen (@dongatory_) February 9, 2014
Rumors of developer Dong Nguyen's suicide have also spread across Instagram, Twitter, and Facebook following his online silence.
For those who provoked the death of the guy who was just doing sth he loves for a living, you should feel guilty. #DongNguyen RIP

— ZhaoXiang (@im_zhao_xiang) February 10, 2014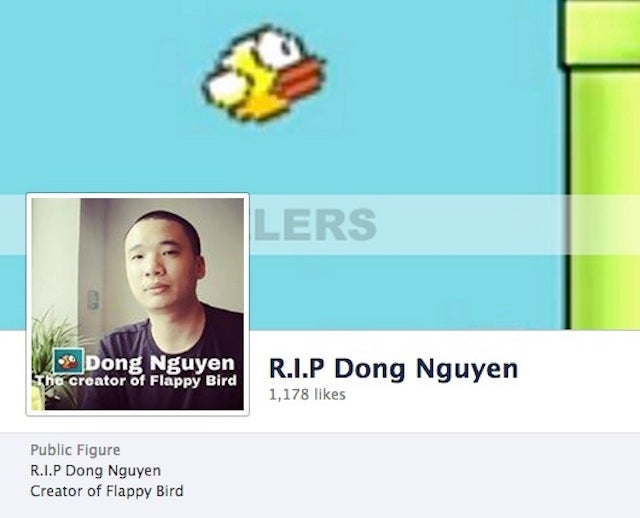 So what will Dong Nguyen do next after Flappy Bird gripped the world? Well, it seems like he just wants to return to making games, as evidenced in his final tweet.
And I still make games.

— Dong Nguyen (@dongatory) February 8, 2014
Photo via ursonate/Flickr