Here's how to break the brain of the Internet: post what may be a series of spoof videos from guys who are known tricksters about an event scheduled for April Fool's Day on a reputable website. Then hastily delete the videos. Is it a prank? Or a cult fandom's dream come true?
If an "accidentally" leaked version of the National Geographic website turns out to be real, we might be about to find out.
The guys at Rifftrax have faced down plenty of monsters in their long careers as snarky movie-watchers. First, as Mystery Science Theatre 3000 characters, they endured endless B-movies (in space), bravely making snarky audio commentary alongside crawling eyes, creeping terrors, and dudes with funny names.  Then, for the Internet-based Rifftrax, they riffed everything from recent pop culture behemoths to Vanilla Ice.
But can they handle such horrors of the animal kingdom as the terrifying mantis shrimp and Rudolph the leaf-nosed bat?
After MST3K ended its 10-year run, its core comedy team of Mike Nelson, Bill Corbett, and Kevin Murphy took to the Internet. After all, it is the natural home for nerdy fans of cult humor packed with in-jokes and miles of esoteric pop culture references. The three of them formed Rifftrax in 2006 and began to frolick in the merry fields of remix culture, reprising their riffer roles, this time including popular recent movies alongside forgotten duds.
Through the years, with the growing popularity of Rifftrax movies like The Room and the flood of MST3K movies onto YouTube and Netflix, MST3K has stayed amazingly relevant. Last year, the show's creator, Joel Hodgson hosted a popular Thanksgiving MST3K marathon, and Rifftrax successfully kickstarted more than $250,000 to license Starship Troopers for a live viewing for their fans. (They wanted Twilight, but Lionsgate wasn't quite willing to hand its cash cow over to the snark-wolves just yet.)
But the question has always remained: is there any way to get the MST3K/Rifftrax crew back into television?
National Geographic may have found one. Last week, Rifftrax fans perked up at a mysterious listing from TV Guide for a "Total Riff Off" on the nature and science channel. Scheduled for April 1, there's little description of what's to come, other than a blurb that promises that the Rifftrax crew will "add comedic commentary to National Geographic shows."  
But that's not all: The National Geographic's video home page briefly had a listing for the aforementioned riff off, complete with short video previews of hilariously titled segments like "Aggro Mantis Shrimp" and "Man vs Balrog."  Though the videos now redirect to the main National Geographic home page, a cached version remains: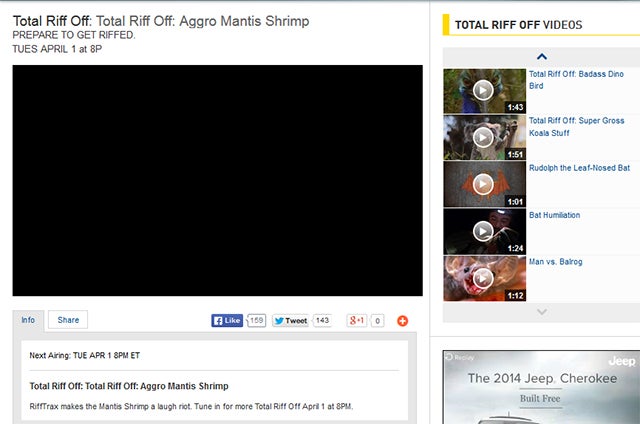 Screengrab via Google cache
On Reddit yesterday, user hot_wheels_guy spoke for all of us: "NatGeo will be dead to me if they're joking about this."
We're pretty sure it's no joke. MST3K loved a good holiday marathon. And Rifftrax's takes on nature films, including hilarious clunkers like Buffalo Rider, have proven successful over the years. National Geographic seems like a great way to bring them back to the small screen. 
An inside source at Rifftrax responded to a Daily Dot query with:
Is it a prank?
Is it on?
Is it off? 
Is it real?
Is it grass?
We're calling it: Tune in your antennas on April 1 to National Geographic at 8pm. Badass Dino Bird compels you.
Photo via Wikimedia Commons; CC BY-SA-3.0