Warning: This story contains major spoilers for the comic Here's Negan.
Have you ever wondered where Negan from The Walking Dead got his barbed-wire-wrapped baseball bat? Or, perhaps a better question, why he calls it Lucille and seems to have an eerily close—verging on romantic—relationship with it?
A 16-chapter backstory titled Here's Negan has all the answers. The story was previously serialized by Image Comics, but it's now being collected as a hardcover edition due out in early October.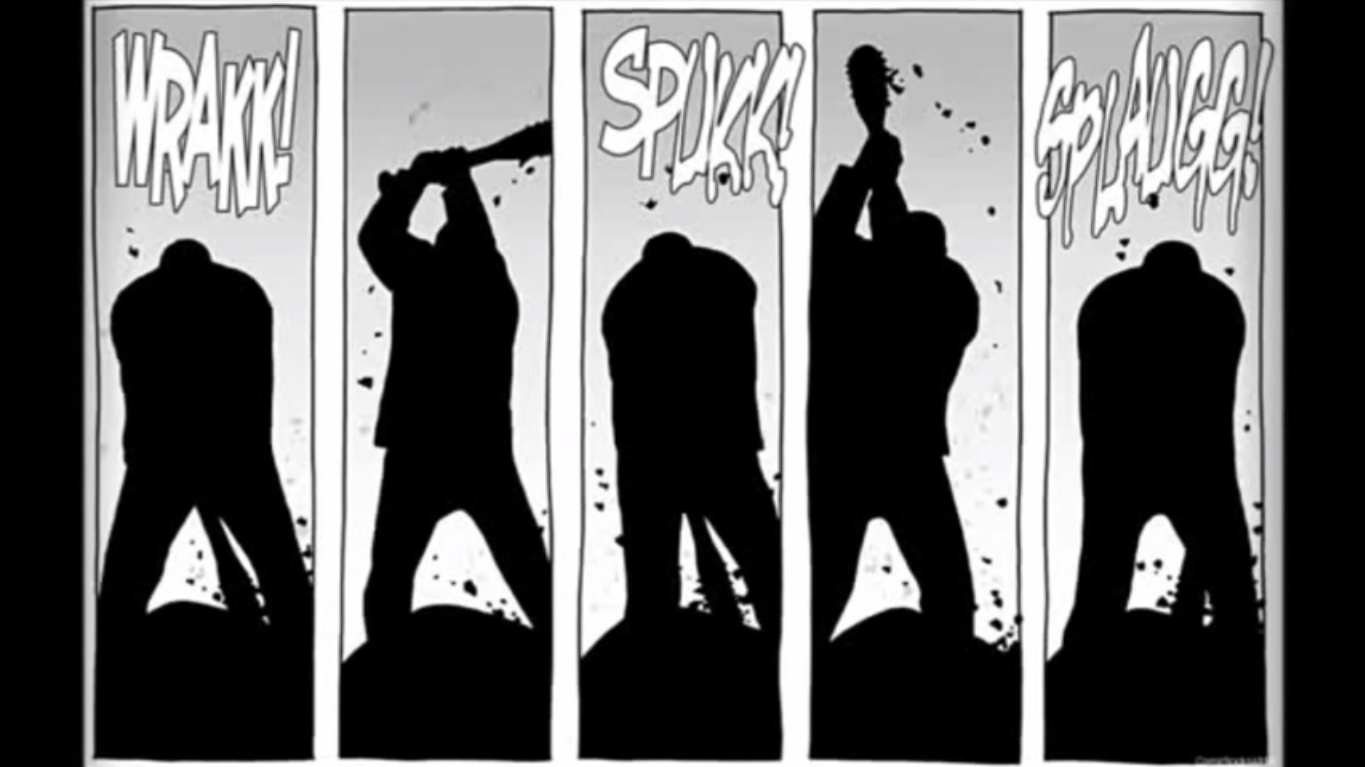 Even for people unfamiliar with both the comics and AMC version of The Walking Dead, Negan is a name many will recognize. This is mostly due to the controversial first episode of season 7 when Negan devastated fans by giving them exactly what they expected and horrifying unsuspecting show watchers who had managed to avoid the comic's nauseating 100th issue.
The beating death of not only Glenn but also Abraham was an intense way to start off the seventh season, and though they lost a few viewers due to the exceedingly graphic nature of their deaths. Negan instantly became a fascinating character, if only due to morbid curiosity. He wasn't always the amoral, skull-bashing, face-ironing leader of the Saviors, and Robert Kirkman gave fans an explanation not only for how Negan got this way, but also how he obtained Lucille.
The comic reveals Negan as an irritable and foul mouthed gym teacher who takes pleasure in bullying his students. His wife, Lucille, is diagnosed with cancer, and in dealing with it Negan turns to another woman. His affair ends just in time for Lucille to succumb to her condition, quickly followed by the zombie apocalypse, leaving a lonely Negan to face the dark future.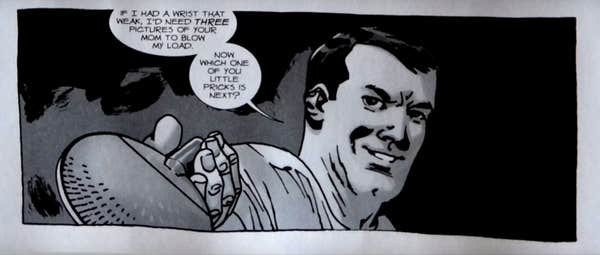 The physically capable Negan makes it through one deadly situation after another, but he's unable to prevent the deaths of the companions he manages to find. Included in this slew of deaths is Paul, whose baseball bat will become Negan's wire-wrapped monstrosity. An increasingly frustrated Negan starts to blame the victims for their own weakness when he finally comes across Dwight and Sherry. His reluctance to befriend them doesn't last long, and he ends up leading their group to victory in a battle with walkers.

After providing aid to a group of strangers, they offer him one of their women as thanks. Negan finds the offer distasteful, and his exchange with the leader of the group leads to the man throwing him into a barbed wire fence. Thus we see the first person to ever have their skull beaten in by this short-tempered antagonist.
The group, frightened by this display of violence, is then treated to a profanity-laced explanation of just how he has survived this long, while he rips the barbed wire off of the fence and wraps it around the bat. He explains to the terrified crowd that Lucille has protected him through everything, and that if they fall in line, she will protect them too.
His leadership, rooted in the fear, is well established by the time his profane tirade concludes, and we are finally presented with the monstrous man that we know and, well, hate.
The Walking Dead is far from finished introducing complicated and dark villains, but Negan will always stand out for his particular brand of brutality. Here's Negan may not make the character any more sympathetic (we hope), but it certainly does help explain his transformation from teacher to tyrant.
H/T Uproxx