A Swedish man whose arm was amputated 10 years ago now has a new artificial one directly connected to the bone, muscles, and nerves of his body. The truck driver is the first person in the world to have such a mind-controlled prosthetic.
Prosthetics can already connect to people's nervous system through the use of electrodes that sit on the skin. But those electrodes are vulnerable to cross-signals from the muscles, interference from handheld electrical devices, and scrambling through movement. Matching the wearer's intent with movement has been tricky.
In a stunning video, the Swedish man uses an electric drill, tosses a handkerchief from one hand to the other, picks up a glass, and holds an egg without it breaking while shaking his arm. He also attempts these tasks with skin-contact electrodes only. Watch as he smiles each time his implanted electrodes help him succeed.
"The artificial arm is directly attached to the skeleton, thus providing mechanical stability," says Max Ortiz-Catalan in a press release. He is the lead research scientist at Chalmers University of Technology who worked on the device. "Then the human's biological control system, that is nerves and muscles, is also interfaced to the machine's control system via neuromuscular electrodes. This creates an intimate union between the body and the machine; between biology and mechatronics."
Ortiz-Catalan and his colleagues published a report on this advance on Wednesday in Science Translational Medicine. 
Next, the researchers plan to improve the man's ability to feel through the prosthetic. Good news however, another team at Case Western Reserve University has made breakthroughs in that area. A press release describes the result of that work, which was also published in Science Translational Medicine: 
Even before he lost his right hand to an industrial accident four years ago, Igor Spetic had family open his medicine bottles. Cotton balls give him goose bumps.

Now, blindfolded during an experiment, he feels his arm hairs raise when a researcher brushes the back of his prosthetic hand with a cotton ball.

Spetic, of course, can't feel the ball. But patterns of electric signals are sent by a computer into nerves in his arm and to his brain, which tells him differently. 
"I knew immediately it was cotton," Spetic said in the release.
Now his regained sense of touch lets Spetic pick up fragile small items like cherry tomatoes without looking at his artificial hand.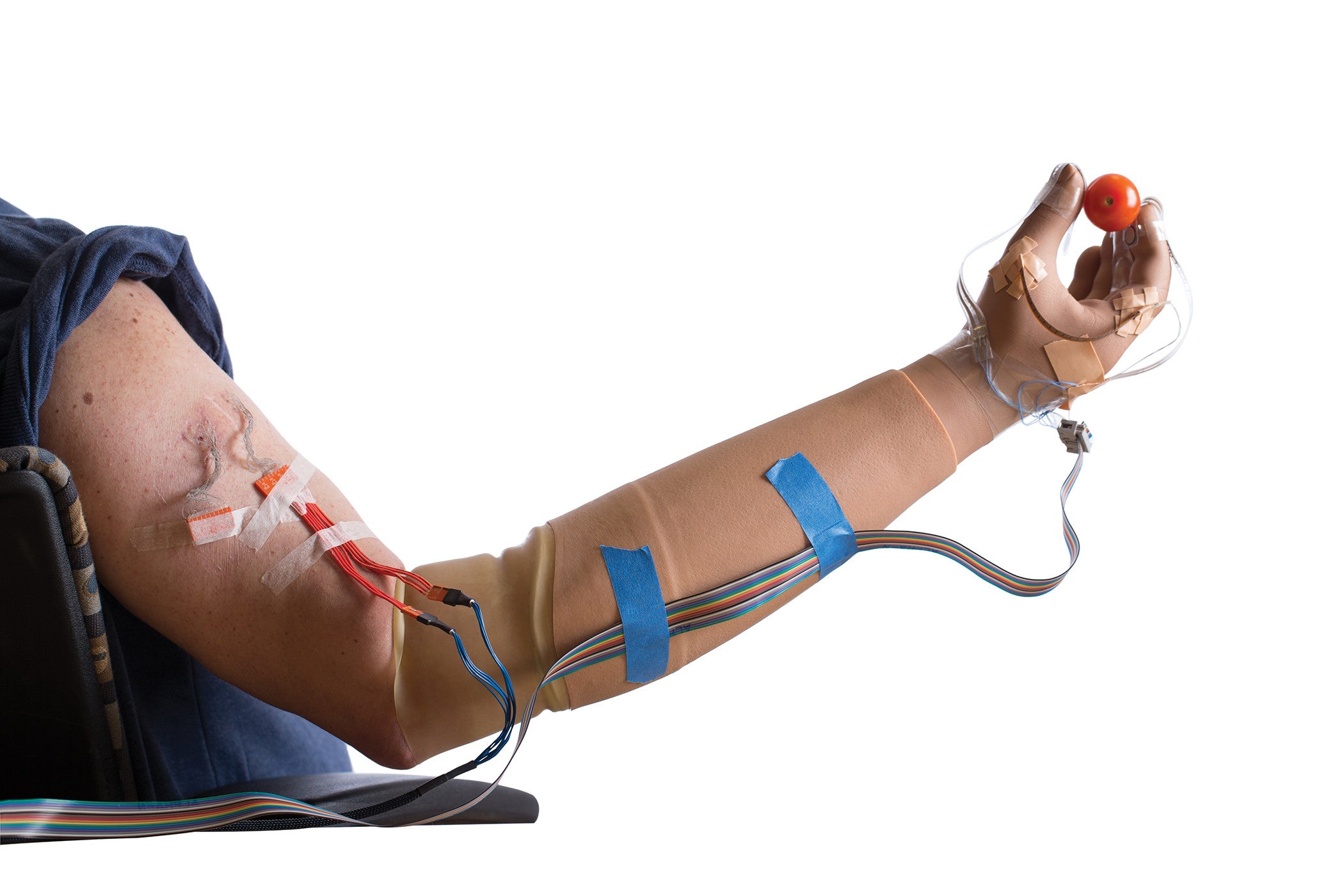 The electrical signals coming from the artificial arm also made phantom pain Spetic was struggling with disappear. 
These advances have already changed the life of these men and are poised to help many others. Welcome to the future kids—we have cyborgs.
H/T CNET | Photos via Chalmers University of Technology and Case Western/Russell Lee