Star Wars spent three whole movies exploring the relationship between Luke Skywalker and Darth Vader, but the original trilogy barely touched on Leia's link to her father. That changed in The Last Jedi—although you may not have noticed at the time.
In The Last Jedi, director Rian Johnson drew visual parallels between Leia and Vader. The most obvious example is when Leia looks out over a star map on one of the Resistance ships. Her hair and robes resemble Vader's helmeted silhouette, calling back to similar moments when Vader surveyed the stars.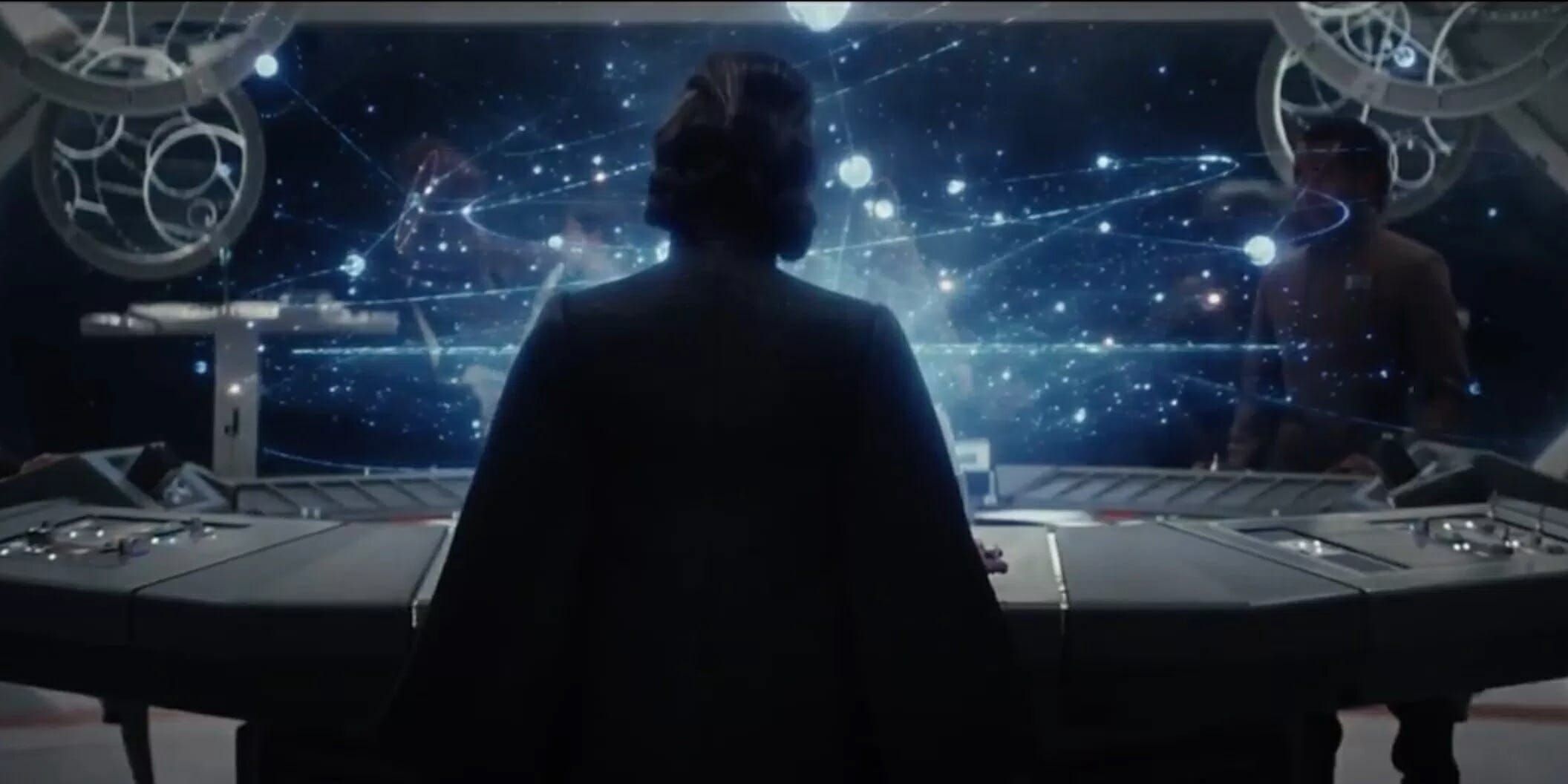 Star Wars fans love to look for hidden clues and references, but this kind of subtle detail is equally important. Rather than being "gotcha" moment, it's a great example of how Star Wars uses visual symbolism to enrich the story.
It's surprisingly easy to forget that Leia is a Skywalker. She goes by the name Organa, and while Luke and Kylo Ren followed Anakin's path in the Force, Leia never had much interest in Jedi teachings. She's a politician like her mother Padmé and her adoptive father, Bail Organa. But with this scene, we see a different parallel between her and Vader. Looking out over a map, she follows in the footsteps of Anakin's role as a general in the Clone Wars, and later as the Emperor's second-in-command. That's a different set of strengths than Luke, who was always more of a solo hero than a strategist.
The Last Jedi includes at least one other visual link between Leia and Vader, in the scene where Leia awakes from her coma and storms onto the bridge to shoot Poe Dameron. She emerges from the white doorway in a cloud of smoke like Vader's first appearance in A New Hope, combining her father's intimidating power with a nod to her original white costume, reflected by her hospital gown.
These Leia/Vader moments serve a more specific purpose than they would've in the previous movie. The Last Jedi confirmed that Leia is a Force-user, a detail that some fans found implausible. Aside from the fact that Leia had 30 years to get in touch with the Force between movies, Return of the Jedi already told us that she has Force powers. She and Luke just chose different paths. By including a visual link between Leia and Vader, The Last Jedi encourages us to remember that relationship.