I've always loved setting people in my social circle up with each other.
I don't know if it's my generous spirit, my Eastern European shtetl roots, or my desire to live vicariously through my friends by hearing what they think about each other's bathing suit parts, but there's nothing that gives me more joy in life than playing matchmaker. So you can imagine how excited I was when I found out about Kitty Powers' Matchmaker, a dating sim for iOS and Android that lets you run your own virtual matchmaking agency.
I downloaded Kitty Powers while scrubbing out my shower drain last Saturday. By Sunday night, I'd cleaned my whole apartment, gotten to level 12, and made 24 matches. That is how addictive this game is (and how sad my life is, that all I can think of to do on a weekend is clean my bathroom and play a British drag queen matchmaking game.)
The premise of the game is simple: Under the watchful eye of head honcho Kitty Powers (actually the drag persona of game developer Richard Franke), you establish your very own matchmaking agency, then accompany your clients on dates to see how well they mesh.
Your client's compatibility with his or her date is determined by a number of factors (just like real life!), such as whether or not they share the same personality traits or quirky, esoteric interests: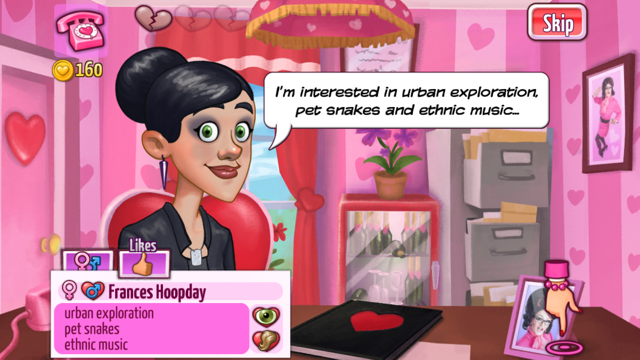 As you get further in the game, you can unlock more personality traits, which will help you better gauge which matches are best suited for each other. You can also buy a matchmaking "salon" which lets you alter your client's appearance, so they can look more like the type of person their date would be most attracted to (a la Sandy's bad-girl makeover in Grease.) This might not sound like great advice to someone actually looking for a relationship IRL, but damn, is it fun in the game.
There are so many amazing things about Kitty Powers' Matchmaker that it's difficult to pinpoint the thing I love most about it. Perhaps it's the fact that all the characters speak in the same low-class U.K, patois, like they're cast members in a My Fair Lady revival tour: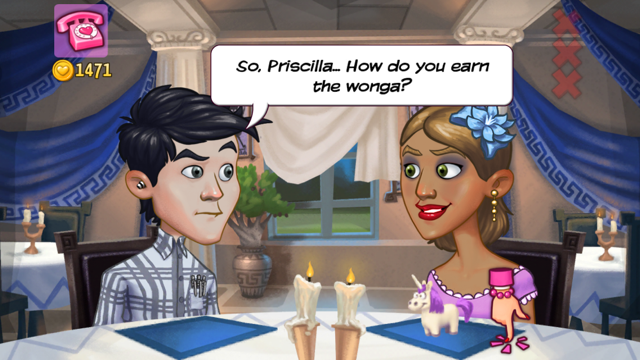 Or maybe it's the design, which gives all the clients spindly limbs and bulbous facial features and just generally makes them look like the grotesques in Soundgarden's "Black Hole Sun" video: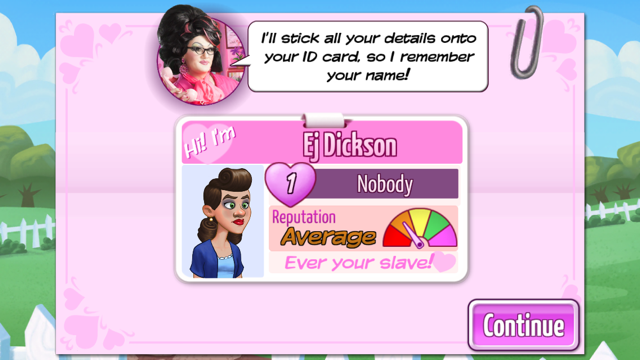 (I do not look like this, FYI.)
Or maybe it's the fact that in the progressive world of the game, gay marriage is legal, and lesbian couples name their first child after you: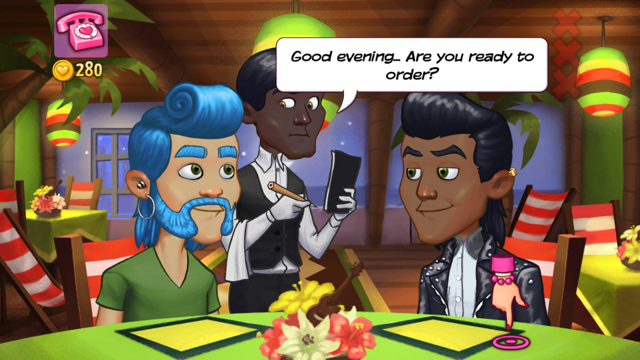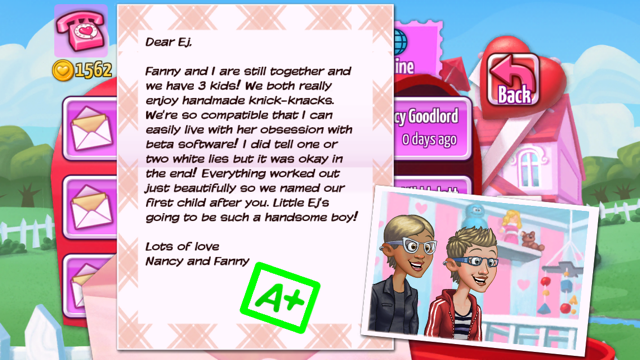 Or maybe it's the "higher/lower" guessing game in the middle of the dates, which makes you guess whether the next card will be higher or lower in order to keep your client from having a "flatulent episode":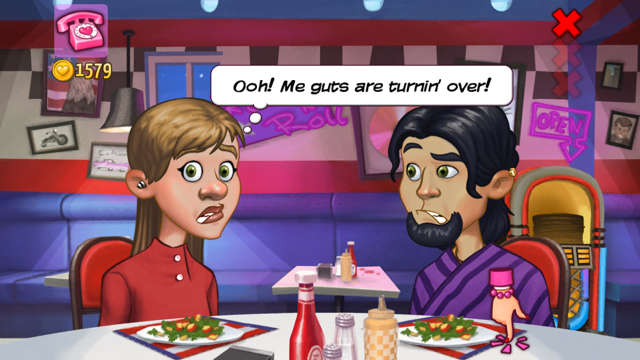 (Believe it or not, for some personality types in the game, farting in the middle of a date is not necessarily a deal breaker! Ah, young love.)
But the thing I love most about Kitty Powers Matchmaker is that despite its silly dialogue and cartoonish UX and indecipherable British slang, the game is fairly similar to dating in real life, in that the success of a match is determined totally at random. For all Kitty's interstitial chatter about the importance of setting up an Aquarius with an Aquarius, or an introverted Vintage type with an introverted Vintage type, there's no predetermined formula to ensure that your matches will live happily ever after. It's all pretty much left to chance (or your intestinal fortitude, as the case might be.)
So if you want to try your hand at some old-school matchmaking, but don't have any friends who'd trust you over Hinge or Tinder, go ahead and download Kitty Powers and make yourself some matches. Just don't get too down on yourself if you strike out on the first few rounds: That's not how finding love works IRL, either. Also, you should probably make sure you don't have anything to do that day, because you're gonna be playing for a long time.
H/T 148 Apps | Screengrab via Magic Notion/YouTube