Given the current climate in videogame culture, threatening to kill someone is even worse of an idea than usual. This is especially true when your livelihood depends on your self-control.
Mike Maulbeck is the creator of Paranautical Activity, a mash-up of first-person shooters and roguelikes (a genre defined by procedurally-generated levels and permadeath) that was funded onKickstarter on Sept. 3, 2013. When the mega-popular digital distribution service Steam accidentally listed his game as being in Early Access—i.e. still in the early stages of development—Maulbeck was understandably upset. He had worked through the Steam Greenlight program to get his game the high-profile release an indie dev would die for, and now Steam was taking his finished game and marking it as a work-in-progress.
Maulbeck lost his temper on Twitter. He said he was going to kill Gabe Newell, head of Valve Software, the company that owns Steam.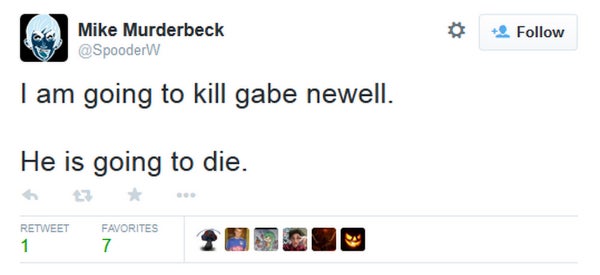 (Note: "Mike Murderbeck" is his Halloween-themed Twitter handle and is not related to the threat.)
Maulbeck told enthusiast site Polygon that he had just been frustrated, and that he didn't mean what he'd tweeted. Realizing the mistake too late, Maulbeck discovered that his game was no longer on Steam, and that he was no longer even listed as a developer on the site. For an indie, this could be tantamount to a career death sentence.
Paranautical Activity had a rough history with Steam before the current debacle. Maulbeck first submitted his game to the Steam Greenlight program, which allows Steam users to vote on games and decide when they ought to be given priority to be listed on the service. Maulbeck then tried to land a deal with indie-game distributor Adult Swim to get on Steam without the Greenlight service.
Valve decided that allowing Maulbeck to take the deal would signal to indie devs that they could bypass the Greenlight system by signing up with third-party distributors. Maulbeck was not allowed to take advantage of the Adult Swim opportunity. Instead, he had to resurrect the Greenlight campaign that he had abandoned in favor of the Adult Swim deal.
Maulbeck has taken the delisting of his game hard, threatening to leave the development industry altogether over this incident. He has said that his game only sold 12 copies on digital distribution outlets other than Steam.
Welp. PA no longer on steam. I'm done making videogames now. It sucked while it lasted.

— Mike Murderbeck (@SpooderW) October 20, 2014
At press time, Maulbeck was trying to mend fences with Steam, ostensibly to get Paranautical Activity re-listed.
H/T Player Attack | Image via Code Avarice