Over the last few years, geek fashion has become much more than just pop culture-themed T-shirts. As more varied and stylish options have appeared, there's been a movement for more couture items to be created as well. Anyone that doubts there's demand for—and talented creators of—geek couture was proven wrong by the success of the first San Diego Comic-Con Her Universe geek couture fashion show in July. 
A total of 36 designers created an amazing array of couture outfits inspired by everything from Pokémon to Transformers. Now, having won the Judges' Choice and Audience Choice awards, two of those designers will have the chance to make their mark on the scene by designing a collection with Her Universe for Hot Topic. Here are the two creators whose work you'll soon see on the shelves.
Judges' Choice Winner: Amy Beth Christenson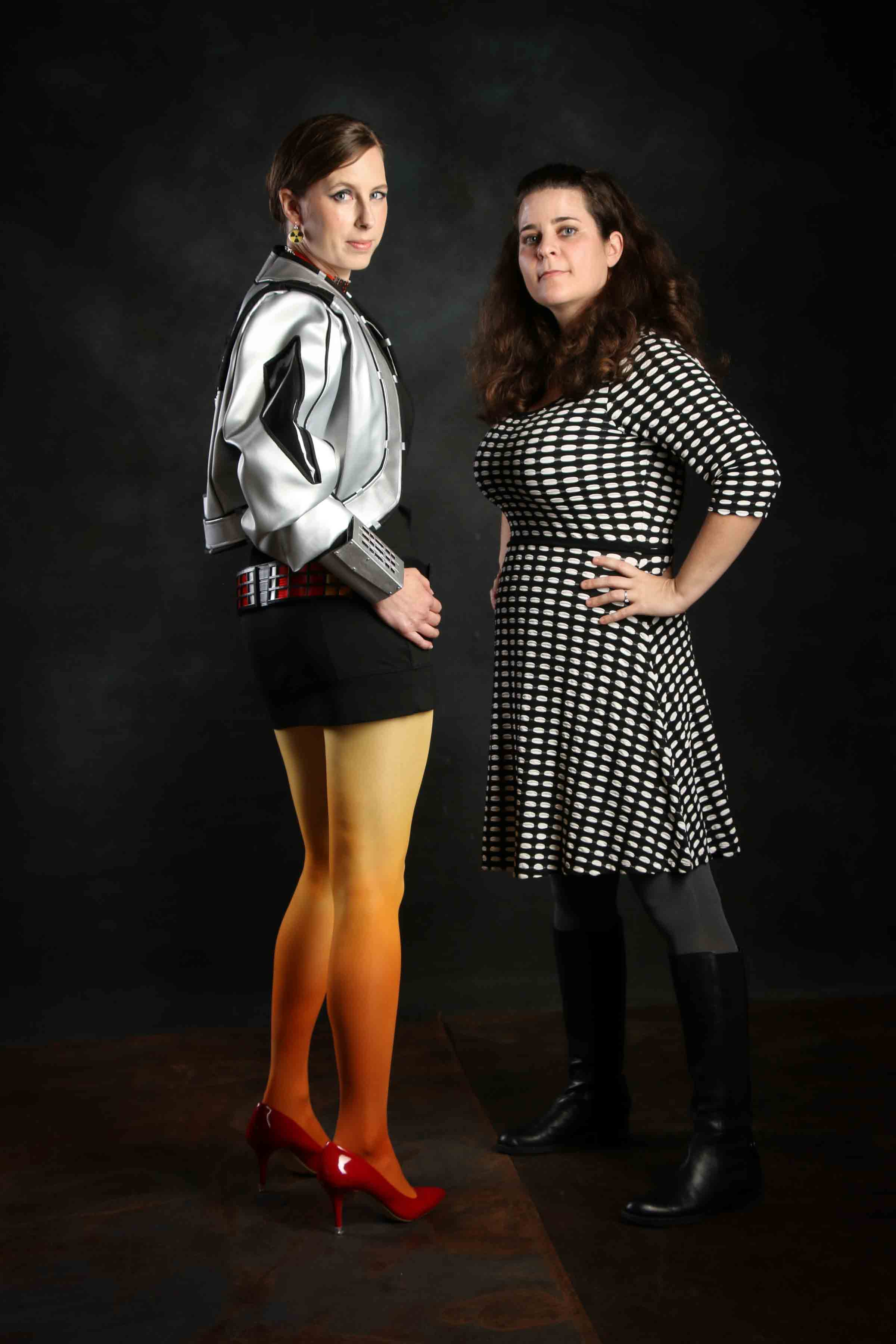 Photo by Kelsey Edwards Photography
For the last 14 years, Christenson has been a concept artist working first for LucasArts and now for Lucasfilm on projects like the video game Star Wars: The Force Unleashed and the upcoming animated series Star Wars: Rebels. She designs characters and costumes for these projects and has created costumes and props for the annual Industrial Light and Magic Halloween costume contest. The Her Universe fashion show, however, was her first experience with fashion design. 
"While checking out events for [SDCC], I came across the Her Universe announcement on Twitter and was beyond excited to learn that it was happening," she told the Daily Dot. "It's such a great forum to celebrate design and creativity, and to let girl geeks shine. I would have been first in line to see the show, had I not entered. I finally decided to submit some designs after getting some encouragement from my co-workers and making a bet with my husband—which he lost."
Each designer was asked to submit three ideas to the contest. Christenson said she had a written list of about 20 ideas for designs but didn't sketch them all out. The three she submitted were inspired by Star Wars, Star Trek, and Back to the Future. 
"My Star Wars design was actually based on Admiral Ackbar—I figured that out of the scores of Star Wars designs submitted, nobody would have thought to go that route—which was a glittery pantsuit combo and jacket wrap entitled, 'It's a Wrap!' The Star Trek design was a nightclub/mini-dress version of Ricardo Montalban's epic deep-cut tunic, called 'Wrap of Khan.' There was a bit of a theme with those two entries," Christenson explained.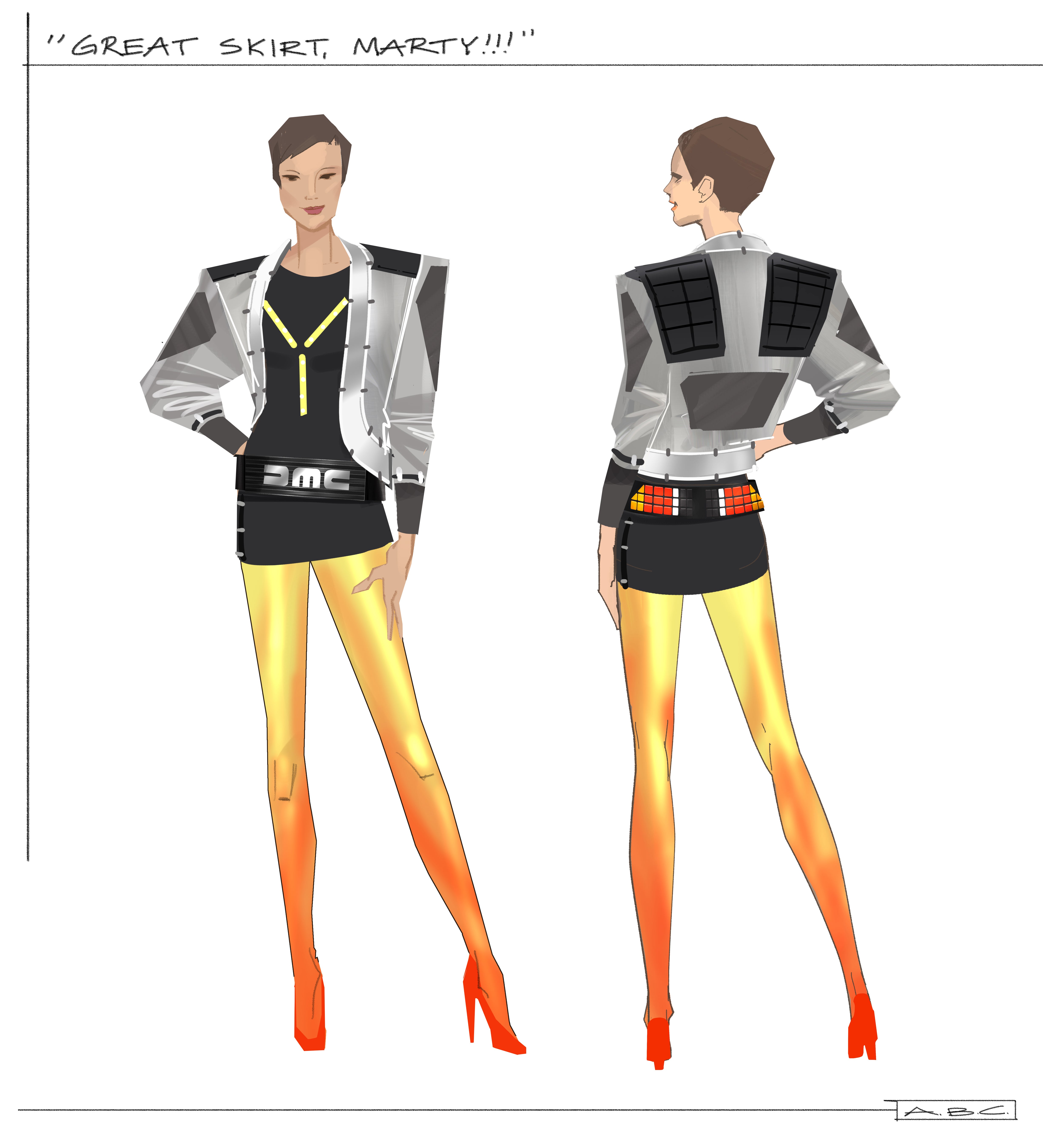 Sketch by Amy Beth Christenson
But it was her Back to the Future design titled "Great Skirt, Marty!" that was ultimately accepted for the show. She considered several ideas from the series including Marty and Doc Brown-inspired designs but settled on the DeLorean in the end.
"I was immediately inspired by creating a design that was not figurative subject matter to begin with, and there were so many iconic visuals in the car to pull from. So much so that my friend Johnna created several pieces of jewelry in order to include them all—like a 2015 barcoded license purse and a Mr. Fusion cuff. The DeLorean design ended up being my favorite of the three that I submitted," she said. "I'm very happy that any one of my designs was chosen for the show, but particularly that one—so that I could follow through with it.  It seemed like the most fun, and therefore the most fun to make!"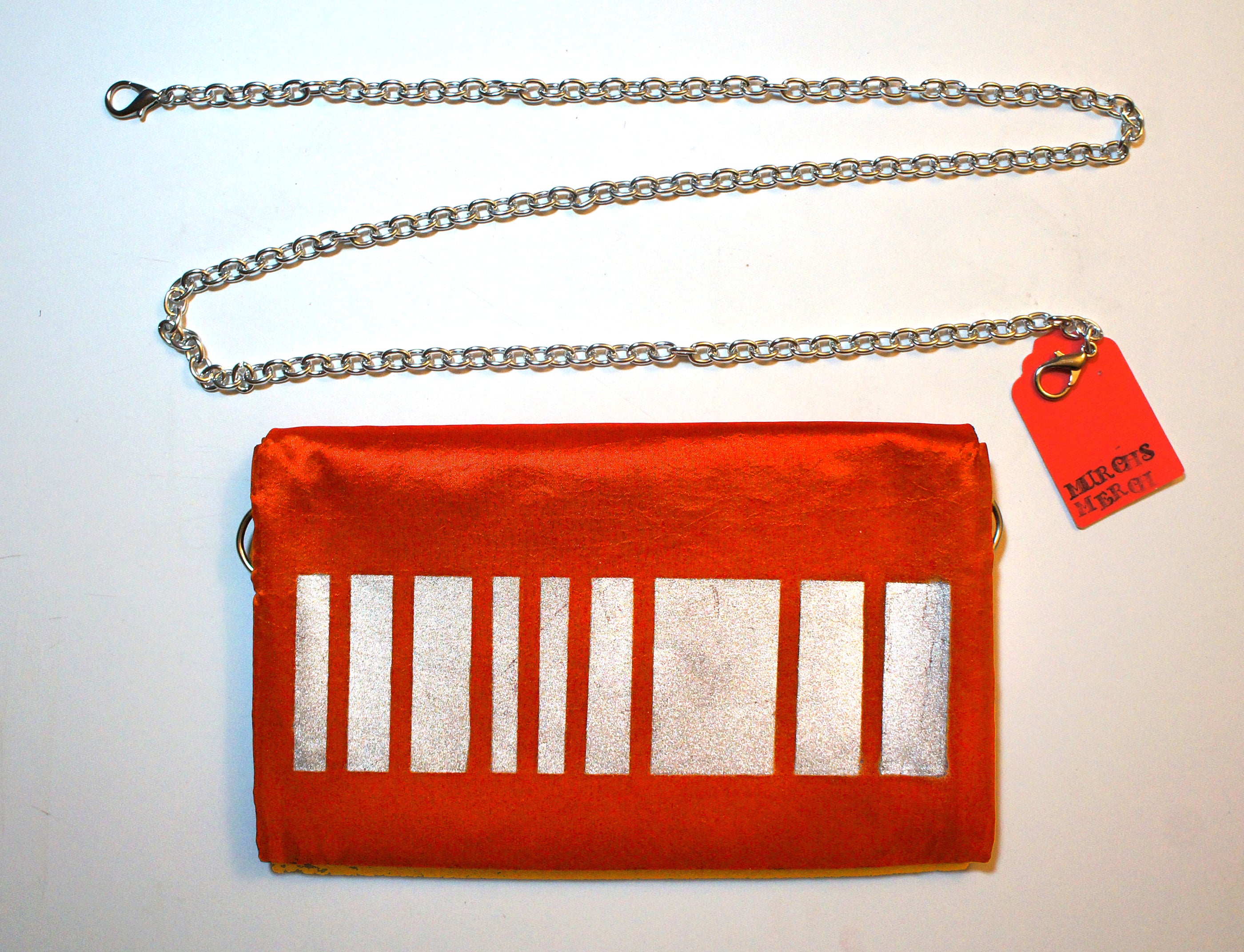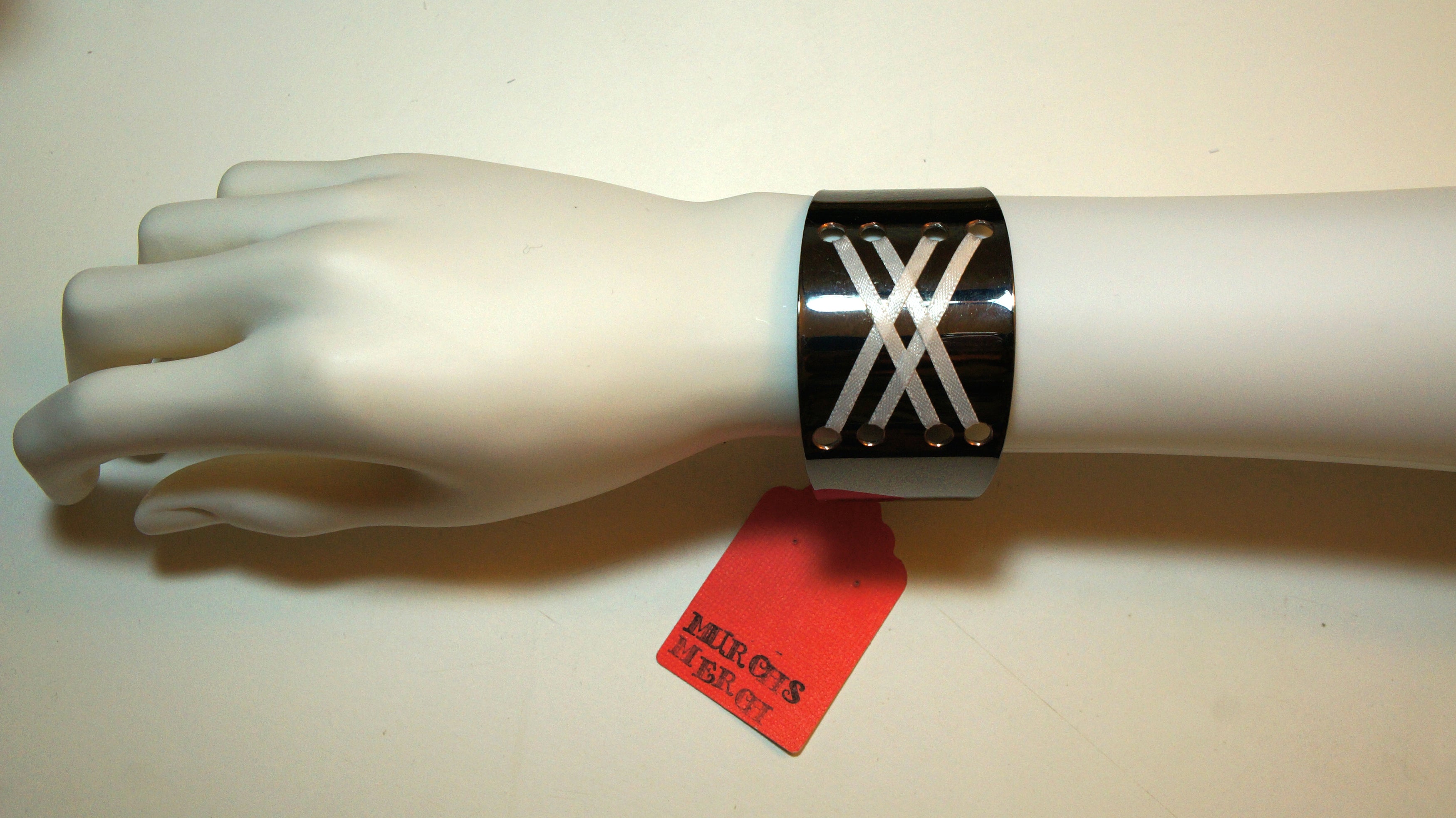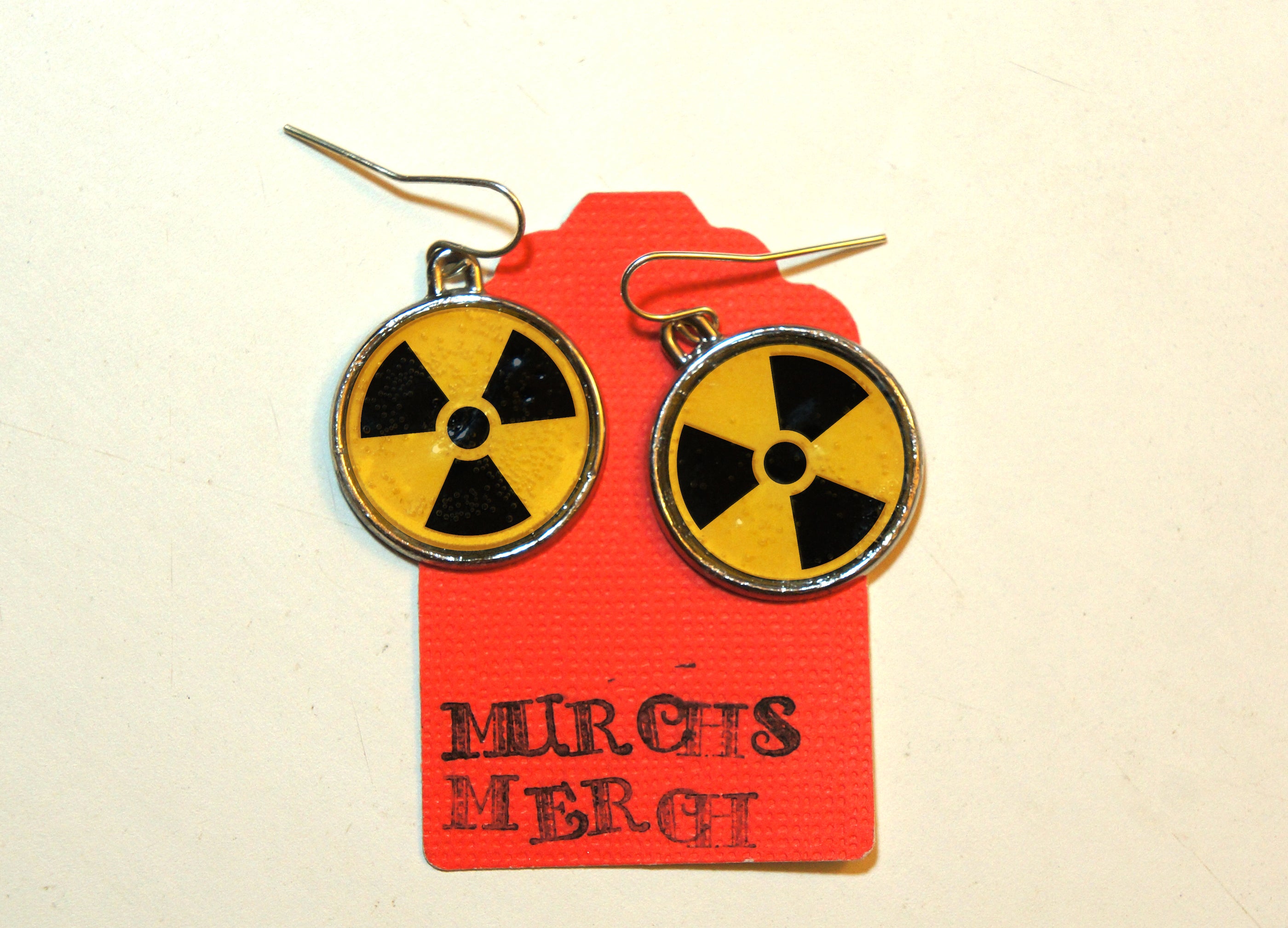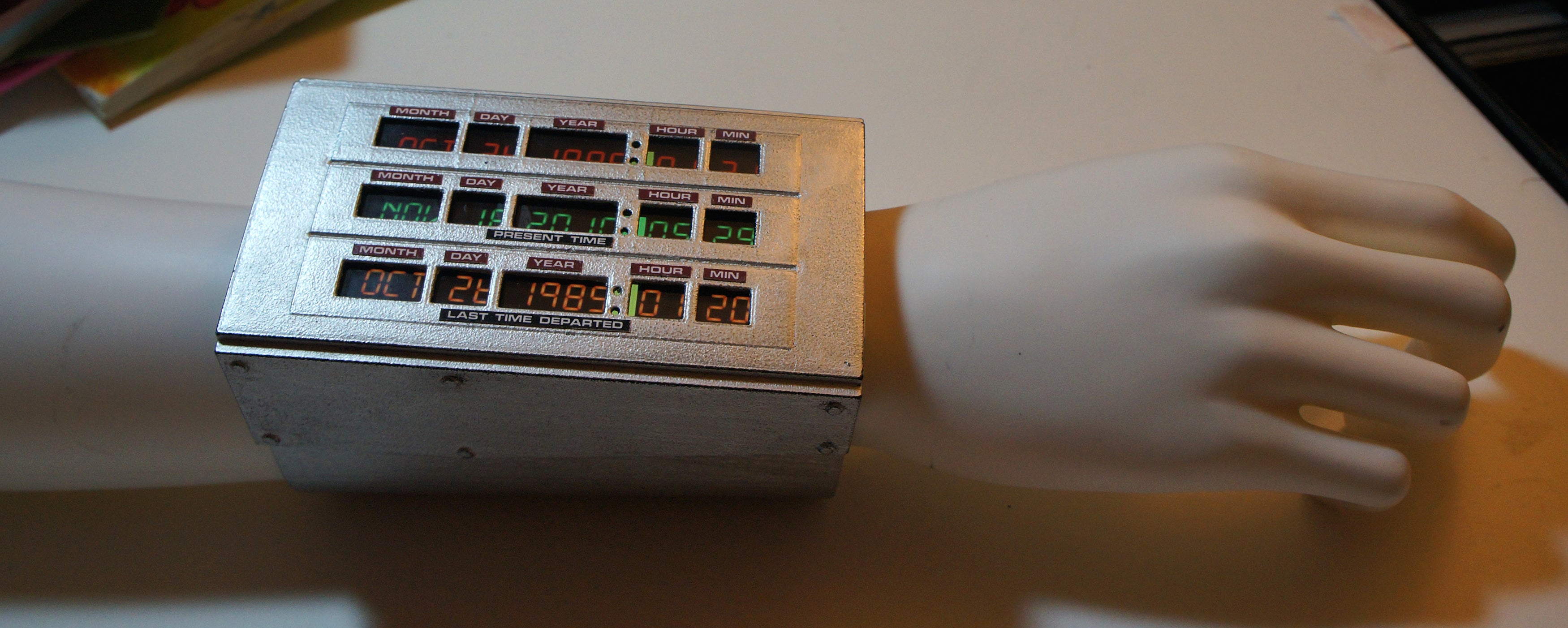 Photos via Amy Beth Christenson
She started working right after getting the acceptance email, creating models for the 3D-printed elements early on and going through different iterations for the jacket and black minidress. She started a new jacket a few days before the show, finishing it just 17 minutes before leaving to catch a plane to San Diego at 7am. 
After arriving at the Manchester Grand Hyatt Hotel ballroom the day of the show, Christenson said everything turned into a bit of a blur but there was a great camaraderie among the designers there.
"It was a great thing to see everyone cheering each other on during the show," she said.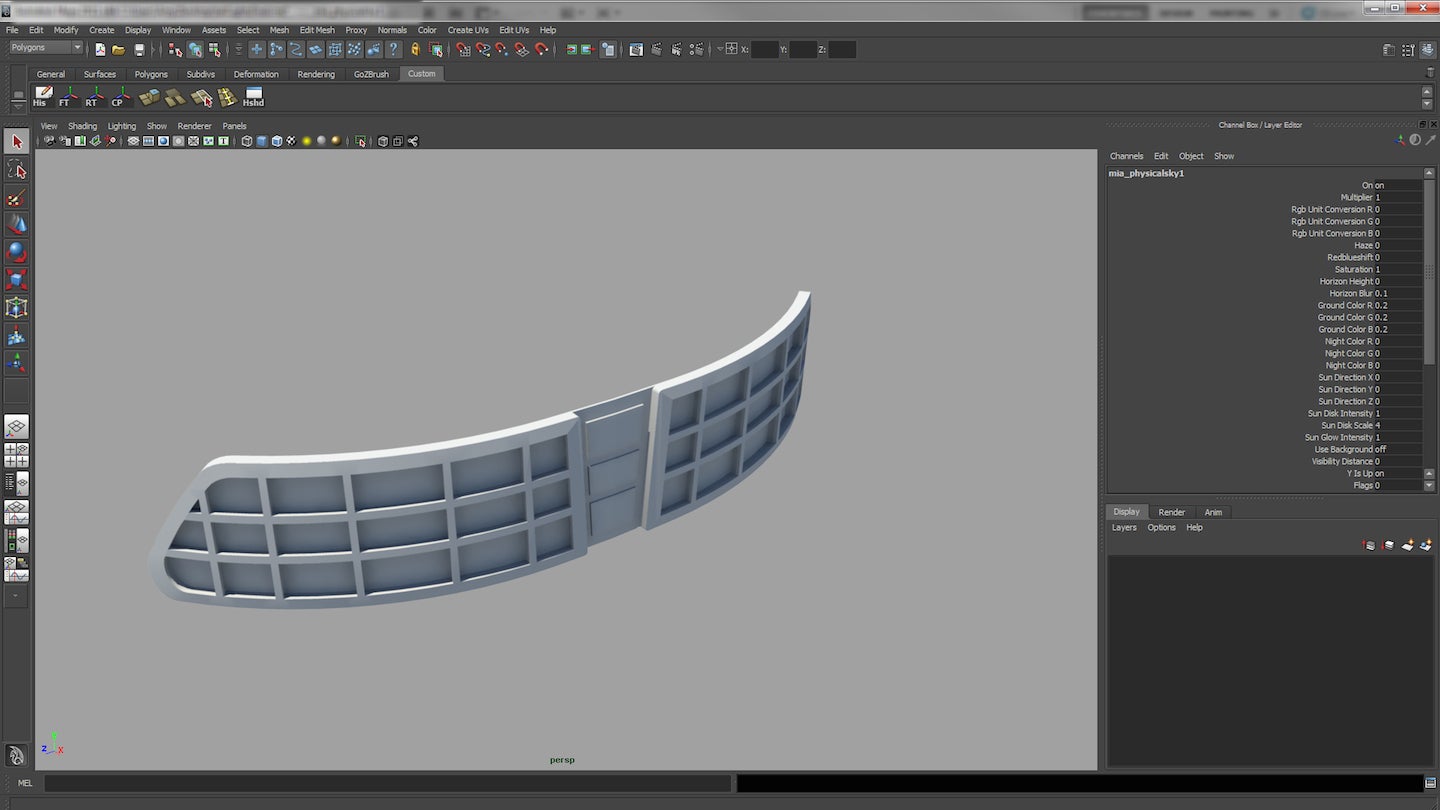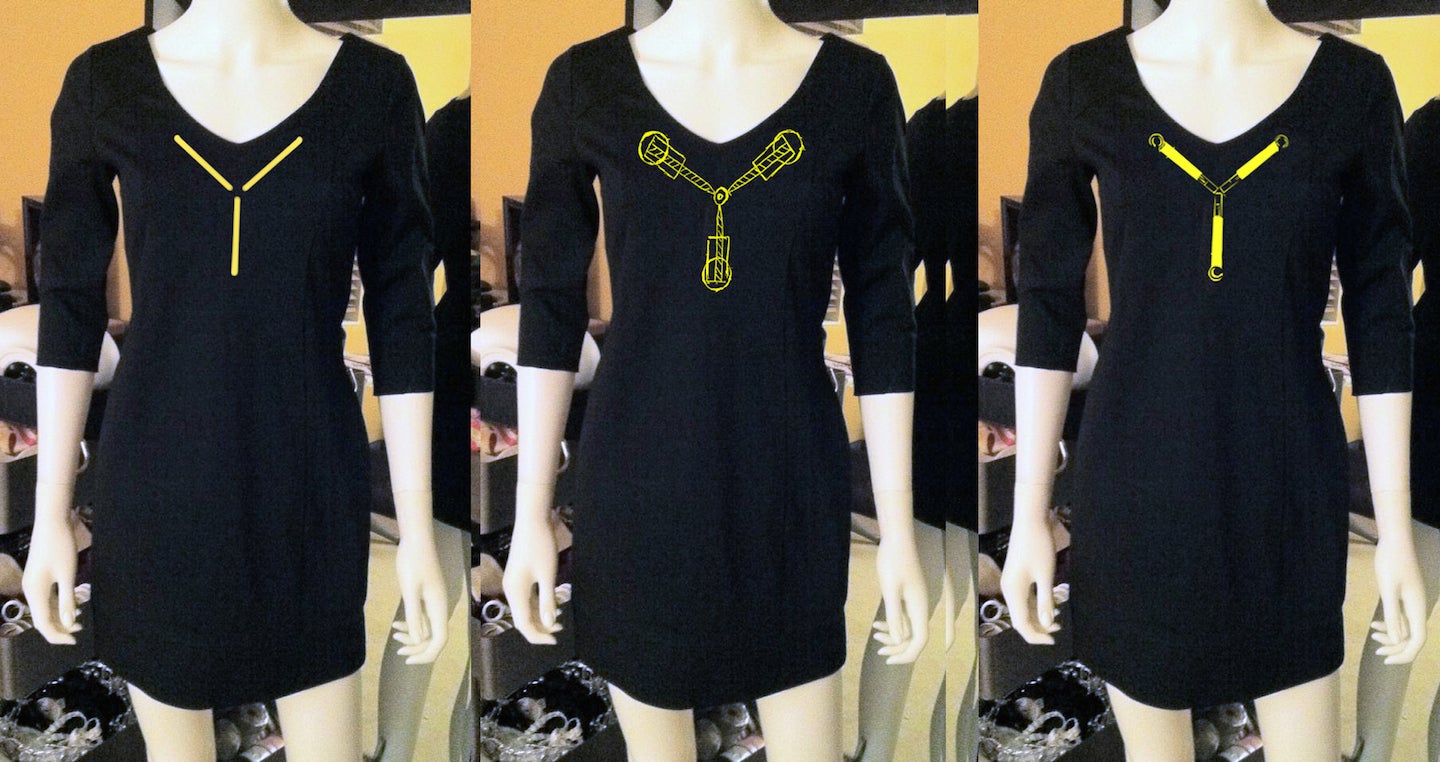 Images and photos via Amy Beth Christenson
While Christenson was helping one of her fellow designers, she missed her model Annika Nonhebel Presley walk the runway, though Christenson said it was for the best since she was more nervous about it than Presley. Once it sunk in that she was announced as the Judges' Choice winner, she felt very honored and overjoyed.
"I'm not exaggerating when I say that I was packing up our gear to help clear backstage when they starting announcing. All of the designs in the show were so creative and beautiful, I never once entertained the thought of actually winning one of the top spots," she said. "Annika grabbed me by the arm and started pulling me toward the stage; I honestly couldn't process it."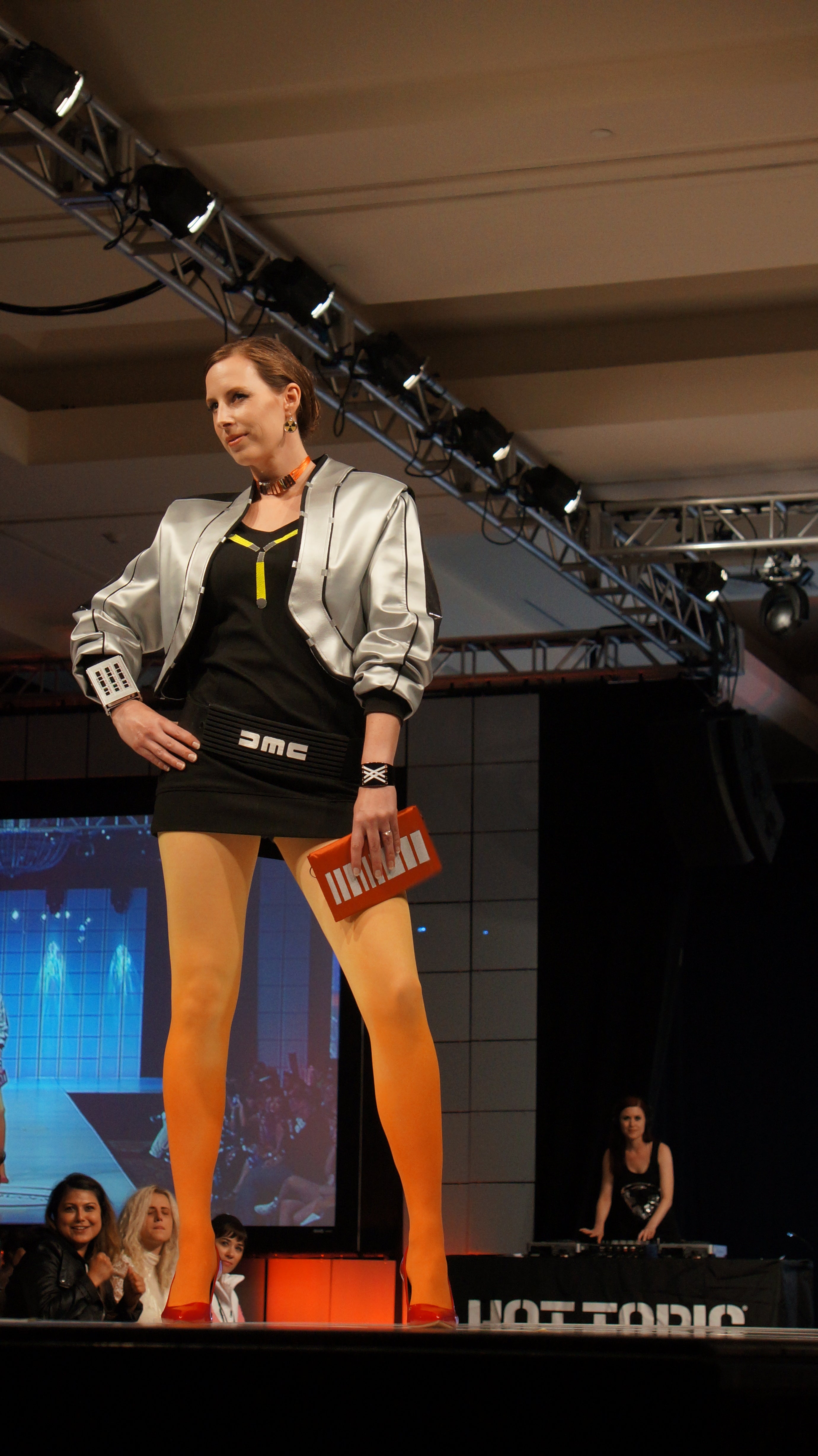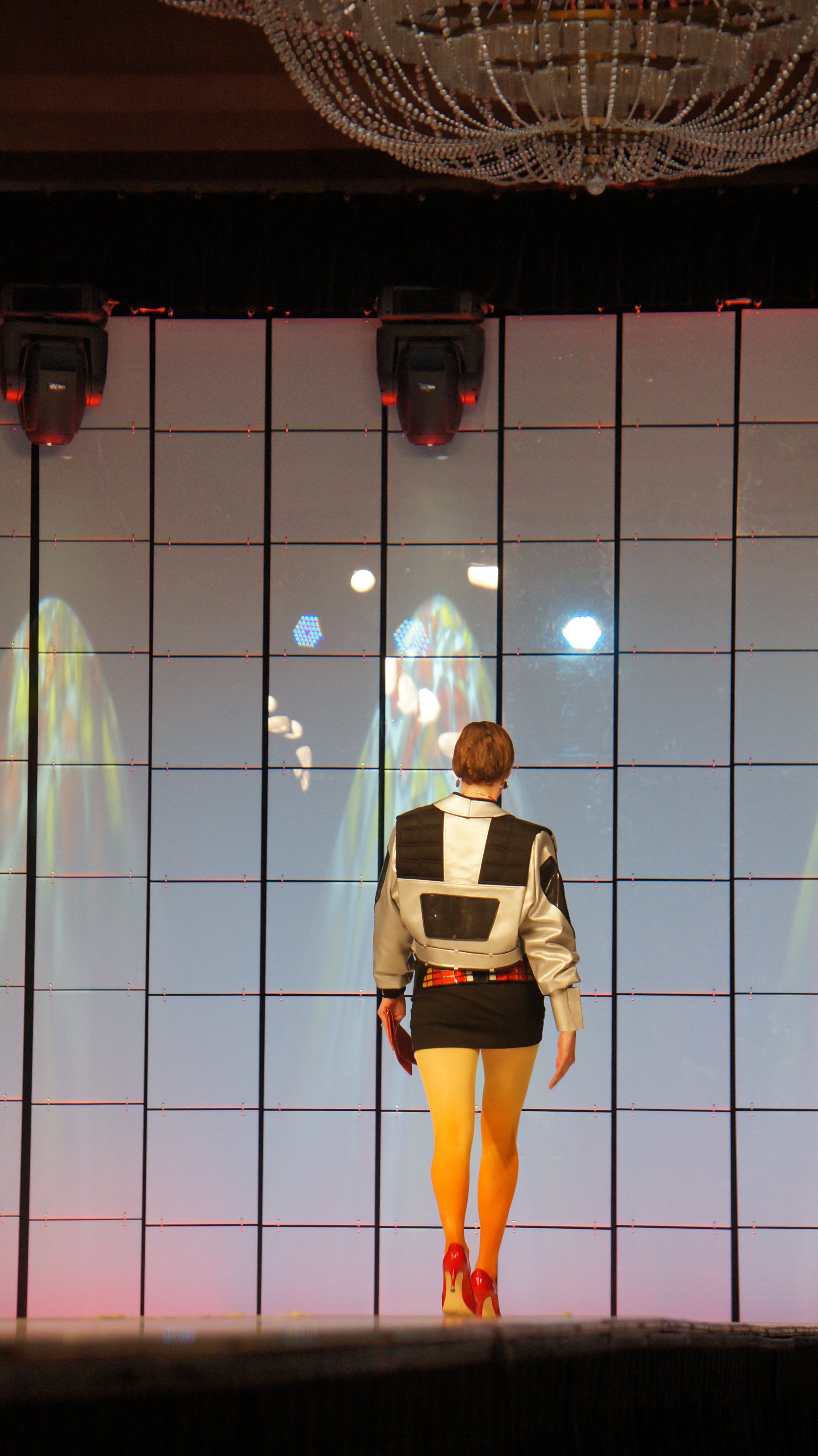 Photos via Amy Beth Christenson
As a result of the show, she's made new friends in her fellow designers and models, and said everything from the music and visuals to the crowd made for an unforgettable experience. Now she's excited to work on a Her Universe collection for Hot Topic. 
Audience Choice Winner: Andrew MacLaine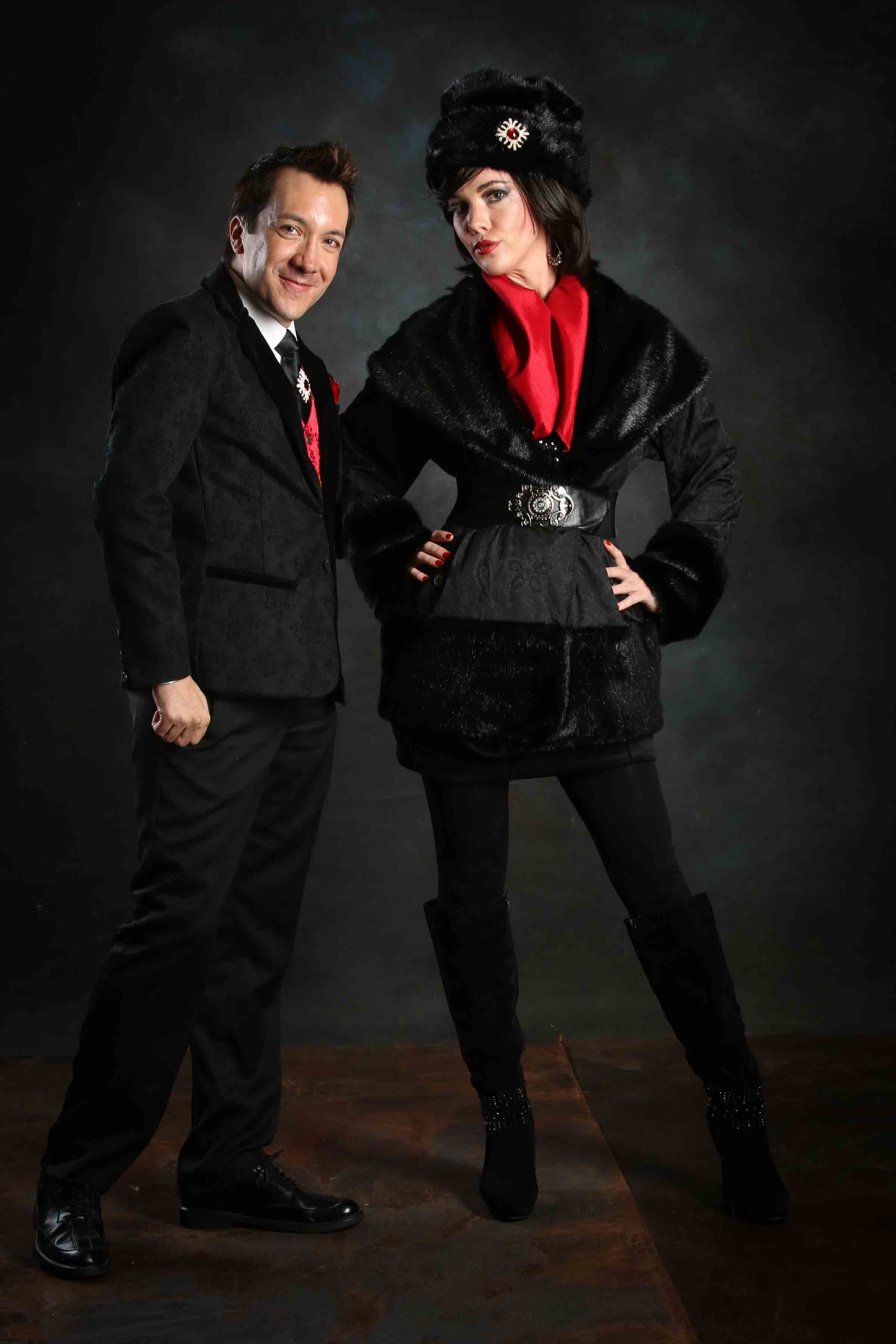 Photo by Kelsey Edwards Photography
MacLaine was a theater major in college, but it took an elective class to help him discover he was good at, and enjoyed, costume construction. He was offered a job in the costume department, and he continued to take design and fashion classes. Out of college his first job was as a lead costumer in a cabaret theater, and ever since he's had something to do with fashion or garment construction. The clothing and fashion designer also creates custom pieces for special occasions including Comic-Con, and it was through one of these customers that he found out about this year's fashion show competition. He went through a few ideas before deciding on the three he would submit.
"Since this was the first time they were doing the show, I decided to enter something pretty, weird, and then something that changed onstage, knowing they'd probably pick the one that changed onstage since it would be a crowd pleaser," MacLaine told the Daily Dot. 
His pretty design was inspired by the Childlike Empress from The NeverEnding Story and reimagined her as a spoiled rich teen of today. For his weird design, he sketched a puffy cloud-like dress that would have lights underneath it inspired by a nebula from Star Trek. The first design he considered to make change on stage was Doctor Who-inspired: a female version of the transitions from the Tenth to Twelfth Doctors. He realized however that going between the brown and black suits might not be that exciting, so he settled on a design inspired by Regina the evil queen from Once Upon a Time that would start as something small and become something bigger.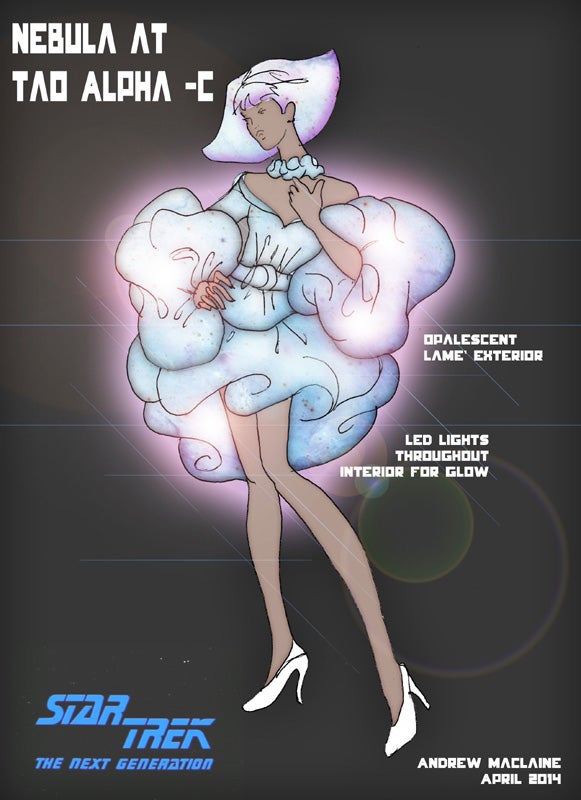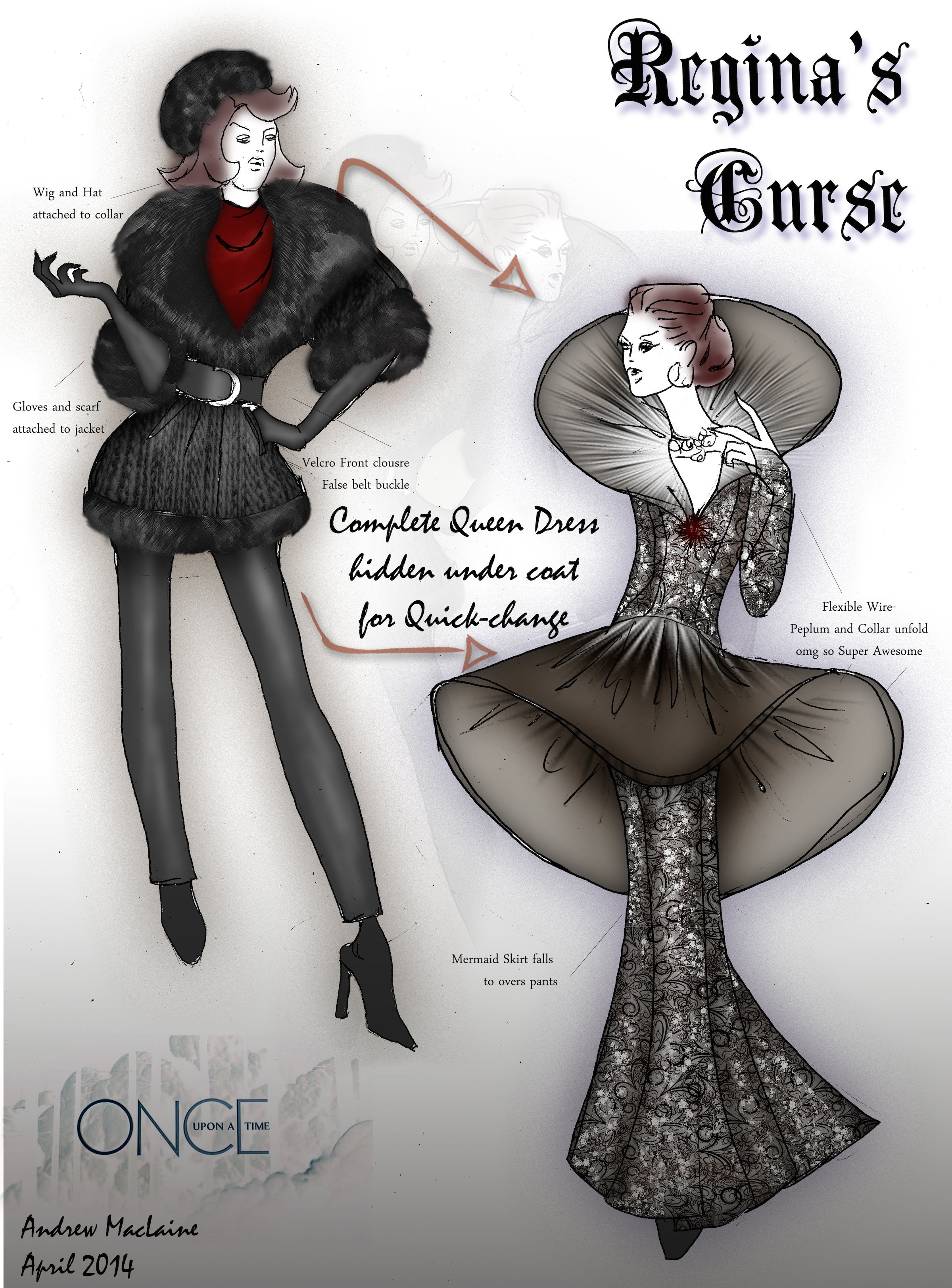 Sketches by Andrew MacLaine 
The design titled "Regina's Curse" would go from her Storybrooke modern-day look to her Enchanted Forest fantasy look. Once the Regina idea was accepted, MacLaine got to work and had the majority of it done within two weeks. As a designer, MacLaine works fast, a skill that has come in handy when he's been a semifinalist to get on the show Project Runway a number of times.  
The day of the show, MacLaine said he wasn't nervous because he liked what he was bringing to the table, but he did have jitters not knowing what to expect at the first-time show. When he finally met everyone, like Christenson, he discovered everyone was nice and surprisingly organized for a fashion show. When his design walked the runway last, he was out in the crowd, filling in for an audience plant whose job it was to take the coat away during the transformation.
"My model Jessica and I had choreographed where she was going to take the coat off after confirming the music that would be used… I said, 'Take the coat off, here, here, or here, nowhere else. It needs to be an exciting part of song,'" he explained. "She walked out and took it off right on her mark, at exactly the right moment, and the audience started screaming. It was one of those moments that are very, very rare in life that I could not have asked for something to go better."
He was backstage when the Judges' Choice winner was announced and had forgotten there would be two winners chosen. When they announced him, he was nowhere close to the stage. MacLaine said winning the Audience Choice award was exactly what he wanted. 
"I wanted to put on a show for the audience, and I did," he said. "I really did it for them." 
MacLaine said the reaction since the show has been unlike anything else. He's been giving interviews and hearing from excited fans just wanting to say how much they liked his design. He also hoped to excite others about geek couture, and from the response, it looks like he's succeeded.
"Part of geek couture is celebrating what you like, instead of fashion dictating what you should be and wear. At the root geek couture, it's about 'I like what I like, even if other people don't understand it… I want to be who I want to be.' That's what fashion should be. There will always be rules … but the bottom line is own whatever it is you do!" he said. "Break the rules and challenge them!" 
Photo by Kelsey Edwards Photography
He's excited for the opportunity to design his own line for Hot Topic. 
"I'm excited for the garments to be in different sizes. With runway designs it's usually just a size 2 and tall models, and that's not all the market that's out there, so I'm excited about that," he said. "I'm looking forward to being able to design something that will be for everybody and still have it be quirky."
Photos by Kelsey Edwards Photography/Remix by Jason Reed