Cosplayers—people who dress up and perform as characters for fun—pride themselves on accuracy. But when you're trying to portray somebody who doesn't exist, where do you draw the line?
Cosplay contests judge participants on the merits of their sewing skills alone, but it'd be a lie to say minority and disabled cosplayers never get called out by their peers for "inaccuracy" on Cosplay forums.
Black cosplayer Chelsea Medua, for one, said that enforcing stereotypes in cosplay defeats the purpose of the activity.
"A lot of people who think you need to have light skin to cosplay have a messed up definition of what cosplay is," she told the Daily Dot.
"These people think you need to look like a character right down to their weight, height, and skin color. The basic definition of cosplay it to just dress as a fictional or real character. Last time I check your skin, weight, and height weren't fabric, so they have nothing to do with your costume."
That's why the 20-year-old college student created Cosplaying While Black, a new Tumblr that helps dispel any belief that race matters when it comes to the hobby through hundreds of photos of black cosplayers.
"I follow many cosplayers on the Internet who I see at times get crude comments and remarks for just being black. [I wanted to] let other black cosplayers out there know that they shouldn't feel insecure about cosplaying because of their skin."
—Chelsea Medua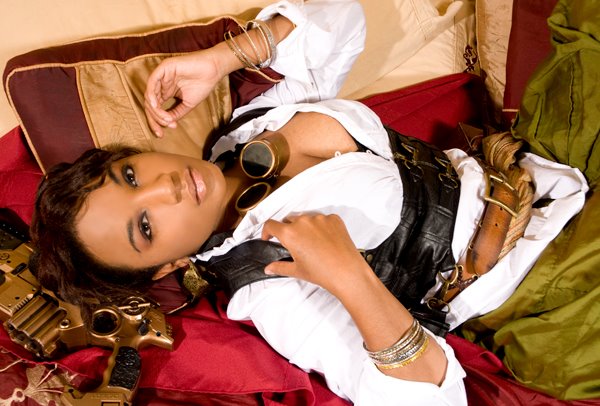 Across anime series, video games, and TV shows, cosplayers with pale skin have a much wider selection of characters with skin like theirs. Medua accurately pointed out, however, that very few characters actually look like real people.
"If you were to go just by weight, height, and skin color, even as a white or Asian cosplayer your choice would be limited," she said. "Cartoons, video games, anime, and comic books aren't known for having character with realistic body types. You're probably on steroids if you look like someone from [Dragon Ball Z]."
Medua's stance may seem blunt, but it's exactly what many persecuted minority cosplayers need to hear. In just the four days her Tumblr has been live, she's gotten dozens of messages of gratitude.
"One man even told me that the blog has even encouraged him and his friend to cosplay," she said.
Medua said she hopes her Tumblr will show more people that good cosplay is about accurate costumes and having fun—not about physical appearance. After all, when she plans her own cosplays, such as Applejack from My Little Pony: Friendship is Magic, she focuses on having a good time.
"My advice for black cosplayers is to remember that your skin is never issue," Medua said. "If you want to cosplay someone who is lighter than you do it and rock it."
Photos via Chelsea Medua/Cosplaying While Black