Donald Trump Jr. has a history of sharing questionable posts online. Tuesday, he shared one of his strangest yet. It involves Pornhub. And his dad.
The 41-year-old seems to find particular joy in gloating online. After the Pentagon announced funding for Trump's border wall, Trump Jr. posted on Twitter.
Christmas came early this week. https://t.co/ypqkZgRkeR

— Donald Trump Jr. (@DonaldJTrumpJr) March 26, 2019
Today, Trump Jr. took to Instagram—his favored platform for strange and off-beat shares—to deride Democrats. In a post added to his story last night, Trump Jr. shared a Pornhub-style meme of his father with the caption "I had to…"
The image shows President Trump smirking on a video titled "Orange Man Fucks Entire Democratic Party." The meme is likely in response to the recent conclusion of the Russia investigation, which ended without a collusion charge.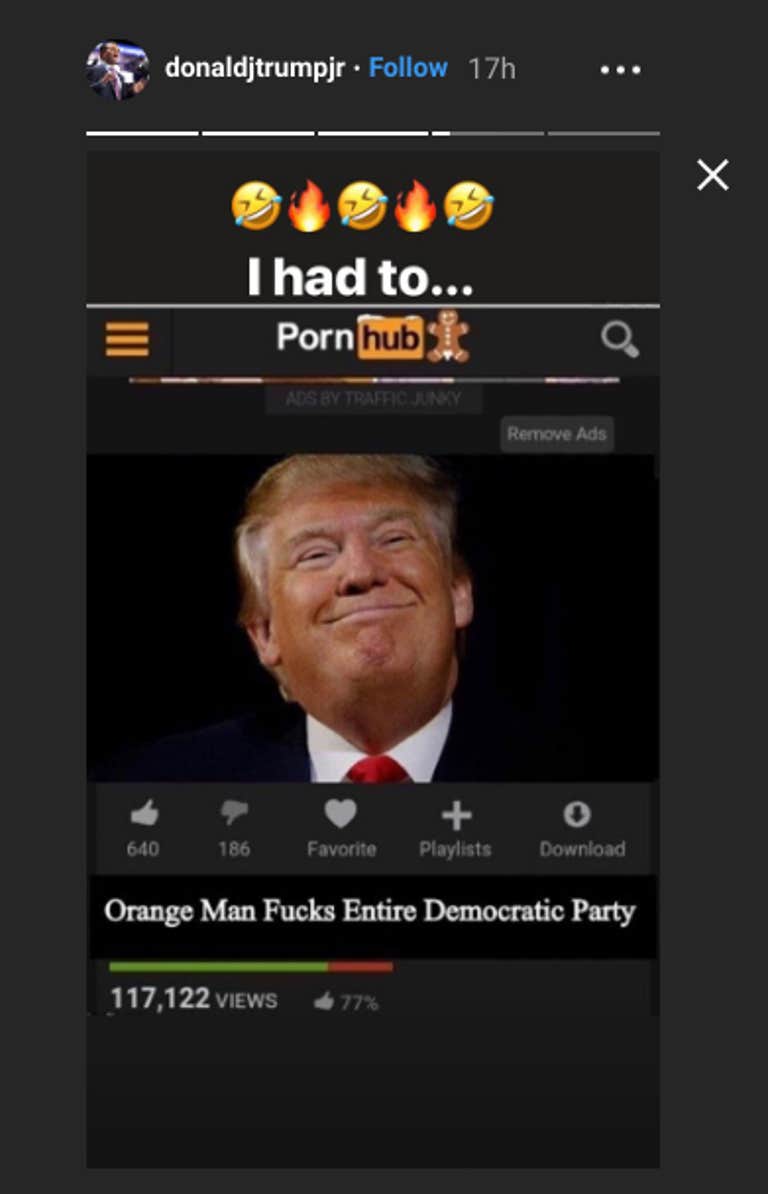 The questionable meme follows Trump Jr.'s trend of sharing consistently criticized posts. On Tuesday, Trump Jr. also shared a spoof March Madness bracket from the New York Post. The bracket called out members of the media who've been critical of the president, particularly as the Russia investigation developed.
In early January, Trump Jr. posted another questionable meme about his father. That time, it referenced comments from Rep. Rashida Tlaib (D-Mich.) who months ago said Democrats were "going to go in and impeach the motherfucker."
It seems Don Jr. is far from finished sharing cringeworthy memes about his father and his policies. Hopefully next time, he'll avoid the references to porn.
H/T Huffington Post