2017 was overwhelming, to say the least. President Donald Trump came in swinging: restricting abortion access, banning people from Muslim countries, revoking guidelines for transgender students, and rescinding rights for LGBTQ workers. He tried to take away our healthcare, prohibit transgender people from the military, and make it harder to get affordable birth control. He told our Dreamers to get out of our country, the only country they've ever really known. Even in his failed attempts, he has depleted our spirit and riddled us with anxiety for what could happen next.
However, women, people of color, and LGBTQ folks didn't stay silent or inactive, which is what the administration would have liked for us to do. And these nine below, whether under the national spotlight or in the courts and on the campaign trails, saved us in ways that matter for all of us. We are very excited for what they'll bring in 2018.
Princess Nokia
Destiny Frasqueri (better known as Princess Nokia) is used to making headlines. For one, she broke out into the mainstream spotlight after she released an updated version of her mixtape 1992, aptly called 1992 Deluxe. The album, which blends New York City living with body positivity, urban feminism, and Afro-Puerto Rican pride, quickly became a major hit after it launched in September. Even among the toughest critics, Frasqueri received glowing praise everywhere from the Skinny to the Guardian to Pitchfork.
And Frasqueri didn't just pump out an album this year and call out Nazism at the Afropunk Festival. She's also continued hosting her podcast, the Smart Girl Club, which gives women a space to talk about everything from handling men to witchcraft. And most notably, or at least most virally, Frasqueri fought back against a racist man shouting slurs on the New York City subway, slapping him on the face and throwing hot soup at him. 2018 looks like a promising year for Princess Nokia, as she continues her tour and, fingers crossed, gives us some new bangers.
Danica Roem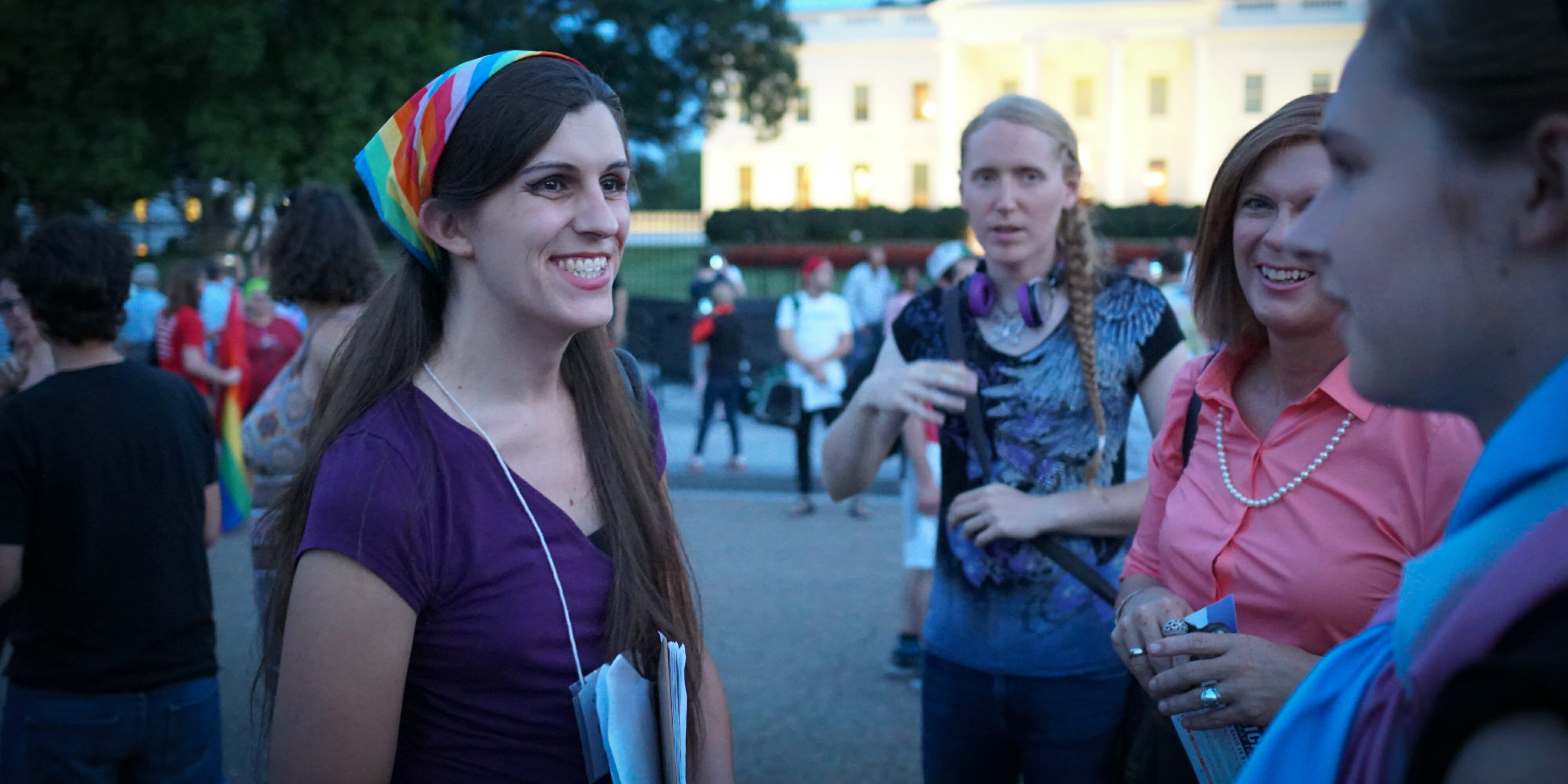 Danica Roem may not be the first transgender woman to be elected to public office, but she's easily one of the most powerful in the 21st century. Roem ran for the Virginia House of Delegates in District 13, an election that largely went unnoticed as she grappled with a transphobic opponent who refused to even engage in a debate. That is, until she won, in a historic victory.
Thanks to Roem, 2018 looks to be a promising year for trans Americans. For one, her mere presence forces Democratic lawmakers to deal with cisgender politicians who refuse to respect transgender women. And her time serving in office is sure to inspire more transgender people to run for local and state positions, building the momentum needed to finally elect a transgender woman to Congress. 
Dulce Garcia
In September, Attorney General Jeff Sessions announced that the Trump administration would be ending the Deferred Action for Childhood Arrivals (DACA) program beginning in March 2018, which allowed certain groups of undocumented children to work and attend school in the United States legally. In the hours after that announcement, undocumented students told the Daily Dot that they feared this rescinding of DACA would send other undocumented Americans back into hiding.
However, Dulce Garcia, an immigration lawyer from California, is one of the six Dreamers who resented being forced back into the closet and is suing Trump for his improperly enforced decision to revoke the statuses of 800,000 people. Filed in San Francisco federal court, the case of Garcia and her peers joins tens of other suits filed against Trump, but hers was the first to be filed by DACA recipients.
Garcia's parents brought her to Southern California from Mexico when she was 4 years old. In 2013, after DACA's implementation the previous year, she became an attorney. Now, Garcia has her own law firm with 50 clients, a business that would ultimately suffer should DACA be fully rescinded. Despite the backlash she's received from racists telling her to "make her own country great," Garcia continues to risk arrest in order to call upon her representatives to support Dreamers and pass a clean DREAM Act.
Jemele Hill
Hill made headlines this year for not giving a fuck. When she was promoted to evening co-anchor of ESPN's Sports Center in February, it wasn't because she would throw softballs for, or politely joke with, her male counterpart. It was because she could hold her own and then some. As a Black woman with a historically white male audience, she used her platform to say what few in media, let alone sports media, dared to say. She called Trump a white supremacist (for which Trump said she should be fired) and then insinuated that people boycott the Dallas Cowboys if its coach threatened to bench players who took a knee to protest racism (for this, she was suspended).
For now, Hill is still at ESPN, but she has shown that a corporation cannot, will not, stifle her voice. It would be interesting to see what she could do if she was wasn't beholden to the sports channel behemoth, if, perhaps, she was given her own show on another channel or started a whole new media platform herself. Either way, we look forward to a whole new year of her truth.
Georgia State Rep. Stacey Abrams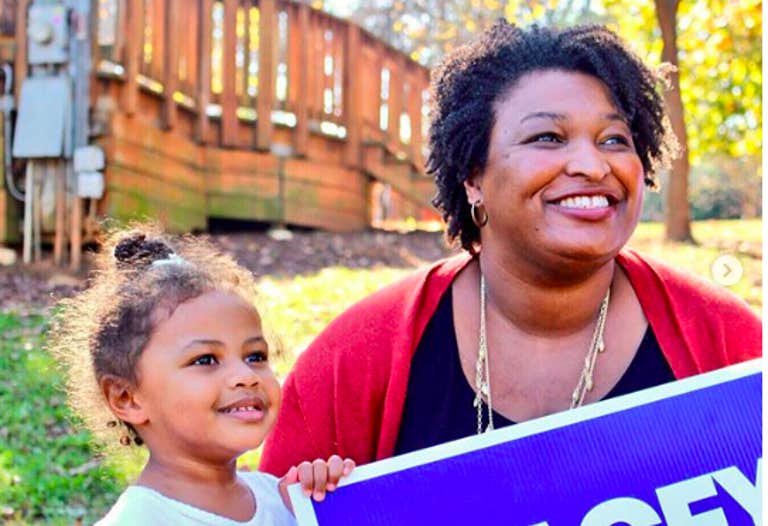 If there's anything we can be excited for that resulted from the 2016 loss of Democratic presidential candidate Hillary Clinton, it's the onslaught and subsequent victories of angry women that followed. Across New Jersey and Virginia, more Democratic women ran in 2017 state legislative races than in previous years, resulting in several wins for women including Roem. And women aren't stopping; according to another Rutgers University's Center for American Women and Politics poll, as of Dec. 7, there were 369 women running or planning to run for the House and 41 for the Senate in 2018, a majority of them Democrats.
Political race training organizations such as EMILY's List and She Should Run have seen similar spikes in interest, the former reporting that 22,000 women have reached out to them about running since the election, as have 15,000 women to the latter. As Alabama's special election outcome signaled, we can't expect Black women to save the U.S. with their votes, thank them, and then disregard them until the next election. We must invest in the campaigns of Black female candidates, particularly for those running in red states, such as Georgia, where State Rep. Stacey Abrams is running for governor.
Abrams was first elected to the House of Representatives for the 84th District in 2007, where she served until 2011, before she ran and won a seat for the 89th District. As a state rep, Abrams has stopped legislation that would hurt poor and middle-class families, and made gains to help progress Georgia's transportation, infrastructure, and education. From 2011 until her resignation for her gubernatorial run in 2017, she served as House Minority Leader, becoming the first woman to lead either party in the Georgia General Assembly and the first Black leader of the House. She was awarded the first-ever Gabrielle Giffords Rising Star Award in 2014, and also founded the New Georgia Project, which registered more than 200,000 people of color to vote between 2014 and 2016. Abrams has already been endorsed by current and former politicians such as New Jersey Sen. Cory Booker and fellow Georgia Rep. and civil rights leader John Lewis, as well as a number of organizations including EMILY's List and NARAL Pro-Choice America.
She's also far from the only woman running for a statewide office in a Republican-led state (Michelle Lujan Grisham, a New Mexico congresswoman running for governor, finds herself in a similar position in attempting to follow a Republican), but if Abrams were to win, she would become the first Black female governor, and first Democratic female governor of color, in the U.S. Being that she's one of two confirmed Democratic candidates, both women, running in the primaries with six Republican candidates, and that Georgia has voted Republican in the presidential elections since 1996, it's crucial that Abram receives the year-long support necessary to flourish in this election—not just at the polls, and not just from other Black women, either.
Casey Plett
Casey Plett first hopped into the literary spotlight back in 2010, where she began writing her McSweeney's column "Balls Out," dedicated to the everyday experiences of transgender women. She then took off after publishing her award-winning short story collection A Safe Girl to Love with Topside Press, followed by her work as co-editor for the science-fiction anthology Meanwhile, Elsewhere.
But 2018 looks to be a major year for Plett, with her upcoming novel, Little Fish, landing in May. The story follows Wendy Reimer, a 30-year-old trans woman that finds out her late grandfather may have been transgender. As Wendy and her friends struggle with everything from alcoholism to suicide, she finds that she must finally confront her grandfather's past to understand her present.
Plett's writing has always stood out among her peers, and Little Fish looks to be one of the most exciting trans literary experiences in all of 2018. Definitely keep an eye on her work (and if you haven't already, go ahead and pre-order her book on Amazon).
Lena Waithe
To some, Lena Waithe is known as the stylish "soft stud" Denise on Netflix's Master of None, but Waithe has been expanding boundaries for Black and queer women for years. In 2014 she worked as a producer on Dear White People, the film that begot the Netflix series, and was named one of Variety's "10 Comedians to Watch" that same year. Her successes came to a head this September when she won an Emmy for Outstanding Writing for a Comedy Series for her "Thanksgiving" episode on the second season of Master of None, becoming the first Black woman to win the award.
In the episode, which Waithe said she loosely based on her own life, Denise struggles with coming out to her mother. Going into the new year, Out Magazine has already named Waithe its Out100: Artist of the Year, and she already has a major project on the way: She created and executive produced Showtime's The Chi, an autobiographical series about her coming-of-age years in Southside Chicago, which premieres Jan. 7. Not to mention, earlier this month, Entertainment Weekly reported that Waithe will be joining the second season of Netflix's Dear White People series as a "braggadocious MC" and reality show star whose existence serves as a point of reflection and social commentary for the main characters.
Summer Zervos
It was easy for Zervos' story to get buried in the dozen-plus sexual assault allegations that emerged during Donald Trump's presidential campaign. But in case you need a reminder, the former Apprentice contestant said Trump forcibly kissed her, groped her breasts, and thrust his genitals against her in 2007. When she came forward last year, Trump did what he has done every other time a woman has said he assaulted her—he called her a liar.
But just as her story got lost in the onslaught of horrific news in 2016 so has her case against Trump in 2017. Zervos is suing the president for defamation for calling her a liar, an offense that bears less burden of proof than assault and has given her lawyers a reason to subpoena evidence about every other sexual crime Trump was accused of during the election. A judge is considering whether the case should proceed right now, and if it does go to court, what could be presented could have larger consequences than Robert Mueller's Russia investigation.
You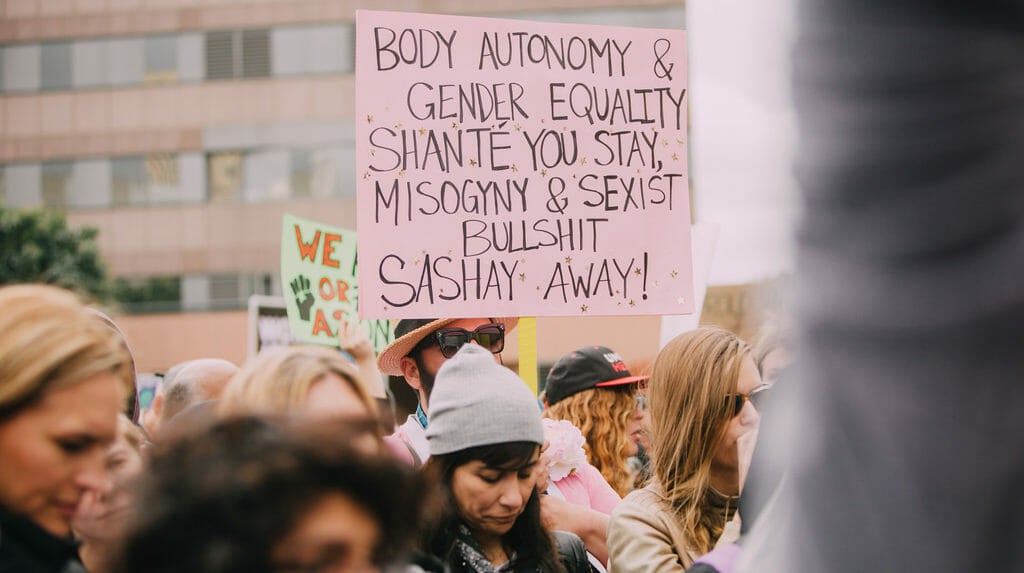 This may seem schmaltzy, but considering how defeated we were entering into 2017, you did really well this year, ladies and nonbinary friends. Phenomenally well. A man who had been accused of violence against women was now our president; he was a man who had never done an ounce of public service in his life and yet he beat out a very qualified woman, the first woman we assumed would be president.
Instead of rolling over, we did what female-identifying peoples have always done: We helped each other get back up (but perhaps first, we stared numbly into the void, did some primal screaming, cry-texted our friends, and binge-watched low-stakes Netflix teen dramas). Then we poured out into the streets, silly pussy-grabbing protest hats proudly on our heads to show we were both clever and not taking shit. We demanded that our rights matter, our bodies matter, our minds and talents matter. We showed the MAGA-clad Americans we were not pleased. And this was only January. By October, we were toppling powerful men in powerful industries, calling out sexual harassment and assault and seeing real repercussions. These were abuses women have endured in the workplace since we were allowed to work and no one has really cared until now—that's how fucking angry we were in 2017.
Was all of this a kumbaya race to a happy ending? No. There are many, many people, especially women of color, queer people, trans people, low-wage people who are still suffering and left out the conversation, and we need to include them and make them feel safe in our pink-hat takeovers.
But if the momentum of 2017 shows anything, 2018 may just bring a few more swift blows to the patriarchy—perhaps even the president will have his perch crumble beneath him. There could, of course, be pushback, too: Maybe men will now too scared to be alone with us, further hindering career advancement and widening the wage gap; a few allegations could turn out to be "fake" and everyone goes back to not believing women.
But for now, we have the world's attention and if we can use that to put a spotlight on other injustices—the everyday holdovers from our country's very racist foundation, how little we know or care to know about trans people—then we can all move forward from the brazen hate Trump unearthed. So keep being anxious and angry and fearful of suffocating under the patriarchy. Keep holding on to each other like you always have and then reach to others who have it less easy than us. And this year, let's try once again to elect some of our own into office and create spaces for us to lead.