For perhaps the first time ever, the Golden Globes looked less like an awards show this year and more like a social statement. Almost uniformly, celebrities donned black and wore pins to call attention to Time's Up, a multi-pronged initiative to eliminate gender inequality in the workplace. But Time's Up activism doesn't begin and end with a wardrobe choice and a hashtag. Most prominent and noteworthy among the initiative's features: a legal defense fund designed to help women in low-income industries combat on-the-job sexual harassment.  
It's an ambitious project—one that spans all industries and wage levels—but one that strives to make real, long-standing, legal changes to combat a deeply embedded problem that has hindered generations of women in the workplace. While the initiative is still young and will surely evolve, here is everything we know about Time's Up right now.
What is the Time's Up movement?
The mission of Time's Up
Time's Up was announced on Jan. 1 when more than 300 women working in film, television, and theater co-signed a letter detailing the initiative's mission as a response to the #MeToo movement, which was catalyzed by three decades' worth of sexual misconduct reports against movie mogul Harvey Weinstein in October. But Time's Up isn't just Hollywood-focused; the initiative's backers wrote that they stand in solidarity with people in every field who weather professional discrimination.
"Systemic gender inequality and power imbalance fosters an environment that is ripe for abuse and harassment against women," the letter reads, calling for equal representation, opportunity, and pay—for women, generally, and particularly for women of color, immigrant women, and women who don't identify as cisgender or heterosexual.
"The struggle for women to break in, rise up the ranks and to simply be heard and acknowledged in male-dominated workplaces must end; time's up on impenetrable monopoly."
READ MORE:
Who is involved in Time's Up?
Time's Up is leaderless, but the National Women's Law Center (NWLC) will administer its legal fund. NWLC Legal Director Sunu Chandy tells the Daily Dot that the partners are still working out the details. Tina Tchen—former chief of staff to the first lady Michelle Obama—approached the NWLC with attorney Roberta Kaplan and a group of prominent entertainment figures in late 2017, Chandy says.
"It came together pretty quickly in terms of a partnership," she explained. Tchen's camp resolved to put their pooled resources behind women who lack the resources to take their workplace sexual harassment claims to court; the NWLC had already launched its Legal Network for Gender Equality in October. For that endeavor, the NWLC recruited over 200 lawyers willing to provide free consultations, and potentially also representation, to women pushing back against gender-based discrimination at work.
"It really was kind of a synergy, in a way, that helps the Legal Network to increase its reach and capacity, and also encourage more lawyers to take on these cases," Chandy said. "If there is some incentive for financial support for those cases, then people are more likely to take them on." And indeed, the participation of such big names as Reese Witherspoon, America Ferrera, Natalie Portman, Kerry Washington, and Jill Soloway seems bound to boost interest.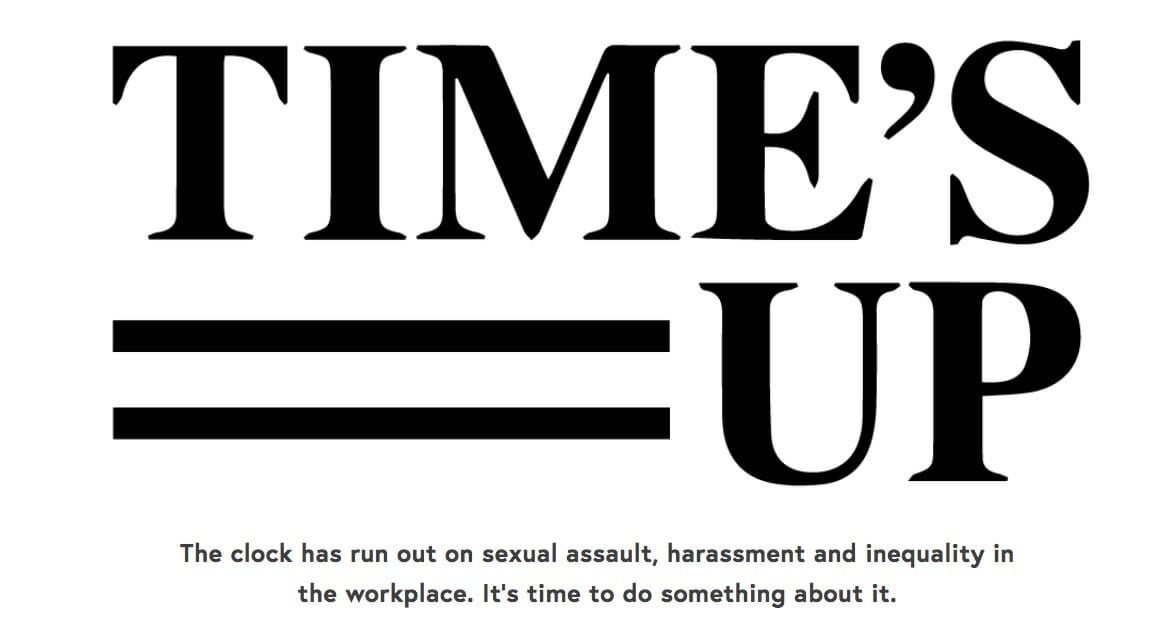 The funding and advocacy behind Time's Up
At the time of this writing, Time's Up had raised over $16 million on GoFundMe, just shy of its $16.5 million goal. Chandy says they've "already had dozens and dozens of people come forward just in the first week, both lawyers who want to give back and individuals who are looking for legal help."
In this early stage, Time's Up is connecting women with lawyers to discuss their particular situations. To request legal assistance, interested parties can fill out this form; attorneys who can offer their services to the network can sign up here. Women with sexual harassment and retaliation complaints who apply will receive a list of local lawyers who can provide a free consultation, Chandy says. From there, the lawyers will have to assess the appropriate next step, whether that's contacting the offending employer, initiating an internal investigation, or filing a complaint with the federal or local government to cue an outside investigation.
"Those kinds of things could definitely happen and those kinds of things are definitely less cost-intensive [than a lawsuit] but also take up attorney time, so I think many of the big firms will be able to donate that time," she explained. "There might be other firms who will seek to access funds for some of that work."
Any litigation process will be long, and the Time's Up partners have yet to hammer out the qualifying criteria for legal help. At this juncture, though, Chandy speculated that funding could come in the form of attorney reimbursements or grants given out on the basis of need.
"I think this is a really exciting moment and it's a time when women from all different backgrounds and class backgrounds and privilege backgrounds are working together to support one another," Chandy emphasized. "It's also a time when we are hoping that this will lead to real change in terms of what's considered acceptable behavior in the workplace," and encourage people with more resources to share them with women who need assistance.
Time's Up news
Time's Up announced that it was teaming up with initiatives in the advertising and journalism world in March 2018. Over 200 women leaders in advertising announced the launch of Time's Up Advertising, the first affiliate of the Time's Up movement aimed at stopping harassment and abuse in a specific industry.
We see you. We see your talent. We see the gap. Change is coming — real change.
Time's up, advertising. @TIMESUPNOW https://t.co/OEEf0nwMtk pic.twitter.com/6GwGVwQnJj

— TIME'S UP ADVERTISING (@TIMESUPAD) March 12, 2018
The organization plans to investigate the successes and failures of previous anti-discrimination policies and drive tangible action to stop abuse and hold those in power accountable. Time's Up Advertising will host community gatherings across several major advertising hubs starting May 14, including New York, Chicago, Toronto, along with an online community where women in the industry can contribute ideas and experiences.
Press Forward,  a nonpartisan initiative founded by current and former women in journalism, announced its alliance with Time's Up on March 13 to end sexual harassment and assault in American newsrooms. Partnered with Time's Up, Press Forward aims to raise funds for the Time's Up Legal Defense Fund.
TIME'S UP and PRESS FORWARD Team Up to Stop Sexual Harassment in the Newsroom: A new partnership is announced with @TIMESUPNOW Read more: https://t.co/mId1jDYFoA #timesup #thepressforward

— The Press Forward (@ThePressForward) March 13, 2018
Launched shortly after the #MeToo movement in 2017, "envisions a workplace culture in which journalists uphold the integrity of the American press by working together in a way that is safe, fair and void of demeaning, traumatic and illegal behavior," according to its website.
Editor's note: This article is regularly updated for relevance.