Warning: This article contains details of sexual assault and rape.
At least five women came forward over the weekend to accuse Vanderbilt University football players of sexual assault and rape.
The women tweeted their allegations during what seems to be a recent resurgence of the Me Too movement. It appears that the women started sharing their experiences after Twitter user @baldheadQT accused Khari Blasingame, current NFL fullback and former Vanderbilt player, of raping her.
"Black Vandy, I needed to finally say publicly that spring semester of my freshman year I was raped by a 'respectable' member of our Black community," she wrote.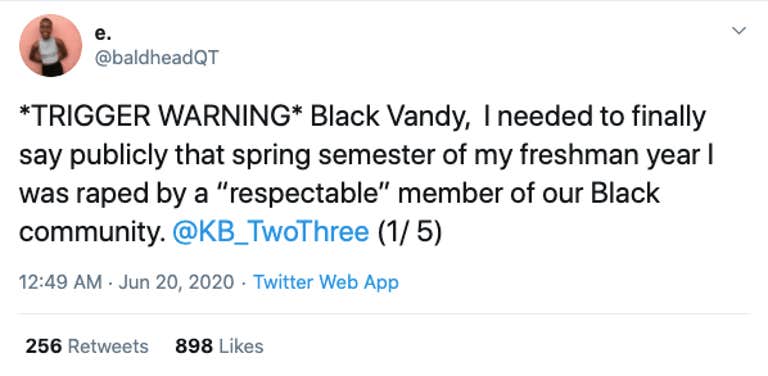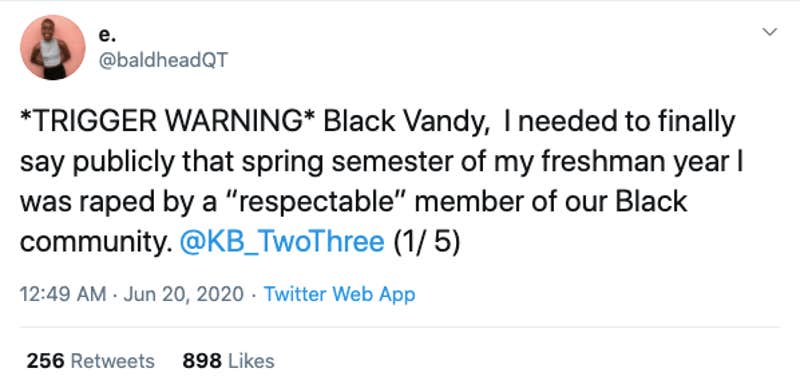 She said she went to the hospital following the alleged rape. She added that she didn't come forward before now out of fear that people wouldn't believe her.
"I still fear not being believed. But I'm realizing that even if the BVU community doesn't believe me nothing will change for me," she wrote. "I already don't feel safe visiting VU, so believe me or don't. I know my truth and I have hospital records."
Blasingame has yet to respond personally to the accusations, but he retweeted a statement from his agent saying that the player had a "consensual relationship" with @baldheadQT during college.
"We believe every woman should be heard and respected," the agent Nate Litwin wrote. "The allegation of rape now being made more than four years later is false."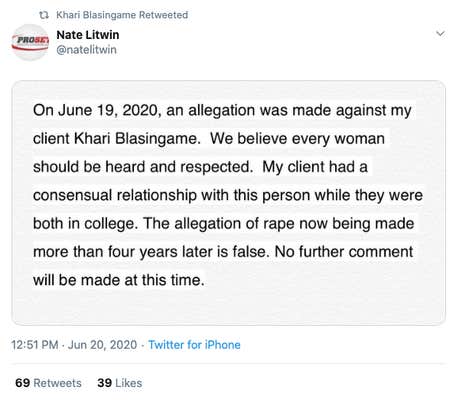 Blasingame was accused online of sexually assaulting at least one other woman.
Not long after @baldheadQT's tweets, Vanderbilt student Regan Siems, who worked as a football equipment manager, accused former football player Charles Wright of raping her when she was a freshman.
In her tweets, she detailed reporting the sexual assault to Title IX office and winning her case. Wright stopped playing without explanation in 2019, a year after the sexual assault.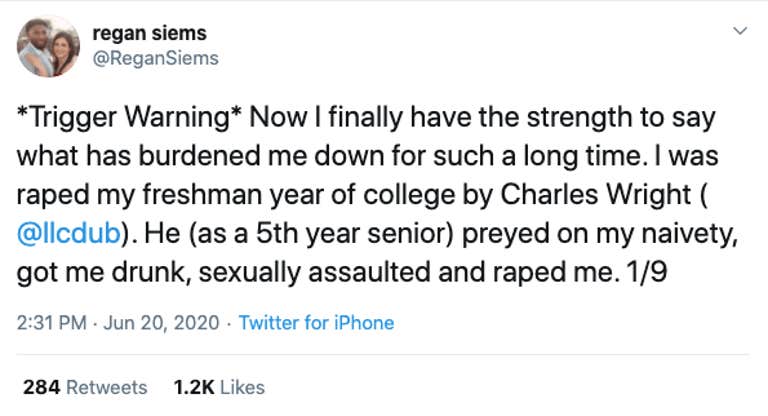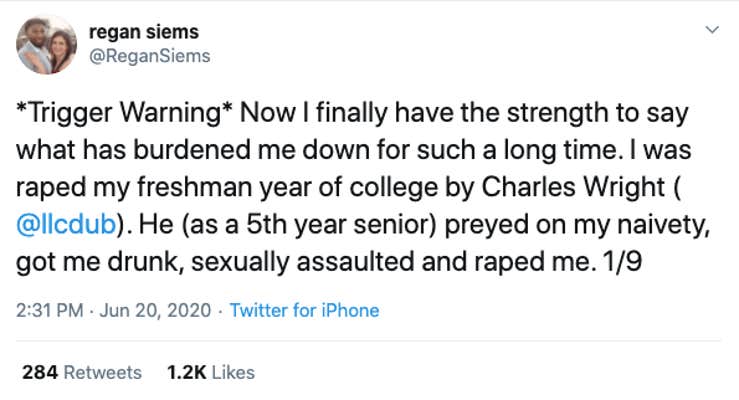 Siems said Wright was still able to work loopholes and finish out his time at the university.
"Vanderbilt Football knew Charles Wright was a rapist and covered it up in hopes of having another Commodore in the NFL," Siems wrote. "They continuously promoted his 'volunteering' ventures. Vanderbilt Football perpetuates a rape culture and the University allows it."
Following Siems' tweets, another Vanderbilt student came forward and accused football player Randall Haynie of sexually assaulting her. The woman, Twitter user @NkemjiO, wrote that she had invited Haynie to watch a movie but had been clear that she did not want to have a sexual interaction before he got there.
She said she continued to tell him "no" several times as he began to touch her. The student said Haynie then exposed himself to her and attempted to force her to perform oral sex. She ran out of her own room and waited in the public bathrooms until her friends arrived.
"I had to watch as many people praised and loved him, and I'm tired," @NkemjiO wrote. "I REFUSE to go into my final year at Vandy with this on my chest. If you read this and continue to support and uplift this man, I hate you and all that you stand for."
A second Vanderbilt student came forward to accuse Haynie of sexual assault following @NkemjiO's tweets. Twitter user @ahmuhle said Haynie raped her during her sophomore year.
"First semester sophomore year, I came home to my two roommates at around 3 in the morning, crying, and in a blood-soaked white skirt. A Vanderbilt football player, Randall Haynie, had sexually assaulted me," she wrote.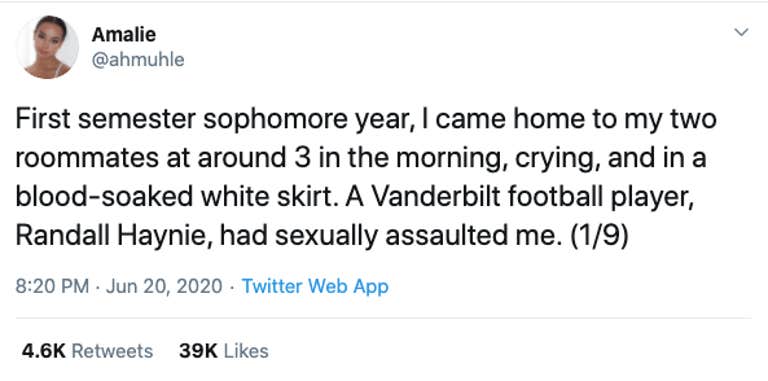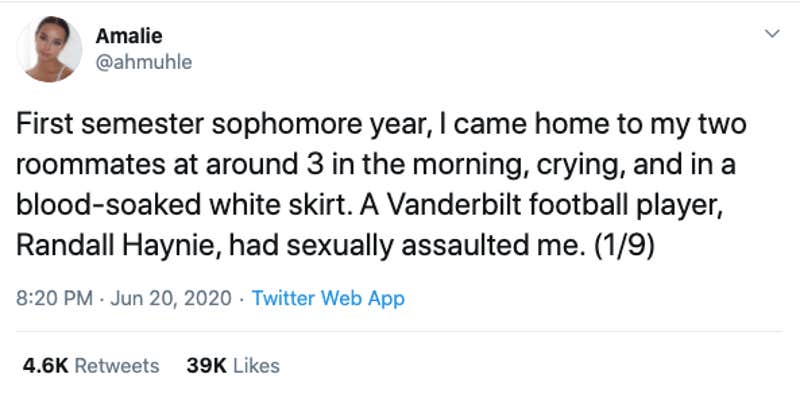 She detailed that she was originally friends with the player and trusted him. She said that he sexually assaulted her at a party when she was drunk. She said that he acknowledged that she was too drunk to consent to sex but that he said he "took his opportunity."
Vanderbilt students and at least one former football player have publicly expressed their outrage over the alleged sexual assaults and the way that the university handled them. Now, some are calling for the head coach to step down, saying he helped cover up the incidents and has "helped prop up a culture in which other players have done the same."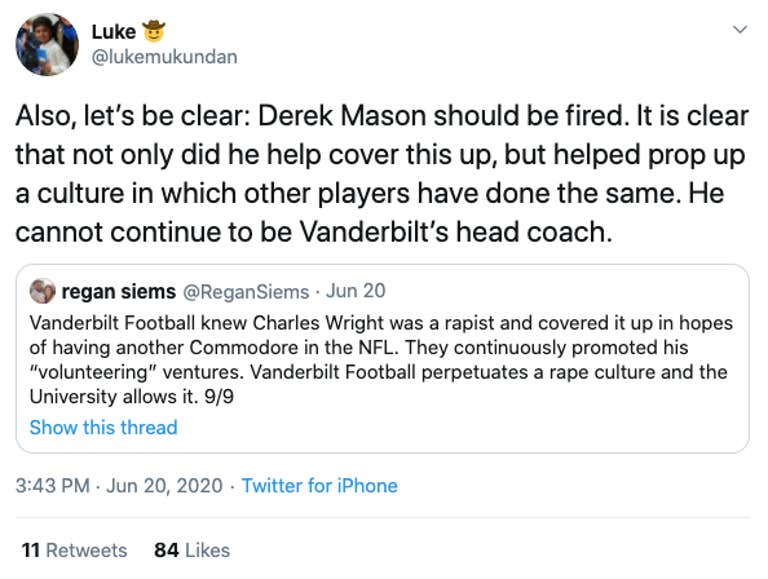 READ MORE: