Update 1:36pm CT, June 26: Bieber on Thursday filed a $20 million defamation lawsuit over the anonymous tweets. According to the Hollywood Reporter: "He argues the stories are fabricated attention grabs and he has proof the claims are impossible."
"The malicious statements made by 'Danielle' and 'Kadi' (who may be the same person under two accounts) are absolutely false, and their respective heinous accusations that Bieber engaged in the alleged sexual assaults are outrageous, fabricated lies," wrote Bieber's attorney in the complaint.
The original report is below. This article contains details about sexual assault.
Ever since the #MeToo movement took rise in 2017, several women have come forward accusing celebrities of sexual assault. Actor Ansel Elgort was the latest just a few days ago. Now singer Justin Bieber has joined the ranks.  
Late Saturday, a woman going only by "Danielle" spoke out about her alleged night with Bieber in March 2014. Danielle says women who leveled sexual assault allegations against Elgort—which he has since denied—inspired her to speak out.
Danielle says she was in Houston for a concert while Bieber was in town with his then-girlfriend Selena Gomez. After meeting him and chatting for about 20 minutes, Bieber and another man allegedly invited Danielle and her friends to the Four Seasons Hotel.
While there, Bieber allegedly took Danielle to a private room with him and "asked [her] to join him in bed."
"I than began to think that this was suspicious," Danielle wrote.
Bieber eventually kissed her, she says, which later turned "into a steamy make-out session." She then alleged he got on top of her and raped her as she told him to stop.
Danielle's tweet has over 33,000 retweets and 57,000 likes.
Shortly thereafter, another woman named Kadi said she was also sexually assaulted by Bieber. Kadi said the incident—which occurred in 2015—led to a rehab stint and suicidal thoughts since her culture prevents her from having premarital sex.
Her tweet has over 12,000 retweets and 32,000 likes since being posted early Sunday morning.
Since the allegations started pouring in, several Twitter users have urged fans to stop supporting him.
"YOU ALL BETTER HOLD THE SAME EXACT F*CKING ENERGY TO 'CANCEL' JUSTIN BIEBER AS YOU DID ANSEL ELGORT. THEY ARE BOTH FUCKING RAPISTS AND IT DOES NOT MATTER THAT JUSTIN HAS MORE FAME. THEY BELONG IN JAIL," tweeted user @babietommo28.
#JustinBieberIsOverParty also began to trend on Twitter.
"The fact that some of y'all are trying to prove that Justin Bieber is innocent and not believing the victim just because he is your fave and you don't want to see his reputation going down is so fvcking disgusting. HE IS A RAP!ST, BELIEVE THE VICTIM #JustinBieberIsOverParty," wrote another user.
At the same time, just as many fans rushed to Bieber's defense and have urged fans not to jump to conclusions. Some fans are dredging up Kadi's old tweets that they say contradict her allegation.
In 2014, she tweeted, "Y'all believe anything i could make an account with a hot babe as an icon and say i slept with jb & y all will believe it."
"I swear if we don't meet I'll find you and fuck you," she allegedly wrote in 2015.
However, she has since defended herself and her old tweets.
"THIS!! This is how beliebers are! This was in 2014! A year before my assault! A girl said something about Justin assaulting her and I was also one of thoses beliebers who didn't believe her. Hence this tweet," she wrote of the 2014 tweet.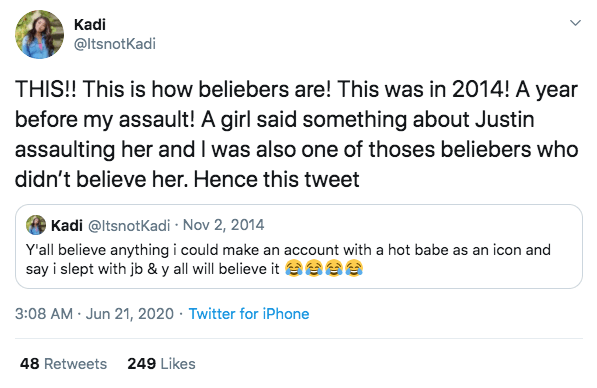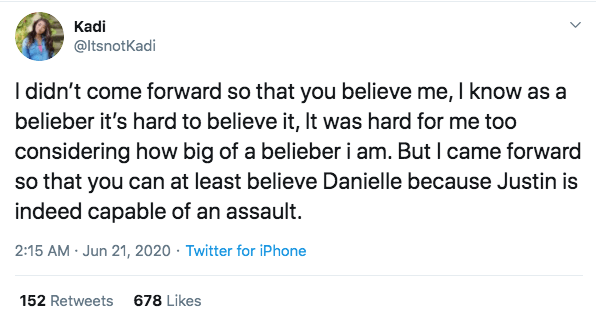 Meanwhile, one of Bieber's colleagues, Allison Kaye allegedly said in an Instagram DM that Danielle's account was "factually impossible" given that Bieber stayed at an Airbnb the night of her alleged assault.
Bieber himself has not yet addressed the allegations.
The Daily Dot has reached out to Justin Bieber's team.
READ MORE: