Actor Ansel Elgort has been accused of sexual assault in a viral Twitter post that has been retweeted more than 68,000 times. It's prompted another user to come forward and say that the actor groomed her when she was underage.
Twitter user @ltsgabby posted a story detailing her alleged sexual assault at the hands of Elgort. In her post, she names Elgort and shares a photo and alleged text interactions of the two apparently together.
Gabby alleges, in her Twitter post, that she was sexually assaulted by Elgort a few days after she turned 17. Elgort, she says, was in his 20s at the time. "I'm posting this so I can finally heal and I know I'm not alone and he's done this to other girls," Gabby wrote. "Ansel Elgort sexually assaulted me when I was 17."
"When it happened instead of asking me if I wanted to stop having sex knowing it was my first time and I was sobbing in pain and I didn't want to do it the only words that came out of his mouth were 'we need to break you in,'" she writes. Gabby notes that she wasn't "in that moment mentally," and she felt completely incapable of leaving.
She said they met via Snapchat.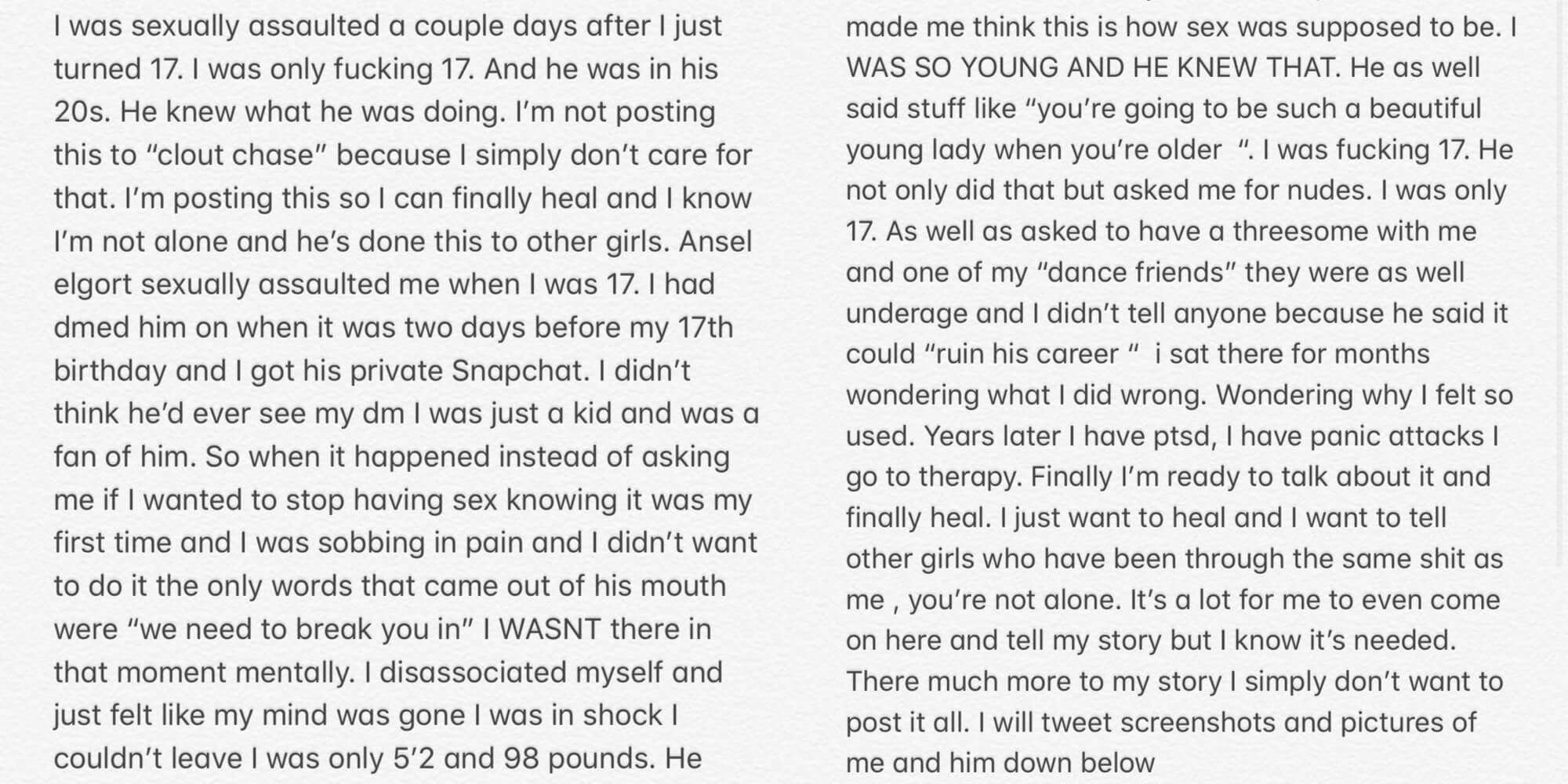 "I WAS SO YOUNG AND HE KNEW THAT," Gabby continues in her post. She lists off a series of additional accusations against Elgort, including soliciting her for nudes and attempting to take part in a threesome with Gabby and other underaged girls.
Years after the incident, Gabby notes that she still has panic attacks and PTSD. "Finally I'm ready to talk about it and finally heal," she wrote near the end of the story: "I just want to heal and I want to tell other girls who have been through the same shit as me, you're not alone. It's a lot for me to even come on here and tell my story but I know it's needed."
Underneath the story, composed via notes and shared as a screenshot, Gabby also shared an apparent photo of she and Elgort.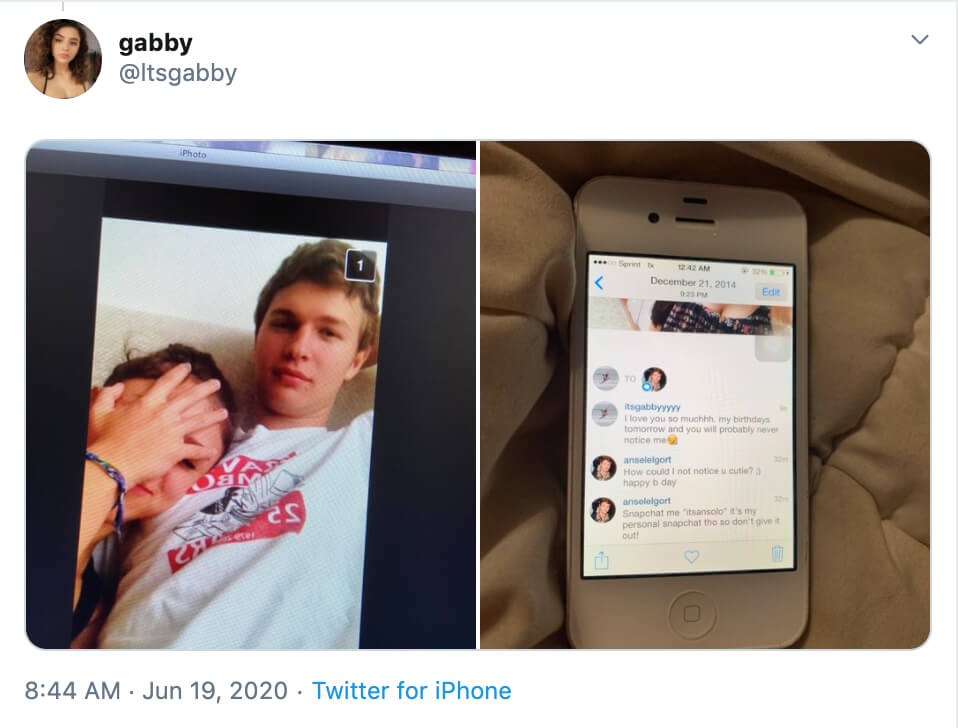 Another user followed Gabby's story with one of their own.
User @ValerieComplex translated a story shared in French by user @sterplt. The post roughly translated reads "@AnselElgort I know you still follow me, do you remember when you sent this to me when I was 15 and you 21 ???"
Underneath are screenshots of text conversations between the poster and a user named Ansel. "I want you to come to my hotel room when I'm in London next," Ansel's message reads. "…I want to kiss you, you're so pretty. But u can't tell a soul otherwise I could be in sooooo much trouble."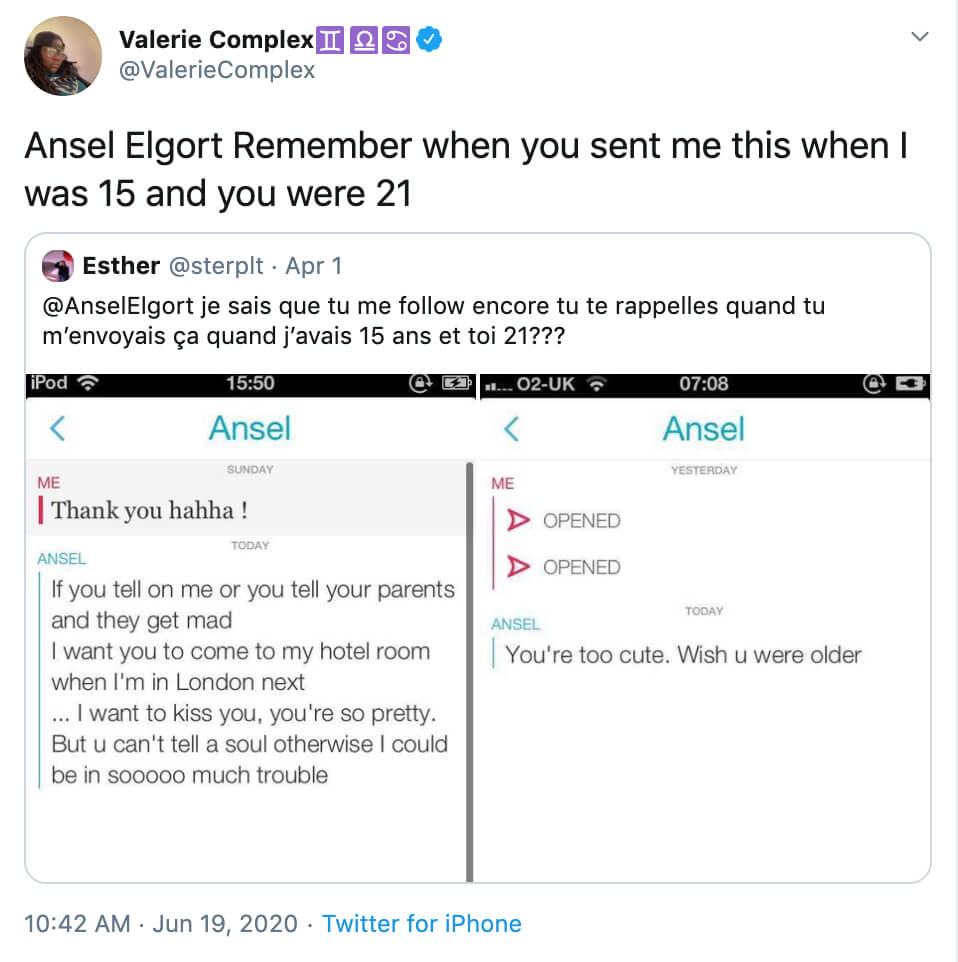 "You're too cute. Wish u were older," a final message reads.
Update 11:17am CT, June 21: Elgort has since denied Gabby's accusations in an Instagram statement. In it, he claims he and Gabby engaged in a "brief, legal and entirely consensual relationship" that soured because he ghosted her in 2014. "I cannot claim to understand Gabby's feelings but her description of events is simply not what happened," Elgort wrote.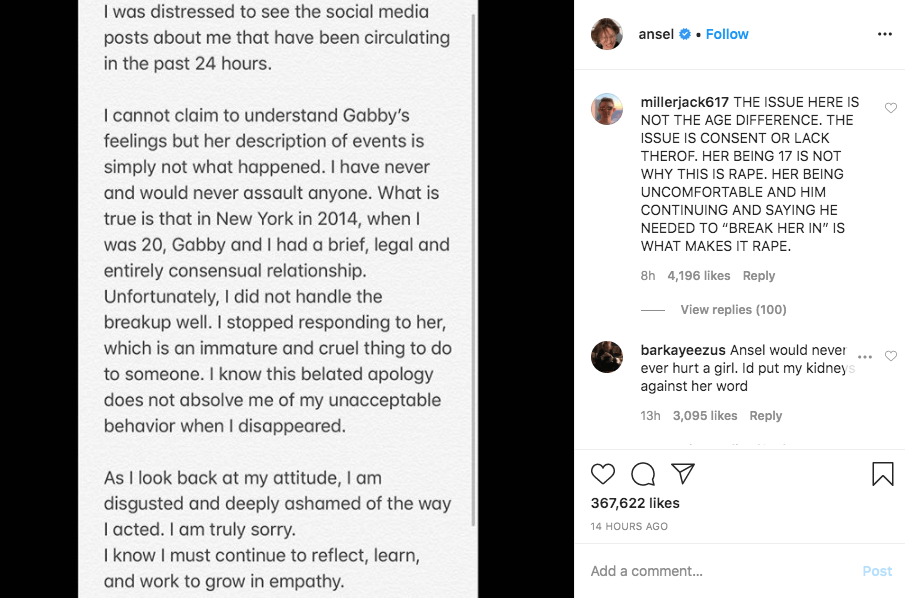 Online, the reaction has been swift in condemning Elgort. Some die-hard fans are sticking with the actor, but majority opinion appears to fall starkly against him. Some users are even calling out old tweets of Elgort, like his previous support of the Time's Up movement, which called out Hollywood's history of ignoring predatory behavior from its men.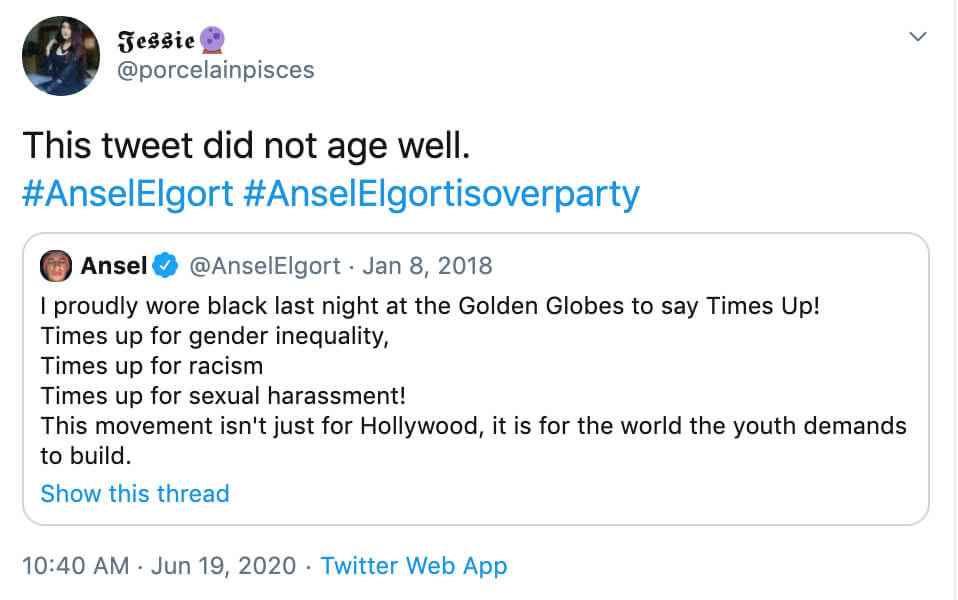 Accusations against the 26-year-old actor, known for his roles in Baby Driver and The Fault In Our Stars, began with a June 16 Instagram post. User blackatlaguardia posted a series of stories about her time as a student at New York City's Fiorello H. LaGuardia High School. In one, she alleges that an Ansel—whom she does not specifically identify as Elgort—repeatedly mocked her with use of the N-word.
"Once I was in class and we were learning about the Niger River. Ansel (Lag's favorite) repeatedly mocked me and said "N**GER RIVER" multiple times. Nothing was ever done about it," the post reads.
The story quickly gained steam online, where many people were more than willing to believe that Elgort was the Ansel in question. Fans of the actor jumped to his defense, noting that even if the story is about Elgort, it was a long time ago.
We reached out to Gabby and Elgort, but did not receive a response before publishing time.
"So many of you have dmed me your stories whether that's with him or just in general. This is the reason why I tweeted what I did. I'm crying at work I'm so fucking thankful for you all. You're not alone," Gabby tweeted on Friday afternoon.
READ MORE: