Sam's Club is one of the most popular destinations for all your holiday needs. Not only can you pick up gifts for everyone on your list, but you can also stuff your cart with all your holiday season essentials.
Luckily, there's a way to nab everything you need from your favorite price club without having to don your Christmas hazmat suit. Sam's Club is offering all shoppers curbside Pickup. You can conveniently shop online 24/7 without sacrificing the great deals that come with your membership. Just make sure to search for items marked "in club" while you're shopping and select curbside Pickup at checkout. Rest easy knowing everything you need will be ready and waiting to be loaded in your car at your local Sam's Club.
Still, even with the convenience of the internet, making sure you have absolutely everything you need for the season of giving, miracles, and Home Alone movie marathons can be an unforeseen chore. But don't fret. We've made some handy lists for a myriad of holiday occasions so you won't have to bother yourself with more than one trip.
Holiday baking essentials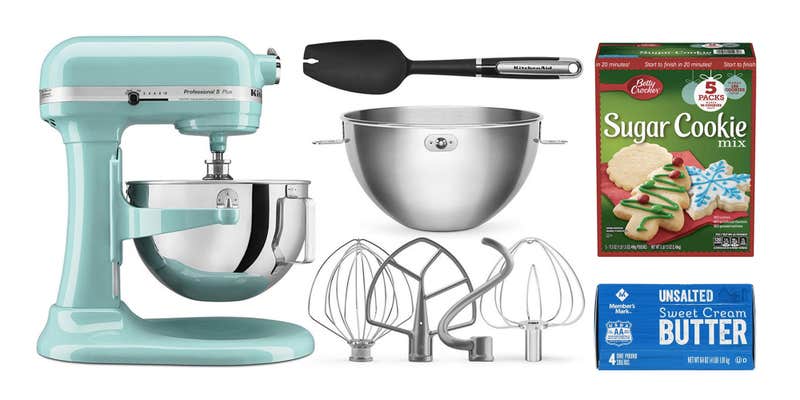 Ask any professional pastry chef (or heck, grandma) what the secret to great holiday treats is, and dollars to donuts they'll simply say, "butter." Why settle with buying one pound at a time when you can save big by getting four pounds of Member's Mark Sweet Cream Butter? That amounts to 16 sticks, which should be more than enough for batch after batch of sugar cookies, red velvet cakes, and any other holiday treats you're inspired to make.
Speaking of cookies, there's no shame in using a boxed mix, especially if it's a quality one like the Betty Crocker Holiday Cookie Mix. One mix makes about 36 cookies, and since it's a five pack you'll have more than enough to make it through the holiday season. You may even have enough to make a care package or two for friends and family. Throw some Hershey Kisses and peanut butter into the mix for a variety of treats.
If you want to make holiday baking a breeze and treat yourself to an early Christmas gift, the KitchenAid Professional 5 Plus 5 Quart Bowl-Lift Stand Mixer with Baker's Bundle will spit out treats quicker than an army of Keebler Elves. Plus, it's available in five gorgeous colors. Don't forget the baking sheets and rolling pin!
Holiday movie night must-haves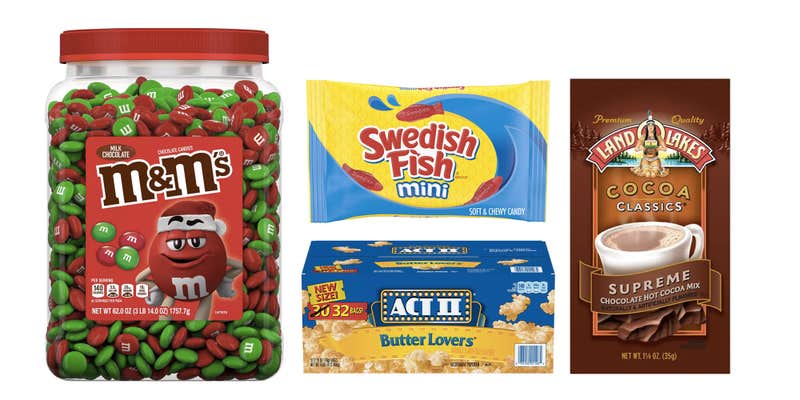 In the age of streaming, binging a holiday movie marathon with the fam is too easy not to do. Whether you're into new classics like Elf or silver-screen nostalgia trips like It's A Wonderful Life, Sam's Club has every manner of movie night snack to please kids from one to 92.
The ACT II Butter Lovers Microwave Popcorn 32-pack has enough popcorn to satisfy a small theater. Add the classic green and red M&M's to your popcorn for a festively sweet and salty twist. If you're looking to conserve some calories before the holiday bacchanal, the SkinnyPop Variety packs three delicious flavors, with no more than 110 calories in a bag. Or, if simple popcorn is simply too vanilla, Cheetos Popcorn Variety Pack offers both classic cheddar and infamous flamin' hot flavors to set taste buds on fire.
Movie night snacks don't start and end with popcorn. The Sour Patch Kids and Swedish Fish Variety Pack will satisfy all gummy cravings, and you don't have to be an extraterrestrial to appreciate a 3 lb. bag of Reese's Pieces. Wash it all down with some hot cocoa. Don't forget to grab a Member's Mark Oversized Cozy Throw Blanket to ensure all audience members are as snug as possible.
All the makings of a feast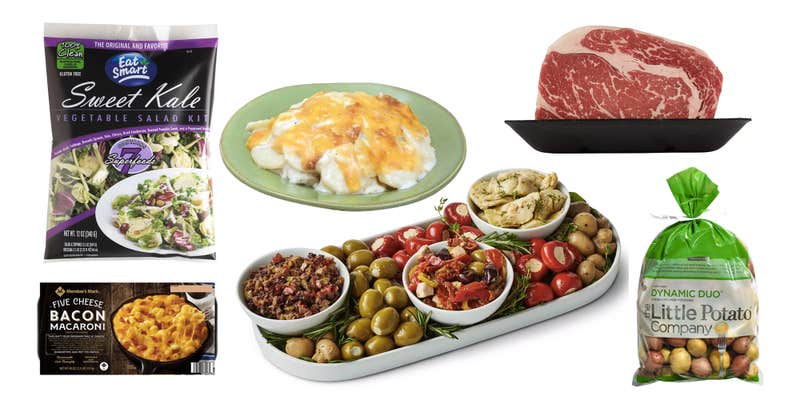 Like Thanksgiving, the holidays are a great reason to stuff your face with excellent eats. And there's no better place to stock up on the makings of your holiday feast than Sam's Club. You can grab a USDA Prime Ribeye Roast for a fraction of what you pay at the grocery store. Sam's Club roasts come pre-aged to maximize flavor and tenderness. Every roast is hand-cut daily, so you can be sure your investment will be totally worth it.
And while the big fancy roast will likely be the star of your holiday table, you can't forget all those showstopping sides. Little Potato Company 5 lb. has skins so soft you won't need to peel them. These sweet, smaller spuds are great mashed, roasted, or even nuked in the microwave and tossed with herb butter. Or, if you don't want to fuss, you can opt for Member's Mark Fully Baked Scalloped Potatoes, made with cheddar, parmesan and romano cheeses.
Still, just because it's a holiday meal doesn't mean you shouldn't eat your veggies. The Sweet Kale Vegetable Salad Kit is not only easy to fashion, but so tasty you'll actually look forward to eating your greens. And because there's nothing more frustrating than lingering bodies in the kitchen, Member's Mark bacon-wrapped shrimp with pepper jack Cheese will tide guests over before the meal is done.
Last-Minute Gifts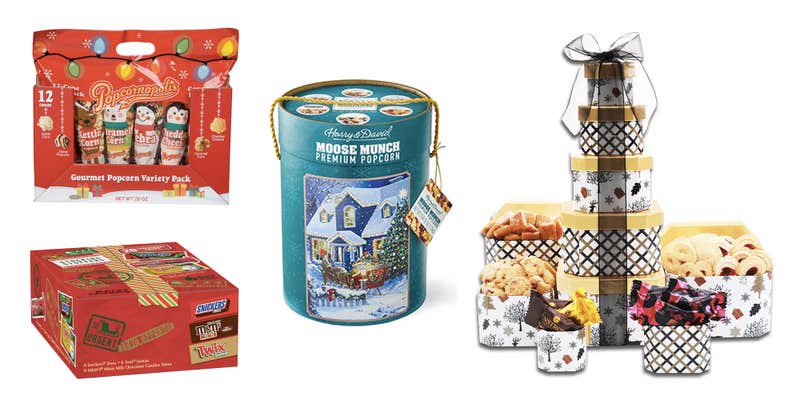 Sam's Club is a great place to grab a gift for those at the top of your list. It also is full of great, affordable gift sets to stock up on for any last-minute Secret Santa or White Elephant gift exchange. Nobody doesn't love a Signature Sausage and Cheese crate, full of artisanal cheeses, sausages, crackers, and spreads. Basically, the makings of an instant picnic! The Holiday Gold and Black gift tower has a little something of everything including butter cookers, peanut brittle, Almond Roca cookies, and three kinds of truffles.
If you're unsure, a popcorn bucket is always a safe bet. Moose Munch Green Sleigh Winter Home Premium Popcorn drum has a flavor for even the pickiest palettes including Peppermint Bark, Smores, Dark Chocolate, Milk Chocolate, Cranberry Almond, and Cinnabon. Also, don't forget to nab a big box of holiday-themed stocking stuffers, so all sweet tooths are satisfied come Christmas morning.
Whatever's on your holiday list, you can bet you can find it at Sam's Club, your one-stop-shop for any and all yuletide essentials.
Holidays 2020: Expectation vs. reality
The Daily Dot receives payment for sponsored content. Interested in promoting your brand or product? Email us at [email protected] to learn more.