Presented by BarkBox
As children, we were taught to loathe the Grinch, but as adults, we can relate to his grouchy demeanor. He's just misunderstood–he doesn't hate the Christmas spirit, just people. And TBH, as dog lovers, we get it…animals are way cooler than people! So when we heard BarkBox had plans to release a limited edition Grinch-themed Box we couldn't wait to tell you.
In honor of the release of Illumination's 2018 adaptation of The Grinch, BarkBox designed a bunch of goodies for the Max in your life. This special collection doesn't skimp out on the good presents. In fact, we wouldn't be surprised if the box was stuffed with more trinkets than your stocking ever was.
New to BarkBox? Here's how it works:  You tell BarkBox a little about your dog, and then your first box ships immediately (always free shipping). And voila: playtime! Since BarkBox designs its toys and treats around a new theme each month, you'll never get the same thing twice.
Each box contains two exciting toys, two full-sized bags of treats that are free of wheat, soy and corn, and a tasty chew. Each box is valued at over $40 (near double the price of the $22/month basic subscription!).
In the Grinch Box, you'll find two all-natural bags of treats (pork and chicken) and a turkey chew to keep your pup's jaws busy.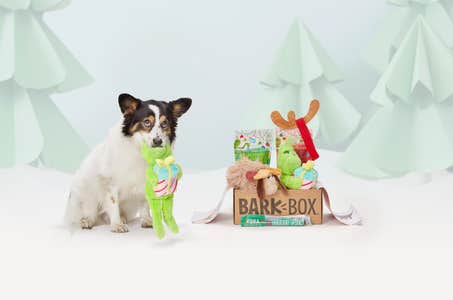 The box also contains two delightful toys (such as the Grinch himself) and a wearable antler toy to turn your dog into Max!
Subscribe to BarkBox today to receive the limited edition Grinch Box. If you really want to grow your heart three sizes, share an image of your dog wearing Max's Antler and tag #Maxforgood, and BarkBox will donate a portion of their proceeds to working dogs across the country.
The Daily Dot receives payment for sponsored content. Interested in promoting your brand or product? Email us at [email protected] to learn more.