There are protests, and then there's whatever happened outside Burly Coffee in Brooklyn on Thursday.
A heated encounter between a man and a masked employee of the shop was posted on Reddit and then picked up on Twitter, where it now has over 1 million views.
The viral clip shows a white, unmasked man standing at the take-out counter for the coffee shop and berating the employee about a "Black Lives Matter" sign in the window. He claims the sign is "offensive," says she should take it down, and begins a solo "all lives matter" chant.
When the employee and other bystanders ask him to leave, he claims he is "making a protest," to which the employee responds, "No, this isn't a protest, you're just harassing me."
Twitter user @RohanSingh has claimed credit for filming the video, tweeting, "So, this was my morning. I just wanted to get some coffee. But this racist asshole decided it's time to educate us and 'make a protest' about how 'all lives matter.'"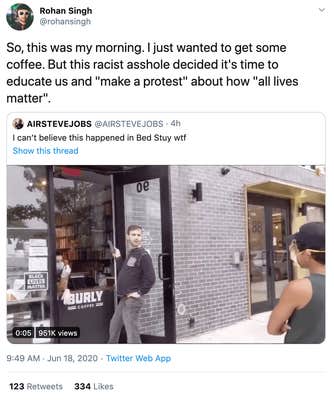 Singh shared a 10-minute-plus video of the interaction—which he says started before he arrived—on YouTube, during which the man repeatedly claims the sign is "offensive," criticizes the Black Lives Matter protests, and is confronted by multiple customers, who are angered by his "protest" and his failure to wear a mask. At one point, the bystanders and employee discuss calling the police but agree it would "make things worse."
Ultimately, the coffee shop employee shuts the door to the shop, and the man walks away.
Gothamist has identified the "protesting" man as Abraham "Avrumy" Knofler, who reportedly shared his recording of the interaction in a WhatsApp group called "All Lives Matter." His Twitter account appears to have been deleted.
Many who shared the video on social media have suggested donating to the coffee shop, which already had a GoFundMe posted on its social media pages. More than $500 has since been contributed since this morning.
READ MORE: