The Twitterverse is in an uproar because many of its favorite tweets have vanished into thin air. CNBC, Daily Mail, The Ellen Show, One Direction, Lady Gaga, and Justin Bieber's accounts all appear to have been affected by a bug. Twitter is investigating.
omg gaga's iconic "DO NOT LEAVE YOUR CHILDREN WITH LADY GAGA" tweets was deleted :(

— Lady Gaga Source (@HausOfLucas) March 25, 2014
One standout casuality among the carnage: The most retweeted tweet of all time. That's right, Ellen's epic, celebrity-filled selfie from the Oscars that has spawned by a copycat and plenty of Twitter attention has gone M.I.A.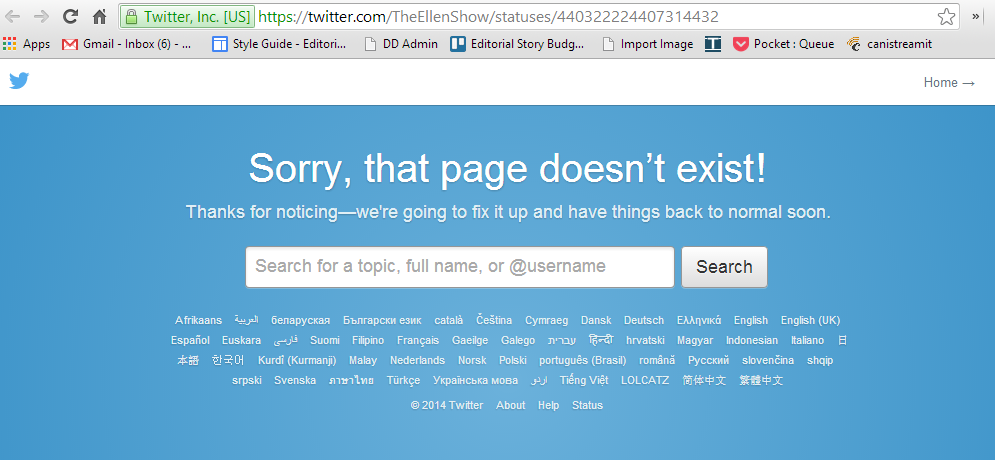 THE HORROR. 
But the most heartbreaking deleted tweet is the deceased Glee star Cory Monteith's, whose last tweet is now gone. 
THEY DELETED CORY MONTEITHS LAST TWEET WTF IM SCREAMING

— ♡Angie♡ (@_Angie_x_) March 25, 2014
Twitter hasn't responded to our request for comment yet, but its status account says it's experiencing a bug that's causing some tweets not to show up. 
Photo by jason reed