One of Tucker Carlson's producers has a long list of offensive tweets he's liked on the platform.
Gregg Re has liked tweets featuring neo-Nazis and written by the white nationalist outlet VDARE, as well as ones with transphobic and sexist content.
According to Re's LinkedIn, he's been a producer of Carlson's show since 2017, the same year he created his Twitter account, where he also identifies himself as a producer for Carlson. Re also was a contributor to the Daily Caller, the right-wing outlet Carlson founded.
Last month, the New Yorker noted that he occasionally replies to a Media Matters researcher whose beat includes watching Carlson.
A person's likes can provide a window into their perspective, as people often click on tweets they appreciate to support them and increase their reach. Journalists, however, have also been known to use the function as a value-neutral way of flagging and highlighting stories they'd like to go back to.
Some people have been known to accidentally like tweets. So while likes are not conclusive, Re's pattern of pushing that Twitter button matches up with the bigoted content coming each night from Carlson's mouth.
Re did not have any disclaimer in the bio of his verified account about his likes, which also identifies him as a producer on Carlson's show. After the Daily Dot contacted him for this story, he updated his bio to note that "likes and RT's are not endorsements. opinions my own."
Re and Fox News did not otherwise respond to requests for comment.
Re prolifically uses the like button. He liked nearly 120,000 tweets in the six years since he created the account. In contrast, Carlson liked less than 200 tweets since 2009. Fox News personality Laura Ingraham liked roughly 5,000 tweets in her 14 years on Twitter.
Carlson has long been accused of parroting bigoted talking points, such as the racist "great replacement theory" that there's a plot to replace white people with racial minorities. Many of Re's Twitter likes are in line with this way of thinking.
While Re's LinkedIn doesn't delve into his work with Carlson, television news producers can often be involved in every aspect of putting together the show they work on. They can gather information, record segments, and create the package that will ultimately be broadcast.
Re recently posted about responses he'd received from Airbnb for Carlson's segment about the company suspending Canadian far-right influencer Lauren Southern's parents. Late last year, he referred to "our documentary" about transgender kids, seemingly referring to a documentary Carlson released in September that claimed transgender activists target children.
Re has liked tweets blaming Black people for crime, claiming white people created written language and the wheel, criticizing "wokeness" for being "driven by female modes of thought," and praising Russia for its harsh anti-LGBTQ laws. He recently liked a tweet calling transgender children "an abomination" who "shouldn't exist." Re also liked a tweet about neo-Nazis shutting down a drag queen story hour earlier this year.
Re has a habit of liking tweets denigrating Black people.
He recently liked a tweet claiming statements by law professor Amy Wax that have been widely criticized as racist are "(at least arguably) true." Her statements, which are captioned in the tweet, include, "America will be better off with more whites and fewer nonwhites," and, "Immigrants 'are too loud' and are responsible for an increase in litter."
He also liked tweets claiming Wax's assertion that Black people have lower cognitive ability than whites is "an undisputed fact" and "the single most scientifically documented American social science fact."
Wax denies saying anything racist to students and claims that she's a "race realist."
Re has gone on a tear of liking tweets about affirmative action in higher education. He liked a February tweet by the founder of Students for Ye that blasted affirmative action because it "deliberately empowers groups most likely to hate America and destroy the country."
He also liked a tweet claiming that the "United States is publicly committing suicide" because the incoming class at Stanford University is only 22% white, and less than half of those students are white men.
He often likes tweets claiming Black people are violent. Weeks after the video of police killing of Tyre Nichols was released, he liked a tweet blaming affirmative action in the Memphis Police Department for police brutality.
Re has frequently liked tweets by VDARE and more than one of the white nationalist site's writers. He appears to be something of a fan of VDARE writer Steve Sailer's tweets, who has been described as a white supremacist. Re often likes Sailer's tweets about Black people, "wokeism," and other topics.
VDARE is a 24-year-old website founded by Peter Brimelow after conservative mainstay National Review reportedly ousted him over his extreme views in the 1990s.
In 2016, the Southern Poverty Law Center wrote that VDARE's stable of writers "is akin to a Rolodex of the most prominent pseudo-intellectual racists and antisemites."
Re recently liked Sailer's tweet asserting that police shoot more Black people because the latter "are ridiculously more homicidal than any other races/ethnicities."
Women have also been on the receiving end of Re's Twitter ire. He liked a tweet calling it "pretty based" for Don Lemon to say that presidential candidate Nikki Haley is past her prime.
He also liked a tweet claiming that men aren't marrying women because women receive "deferential treatment" from the legal system.
Another tweet that attracted Re's heart reaction claimed that all of women's "feminine qualities" have "replaced by male vices." The lengthy tweet listed various ways in which women's lives have supposedly been harmed by feminism over the last several decades and concluded, "Congratulations! You have achieved so much…"
Re also has used the like button to express displeasure in Fox News regulars.
Florida Gov. Ron DeSantis (R) is often on the network, including multiple appearances on Carlson's show in the last few months. While Carlson gives the likely presidential candidate a friendly platform, his producer likes tweets lambasting DeSantis.
Sunday night, Re liked a tweet calling DeSantis' shifting stance on Ukraine "weakness and incompetence and flip-flopping and pandering all squished into one deeply unserious episode." (Last week, DeSantis told Carlson that Russia's invasion of Ukraine was "territorial dispute" the United States shouldn't get further involved in. Days later, he claimed that his comments were "mischaracterized.")
Also Sunday night, Re liked a tweet accusing DeSantis of putting on a "country boy schtick that is clearly bullshit."


Re has also liked tweets that reflect the narratives Carlson spins on his show.
The day after Carlson aired a segment falsely portraying the Capitol riot as peaceful, Re liked a tweet claiming that the insurrection attempt was "a completely fake psy-op."
Carlson hasn't escaped Re's eager like button finger, either.
This weekend, he liked AI-created photos of Carlson as a Taliban leader.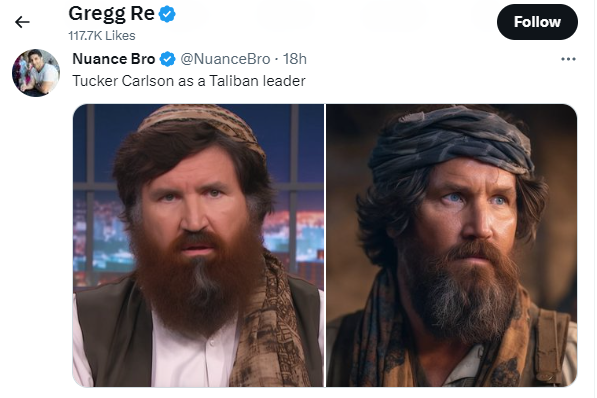 We crawl the web so you don't have to.
Sign up for the Daily Dot newsletter to get the best and worst of the internet in your inbox every day.