Conservative commentator Ian Miles Cheong blamed two protesters on Saturday for being the victims of a hit-and-run.
The incident, which took place on a closed section of highway in Seattle, left one demonstrator dead and another in serious condition.
Cheong, known best for his ardent support of President Donald Trump, attempted to explain why he was certain that the driver was not to blame.
Among his arguments, Cheong stated that the crash was "one hundred percent the protesters' fault for blocking traffic" and running in the wrong direction when the vehicle approached them at high speed.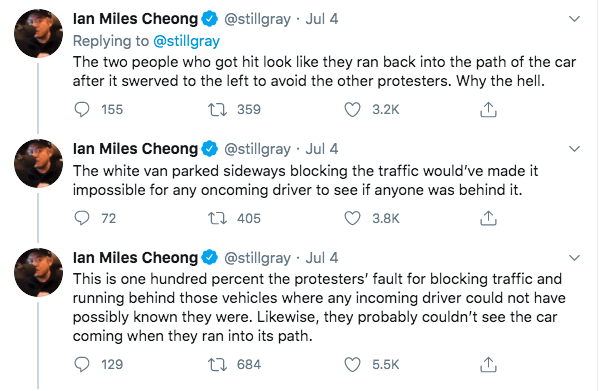 But Cheong's explanation fails to note that the area of highway occupied by protesters had been closed to traffic. The driver, 27-year-old Seattle resident Dawit Kelete, had driven the wrong direction down an off-ramp to get on the interstate after police blocked the normal entry, the Seattle Times reports.
Twitter users quickly pushed back on Cheong's assertion that the victims, 24-year-old Summer Taylor, who died, and 32-year-old Susan Gregg, were to blame.
"The driver went AROUND the police barricade. You can hear people screaming 'get out of the way' in videos from the ground," @pack_of_roses said. "The mental gymnastics you do are incredible, I must say, to blame the people who were hit."



Police thus far have not confirmed whether a motive has been determined or if the driver intentionally targeted protesters. Kelete was not believed to be impaired at the time of the incident.
And while Cheong's statements were criticized by some, many of his supporters appeared to agree that the two victims were to blame.
"Play in traffic, win stupid prizes," @tahDeetz said.



After hearing of Taylor's death, Cheong, who still stated that the woman ultimately made "mistakes," went on to shift the blame to Seattle's local government.
"I'm honestly saddened by this. She was only 24," Cheong tweeted. "People make mistakes but it's on the city's elected leaders to make sure this sort of tragedy doesn't happen."

Kelete remains in police custody on investigation of felony vehicular assault and has been denied bail.
READ MORE: