Losing an election is tough on everyone—the candidate, the campaign, and their supporters. As President Donald Trump copes by denying he lost and trying to overturn the results, his supporters are working through their feelings by planning to attend an online-only "second inauguration."
The Facebook event for Donald J. Trump 2nd Presidential Inauguration Ceremony is to be held simultaneously with the actual inauguration of President-elect Joe Biden. This "inauguration" for Trump is purely theater, obviously, likely either the product of delusion or denial, perhaps both.
That hasn't stopped nearly 325,000 from indicating they may attend; 60,000 of whom say they are definitely going. Unlike the debunked tale of a Trump inauguration planned for Mar-a-Lago, a sizable portion of the people attending the online inauguration are completely serious, as is the event itself.
It's even possible that the event is taking place with acquiescence, potentially even involvement, of Trump himself or his team. According to her online presence, one of the co-hosts was part of his campaign. The Trump campaign didn't immediately respond to questions about whether it was involved, or if Trump intends to attend.
According to a Twitter profile for co-host Evi Kokalari, who sometimes goes as Evi Kokalari-Angelakis, she was on the Trump Victory Finance Committee. In a late November op-ed she contributed to the far-right outlet Revolver News, she identified herself as a "Trump campaign surrogate." She's also been a guest on One America News Network (OAN), which has of late replaced Fox News as Trump's favored propaganda machine.
Kokalari's Facebook page includes photos of her with high-profile Republicans taken in the last few months, including Eric Trump, Steve Bannon, Rep. George Santos (R-N.Y.), and Rep. Lee Zeldin (R-N.Y.). According to a public post on her page, in October, Kokalari hosted an event where Bannon was the featured speaker. In recent months, she also hosted fundraisers for Santos and Zeldin.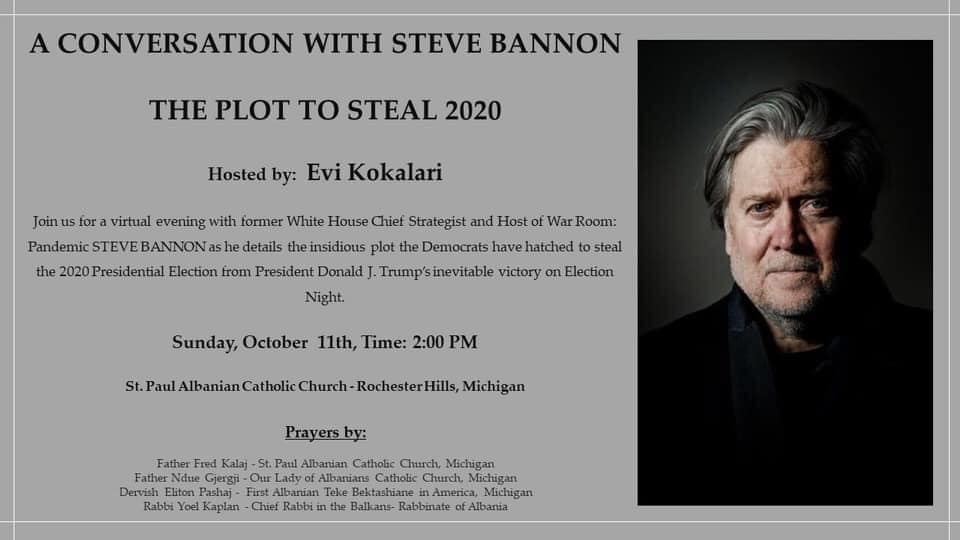 Those familiar with his work would probably agree that a fake inauguration is right up Steve Bannon's alley.
The comments on the event page for Donald J. Trump 2nd Presidential Inauguration Ceremony are filled with pro-Trump memes and links to articles, many of which are covered by Facebook's disclaimer that fact-checkers have determined the content is inaccurate.
"Drain the swamp, prison stripes for all," one potential attendee recently commented.
There's also lots of trolling by bemused, and somewhat alarmed, Biden supporters.
"I just want to say thank you to everyone here," joked one. "Your contribution to comedy has not gone unnoticed."
Irrespective of whether the Facebook inauguration is intended as a serious event, it won't have the intended effect. Biden will be sworn in as president on Jan. 20.
The event page itself includes this disclaimer: "Joe Biden is the President-elect. He will be inaugurated as the 46th US President on January 20, 2021."
More election 2020 coverage