One America News Network (OAN), the media entity popular among supporters of President Donald Trump, ran a sensational story this week alleging that numerous U.S. voting machines were illegally connected to the open internet.
The report, which was repeated by numerous OAN anchors, even asserted that one machine had been traced back to mainland China—proof that the foreign nation had likely interfered in the 2020 presidential election.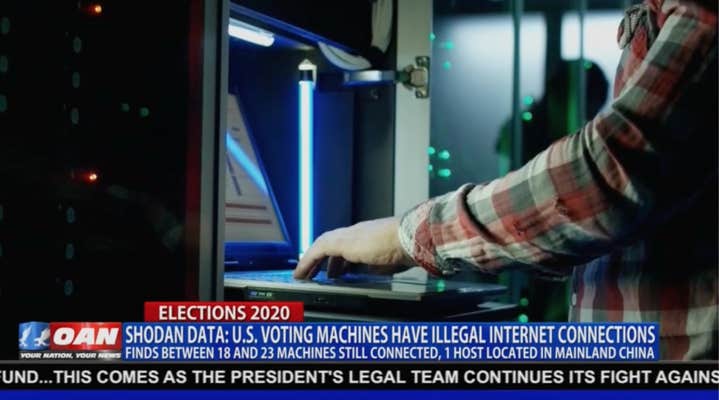 OAN further stated that the discovery had been made through Shodan, a search engine for internet-connected devices, and framed the findings as evidence that election results could have been manipulated.
"According to data from a Shodan website, between 18 and 23 voting machines in the U.S. have an active internet connection," OAN personality Elma Aksalic said. "Additionally, the same website shows at least one host server was located in mainland China. The machines with active internet connections were located in California and other states and had remote console access in violation of U.S. law."
The segment on Wednesday caught the attention of Ilya, a computer security professional and associate of the hacker collective ThugCrowd, who occasionally monitors far-right reporting.
Using Shodan himself, Ilya was able to locate the servers in question and quickly found, unsurprisingly, that OAN's reporting was completely false.
Ilya told the Daily Dot that the allegations look to have originated from a user on TheDonald.win, a pro-Trump message board notorious for misinformation.
The user appears to have simply searched "voter system" on Shodan before arguing that all the results were undoubtedly linked to the 2020 presidential election.
"There's a lot of factors to this," the user said in mid-November. "But this is just another case of the lack of integrity and security with our elections."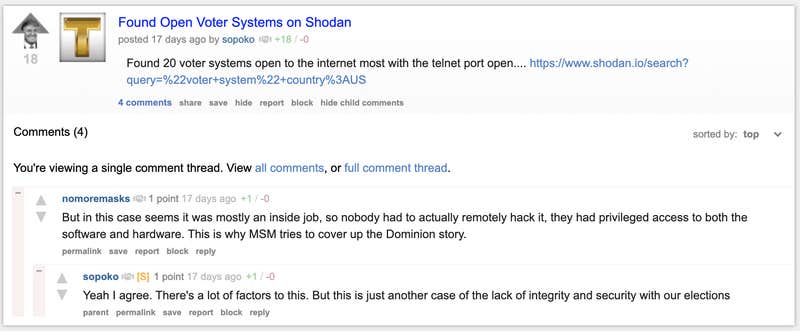 Analysis of the data, however, shows that none of the alleged servers are associated in any way with U.S. voting infrastructure.
Several of the results on Shodan that mention "VOTER System Serial # 1410 Remote Console Access," for example, appear to be related to a piece of radio equipment commonly known as a receiver voting system.
Four other servers on the list can be traced back to a voter ID website set up by a developer in India. Once again, the site was only drawn into the results for featuring both the words "voter" and "system."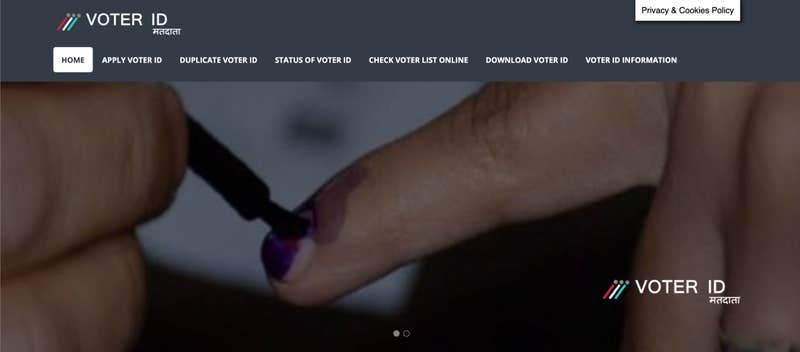 As far as the alleged voting infrastructure located in China, it turns out the result was nothing more than a simple tool for running polls on websites.
The Chinese creator behind the software, known as "Voter," showcases the tool in a demo on the code hosting platform GitHub.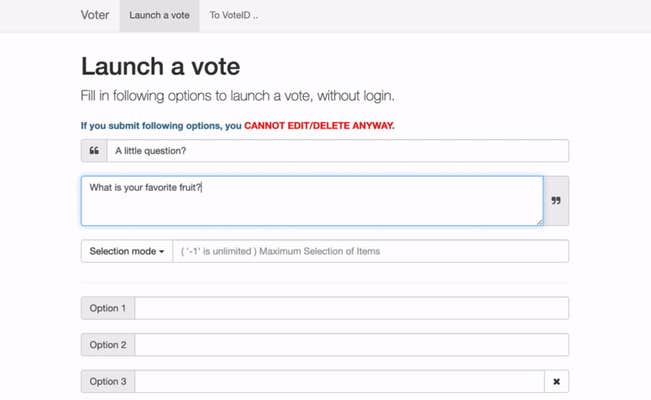 The incident seems to have even led an anonymous individual to purposely expose a server to Shodan—that includes references to Dominion Voting Systems, an election technology company at the center of widespread conspiracy theories, and billionaire philanthropist George Soros—in an apparent effort to poke fun at Trump supporters.
"Unauthorized users must not access this device. Your IP address is logged and might be traced," the listing jokingly says. " To damage this network device is to violate the law. Dominion Voting Systems."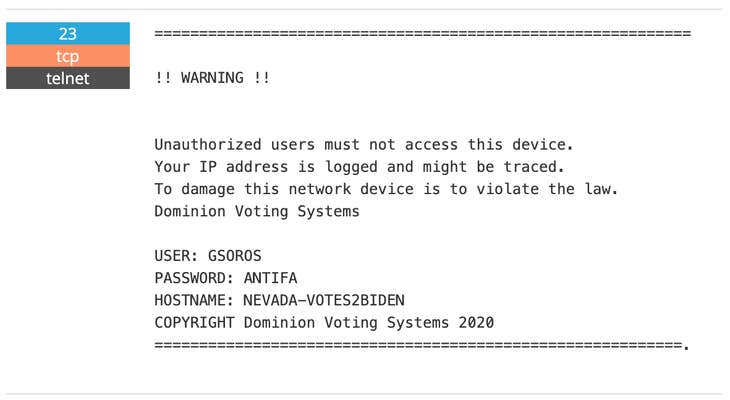 Shodan weighed in on the fiasco as well, questioning on Twitter why OAN failed to reach out before running with the "sensational and incorrect claims."
The Daily Dot reached out to OAN multiple times and asked what steps the outlet took, if any, to verify the allegations before presenting it on air but did not receive a reply.
Kevin Skoglund, chief technologist at the non-partisan Citizens for Better Elections, told the Daily Dot that this is not the first time that results on Shodan have led to false claims about U.S. elections.
Skoglund and his team made headlines in January after helping find actual U.S. voting systems connected to the internet and explained why OAN's claims don't hold up.
"Our research team was able to find some voting systems online, also using tools like Shodan, but detecting them required knowing a lot about how the voting systems operate," Skoglund said. "It is not as simple as typing 'VOTER' in a search engine. The systems were in specific states that allowed them, not nationwide."
Skoglund also noted that it took his team an entire year to verify that the systems were in fact related to election infrastructure and not false positives, emphasizing how a simple search is not sufficient for such research.
The factually-inaccurate report from OAN comes amid Trump's efforts to overturn the results of the election in multiple states based on debunked claims of widespread voter fraud.