Law enforcement in cities across the country have been criticized over their handling of protests incited by George Floyd's death.
Video after video has shown protesters—and media—getting shot with rubber bullets, punched, tear-gassed to make way for photo ops, clubbed, knocked to the ground, arrested, and generally terrorized by police.
Meanwhile, reports have emerged of police being inordinately chummy with heavily armed civilians at protests, whom many suspect to be members of the far-right.
A TikTok video posted yesterday shows an officer warning a white man wearing camouflage and carrying a high-powered rifle to get off the streets before they begin enforcing curfew.
In the video posted by TikToker @djgreen00, the officer says his commander wanted him to "request that you guys discreetly remain inside the buildings or in your vehicles, somewhere where it's not a violation," before cops start arresting people for breaking curfew.
"So we don't look like we're playing favorites," the officer adds.
The video was purportedly shot in Salem, Oregon. Media in Salem have reported on complaints that cops haven't enforced the curfew on people armed with military-style rifles standing guard outside businesses.
"At the same time they were literally tear gassing [protesters] for being out after curfew," @djgreen00 captioned the video. Others echoed that allegation.
The video claims that the man being warned is with a group that includes "armed Proud Boys and white supremacists."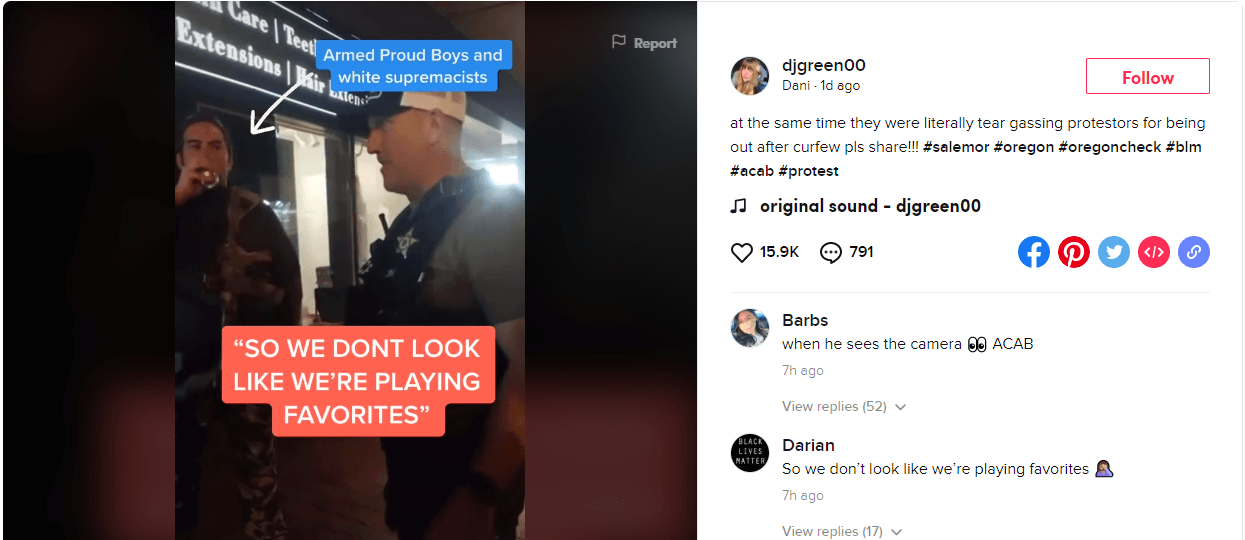 The Proud Boys is a far-right extremist group that describes its ideology as "Western chauvinism." It vehemently denies being racist, though many have leveled that accusation. Members have been linked to violence.
Proud Boys are particularly active in Oregon, including Salem. Willamette Weekly reported on anti-lockdown protest members organized there last month.
Reactions flooded the video. It currently has two million views and has since been posted to Twitter.
Many comments included "ACAB," which stands for "all cops are bastards."
"Visual representation of playing favorites," said one.
"They're out past curfew too. Or does curfew only apply to… certain types of people?" tweeted another.
The Salem police have not commented on the video.
READ MORE: