Somewhere along the line, we got sick of the "apps that do everything." You use them without knowing it: Facebook, Twitter, Instagram, among others. These apps let us direct message, upload photos, comment on users' activity. They have location features and filters, hashtags and search functions. Hell, these apps even have their own apps. 
The backlash to these overachievers has been Yo and its ilk of single-use apps. They do one thing and one thing only; they're part joke, part novelty. And there is no single-use app more singular than Ethan. 
Ethan is an app made by a developer named Ethan Gliechtenstein. It lets you message (you guessed it) Ethan. That's it. 
It's highly experimental in nature; after all, it's not all that different than tweeting out your phone number. And while I entertained the Yo craze for a solid week (until it became clear the app would be used explicitly for trolling), I petered out on that quickly. But I decided to download and use Ethan to talk to Ethan all weekend, in order to ask Ethan what the Ethan experience has been like. 
Unfortunately the app doesn't have push notifications (which is… um… rather counterintuitive for an app that revolves around chatting and notifying you with a message) or time stamps, so you can't see how long my messages went unanswered. But after the initial prompt, I sort of dug myself into a hole. 
I prompty forgot it, until out of boredom, I opened and checked it and look! Ethan! Ethan messaged me back! OK so it read like a mass email but whatever, I took it as a sign of life, of interest. And at least he was nice.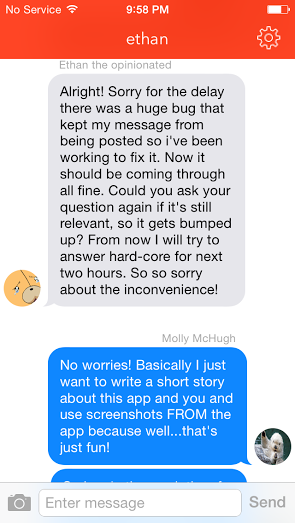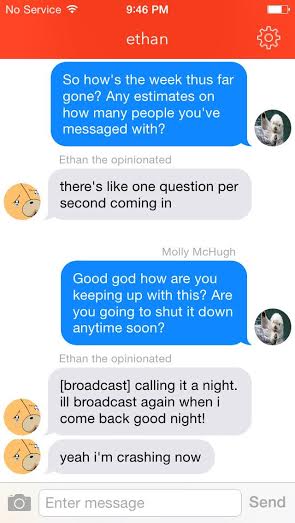 Oh… OK. Yeah. Me too. Also crashing, I am. I don't want to stay up late, texting. Waiting to see what you'll say next. But at least he hoped I'd have a good night! That's a positive sign, right? Right?
In the morning I awoke, ready to pursue Ethan's answer (and eventual friendship!).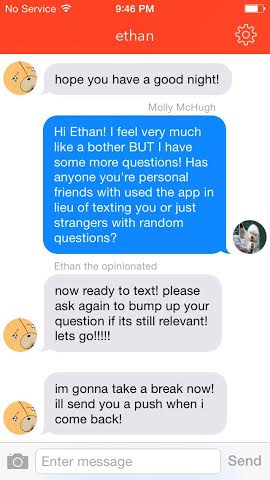 Rude. 
At this point, I'd begun to feel very whiny and nagging, as if we were in a one-sided relationship, the type where I had to tell myself "No! You've texted him three times today and he's responded but once! That ratio is not indicative of a conversation you are going to enjoy." 
Alright at this point, I'd throw caution to the wind: You invited me to play this game Ethan. ETHAN.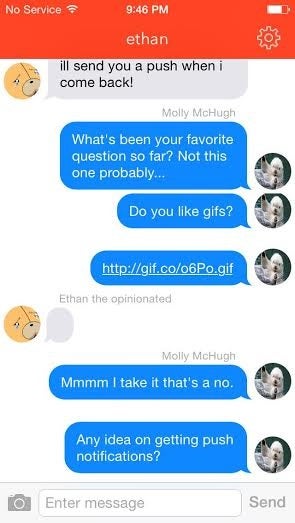 No word on push notifications yet. 
Photo by jdhancock/Flickr (CC BY 2.0) | Remix by Fernando Alfonso III