Just like that, after five exhilerating days, the high-tech circus that is the South By Southwest Interactive conference has packed up and left town, the Google Glass wearers suddenly giving way to the music crowd.
From the Deep Eddy registrants' lounge, where we've been pouring cocktails all week, we got to see first-hand the highs and lows of the brands and apps trying to make their mark in Austin. Here are some of the most notable highs and lows from 2014 conference.  
Share your finds from the week on Twitter, Instagram, and Vine using the hashtags #SXSWin and #SXSWFail. We'll be posting our favorite selections at sxswinsandfails.tumblr.com. 
The absolute best #SXSWins
1) Catching a Chevy
Chevy has cars at SXSW that will drive you around down, for free. The catch? There really is not catch, unless you think tweeting about said free ride is a catch. It's great brand exposure and extremely convenient. 
Day 5 & we know your feet are hurting. Take a load off & flag down a #CatchAChevy for a ride. #ChevySXSW pic.twitter.com/wxnBI4bv2N

— Chevrolet (@chevrolet) March 11, 2014
2) The surplus of amazing beards
Really, this city has some impressive facial hair to offer, and it seemed like the Funny or Die setup was hosting a lot them. Case in point… 
Keep Austin beard. #sxsw #FODxFB pic.twitter.com/un25bsuYnR

— Funny Or Die (@funnyordie) March 9, 2014
3) The milk and cookie shot
From the creator of the cronut, came this instant American classic. Fans and hungry wanderers alike lined the streets at midnight to get a taste of the delicious duo. 
Check out Dominique Ansel's newest dessert: milk & cookie shots https://t.co/7OMbFAMWSz  pic.twitter.com/EFDaUAWxJF

— Eater National (@Eater) March 6, 2014
4) The Price Is Right
Spinning the wheel on The Price Is Right is a once in a lifetime opportunity. And what better way to celebrate everyone's favorite show than to bring it to SXSW?
5) Degrees of Kevin Bacon
Behold, perhaps the best tweet sent during all of South By. Felicia Dat meets Kevin Bacon meets Kevin Bacon pun. Magic. 
One degree away from @kevinbacon #SXSW pic.twitter.com/1uWyKbSNzS

— Felicia Day (@feliciaday) March 8, 2014
6) Microsoft saves the day
After the Startup Bus was robbed, Microsoft swooped in, donating tablets, laptops, and phone so they could keep on coding. Publicity for doing good deeds is always well-deserved. 
After getting our #airbnb robbed, the community rallied + got @Microsoft to save the day. Ty for #helpflorida pic.twitter.com/f1nB1elvS6

— Ashley Mooney (@AshleyMooney) March 9, 2014
7) Instagram keeps it chill
Instagram went low key this year and in lieu of a big fancy party, had a smaller tent a few blocks from the main action. But that smaller tent hosted a crawfish boil and had free beer. Beer and local crawfish for free? No badge or RSVP needed to get in? Yes, please. 
8) Samsung powers up
The Samsung Galaxy house across from the Austin Convention Center had it all this year: an app for building your own tacos, crossfit workouts with Kansas City Chiefs running back Jamaal Charles, and more. But it was the street team swapping out old, dying batteries for new ones that prevented no shortage of potential missed connections.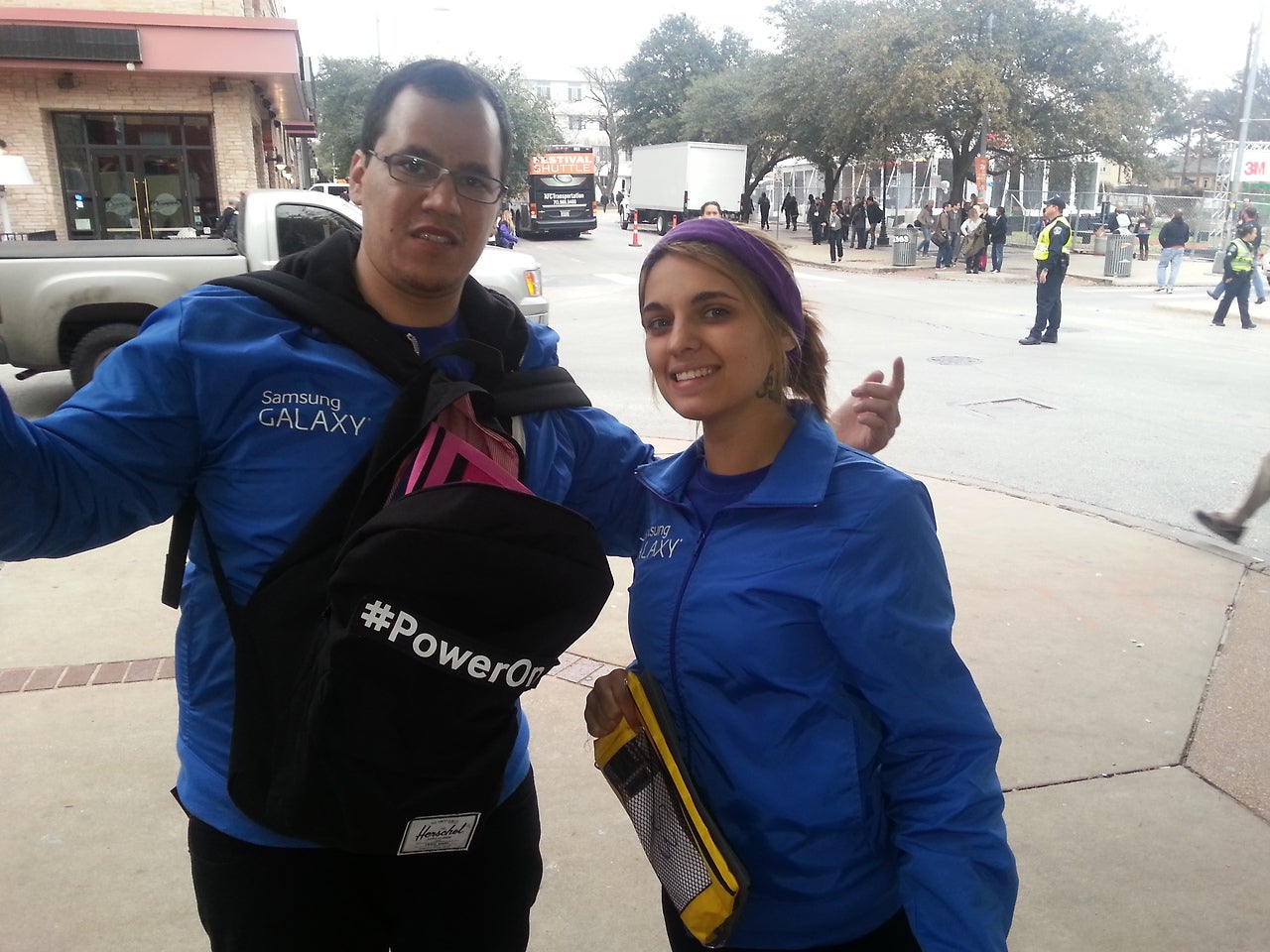 The absolute biggest #SXSWFails
1) PPLConnect
When are you going to learn that using humans to run festival-goers errands and hold their spots in lines—in exchange for downloading an app—just ain't right. This is not how people want to connect. 
Free line wating service PPLCONNECT at SXSW pic.twitter.com/GXqDGtuqI3

— 이장 (@Ejang) March 8, 2014
2) SXSW 2015
Oh no, people are already talking about SXSW 2015. It's too soon!!
SXSW 2015 dates have already been picked. March 13-17 https://t.co/TYCzVXlrRE

— Alyson Shontell (@ajs) March 12, 2014
3) The environment
For a festival focus on the interactive, it sure does waste a ton of paper. I think we can all agree it's time for some recycling bins downtown, or maybe everyone just needs to be a little less insane about taping eight layers of their flyers on every surface.
#PuppyHour and Reality TV Recruitment: The Posters of South By / by @NellieBowles / https://t.co/BhFtJ7r3Vo

— Re/code (@Recode) March 12, 2014
4) Subway dresses
The entire Subway event at SXSW was confusing. (Why are people waiting an hour for a free sandwich that icosts $5 at a normal location?) But these dresses… these are less than appetizing.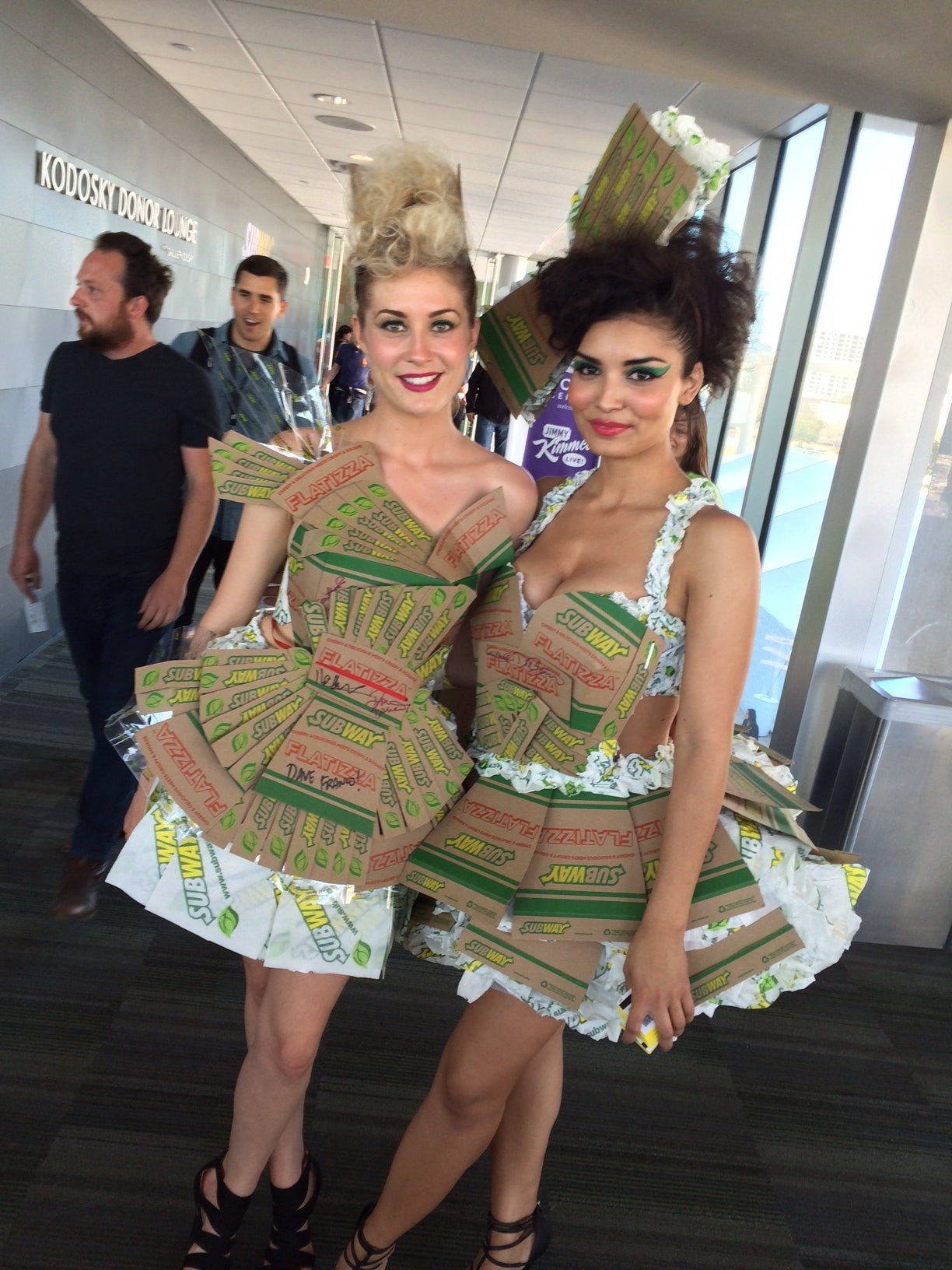 5) Oblivious SXSW Tech Guy
Texting while riding a segway while wearing Google Glass. At SXSW. This is the end of humanity summarized in one photo. 
oh RT @kr3: Only at #SXSW – Texting on your Segway while wearing Google Glass… #amsxsw pic.twitter.com/Nbf5ft6DMq

— Jessica Misener (@jessmisener) March 11, 2014
6) Cottonelle
Cottenelle had a lounge at SXSW. Lounges are good, but their slogan and hashtag, #LetsTalkBums, is a bad look. 
Cottonelle SXSW promo wants to "elevate conversation out of the bathroom." @MikeIsaac you have some competition. pic.twitter.com/rcmJRy4GKV

— Liz Gannes (@lizgannes) March 8, 2014
7) Success Kid
Nooooooooooooo! Not Success Kid! Leave him alone! The Marriott hosted Success Kid at its venue this week to show everyone…we're not sure what. Now that he's 6, this makes us feel really uncomfortable. 
Meet Success Kid at Courtyard Marriott. #cyatsxsw pic.twitter.com/fthYfuAFwg

— Steve Garfield (@stevegarfield) March 8, 2014
 With over 150 pouring stations around town this week, Deep Eddy Vodka wants to show you some classic Austin hospitality this week. After all, good old-fashioned vodka always makes for a #SXSWin.
Photo via Instagram