Snapchat removed a face filter meant to commemorate Juneteenth after users called out the tech giant for being "tone-deaf."
The filter prompted users to smile, after which chains would break behind them. The filter had the Pan-African flag as the backdrop.
The filter was pointed out by Mark Luckie, a digital strategist, on Twitter. He called it "interesting," clearly questioning the choice.
"This SnapChat #Juneteenth filter is…um…interesting. Smile to break the chains? Okay then," Luckie wrote.
Juneteenth is a holiday dating back to 1865 celebrating when slaves in Texas found out about the Emancipation Proclamation two years after it has been signed.
Snapchat did not immediately respond to a request for comment by the Daily Dot. We'll update this story if we hear back.
The filter was axed by Snapchat on Friday, according to CNBC, but not before a lot of people online criticized it, calling it "tone-deaf."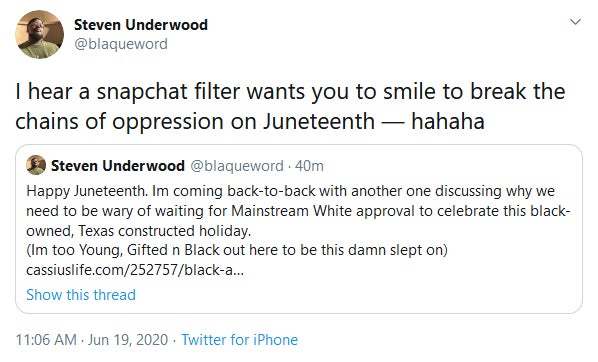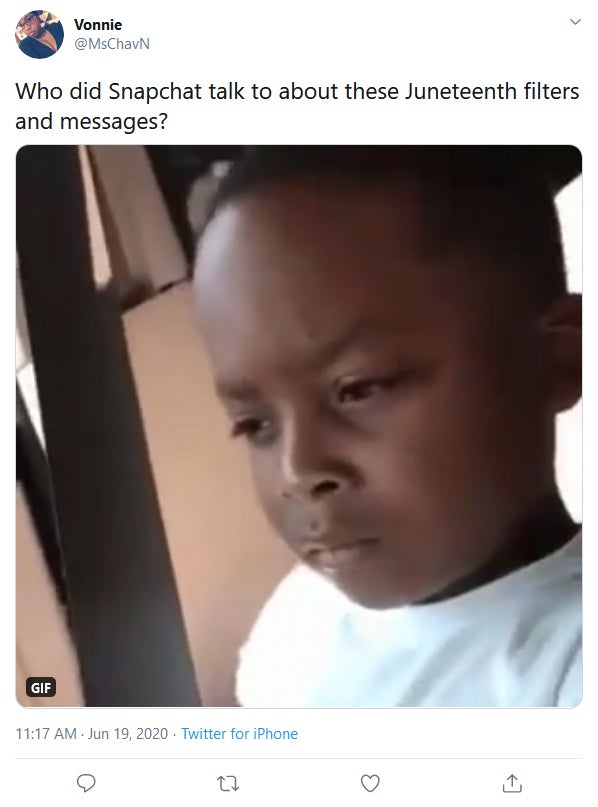 This isn't the first time the company's face filters have raised concerns.
Its gender-swap filter, a Bob Marley blackface filter for 4/20, and others have also faced backlash.
Update 3:35 pm CT, June 19: After the publication of this article, Snapchat told the Daily Dot the filter going out to users was a mistake and it was not approved as part of the company's review process.
"A diverse group of Snap team members were involved in developing the concept, but a version of the Lens that went live for Snapchatters this morning had not been approved through our review process," a Snap spokesperson said. "We are investigating why this mistake occurred so that we can avoid it in the future."
READ MORE: