Today Skype launched Qik (pronounced "quick), an app that's essentially Skype's version of the ephemeral messaging system made popular by Snapchat. The release comes as the number of Skype's mobile users increase each month, according to David Chastney, principal program manager lead at Skype.
"We felt we needed a new experience… something that was lightweight," Chastney said. "But something that would have the intimacy and the richness of video communications which is really what our heritage is, and what Skype is best known for."
The app deviates from Skype's traditional model of video calling and instead caters to video messaging. It pulls in contacts from your phone instead of asking for your Skype login information. The app's home screen features a red record button and swiping it downward initiates the camera, which can alternate between the front- and back-facing at any time during the recording. Videos are square instead of rectangular and can be up to 42 seconds long.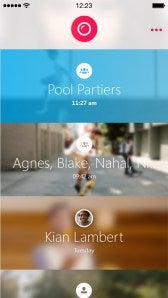 Qik only stores the eight most recent videos (and you can make group threads or single calls).
When a user has nothing more to respond with than a stamp of approval or proof of receipt, the app allows for up to 12 pre-recorded reaction videos to be saved.
While Qik is positioned as an ephemeral messaging app, it actually stores videos for up to two weeks before disappearing. However, if you want to delete a video, you may do so, and that video will also be deleted from everyone else's phone. But VentureBeat explains that that means deleting an entire thread of videos, not just one, in order to maintain the integrity of the conversation.
Qik enters a saturated market of messaging apps that already include basic texting, Snapchat, and direct messaging options on pretty much every social network out there. What makes it different is its ability to provide an easy way for people to have a video-based conversation. Whereas Skype traditionally relies on a pre-planned virtual rendez-vous, Qik aims to market itself as a kind of messaging system that allows people to have video conversations without having to commit to a time.
Qik is now available for Apple and Android devices. While the Skype has already come up with ways to enhance the product in the coming months, they plan on using customer feedback to focus on specific areas to improve first.
H/T VentureBeat | Screenshot via Skype