Reddit Enhancement Suite (RES) is like a drug, a steroid, a mutagenic goo, a super-powered exoskeleton. It changes the wildly popular social news site into something that looks like Reddit and feels like Reddit but is wholly different.
The suite's basic features—an in-site image viewer and a bottomless pit of Reddit pages that replaces the site's old-fashioned pagination—fundamentally transform the Reddit experience. It's a necessity, even for basic users.
The browser plugin is incredibly robust, with hundreds of options and functions that, with enough practice, can turn a bumbling newbie into a beefed-up power user.
Started by Steve Sobel, a director of technology for 15 Letters, an interactive media company in Chicago, RES has collected a huge following since it was first released in 2010. Each new release brings with it about 600,000 to 700,000 downloads, according to Google Analytics, though Sobel said his bandwidth usage shows the real number is closer to 1 million.
Sobel has spent countless hours coding, designing, and interacting with RES's huge community of fans. Last October, he brought on Daniel Allen, a Web designer who also hails from Chicago, to streamline the plugin's design.
One thing they don't have time for, however, is documentation. So the Daily Dot decided to help them out.
Here's everything you need to know about RES—in one easy-to-find place. If you're looking for a specific feature, be sure to jump down to our index at the bottom.
How to use Reddit Enhancement Suite
The one thing every RES user must know before venturing forth
RES is a wonderfully customizable tool. You're in the driver's seat with RES. But many people, as Sobel attests, are completely unaware of this.
Here's how to change any setting in RES.
Click on the gear, which RES adds to the upper-right navigational bar.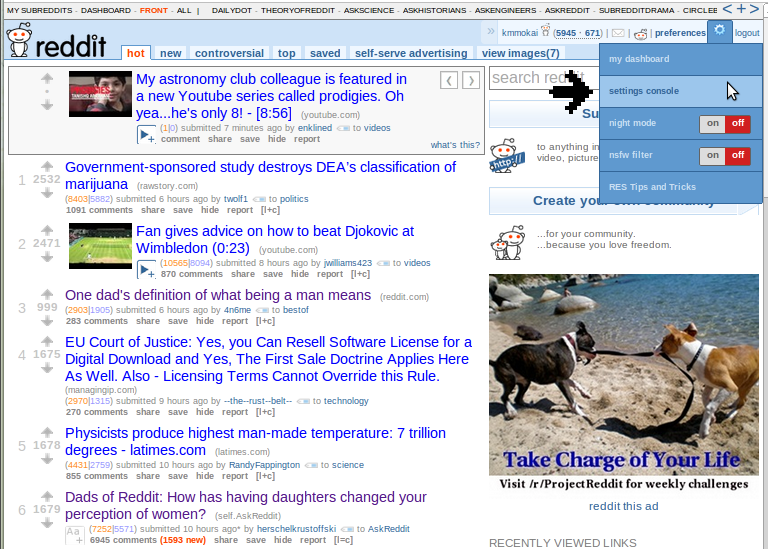 The Basics: 5 things that will forever change your Reddit life
Reddit's front page is littered with images, and normally, for RES-less redditors, viewing them requires clicking through to an external site.
But thanks to a friendly relationship with Imgur, Reddit's most popular image-hosting service, RES displays images on the Reddit homepage itself.
If you're an image hound, you never have to leave Reddit's friendly pastel blue borders ever again. The site basically becomes an imageboard.
RES adds a camera icon to the bottom of each image link. Clicking on that will open the image within the page. You can also resize the image within the page by clicking it and dragging the cursor around. Imgur galleries are also navigable within Reddit: Just click on the arrows above each image to progress through the gallery.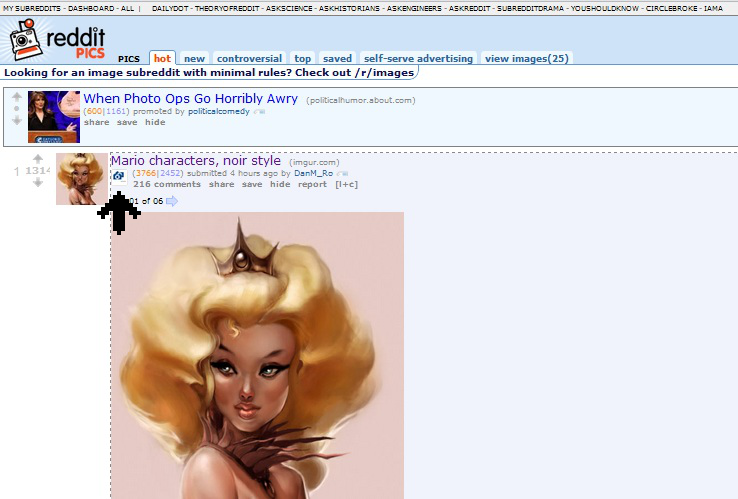 If you're really lazy, you can just hit the "view all images" tab (shown below).
Careful, though! Plenty of NSFW images populate Reddit's top posts, including porn and gore. If you're worried about NSFW things popping up into your feed, RES does offer a NSFW filter. (More on that later.)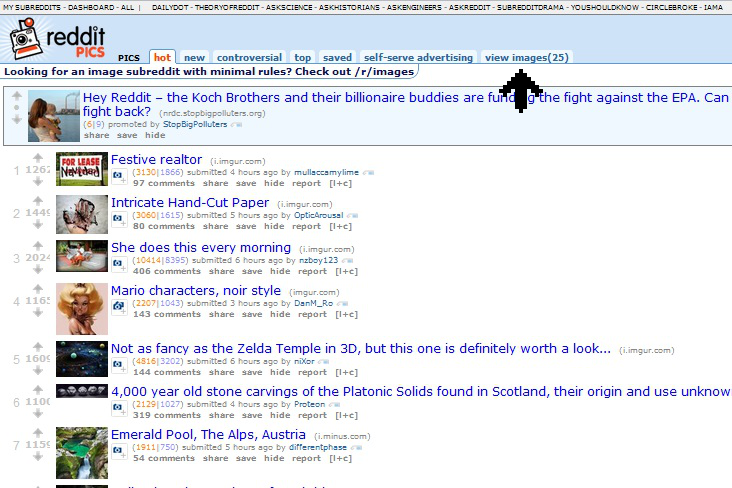 The bottom of each page on Reddit is usually paginated, meaning that if you want to go on a marathon quest through the site you're going to suffer from major click-through fatigue.
RES, by default, flips that around, so Reddit is more like Twitter or Facebook: a bottomless pit of content. Just scroll to the bottom of the page to load up the next one. If it stalls or gets stuck, just click on the message at the very bottom of the page, and it will load it all up. It's turned on by default, but you can turn it off through RES settings console.
Karma is the currency of Reddit. It's given with an upvote and taken away with a downvote. Unfortunately, usually those vote tallies are mostly hidden.
Indeed, the only way to see the downvote/upvote ratio on a post is to actually click through to the comments section. And you can just forget entirely about comments. The vote tallies for those are completely invisible without RES.
Thankfully, RES throws open the voting door, leaving the vote tallies naked for anyone to see.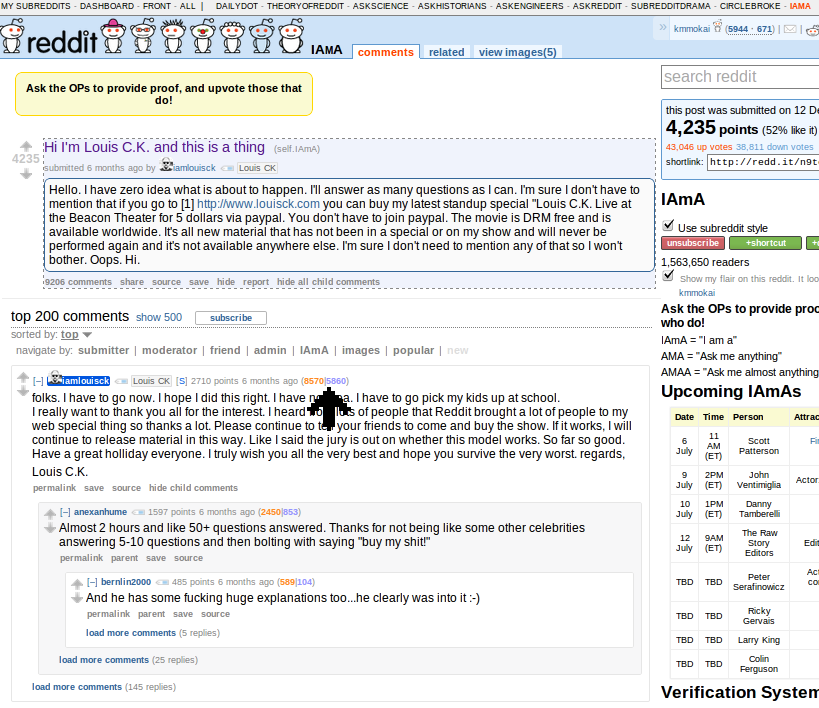 4) Send a Quick Message without leaving your screen
If you send a lot of messages on Reddit, RES will dramatically improve the quality of your experience. Normally on Reddit you need to open an entirely separate window to send a message, first clicking on a user's account name, then clicking the Send Private Message button their user page. With RES there are two quick ways to do it.
First press ctrl-M to bring up a quick message box. You can change this keyboard shortcut yourself from the Settings menu.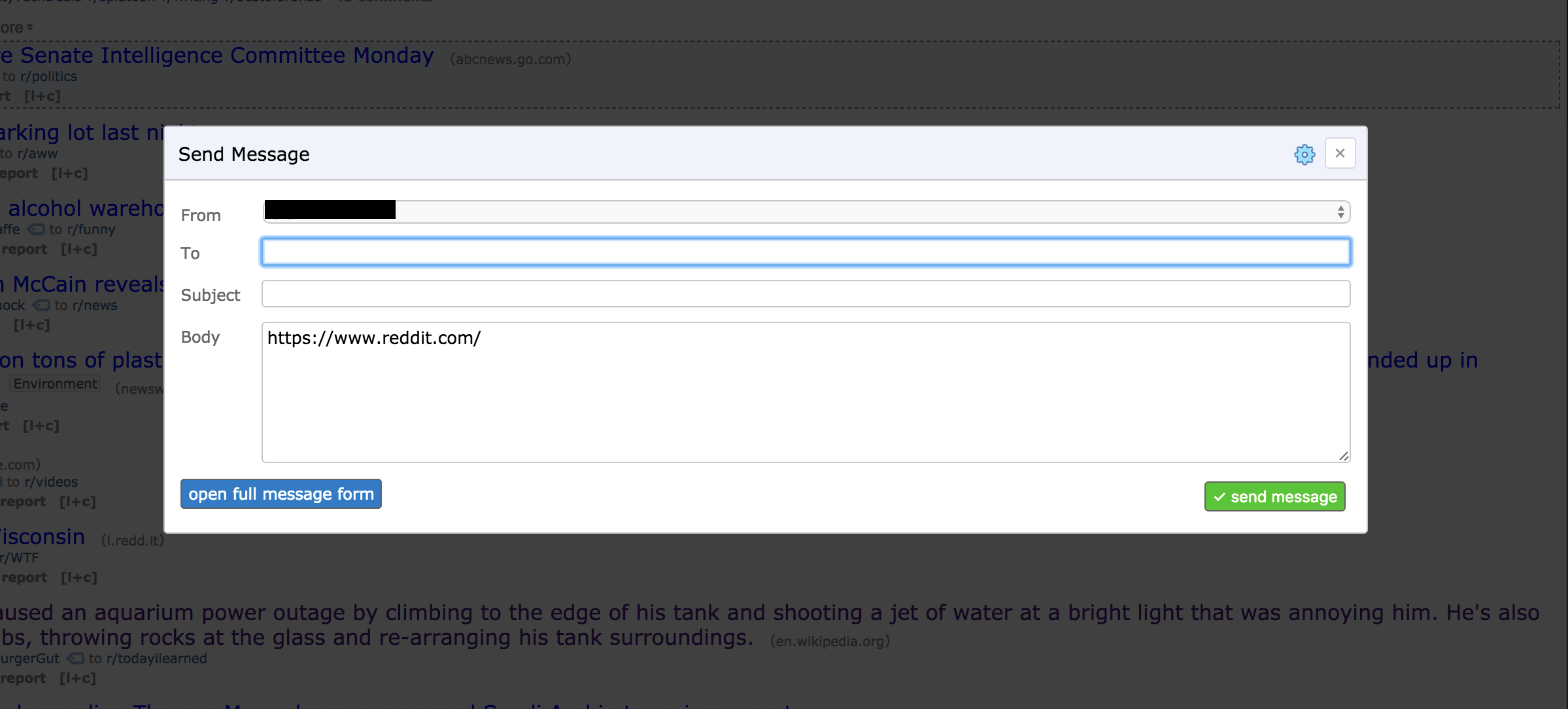 The second method allows you to send a quick message to specific users in threads by hovering your cursor over their username. When you press the "Send Message" button the same quick message box will appear as when you use the shortcut, only this time with their username already added.

You can add defaults to your quick messages in the Settings menu, including default subjects, when to activate the quick message function, and selecting whether to send your message as a user or subreddit itself. This last function is useful for subreddit mods when policing their territory.
5) Night Mode
It's not good for your ability to sleep to stare at a bright screen late at night, but that doesn't mean you're going to stop looking at Reddit before bed. That's why Reddit Enhancement Suite's Night mode is so wonderful. Turning it on renders your screen in gray and light blue, reducing strain on your eyes so that when you finally go to bed you can get some sleep.
READ MORE:
Intermediate: How to conquer Reddit in 10 easy steps
Reddit lets you save posts for later viewing but not comments. Considering much of the site's best content comes from comments, this is endlessly aggravating. RES solves this problem by adding a save button under every comment. To access, check the "saved comments" tab on your user page.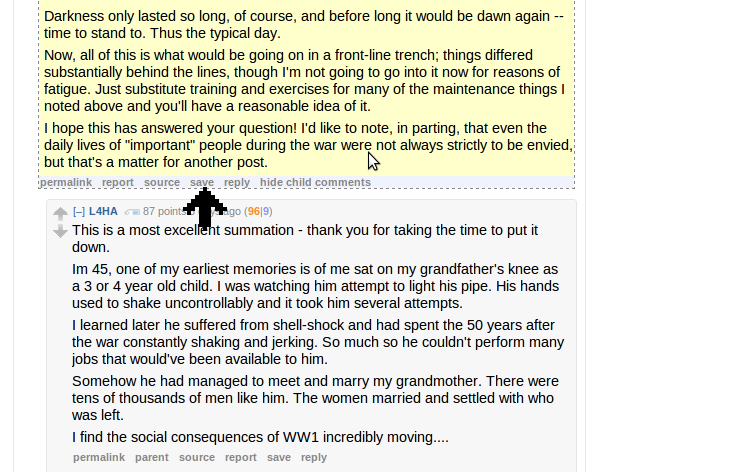 Jump through threads easily with this fun feature. On top of the submission box for each post, RES adds a navigation bar. Just click on the type of poster you want to track, and RES will add a pop-up window on the right side of the screen. Press the up or down arrows to jump through the poster's comments.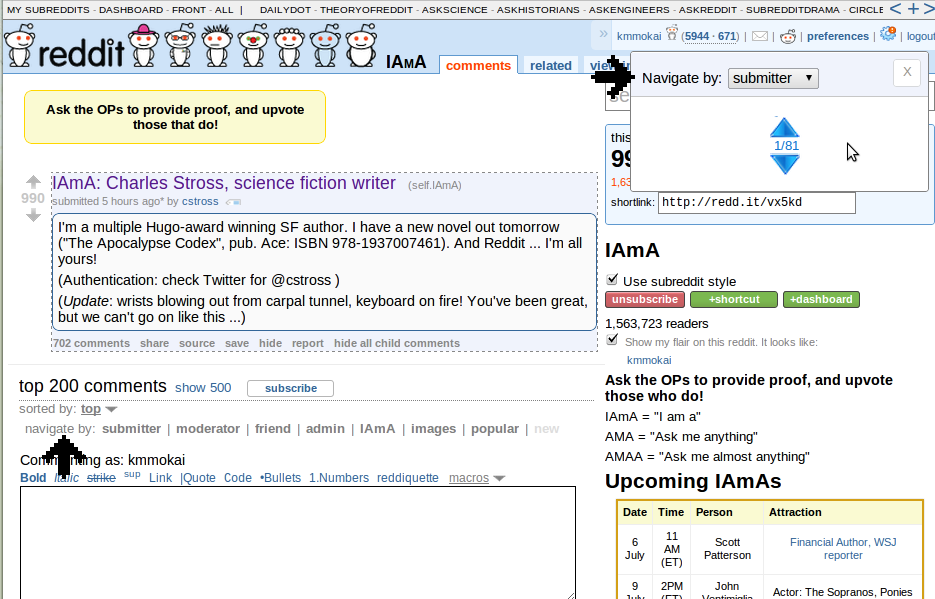 For some reason known only to Reddit HQ, the site only displays your link karma on the top navigation bar. To see your comment karma, you've got to click through to your user page. This is worrisome at times because comments may very well be more important than links on Reddit nowadays.
RES does the sensible thing: It slides your comment karma right in next to your link score.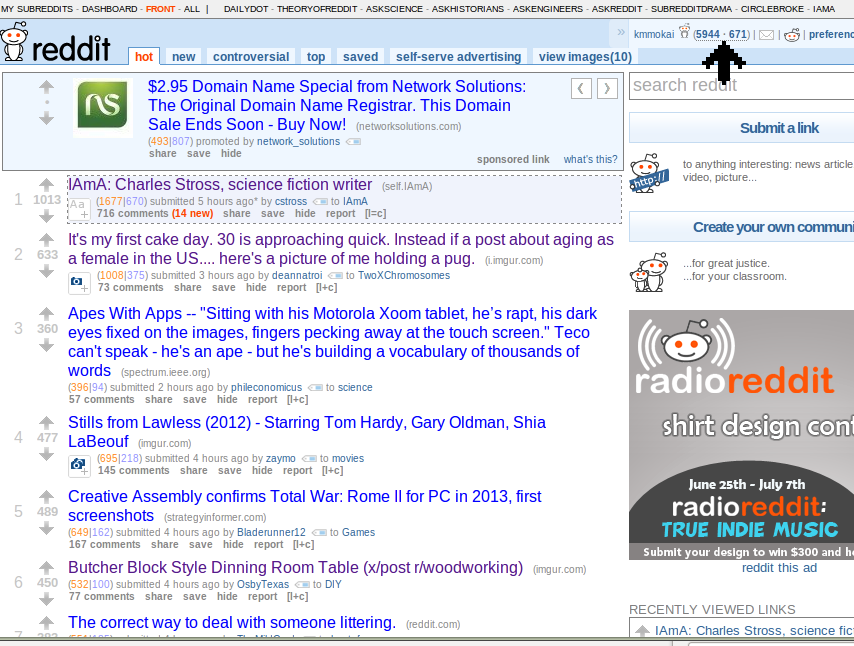 Reddit's top navigation bar doesn't allow any sort of customization, which makes managing subscriptions to basic subreddits more difficult. RES fixes that with a "subreddit manager."
Here are its main functions:
Select, rename, and order your preferred subreddits any way you choose.
Click the "shortcut" button on the subreddit sidebar you want to add.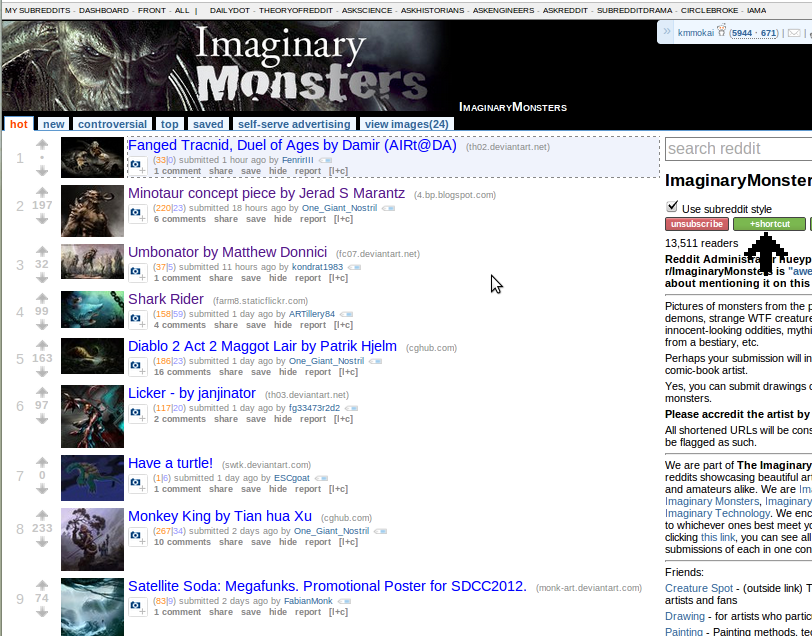 To change the name, double click on the subreddit.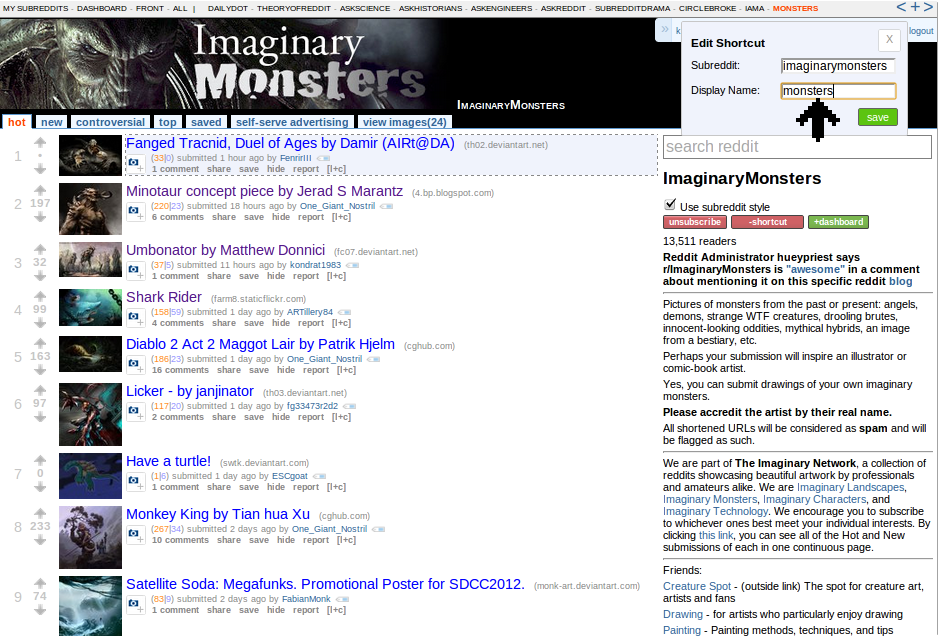 To organize the navigation bar, click, drag, and drop the subreddit name to your preferred location.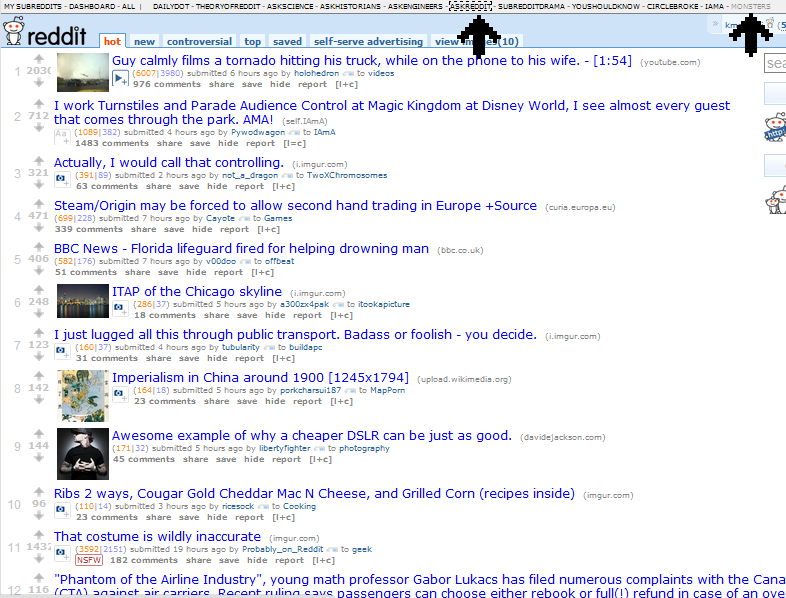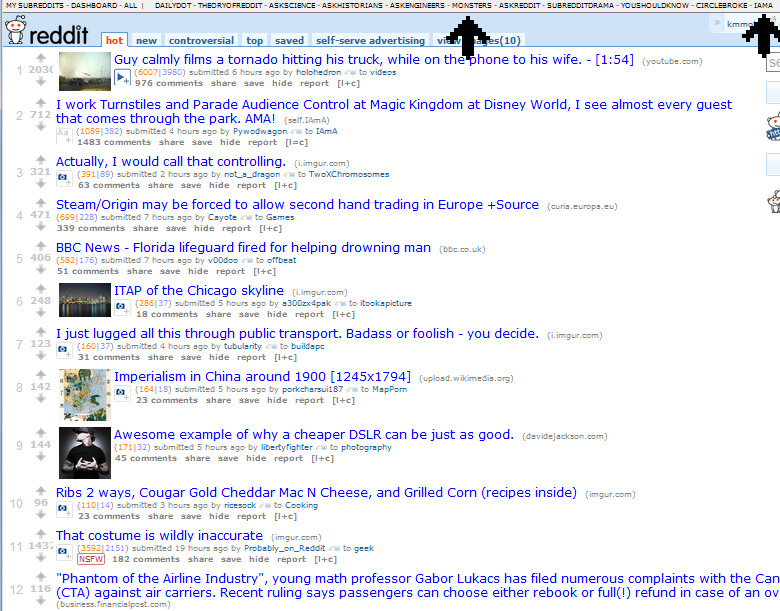 View all your subreddits—everyone one of 'em—with a simple drop-down menu.
As someone who needs to turn navigating through Reddit into a science for my Reddit Digest feature every morning, the subreddit navigator is a lifesaver. Even better: You can sort the drop-down menu by "last viewed," meaning you quickly find which subreddits you haven't been giving enough love.
Reddit has no limit to the number of accounts you can register, nor does RES limit the number of accounts you can add. The RES account switcher makes switching between different users as simple as two clicks.
To add a new account, click on the Reddit alien icon next to your user name.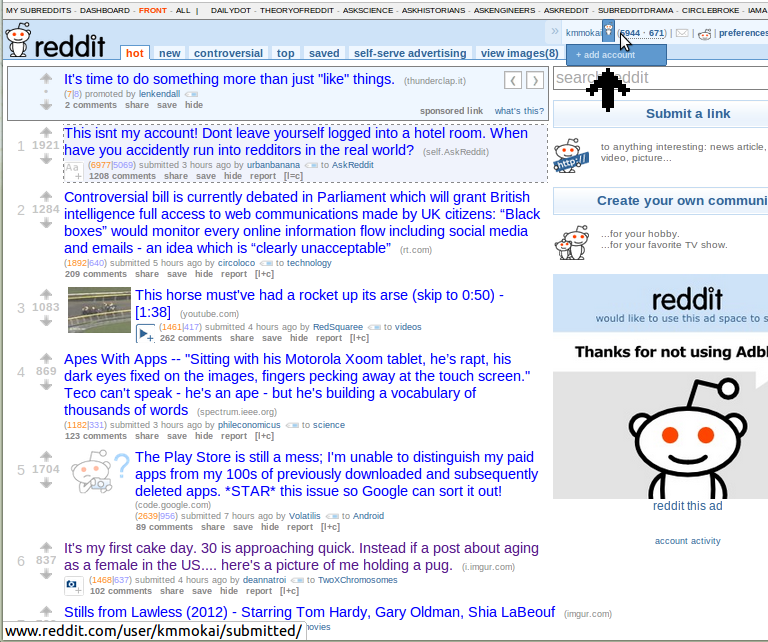 On the new pop-up window, click "add account."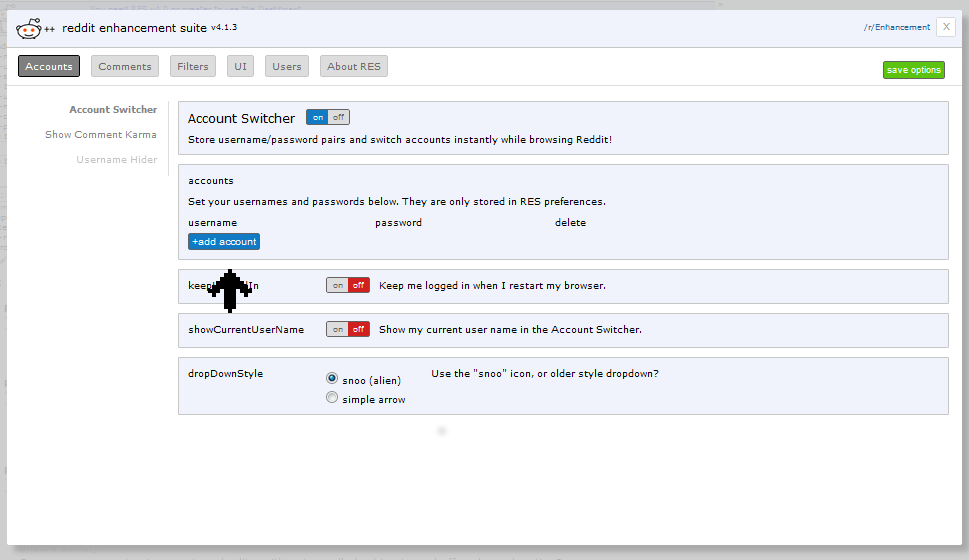 Once you've added an account (or two or three), just click on the Reddit alien to switch.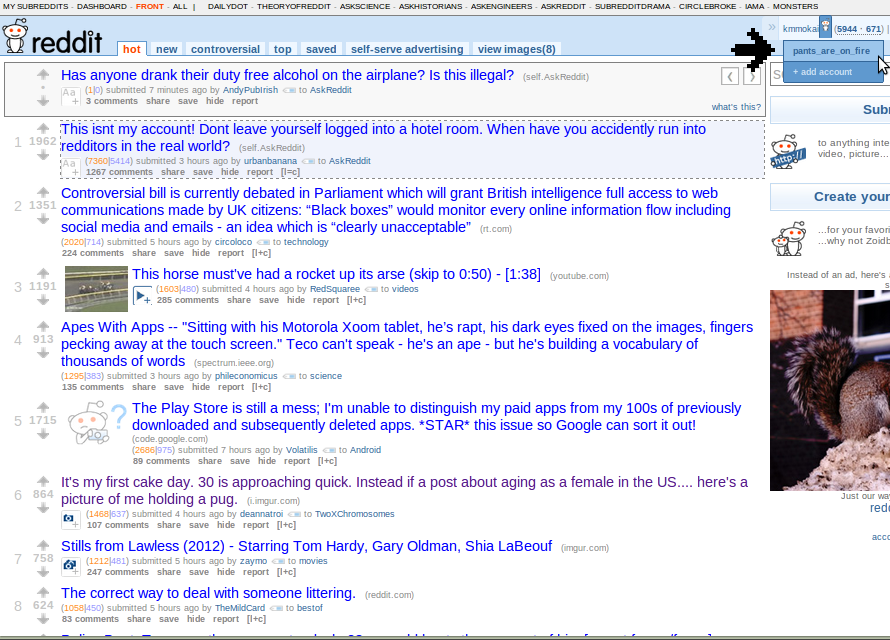 RES will show the number of new comments that have popped up in a thread since the last time you looked at it.
Someone annoying you? Want to say something witty that should mark them for eternity? RES lets you tag redditors with any word or pithy saying you want. Note: These tags are saved only on your computer, so you don't have to worry about anyone else seeing them. Unless you take a picture, like I do below.
To add a tag, click on the icon that RES appends next to every username.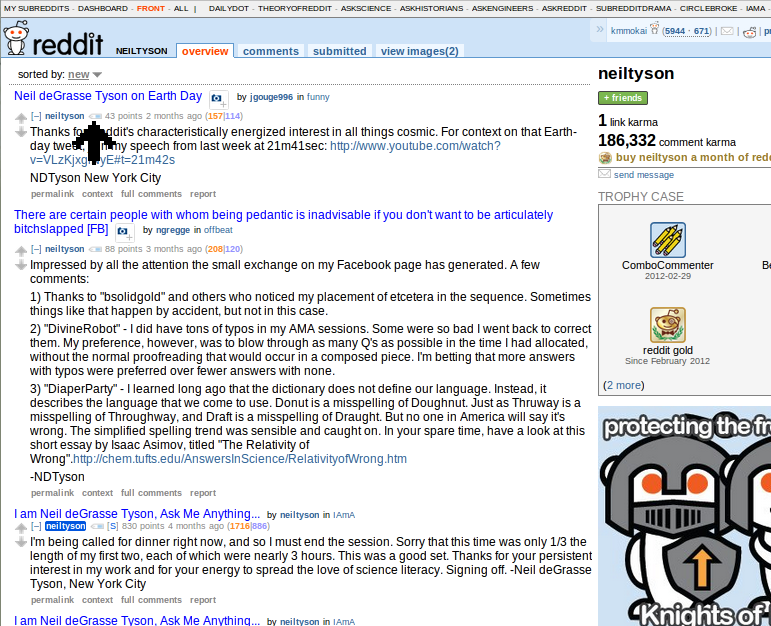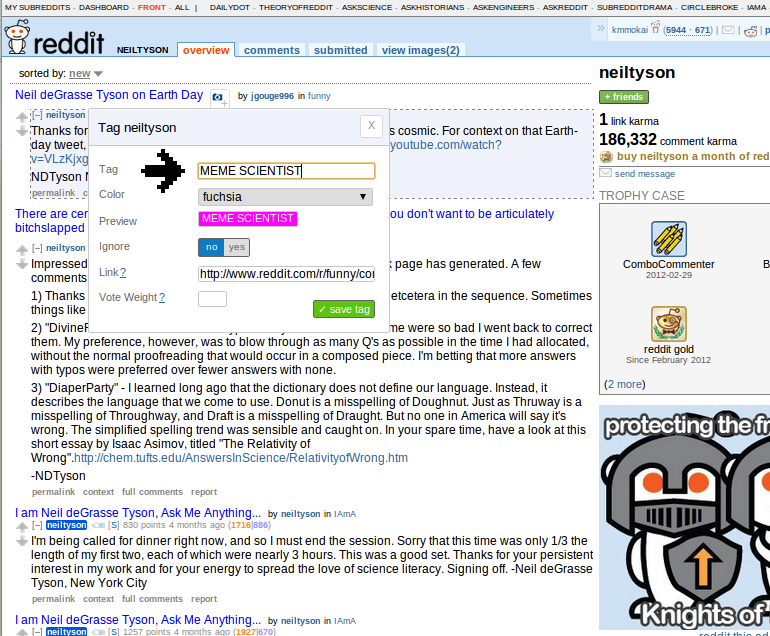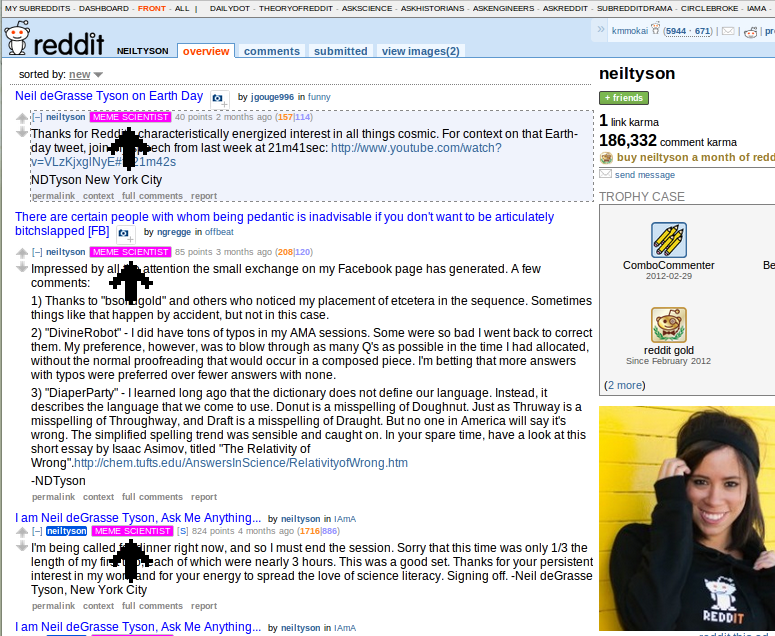 This may seem pointless, but it's actually incredibly useful and really helps you navigate massive comment threads. Why? As it is, top comment threads easily run on tangents, which can take up a lot of real estate near the top of the overall thread.
If you want to see the original replies—and only the original replies—click the "Hide Child comments" button beneath the original post. Like magic, they all disappear.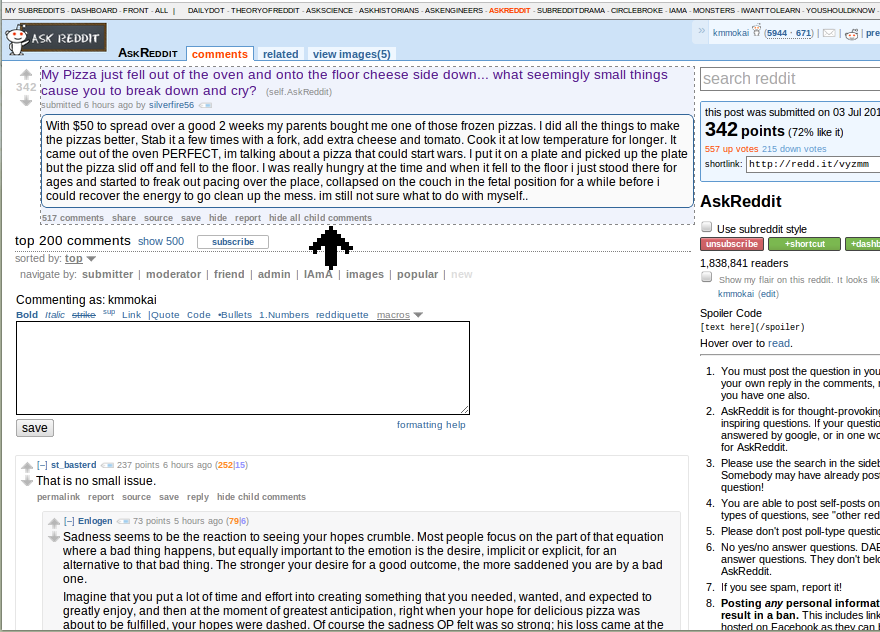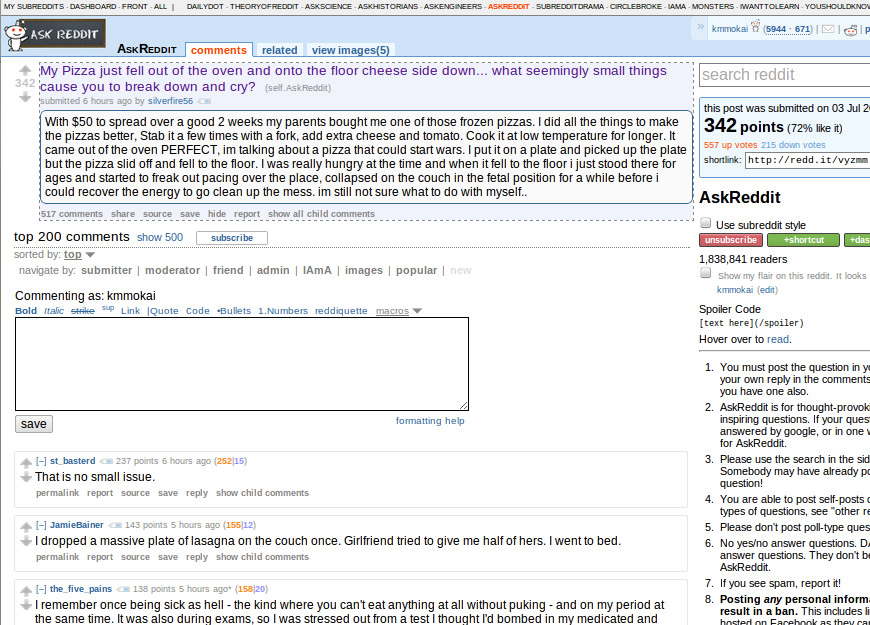 Reddit's mark-up—the system it uses to turn plain text into HTML—is clunky and hearkens back to Internet message boards of the late '90s. RES modernizes the comment box into something any ordinary email user would feel comfortable with. It also shows a live preview of your comment. That way, if there's any mistake in your formatting, you can fix it before hitting "submit."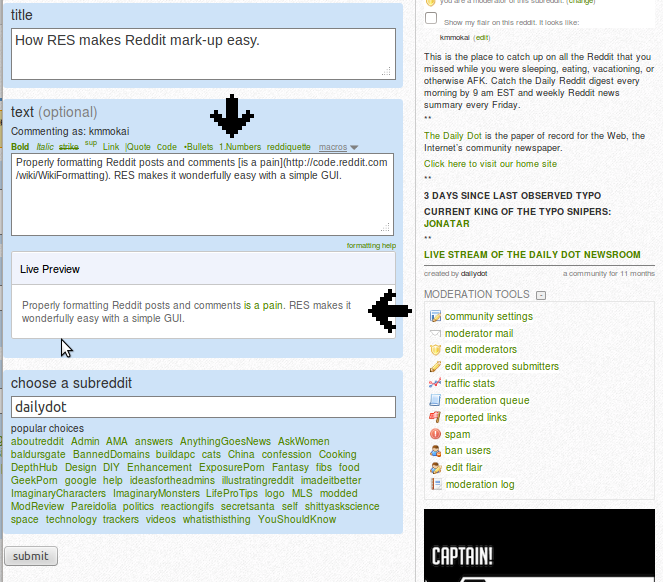 10) Subscribe to comment threads
Sometimes you stumble upon pretty amazing conversations in your Reddit wanderings. But it's easy to forget about them entirely once you move on. Wouldn't it be great if Reddit would just notify you every time a new comment is added to a discussion? RES's subscription feature does just that.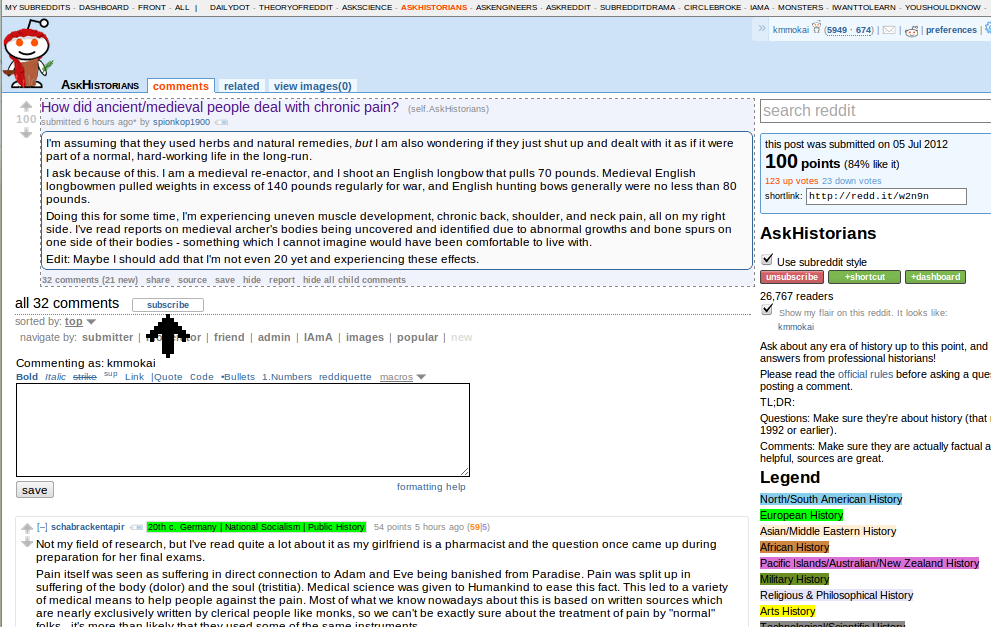 Advanced: How to become a level 21 karmic ninja
With RES, you can ignore entirely any subreddit you're tired of, any word or phrase that rubs you the wrong way, or any websites you simply don't like.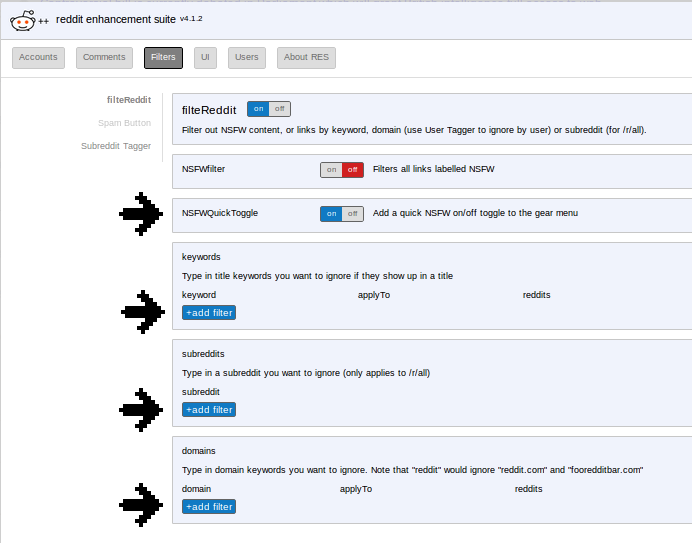 You can also filter out all NSFW content with a simple click of a button, on either the settings bar or the RES drop-down window.
Filter by flair (version 4.1.3)
"Link flair" is a special kind of designation moderators can apply to submissions on Reddit. At r/askscience, for instance, submissions are tagged according to discipline: a question about the birds and bees will get a "Biology" tag.
But maybe you already know everything there is to know about Biology and especially the birds and the bees. RES 4.1.3 brings a new filtering function that let's you ignore certain tags—basically, another way to ensure that unwanted content doesn't pollute your home page.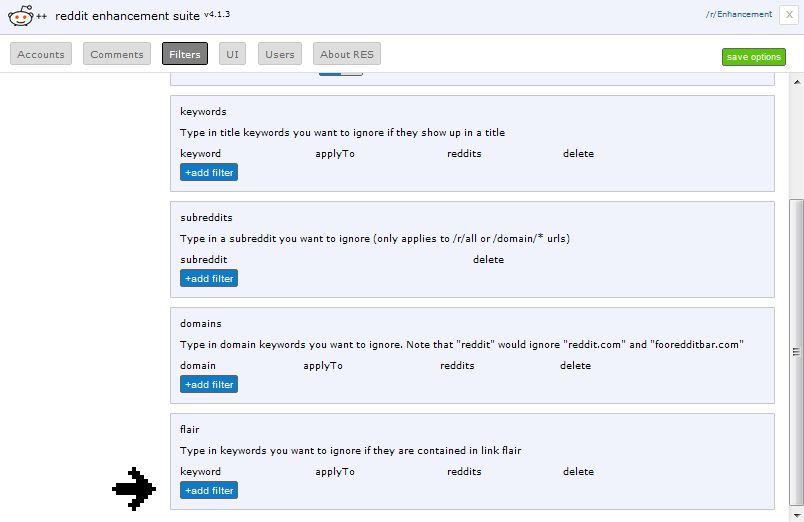 Reddit's front page is barely customizable. If you subscribe to more than 50 subreddits (or 100 if you pay for Reddit's premium service, Reddit Gold), the site will randomly choose which ones to present to you every time you log in.
But there's a lot more you probably want to see in your feed. For instance: What if you want to see a feed of posts redditor illustratingreddit has posted? Normally you've got to load up her user page or add her as a friend and go to Reddit's separate, inconvenient "friends" tag.
That's not the case with RES's dashboard feature, an incredibly powerful customization tool. You can centralize all your Reddit feeds: Choose which subreddits appear in your feed and how much content you want to see from each. Add a Reddit mailbox widget.
We hope it's a preview of what official Reddit will look like in the future.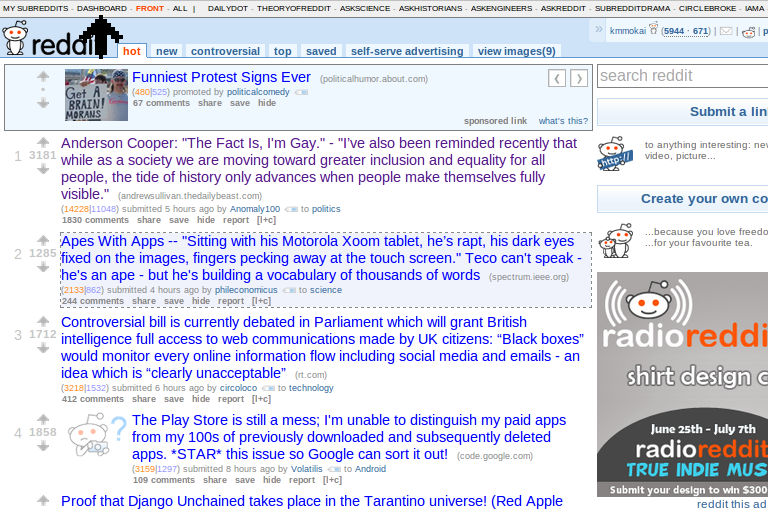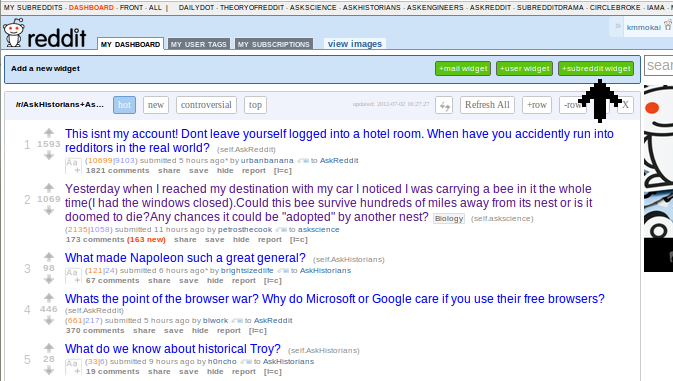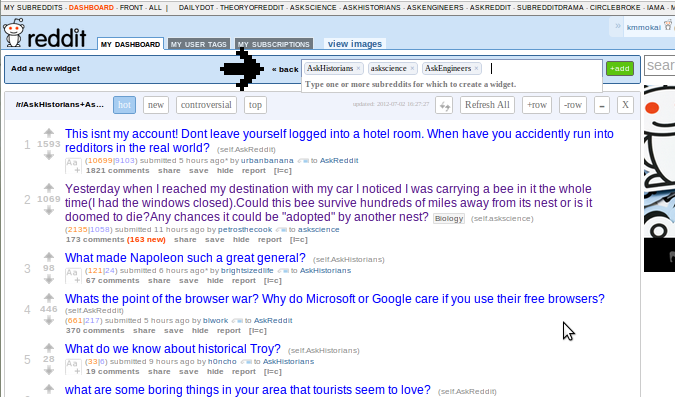 3) Link and comments at the same time: [l+c]
This is a neat little feature. Pressing the [l+c] button underneath a submission will automatically open two new tabs in your browser: one loads the link and another loads the discussions on Reddit.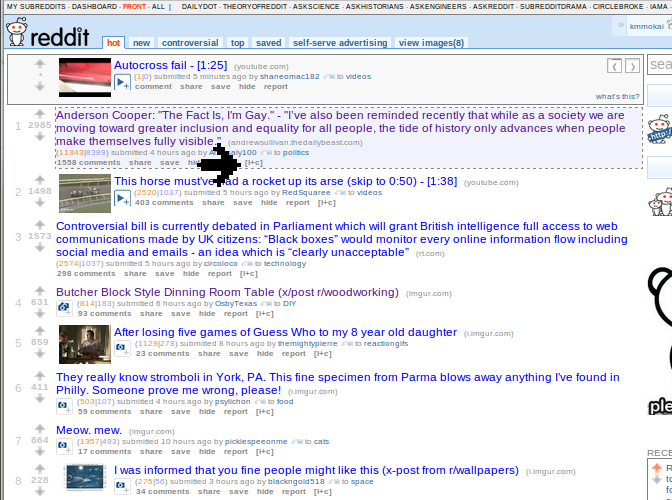 Hotkeys separate the adults from the kids. RES also allows you to perform most tasks with just a click or two of your keyboard. This includes voting, expanding images, navigating through comments, replying, and more. View the full list here.
Curious about how many times you've voted someone up or down? RES keeps a tally, right next to each redditor's name in the comments section.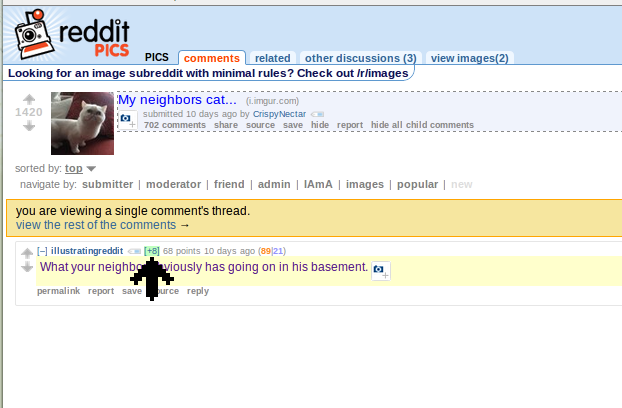 Appendix: Doohickies, widgets, and whatnots
Makes "save" links change to "unsave" links when clicked, makes "hide" links change to "unhide" links when clicked. These two actions usually require a trip to your "saved" and "hidden" pages, respectively.
Shows unread message count next to the Reddit mail envelope, the site title (in your browser), and in a hover box that follows you down the page.
Shows lengths of videos in the post title when possible.
Searches the current subreddit by default when using the search box (Reddit confusingly does the opposite).
Pins the subreddit bar or header to the top of a page, which follows you as you scroll.
This feature uses different colors to highlight commenters in a given thread. It's useful for knowing if the person commenting has any special authority or value to the thread. The original poster is blue, admins and friends are red, and moderators are green.
3) Show parent comment with a pop-up box
This is an interesting feature that makes it so you don't need to hit the "parent" link to see the comment above in a tiered thread. Instead, just hover over the button with your cursor.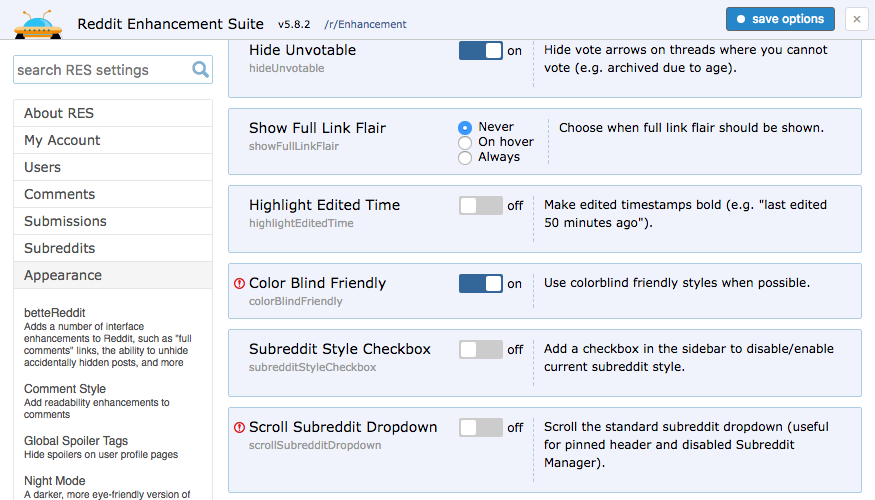 This will hide your username so when curious colleagues peer over your shoulder they'll have no idea who you are on Reddit.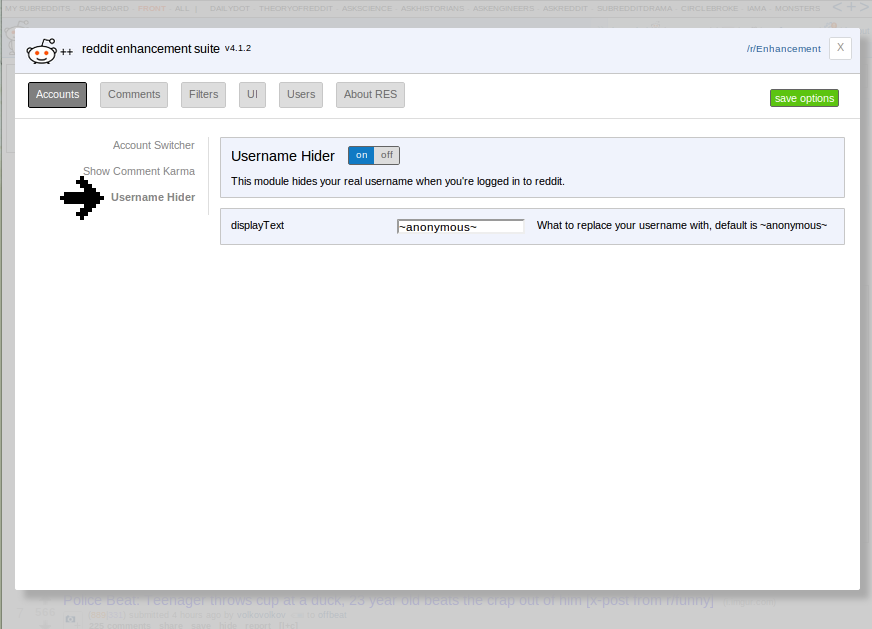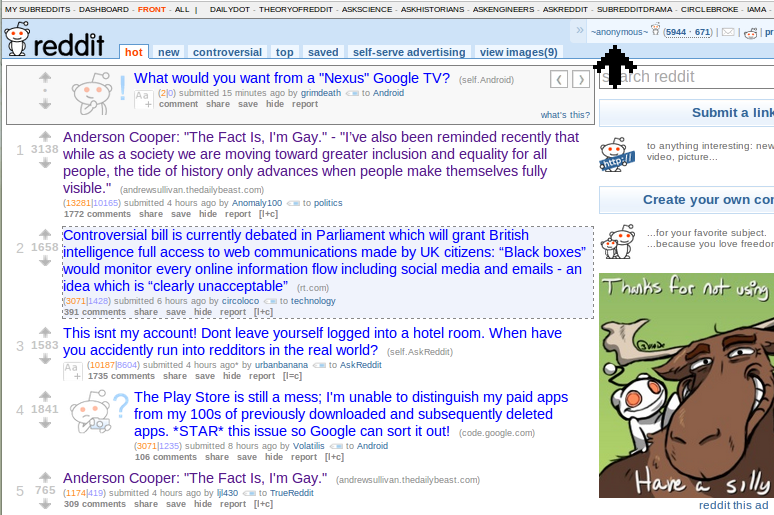 This pop-up window provides info on users or subreddits when you roll over their names.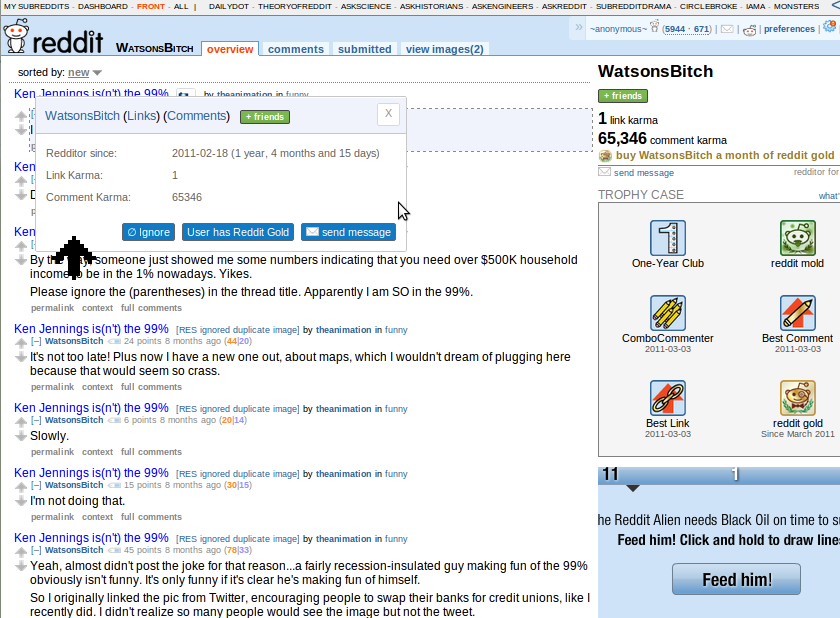 6) Color Blind Friendly mode
Color Blind Friendly mode is an advanced option, so before you turn it on, you'll first need to check off the "Show advanced options" box at the bottom of the Settings screen. You'll need to go to the Style Tweaks menu in the Settings screen make these changes. You can navigate there yourself, or just click this link to go the Style Tweaks directly.
Then scroll down until you see this box.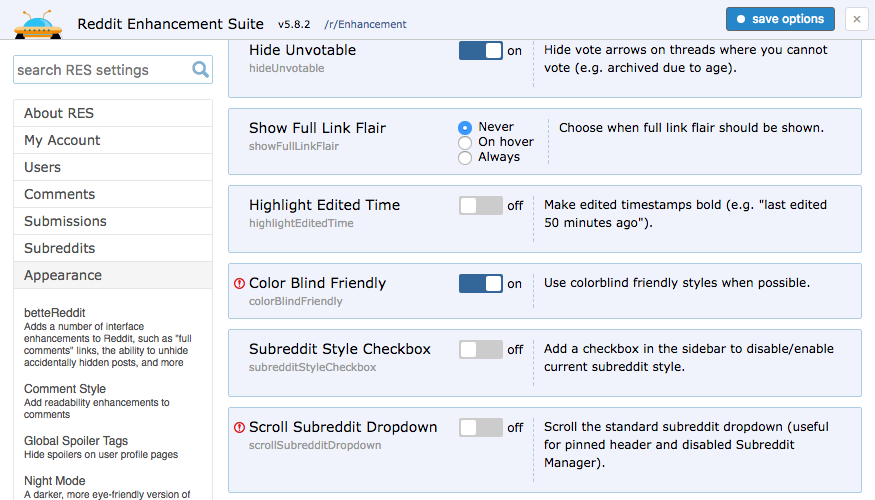 Flip the switch to turn on Color Blind Friendly styles on most of the site. There will still be occasional subreddits with formatting that doesn't isn't, but it's an improvement.
***
RES is so useful because it adapts very well to varying levels of expertise. A wide-eyed Reddit newbie can benefit from its most basic features, while battle-scarred veterans can use it to hone, trim, and perfect the way they use the site. In fact, RES is so feature-laden there's a (good) chance we forgot something. If we did, please let us know in the comments and we'll add it as soon as possible.
9) Formatting
10) Subscribe to comment threads
1) Filtering
2) Dashboard
3) Link and comments at the same time: [l+c]
3) Show parent comment with a pop-up box
5) Hover info
Want to know more about Reddit? Here are some fascinating facts about the site's history, celebrity Reddit users to keep an eye out for, the truth about Reddit Gold, the best of Reddit's Shower Thoughts, and the origins of Reddit's most popular game, the 50/50 challenge.
Additional reporting by John-Michael Bond
Editor's note: This article is regularly updated for relevance.