As one glance at Reddit's homepage will tell you, it's not a site that's concerned with being cute. But as more than 230 million redditors will tell you, a forum doesn't have to have a beautifully designed interface for it to be filled with some of the best original content on the internet. It's all about the users.
What Reddit lacks in flashy appearance it makes up for with user creativity and dedication from some of the most active, responsive users on any social platform. As of July 2017, Reddit ranked no. 5 for the most visited website in the United States and no. 9 globally. While Reddit is the birthplace of new memes, it's also a hub of online controversy. Between racist subreddits, death threats, conspiracy theories gone wrong, unwarranted online abuse, and myriad accounts of users posting revenge porn, it can be hard to avoid the sketchy parts of Reddit.
Still, in the midst of all the ugly chaos that is the front page of the internet, some users have found a way to rise above. Although you can easily find IRL celebrities featured on the popular subreddit r/IAmA, some of the site's most popular users are only famous online, and for good reason. Here's our running list of some of the most famous (and infamous) celebrities of Reddit.
Reddit celebs: 19 stars to look for
Shitty_Watercolour is arguably Reddit's most influential and well-known illustrator, otherwise known by his real name, Hector Janse van Rensburg. Van Rensburg started posting his amateur watercolor paintings on Reddit in 2012. Contrary to what his username suggests, van Rensburg's work garnered a lot of attention that also led to his huge following on Twitter and Tumblr. In 2017, the 23-year-old announced on Reddit that he graduated from the University of York with a degree in philosophy, politics, and economics.
Though he announced earlier this year that his time on Reddit was coming to a close, u/awildsketchappeared will forever live on as a legend. After five years' worth of novelty character sketches and regular drawing advice, "wild sketch" announced his decision to leave in 2017. As one of Reddit's mainstays and beloved commentators, u/awildsketchappeared was the moderator of several subreddits for users to discuss or submit drawing requests. Even when he skipped a day of posting, he'd surprise users in comments and show up in multiple top default posts, usually with a goofy sketch or GIF.
As it turns out, Arnold Schwarzenegger is just as much of an avid fitness and weight lifting enthusiast on Reddit as he is in real life. The former California governor frequents pages like r/bodybuilding with live streams of his training sessions and r/fitness with his own tips and tricks, along with the occasional tidbit about his time in office. In several instances, Schwarzenegger has been known to contact his biggest fans directly. Last year, his response to a subreddit post about a terminally ill fan went viral after he offered to contact the fan personally.

READ MORE:
We'd be remiss not to mention the infamy of Reddit user StanGibson18, better known by his legal name as Kenneth Bone. In case you missed a huge chunk of the internet in late 2016, there's a lot to unpack with Bone, particularly in regards to his misguided Reddit comments. Just after he became a national meme after appearing on a presidential town hall debate, Bone took to r/roastme where he asked the people of Reddit to roast him. "Come on, show me what you got," he wrote on a piece of notebook paper accompanying the post. Users willingly obliged.
For Robert Allam, otherwise known to his followers as u/gallowboob, Reddit is a place for daily "aww" pics of dogs and occasional wholesome memes. Though he was noted by some users in one "legends of Reddit" forum as a "voluminous s***poster," it's important to give credit where credit is due. He does post a lot more than most, making his daily pics float to the top of pages like r/pics, regardless of their subject matter. He's also pretty transparent. A quick visit to his page gives you his full name, Instagram, and Twitter handle. In a world of dark forums and anonymity, total transparency is a rare find.
6) u/SlowlyTurnsGay
Anonymous user SlowlyTurnsGay is exactly what it sounds like, and it's what makes this user one of the most underrated commentators across a variety of subreddits. Don't let low post karma fool you—this user's specialty is in comments in which he replies to a subreddit question with a story that "slowly turns gay." Typically, they'll involve the gradual realization that he's in love with his friend Brad. While "turning gay" definitely isn't a thing, these comments are still delightfully nuanced (though some may be NSFW).
Aside from posting a ton of content almost daily and racking up insane amounts of karma, Max Patrick Schlienger (or u/RamsesThePigeon) is an advocate for Reddit as a necessary and informative platform. "For the rest of the Internet, Reddit is a much-needed filter," Schlienger told the Washington Post in 2015. "Top-scoring submissions make their way out into the greater Internet, finding new life on news web sites, Facebook walls, clickbait sites, Twitter feeds … the list goes on." Schlienger also moderates a ton of popular subreddits, such as r/pics, r/funny, and r/ShowerThoughts.

READ MORE:
For poet Sam Garland, otherwise known as Reddit poet celeb u/Poem_for_your_sprog, the questions posed in AskReddit are a blank slate for short, geeky rhyming responses and dark Shakespearean verses that redditors worldwide have come to love. Previously operating anonymously, Garland revealed his identity to the Reddit community in 2015, along with the release of his first original collection, "The Mouse in the Manor House (and other poems)."
You probably know iBleeedorange, even if you're new to Reddit. This user has racked up unbelievable levels of comment and post karma and frequents some of the most popular subs on a daily basis. On top of that, he's listed as a moderator for more than 20 subreddits, including his own hate page. On his Twitter account, iBleeedorange is identified only as Kevin, the self-proclaimed "karmawhore of Reddit." While this is a well-deserved title (and certainly something he's dedicated a lot of time to), there are still subreddits dedicated to hating some of the most popular users. All too often, with Reddit fame comes a dose of Reddit shame.
Freddie Wong is an internet video star and also a borderline Hollywood celebrity. His first-rate YouTube videos have brought him attention from major Hollywood personalities. While he usually prefers to simply promote his videos on Reddit, he also jumps into the fray once in a while, often with a fun Hollywood or filmmaking anecdote. —Kevin Morris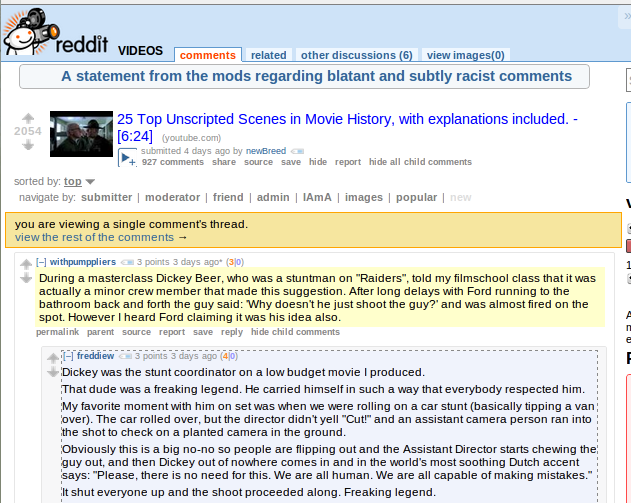 Harmon's NBC comedy Community owed a lot of its existence to the internet. Indeed, r/community became one of the most influential voices in the push to bring the show back, and his current project, Rick and Morty, has proven just as popular on the social news site. —K.M.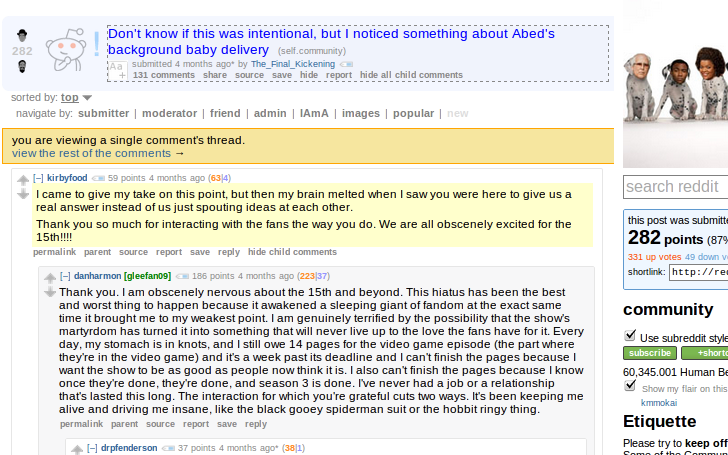 OK, we admit it's a stretch to call Sanderson a celebrity. But in the niche of fantasy fiction, he's a big deal: Hand-picked to complete the epic Wheel of Time series after Robert Jordan's death and author of the wildly popular Mistborn series, Sanderson is a rising star.He's not afraid to plunge head first into Reddit. Here he is replying far too politely to an obvious troll. —K.M.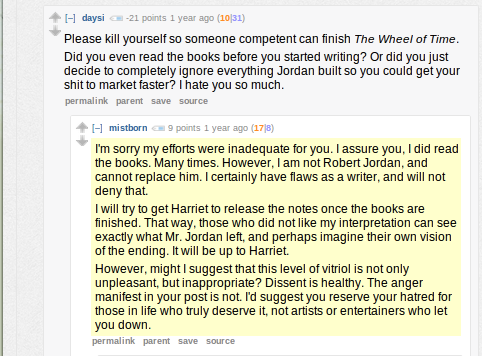 Snoop Dogg is such a strong proponent of Reddit that, in September 2014, he became a co-owner, joining in on the site's $50 million round of venture capital funding. But Snoop's not just in it for the money. He's one of the site's best secret Santa givers and he regularly drops new music and fun GIFs.
There's no mistaking William Shatner on Reddit. He posts under his real name, picks fights about so-called social justice warriors, and weighs in with authority on all things Star Trek. Here he is responding to a news story about an alleged knife fight between Star Trek and Star Wars fans: "My guess is that both were Star Wars fans. Here's my reasoning: What Star Trek fan carries a pocket knife and Star Trek fans are nice; they don't go after someone and try to choke them. Choke hold is a Darth Vader move. Therefore it was probably two Star Wars fans arguing over how great Star Trek is."
15) u/fday
Felicia Day did a great AMA last year for her new book, You're Never Alone on the Internet, but she frequents Reddit even when she doesn't have something to promote.
The actor and artist of Batman, Tombstone, and Top Gun fame frequents Reddit and often reflects on film, his acting career, and the Green Bay Packers. He's most active in r/movies, where he has been known to respond to questions about hypothetical Reddit movies and posted behind-the-scenes looks at films he's appeared in, like The Salton Sea. He'll ask general movie questions, like which movie character you'd like to be for Halloween, or he'll post mashups of '80s movie clips. Overall, wholesome content for a guy who frequently played darker characters.
It's not much of a surprise that Bill Gates, the original dweeb, philanthropist, and Microsoft co-founder is on Reddit. He's fairly active, too, often posting wholesome content in r/UpliftingNews and commenting on threads in popular channels like r/pics or r/tennis. He's frequently selected for AMA threads, and they're always chock-full of Bill fun facts.
Ever-popular young adult writer John Green is a regular Redditor, often posting about (you guessed it) writing, writers, news, and books. Since the release of his latest novel, Turtles All the Way Down, Green had moderated and frequently posted in the books' spoilers subreddit, engaging with readers as they discuss theories and plotlines.
Reddit co-founder and current CEO Steve Huffman lives on the site as u/spez, and while he's much less of a recognizable "celeb," he's absolutely a person of interest. His profile is mostly Reddit news, updates about web redesign and mod tools, and occasional AMA threads. Huffman still faces some backlash in his current role, which he took after former CEO Ellen Pao resigned in 2015. Many users blasted Huffman for what they saw as curtailing free speech on the site after he said certain controversial communities should be banned. Wherever you stand, you should know what u/spez is up to whether you're new to Reddit or a seasoned user.
Editor's note: This article is regularly updated for relevance.