The COVID-19 pandemic minted a fresh crop of heroes and villains, and some who are a little bit of both. Early on, Rebekah Jones emerged as one of the heroines.
The very work and visibility that made Jones a role model to some has made her a pariah to others. They say that her data doesn't hold up and that she plays fast and loose with the truth. Jones believes that her enemies are out to get her. She tells the Daily Dot that she's been the subject of coordinated attacks for months, tracing back to when she was fired by health officials in Florida last May.
"I've been working to prove its connection to specific individuals, with the help of an investigative journalist, a lawyer and a state official," Jones said via direct message of the bevy of online attacks. She declined to say who she suspects is behind it. She has previously accused top state leadership of targeting her. Others have echoed such claims.
Jones' high-profile firing by Gov. Ron DeSantis' (R-Fla.) administration last spring made headlines nationwide. Jones alleges that she was fired for refusing to falsify data about COVID-19 to downplay the pandemic in Florida. The administration says she was fired for repeated insubordination.
After her ouster, Jones put the government on blast and set to getting out what she said was the truth about COVID-19 cases in Florida. She launched a dashboard that she said contained more accurate data about infections and deaths than what the state was reporting. She raised more than a half-million dollars on GoFundMe.
Jones was soon flush with fans, cash, and accolades. She made the rounds on national news outlets like CNN and MSNBC where she was lauded as a whistleblower. Fortune named her one of its "40 Under 40." She secured a partnership with Google and nonprofit FinMango and started working on creating a data set for schools in the United States.
These highs have been tempered by lows, however. In December, Florida law enforcement raided her home. A month later, she was arrested for allegedly illegally accessing the health department platform to send a message seeking whistleblowers. Officials claim she accessed and downloaded contact information for tens of thousands of Floridians. Jones has denied it.
She was sick when she turned herself in. It turned out to be COVID-19.
Jones has also been dealing with a misdemeanor case from 2019 alleging she stalked a former boyfriend. She's pled not guilty.
But as her profile has grown, and Twitter presence emboldened, fault lines have appeared on the veneer of her persona. She's made simple mistakes interpreting data. She's reportedly blocked experts who corrected her errors. (She maintains she made no error.) These and other embarrassing details from her past have been irresistible to Jones' critics.
---
From our friends at Nautilus
---
Every public figure has their detractors, of course. In Jones' case, some are particularly motivated. Though only in the public eye for less than a year, there are Twitter accounts dedicated to trolling or, depending on your viewpoint, exposing her. Two include her name in their handles.
Whether you view her as a noble servant to the truth or a shameless opportunist out to make a buck, it's hard to deny that these accounts are unnaturally fixated on Jones.
One account launched in February has tweeted more than 4,000 times. That account links to a WordPress site titled "rebekahjonesmanifesto," which contains court documents, mug shots, and a 300-plus page collection of essays she wrote "based on a true story" of an illicit affair, allegedly with the former boyfriend who claims she stalked him.
These accounts aren't the only critics of the data scientist. It's started to seem as the walls are closing in on the woman whom news organizations once clamored to interview. On Monday, Investigative Reporters & Editors' annual conference canceled a scheduled session, "When doing the right thing gets you fired: A conversation with Rebekah Jones," citing "unresolved issues surrounding this case."
Even high-profile media figures such as CNN's Jake Tapper have pushed back against her, specifically her allegation that his reporting about schools proves he doesn't value human life.
"Folk lionizing Ms. Jones because of animus for DeSantis need to understand how unreliable her word is," Tapper tweeted.
Jones deleted the original tweet, but defended herself vociferously against him, accusing him of "[a]ttacking scientists on a personal level" and calling his response "a low I never thought I'd see you fall to."
Criticisms of her may be valid—the data scientist has inaccurately claimed that Florida surpassed New York in COVID-19 deaths (the data she relied on reportedly didn't include New York City)—but the often highly personal and vicious nature of some attacks is also discomfiting, though perhaps depressingly familiar to women on the internet.
Jones denies that she made a mistake.
"What I actually said was that Florida passed NYC in excess deaths, which is not the same thing (and NYC is a separate reporting jurisdiction from NYS in CDC data)," she said.
Even announcing an award for COVID-19 "data heroes" gets her trolled.
The dedicated anti-Jones accounts have denied carrying a grudge against Jones, and say they're just trying to expose the truth about the woman they've dubbed the "geo grifter," a play on her Twitter handle.
Jones blocks accounts and reports tweets, but says Twitter doesn't typically intervene, a criticism others have leveled against the platform.
"I haven't done the statistical analysis on the reporting data, but I'd guess about 90% of 'reviews' find nothing wrong, another 9% say they told the person to take the post down, and then rarely an account gets suspended or blocked," she told the Daily Dot via direct message.
She provided a screenshot of her inbox showing correspondence with Twitter regarding numerous reports. There are more than 20 messages from Tuesday alone.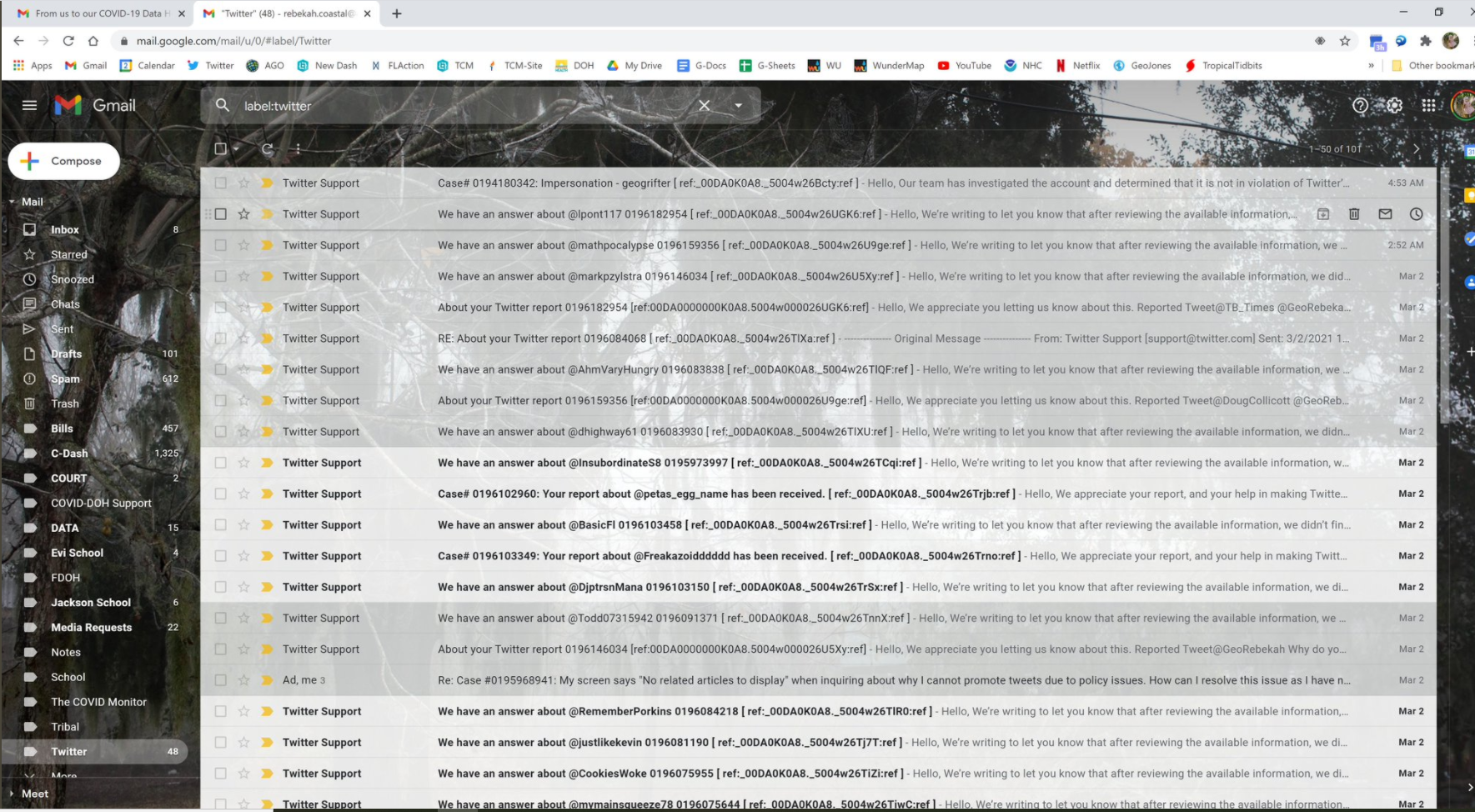 Some of the criticisms of Jones have found their way into stories, such as one published by a British tabloid last year, much of which she says was regurgitated by a recent article. The article railed against what it called "The Narrative," that Jones is a whistleblower and that Florida has done a poor job managing the pandemic. It dredged up matters from her personal life, some of which appear in court records.
It painted her as a fabulist and self-promoter who became a media darling because she supports the tale that journalists want to tell, of an incompetent and corrupt Republican administration covering up pandemic infections and deaths, and the innocent young data scientist who took it on.
Jones characterizes it as a "smear piece."
"Even though 'Human Events' is a blog founded and run by one of the craziest dudes from [Breitbart], it gained a bit of traction, despite the clearly false and defamatory things in it," Jones said. (The Breitbart alum departed the site in 2019.)
"It actually came out a few days after I joked about making a run for office," she added.
As more people start questioning her motives and integrity, Jones' detractors have done the internet version of dancing on her grave. They seem to derive real satisfaction from her real or perceived loss of credibility.
People should be held to account for their mistakes and mistruths, regardless of stature. It's also true that the bigger someone's profile gets, the more enticing a target they become, and the more voices chime in, the more difficult it can be to sort fact from fiction. Is she a champion with rare integrity, a selfless public servant dedicated to saving lives? Or is she an opportunist trading her newfound clout for fame and cold, hard cash?
The answer may be in the eye of the beholder.
As Jones herself once reportedly wrote, "Everything else is grey, clouded by the obscurity of competing stories and identities, inspected and examined by so many outsiders…."
This story has been updated.
---
Read more of the Daily Dot's tech and politics coverage