Nearly a year into the pandemic, COVID-19 has entered the festival circuit.
These films and documentaries are only a fraction of the COVID-centric projects—whether they were directly about COVID, filmed during COVID, or became eerie echoes (whether planned or not) of COVID—that debuted at the 2021 Sundance Film Festival. They're among the many time capsules we'll have of this period, and while the COVID movie canon is still being shaped as we continue living through it, these films and documentaries offer fascinating views and windows into ourselves.
Life in a Day 2020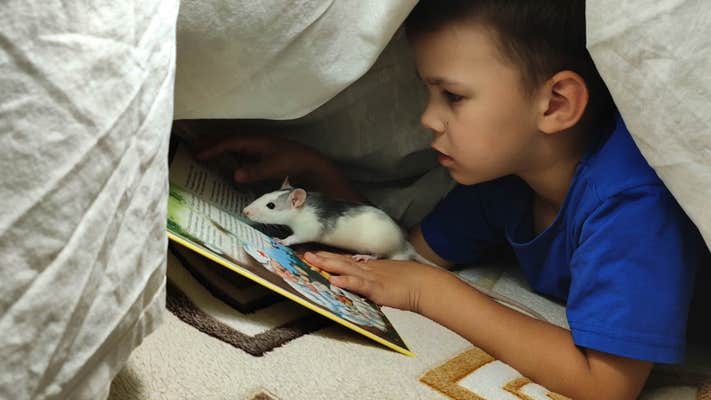 Director: Kevin Macdonald
Streaming: YouTube
Release Date: Feb. 6, 2021
Rating: 3.5/5 stars
Ten years after making Life in a Day, director Kevin Macdonald is back with his follow-up, another crowdsourced documentary that attempts to capture the scope of July 25, 2020. (According to the film, 324,000 videos from 192 countries were submitted.) It's a vast and eclectic view thanks to the wide range of video sent to make Life in a Day 2020 happen, but it's also one that pauses to appreciate the smaller moments.
In one of Life in a Day 2020's more powerful moments, a mother plays a clip of her teenage son that made it into the first Life in a Day documentary. After she pauses the video, she tells us that her son is here with her. But when she turns the camera, she reveals an urn, choking up as she tells us that her son died earlier in 2020 from COVID-19. It's far from the only death to hang over Day in a Life 2020, even if it's only in a general sense.
Some of the clips give us glimpses into the connections we're trying to maintain despite the physical separation. We're spending a lot of time online, so it's no surprise that good chunks of the documentary focus on our digital lives, whether it's a Zoom call or someone attempting to become famous on TikTok, and the cameras take us to protests on the streets. But the vast majority of Life in a Day 2020 captures these snapshots, showing us that despite all of the uncertainties and upheaval that happened on this particular day, life still goes on.
"What I fear the most is that my life will pass unnoticed, that my name won't matter in the history of the world," Semyon from Northern Siberia says to the camera. For the most part, the people we see have very little time to make an impact, so it's easy to forget them almost as soon as we've watched them. With the exception of a handful of subjects such as one man who spends the day traveling to spot trains on the seven Class 1 railroads, we don't spend more than a minute or two with each subject. But though fleeting their time in Life in a Day 2020 might be, they can still make their mark.
Life in a Day 2020 is now available to watch on YouTube.
Homeroom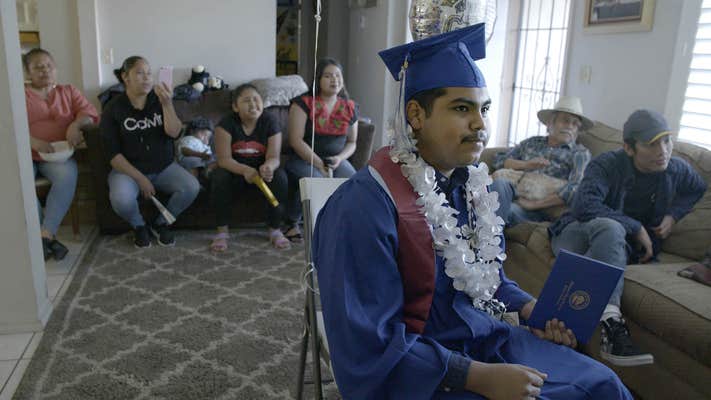 Director: Peter Nicks
Release: TBA (Seeking Distribution)
Rating: 3/5 stars
Homeroom, the final film in Peter Nicks' thematic trilogy on Oakland, California's public institutions, sets its sights on the Oakland Unified School District. Often ignored or condescended to by adults in power, Homeroom gives the teens who live in that district a voice as they fight to change and improve the system from within—a fact that becomes even more urgent once COVID-19 enters production.
It wasn't originally planned that way. According to the message displayed at the start of Homeroom, the documentary followed a group of Oakland High School seniors during the 2019-2020 school year, so given what we know about 2020, it's only a matter of time before the pandemic reaches Oakland. Before it does, we get to know these students as their lives play out on our screens and theirs via the likes of Twitter, Instagram, and TikTok, shown in a way that never feels gimmicky; it's an extension of who they are. They're the kind of people who can go from discussing Donald Trump's first impeachment trial to Baby Yoda without missing a beat.
The students don't just care about what's happening online, they're active in the school, and that's especially evident with two of Homeroom's major players. Denilson Gario and Mica Smith-Dahl, the two student representatives who sit on the OUSD school board, are fully committed to representing the interests of the 36,000 students in the district. They hold meetings at school to determine what they want to advocate for and highlight the dangers of gentrification, but sometimes, especially when Gario and Smith-Dahl argue for abolishing police presence in OUSD (the only district in the county that even has a police presence) as a way to reduce the budget over cutting funds to areas like the arts, they're not taken seriously by their adult counterparts.
COVID threw things for a wrench as Nicks and his crew handed the filming equipment to the kids, giving us a view of their first few months in quarantine leading into the protests over racial injustice over the summer. There's a sense of urgency, but as Gario, Smith-Dahl, and their friends demonstrate again and again that if the adults won't help improve the lives of their fellow students, they're gonna make it themselves. And in Homeroom, they more than ace it.
How It Ends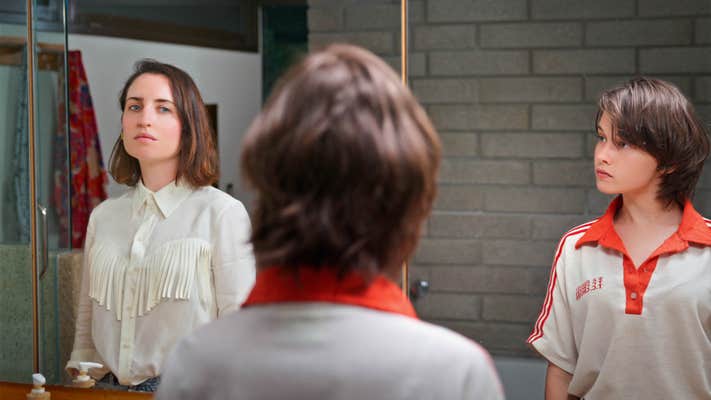 Directors: Zoe Lister-Jones and Daryl Wein
Release: TBA (Seeking Distribution)
Rating: 3.5/5 stars
If the world was about to end, what would you do? Go on a drug-fueled trip? Throw an epic rager? Face your regrets head-on? Or wallow in your own existential crisis? How It Ends, the pandemic-tinted comedy from co-writers and co-directors Zoe Lister-Jones and Daryl Wein, tackles a bit of everything, resulting in a film that offers a clever (if sometimes meandering) view into our own existential realities.
Conceived and filmed in the middle of the pandemic, How It Ends is a movie that's "about" COVID, but not explicitly about it: Instead of a deadly pandemic, the threat to the world is in the form of an asteroid heading toward Earth, and at some point within the next 24 hours, everyone on Earth will die."Today is certainly just the fuck it of all days," Liza (Lister-Jones), who at first wants to do nothing more than to get really high and eats until she pukes, says to the physical manifestation of her younger self (Cailee Spaeny) in a full embrace of nihilism. But the younger Liza is persistent and gets the older Liza outdoors. A chance encounter leads to Liza quickly settling on her mission for her last day on Earth: A chance to confront and reverse all of her life's regrets.
Thanks to someone stealing her car, Liza and Liza (the latter who isn't just a figment of her older self's imagination) are forced to wander across Los Angeles on foot from place to place to cross off every name on their list. That, paired alongside the empty streets of Los Angeles from the earliest days of lockdown, gives How It Ends the feel of some kind of mythical quest. There are a few recurring faces; several NPCs to offer guidance, hindrance, or both in the form of several celebrity cameos; personal demons they have to slay; relationships to mend; and at least one verbal smackdown. And, given that it was made during the pandemic, there's almost a clinical nature to these interactions driven by the fact that much of the cast (save for Lister-Jones and Spaeny) is at least six feet apart from each other.
As a result, How It Ends can feel more like a series of vignettes strung together by Lister-Jones and Spaeny's presence than a cohesive narrative film. But amid its nihilistic approach to the end of the world, it's sweet and heartfelt enough that even if none of it will ultimately matter, the journey is still worth undertaking.
Searchers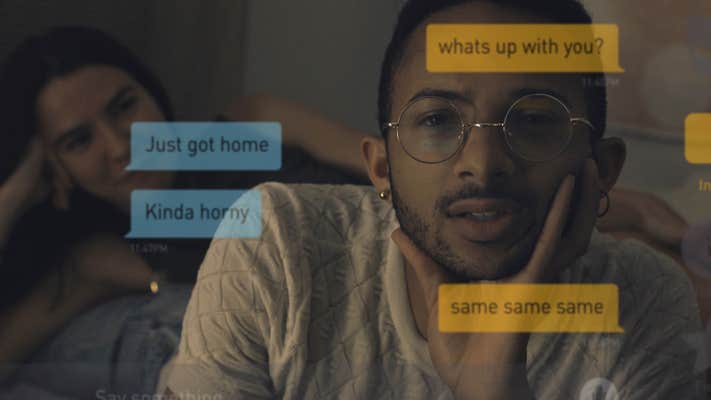 Director: Pacho Velez
Release: TBA (Seeking Distribution)
Rating: 2.5/5 stars
Online dating can be both rewarding and its own circle of hell, something that Pacho Velez captures (and even participates in) as he pulls back the curtain on his subjects' whims when it comes to looking for someone. While certainly an insightful view into what dating is like right now—especially if you're someone who's somehow unfamiliar with the particulars of online dating these days—it also doesn't explore much beyond those initial first steps.
The way that Searchers captures the specific rabbit hole that online dating offers is certainly effective. We're shown both the POV of the person looking through a dating app while also getting a look at exactly what's happening on that particular dating app. (Searchers features several different apps including Tinder, Hinge, OK Cupid, Match, Grindr, and Seeking Arrangement.) In the system that's rigged up, a member of Velez's crew operates the phone while the person looks on, directing them to swipe left and right, to leave a comment, or to send a message.
Velez casts his net wide, so with the people he talks to of all genders and all ages, and at one point, he even puts himself in the hot seat with his 70-year-old mother offering him advice. While some participants are wary about what they say or show to the camera, cognizant of the fact that their family could be watching, it doesn't take long for the filters to come off. Some of the participants break down profile jargon that indicates a person's true intentions, their preference on age range, and their dating fails. One man shows off an excel spreadsheet that includes information on every woman he's gone on a date with, his impressions, and why he didn't think they clicked. In another instance, two girls in their late teens read a message from a potential sugar daddy with one telling the other not to shortchange herself and to tell him her rate is $400 a week. Some people scroll through their dating apps alone while others rely on friends or family for additional input. And, as a group of older women pointed out, even as many men get older, their age brackets stay the same.
We're reminded of the pandemic outside as b-roll footage shows intermittent masked strangers walking around New York City, which can sometimes be more anxious than not to watch. And while Searchers does occasionally go beyond the app screens—a highlight comes in the documentary's final moments as Jon, a 55-year-old man, recounted his last relationship and his continued hopefulness even as he touched on how it ended—it seems to be more interested in the actual mechanics of that initial swipe. And just as scrolling through dating apps tends to feel exhausting and more of the same after a while, so does the act of watching a group of random people do the same thing.
The Pink Cloud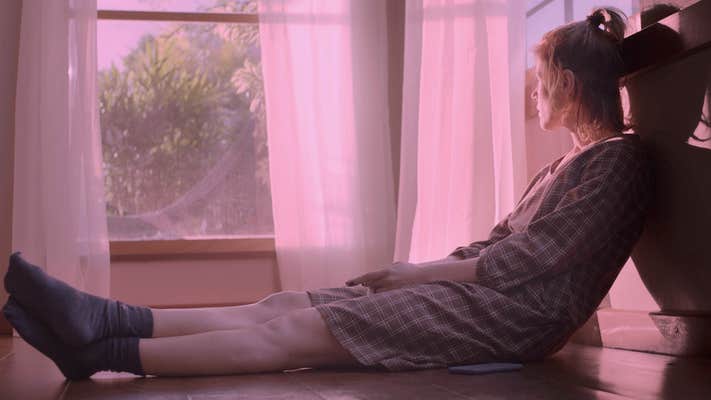 Director: Iuli Gerbase
Release: TBA (Seeking Distribution)
Rating: 4/5 stars
The Pink Cloud is visually striking from the get-go. With a deadly contagion in the form of a pink cloud that has the capacity to kill anyone who's exposed to it in 10 seconds, you're constantly reminded of its presence whether the film shows it to you or you catch a pinkish hue on the people who are at the cloud's mercy. It's an incredibly apt depiction of the limits and hell that is quarantine with a wealth of detail as it depicts the highs and lows of extreme isolation. And while it's much less interested in the actual contagion itself, it's a fascinating and eerie view into just how, despite the safety of being indoors, it knows just how to get under your skin.
Giovana (Renata de Lélis) and Yago (Eduardo Mandonça) probably never meant to spend more than a night together, but their one-night stand is indefinitely extended after they're ordered to shelter in place at the closest location until the order has lifted. It forces Giovana and Yago together, but it also means that a teenager might be stuck at a friend's, an older man is stuck with his nurse, or one person is left alone because her partner is stranded at the store.
What was supposed to be a temporary lockdown goes on for days, months, years. Giovana and Yago—who are stuck in a multi-story house that feels much smaller than it probably is the more time we spend in it—adjust, fall in and out, and in love again with one another, and explore lives that would've never happened if they hadn't been locked together. We slowly watch them figure out this new reality as Iuli Gerbase's succinct script slowly chips away at the layers; as one of the characters thrives, another character struggles with being asked to make sacrifice after sacrifice.
For all of its psychological horrors (and it's an important enough point that The Pink Cloud included a disclaimer in English and Portuguese before we see a single frame), The Pink Cloud is not a movie inspired by the pandemic. "This film was written in 2017 and shot in 2019," the disclaimer states. "Any resemblance to actual events is purely coincidental." But what is more than familiar to us now in our lives feels prophetic watching in The Pink Cloud: There are cloud-centric movies, entire industries built around the cloud, virtual celebrations and medical procedures, morbid interest in watching humanity at its worst, and even a few cloud truthers. Still, life goes on for better and for worse, although maybe it wasn't all that difficult for Gerbase to imagine how a lockdown of this nature would play out. We are, after all, human.