BY MEGHAN NEAL
We've seen a lot of apps and websites rise and fall in the attempt to organize the Internet's bottomless well of information. So many, we now need tools to organize the organizers; the process of bookmarking the digital mess is getting more and more meta, and no less overwhelming.
With that in mind, the latest attempt takes a different tack. It's a wearable eyeglass that attempts to read certain subconcious, biological clues to reveal how interested you are in whatever you're looking at. The idea is to make surfing the web more intuitive—to help you navigate all that data by filtering out the topics you're not engaging with and bringing the good stuff to the fore.
It's called Amoeba, and looks like a futuristic monocle of sorts. The 3D-printed prototype was created by three students at the UK's Royal College of Art and Imperial College: Sanya Rai, Carine Collé and Florian Puech. The team put a video of the project up on Vimeo last week, unearthed today by Dezeen.
The eyepiece monitors (and records, somewhat creepily) three different biological signals: Heat sensors near the mouth measure how fast you're breathing, a camera embedded in the lens measures the size of your pupils, and sensors on the arm piece measures moisture levels in your skin, which change when you're sweaty.
From there, it matches the tell-tale sensory data with the info you're looking at the time, and draws a conclusion about how you feel about it. If you're breathing fast and starting to sweat, you're probably not bored. Apparently, in early tests on a few users, the device's software identified which articles people found most and least interesting nine out of 10 times.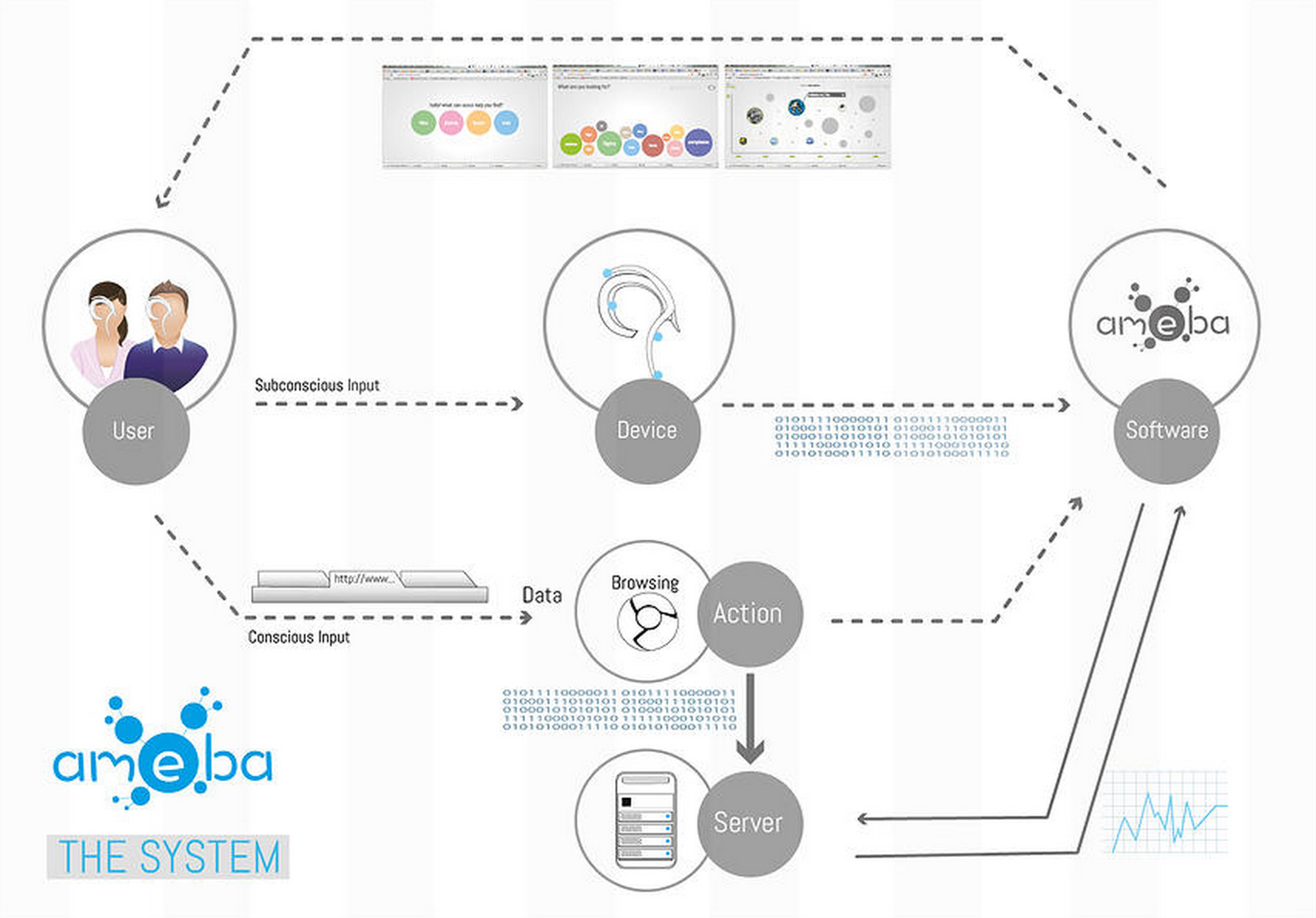 A map of the Amoeba infrastructure. Illustration via Sanya Rai
Thanks to the proliferation of smart gadgets and ubiquitous computing, we're about to get bombarded with more data than ever, and the way the Amoeba designers see it, that requires some out-of-the-box thinking to better organize and process the coming torrent. But do folks really want to be wired into their computer while they browse the Web, like some kind of human lab rat?
Read the full story on Motherboard. 
Photo via Sanya Rai