Update 5:58pm CT, July 24: Reports of MS Paint's demise were apparently exaggerated. A Microsoft spokesperson tells the Daily Dot that the iconic software isn't going way, but rather going to live in the Windows Store where it will be very happy as a free app.
"In addition to the new 3D capabilities, many of the MS Paint features people know and love like photo editing and 2D creation are in Paint 3D – the new app for creativity, available for free with the Windows 10 Creators Update. In the future, we will offer MS Paint in the Windows Store also for free and continue to provide new updates and experiences to Paint 3D so people have the best creative tools all in one place," Microsoft wrote in a statement.
Our original report is below.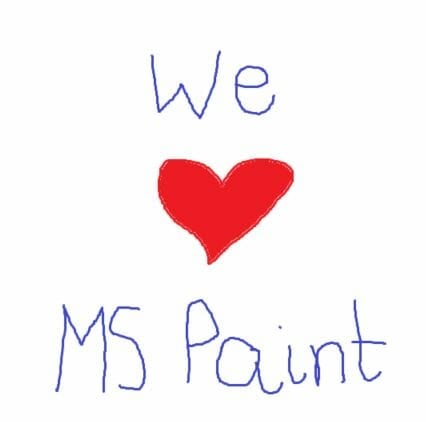 R.I.P. MS Paint! Long live Paint 3D!
After 32 years, Microsoft appears to be killing off its steadfast graphics editor. The company revealed that, as of the Fall Creators Edition, the program will be deprecated, or "not in active development and might be removed in future releases."
MS Paint was first released in Windows 1.0 in 1985, and it quickly became one of the most used programs in early versions of Windows, introducing many to graphics editing on a computer for the first time. It has fallen behind in recent years and was effectively replaced in October when Microsoft introduced the new Paint 3D, a visually upgrade successor with some nifty tools for creating 3D objects.
The end of MS Paint isn't surprising. Microsoft hasn't released a major update to the software since laptops shipped with Windows 7. In fact, the only major change I've noticed in recent years is the addition of a "Open Paint 3D" button on the program's toolbar.
That being said, Paint still generates nostalgia among Windows users despite its limited functionality, compared to other apps like Adobe Photoshop or web-based tools like Paint.Net. That nostalgia likely stems from the program's simplicity. Paint remains a quick and reliable choice for copying and pasting images or writing quick notes to yourself. Its replacement, Paint 3D, is much more convoluted, and its 2D image-editing leaves a lot to be desired.
It's still not clear when Microsoft plans to officially remove Paint from its Windows 10 operating system. There remains a tiny chance it lives to see another day. That hasn't stopped some users from starting the mourning process for this beloved icon.
Children of the future will never know the joy of spending hours doing this on Microsoft Paint #MSpaint pic.twitter.com/IY6kDxPdc4

— Fiona (@McDoFi) July 24, 2017
SAVE MICROSOFT PAINT
I STILL USE THAT THING https://t.co/iWRRN3b48U

— A Little SkittlesBeats… As A Treat (@squiddlesbeats) July 24, 2017
R.I.P. My childhood with Microsoft Paint 1998-2017. :'(. #MSpaint pic.twitter.com/cTpoWHwxFS

— Kayla Rae Lubomski (@KaylaColgan) July 24, 2017
HYPERVENTILATING AT THE LOSS OF MICROSOFT PAINT.
Share ur fave Paint memories here for a piece and please RT!https://t.co/IfWRjJi7Ih pic.twitter.com/mnc41NKW7y

— Amelia Tait (@ameliargh) July 24, 2017
Microsoft Paint will no longer exist to expose your shaky-handed mousing skills pic.twitter.com/rMmoOqigwh

— Josh K. Elliott (@joshkelliott) July 24, 2017
https://twitter.com/ppanayi22/status/889481713239326721
When you heard Microsoft is fixing to get rid of Microsoft Paint… Smh.https://t.co/WxIhUAK2Ie

— Oktoberfest Survivor (@A_A_Ron_Rodgers) July 24, 2017
although I have photoshop, which is a much more glorified version of this, I constantly find myself missing microsoft paint

— lexi :") (@lexi_lynn58) July 14, 2017
Woke up to the heartbreaking news that Microsoft Paint might get discontinued RIP

— Shooty McGee (@shooty_mcgee) July 24, 2017
https://twitter.com/tapwin/status/889483375941177344
Others are less affected by the loss.
Goodbye to Microsoft Paint pic.twitter.com/HOAHApOVVk

— Matt Griffin (@MattMightSay) July 24, 2017
seriously #microsoftpaint you can't get rid of paint i've been trying to workout how to use it for 20 years .. i need more time pic.twitter.com/me1zqAhhdm

— mark hilltops (@hellwelovespurs) July 24, 2017
Took me 30+ years to get the hang of Microsoft Paint…….. #Endex #fb

— Martin Sykes (@HunmanbySeadog) July 24, 2017
https://twitter.com/OmahaBroncoFan/status/889483084948807681
Microsoft did not respond to a request for comment at press time.