Rep. Louie Gohmert (R-Tex.) has tested positive for COVID-19, according to Politico, after repeatedly shunning the use of masks and social distancing during congressional events.
Gohmert brushed off guidelines to observe these protective measures during multiple events over the past few months.
During one May event, shared by a Washington Post Video Editor on Twitter, Gohmert turned to the media, "before they write stories about how we didn't wear masks and we didn't possibly socially distance adequately," saying, "We had tests and nobody in here has the coronavirus unless it's somebody in the media. So the only reason we would wear masks is if we were trying to protect ourselves from you, in the media. And we're not scared of you."
In June, the Texas representative told CNN he would not wear a mask because he had repeatedly tested negative for the virus.
"But if I get it, you'll never see me without a mask," Gohmert said at the time.
Gohmert was seen without a mask just hours before his diagnosis, questioning Attorney General William Barr in-person during a House Judiciary Oversight Hearing on Tuesday. One reporter captured video of him and Barr, neither wearing masks, walking alongside each other.
The Politico report says Gohmert was tested at the White House before a scheduled Wednesday trip with President Donald Trump to Texas. Multiple journalists have since reported that Gohmert went to his D.C. office after receiving the positive results.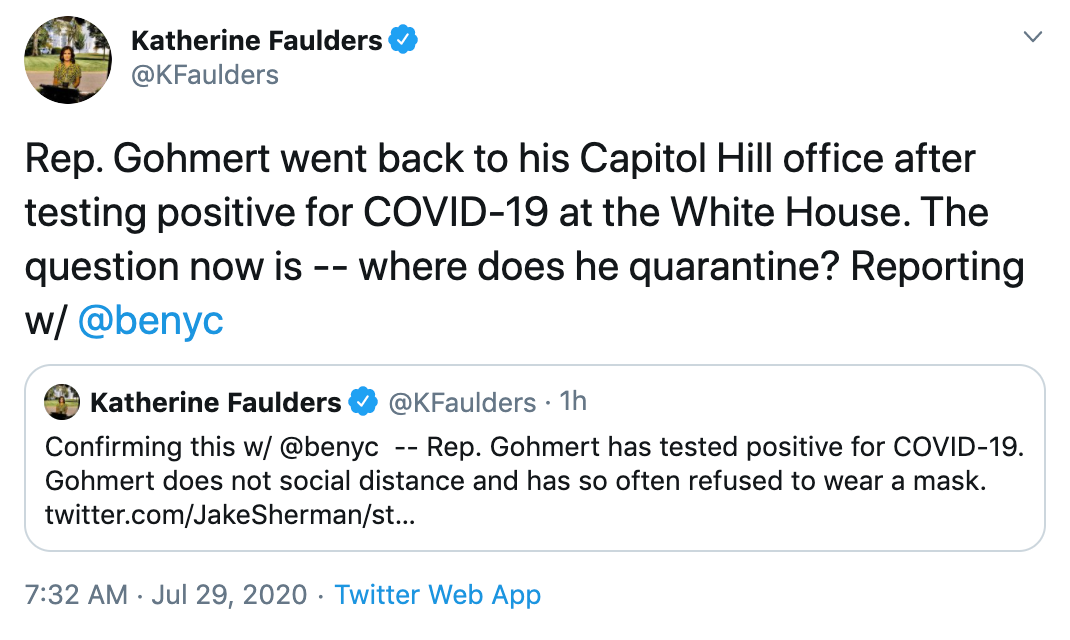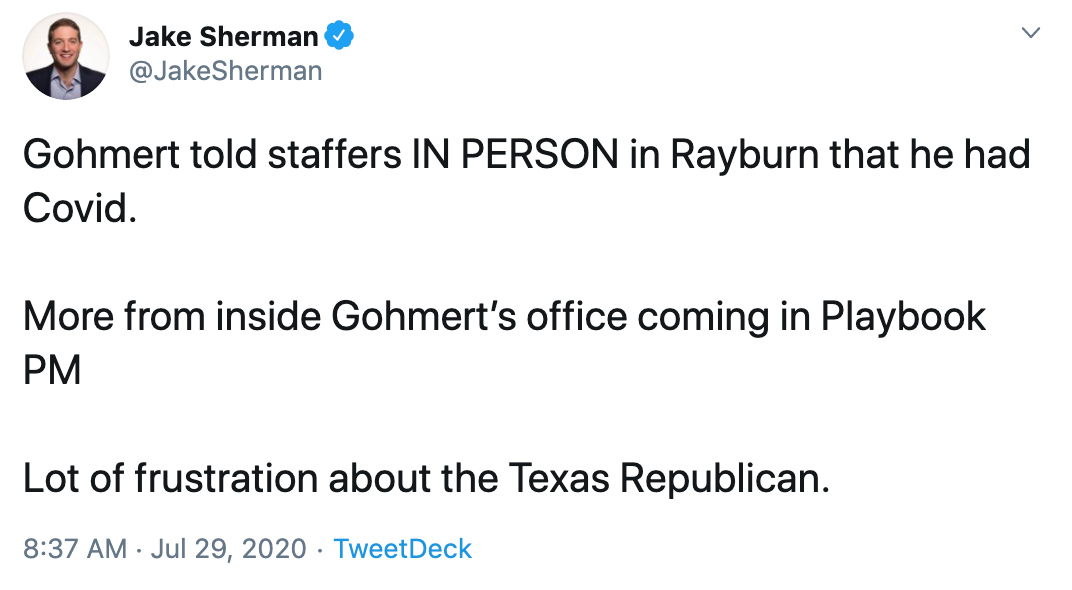 Gohmert has yet to release a comment on his diagnosis. A Justice Department spokesperson told Axios the Attorney General would undergo testing Wednesday following Gohmert's diagnosis.
In May, Gohmert spoke out against allowing proxy voting in the House due to coronavirus concerns, calling it a "wishy-washy, oh maybe we should we be afraid we might get something and die," concern.
"They didn't do that in the Spanish flu days, they didn't do that in the Civil War, but now, we're going to do it? Come on," he said on the House floor.
Numerous U.S. politicians have tested positive for the coronavirus, including a number of Gohmert's Republican colleagues in Congress.
Update 1:25pm CT, July 29: Rep. Gohmert issued a video statement Wednesday about his diagnosis.
He refuted claims that he was not wearing a mask during recent public events, despite photographic evidence that he was not, and concluded by "wondering" if his mask was to blame for contracting the virus.
Gohmert also told local news channel KETK that he will isolate for the next 10 days.
READ MORE: