Merchandise related to QAnon is rampant on Etsy as social media companies are attempting to crack down on the pernicious conspiracy theory.
Followers of Q believe that entities within the federal government are secretly working with President Donald Trump to bring down an international child sex trafficking ring run by Democrats. They also believe an anonymous person online, "Q," is dropping hints online about the plan.
The conspiracy theory has grown from the messages boards to becoming more visible online. The president has retweeted accounts related to QAnon, and people following the conspiracy have been charged with shooting a mob boss and making terroristic threats.
But the conspiracy's cult-like following has become a big business for many sellers on Etsy, where everything from Q-branded jewelry, stickers, hats, coffee mugs, home decorations, and shirts are being sold.
A quick search on the retail site show hundreds of products and merchandise being sold.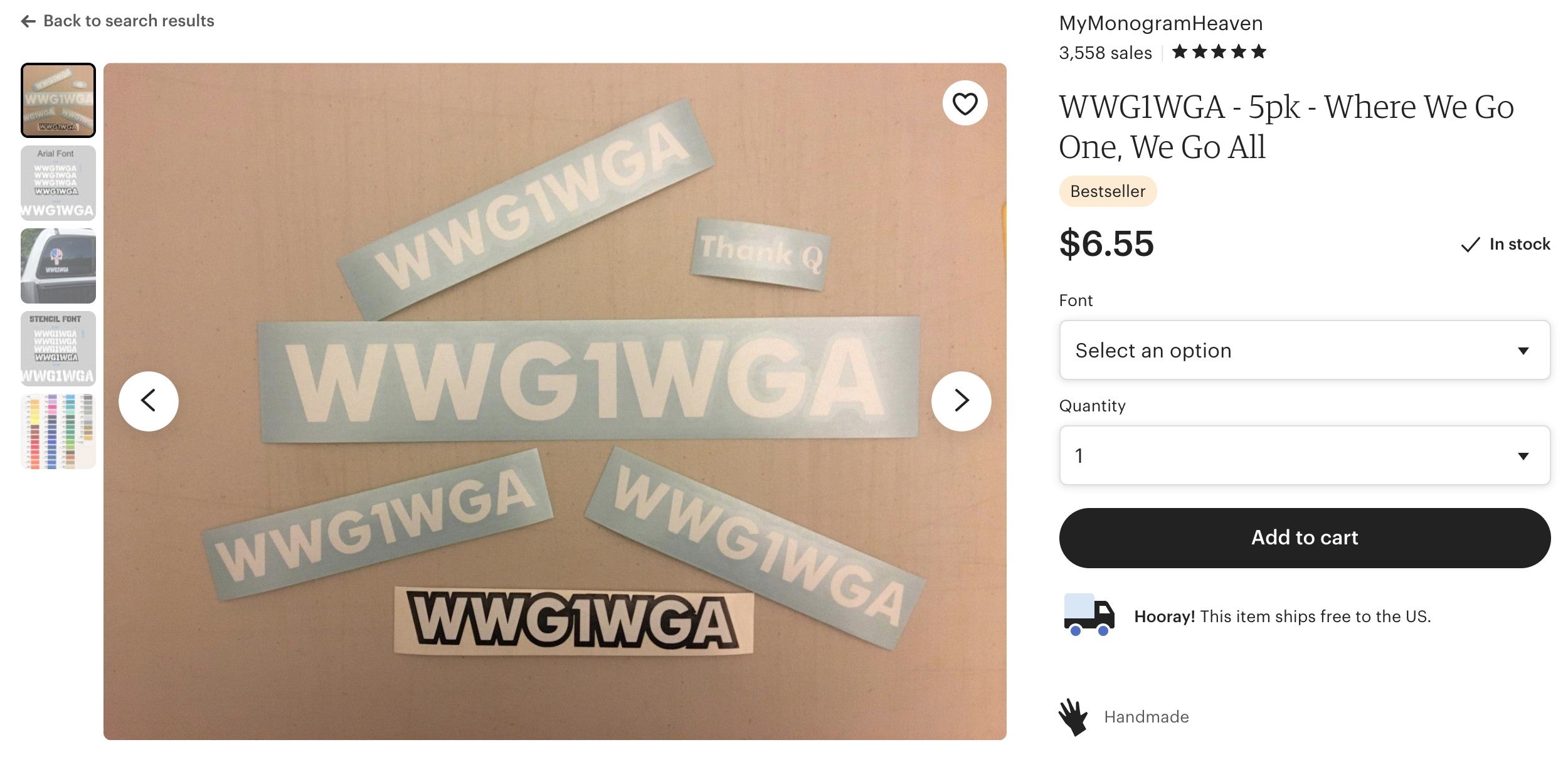 While QAnon was once limited to the online world, the belief has slowly bled more and more into the real one.
Clothing touting the conspiracy is a common sight at Trump rallies. Violent acts and threats from those inspired by Q even led the FBI to label its adherents as a potential domestic terror threat.
But the bad press hasn't stopped Q's followers from proudly displaying their allegiance.
On Etsy, a Q-related shirt that features the phrase "Enjoy The Show," was being offered by a shop with more than 3,600 sales.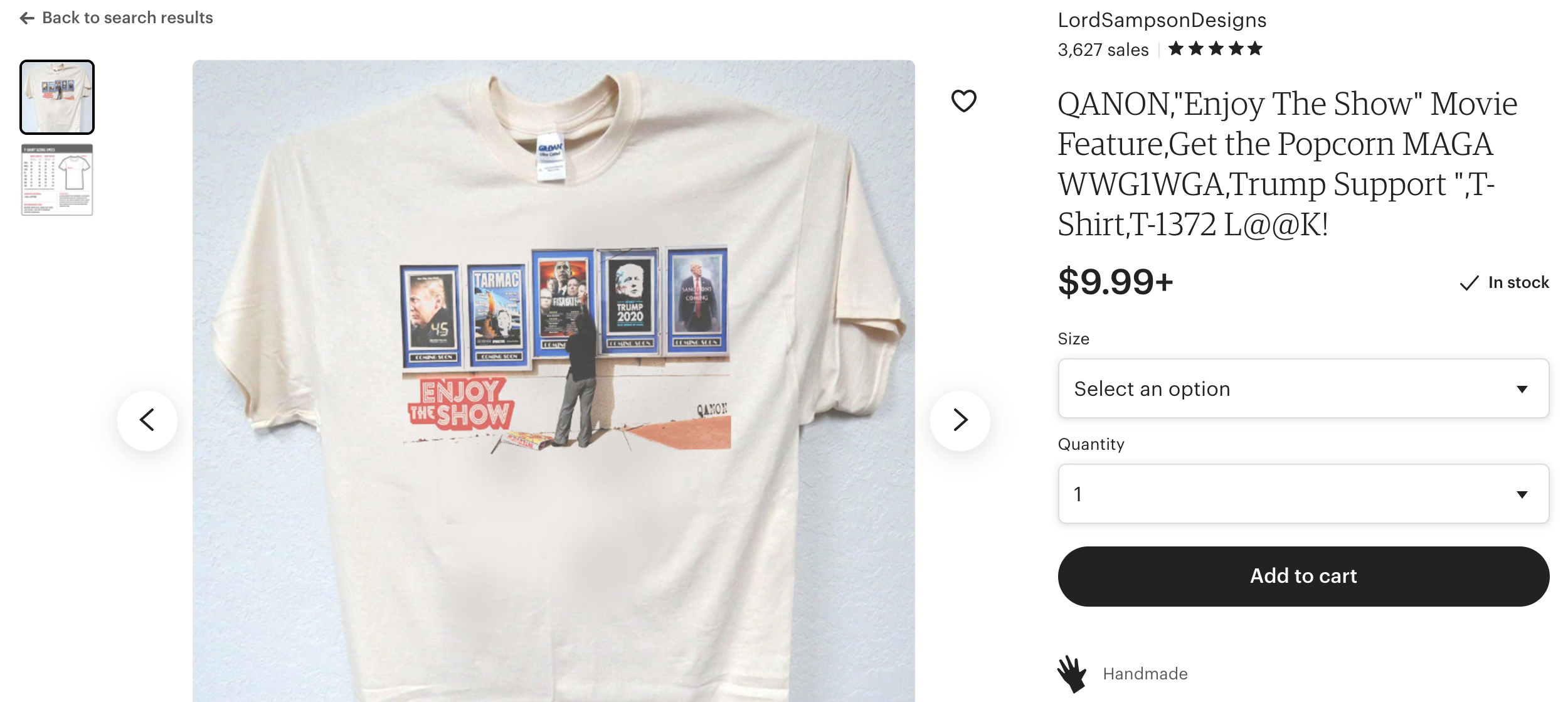 There is even a 14 karat "WWG1WGA" ring selling for $2,200 made out of yellow gold, rose gold, and white gold.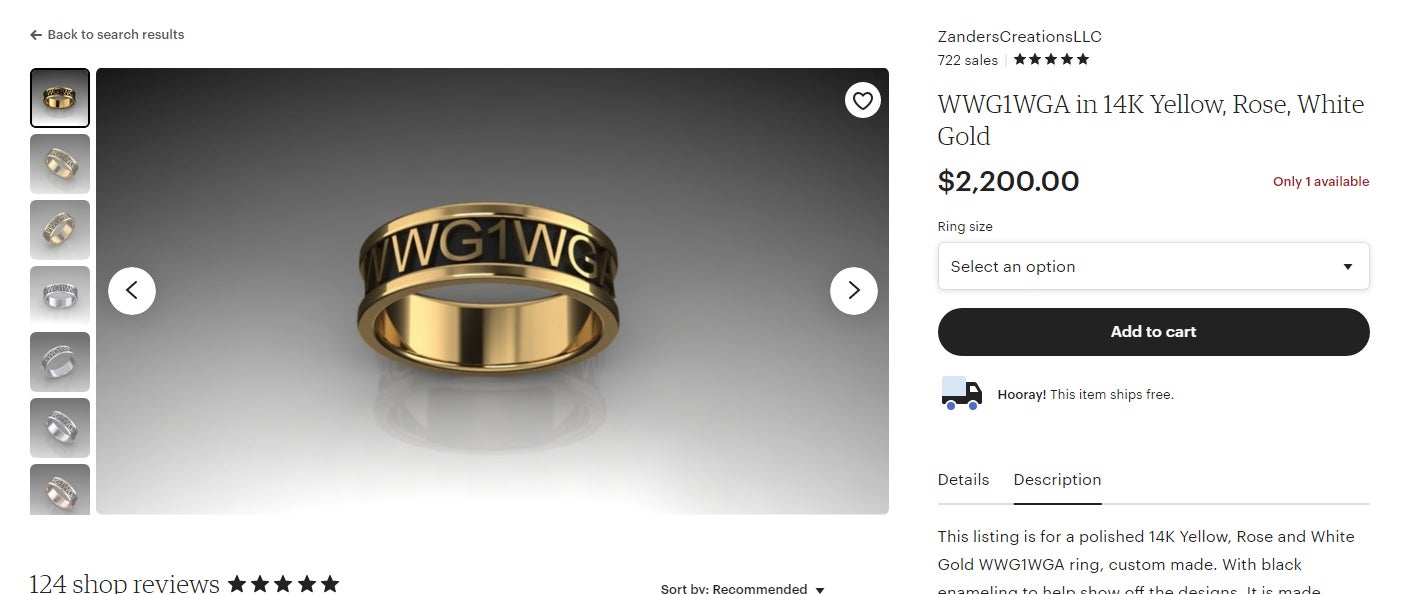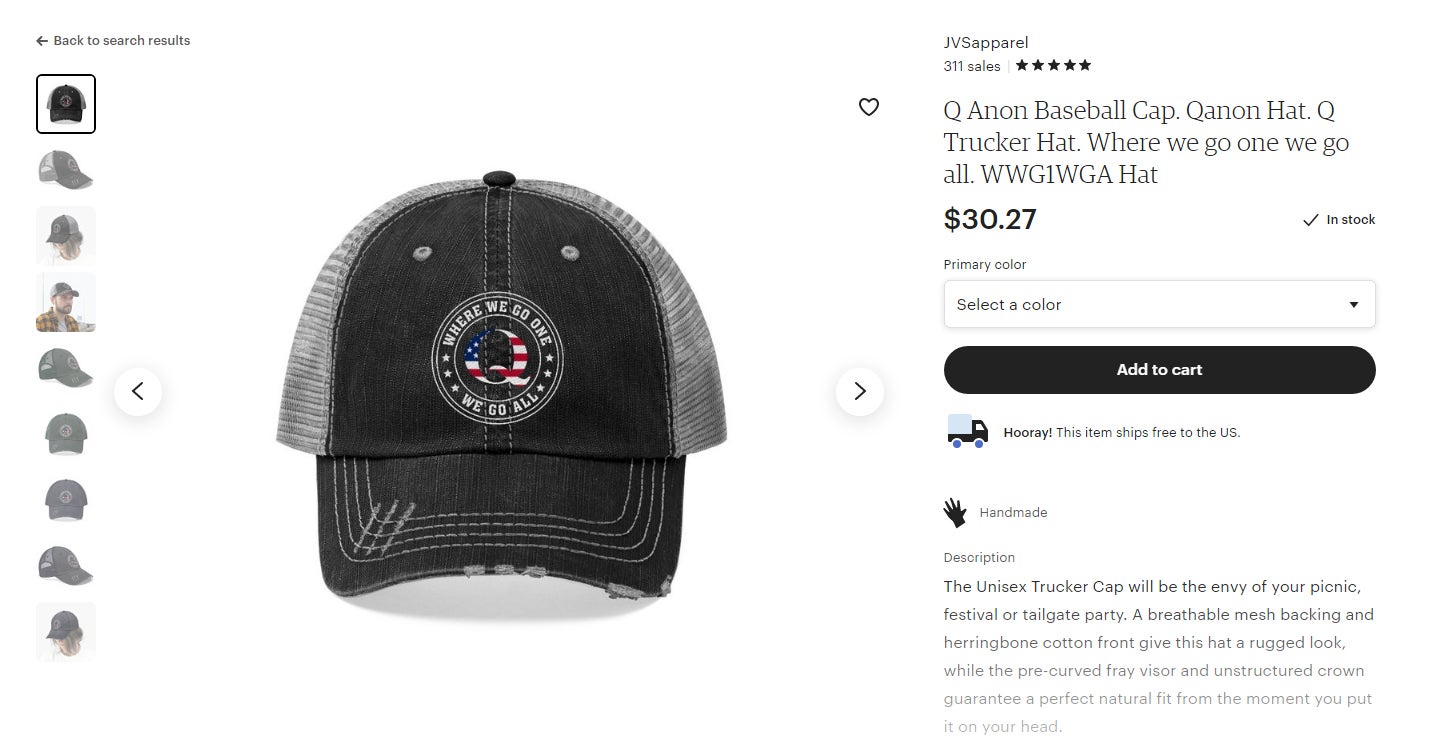 In light of recent actions taken by Twitter against QAnon, the Daily Dot reached out to Etsy to inquire about their policies surrounding such conspiracy theories.
Etsy, which did not offer to speak on the record, said the company is continually monitoring such content. It does not appear any action will be taken at this time.
Etsy has previously barred items in the conspiratorial world.
The company earlier this year removed hundreds of listings for items that mentioned COVID-19.
It remains unclear whether QAnon-related content would be subject to similar policies regarding misinformation.
"In order to keep our marketplace safe, our team is prioritizing taking down any listings that claim to protect against coronavirus," the company said in a statement given to the Verge about its COVID-19 crackdown. "In the past few days alone, we have removed thousands of items that make such medical claims. We have also taken down hundreds of items that attempt to exploit the developing coronavirus situation. Our teams continue to automatically and manually review and remove items that violate our policies."
Amazon likewise removed thousands of products falsely labeled as cures for the coronavirus in March.
Twitter last week suspended nearly 7,000 accounts linked to QAnon for violating the site's rules on spam, platform manipulation, and ban evasion, among other things. As many as 150,000 accounts will also become less visible to other users in an effort to limit the conspiracy's spread.
Facebook is also reportedly planning to take similar action as well, and has banned QAnon groups in the past. Although, as Forbes noted last week, ads featuring the conspiracy theory are still running. Reddit also has taken down communities related to the conspiracy theory.
Twitter specifically cited the potential for "offline harm" following its decision.
"We've been clear that we will take strong enforcement action on behavior that has the potential to lead to offline harm," Twitter Safety said.
Etsy does not not an "offline harm" policy, but it does prohibit sellers from offering items "that promote, support, or glorify violence."
With a growing number of political candidates promoting the conspiracy, however, it seems unlikely that popularity in Q will be waning anytime soon.
READ MORE: