QAnon believers were sent in a frenzy late Tuesday evening after Attorney General William Barr mentioned "pizza" during a House Judiciary Committee hearing.
Rep. Tom McClintock (R-Calif.) began the exchange.
"Will you be able to right this wrong before it becomes a precedent for future interference by corrupt officials in our justice and intelligence agencies?" he asked Barr.
Barr fired back with an analogy, saying justice in the U.S. is not served up as quickly as a "pizza" delivery.
"I really can't predict that. I think as you know John Durham is looking at all these matters," Barr stated. Durham is a U.S. attorney who has been commissioned by Barr to conduct an investigation into the FBI's actions in the Russia investigation.
"COVID did delay that action for a while, but he is working very diligently, and justice is not something you order up on a schedule, like you're ordering a pizza," he continued.
Travis View, co-host of the QAnon Anonymous podcast, first pointed out the online chatter surrounding Barr's remarks.
"Holy shit I heard that," one QAnon supporter wrote, believing Barr was making a nod to—and secretly confirming—the Pizzagate conspiracy theory.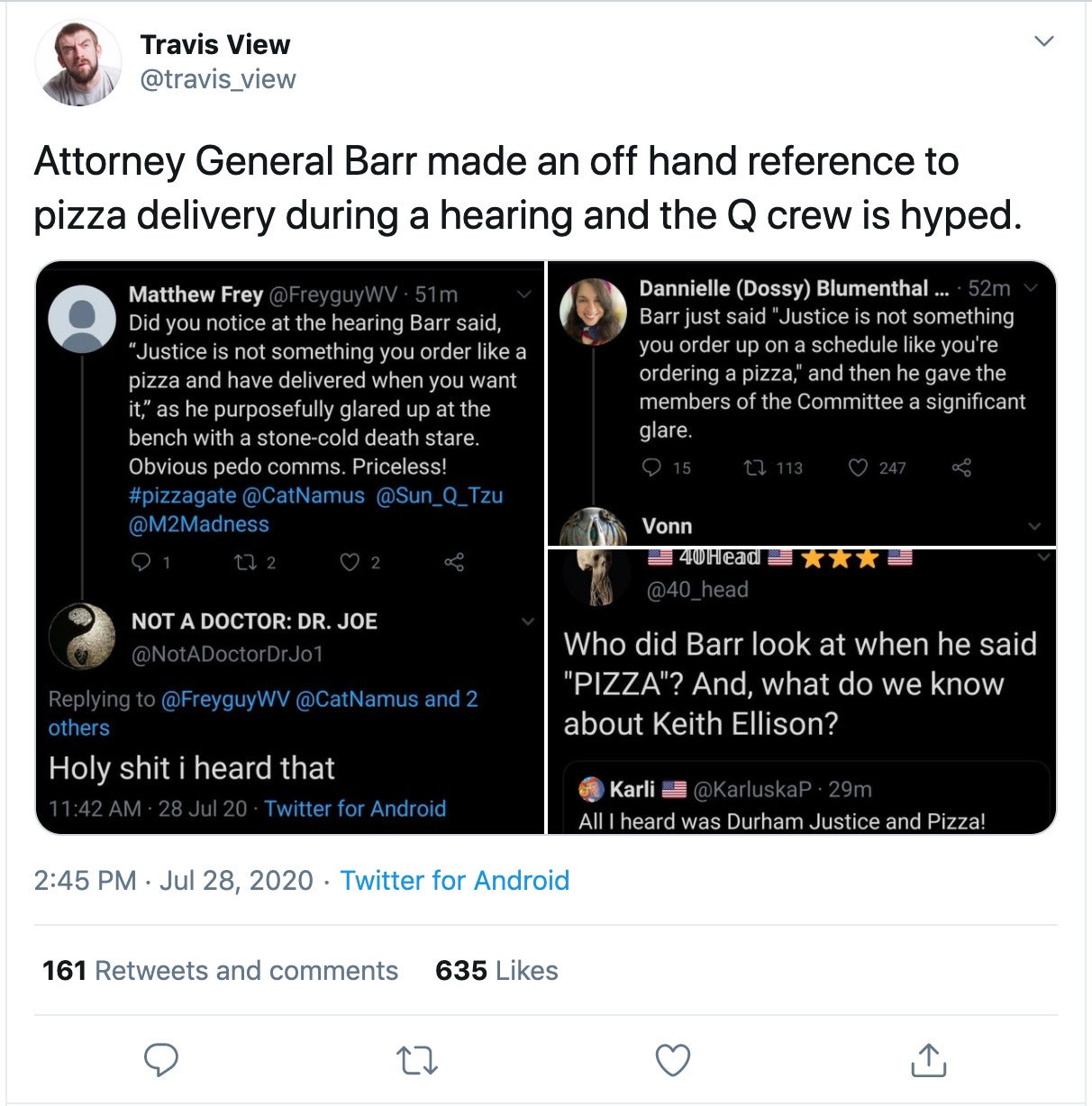 The Pizzagate conspiracy alleges that top Democrats are running a child sex-trafficking ring out of a Washington D.C. pizzeria, Comet Ping Pong.
"AG Barr just said in the judiciary 'justice is not something you order up on a schedule like you're ordering a pizza.' Then he immediately looks at the dems on the left. HE FREAKING KNOWS!" another conspiracy theorist tweeted.
QAnon believers think President Donald Trump is working to take down the deep state, which is made up of an elite network of pedophiles.
READ MORE: