Emoji are getting a much-needed facelift.
The newest report from the Unicode Consortium, which sets the standard for how characters look across multiple platforms, revealed that the consortium will finally add some diversity to the smiley-face language.
For years now, people have been pushing to expand the diversity of emoji beyond the yellow faces and mostly-white bodies found on almost every social network and mobile device keyboard. One woman even made her own diverse emoji. In March, Apple pledged to eventually add diverse emoji to the iOS keyboard.
The report from Unicode, which was edited by consortium co-founder and president Mark Davis and Apple engineer Peter Edberg, acknowledges and endorses the calls for diversity.
"People all over the world want to have emoji that reflect more human diversity, especially for skin tone," the report begins. "The Unicode emoji characters for people and body parts are meant to be generic, yet following the precedents set by the original Japanese carrier images, they are often shown with a light skin tone instead of a more generic (inhuman) appearance, such as a yellow/orange color or a silhouette."
Unicode's plans include multiple skin color options based on the six tones of the Fitzpatrick scale, although the shades shown may change before the update is released.

On many phones, users will be able to choose their preferred skin color for a particular emoji by pressing and holding the emoji's default version—which in this case appears to be yellow—and selecting from a miniature palette of options. It will be just like selecting an accented letter by long-pressing a vowel.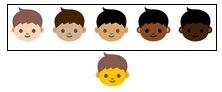 Unicode released its report on Nov. 3, and while there is no set date for the arrival of these diverse emoji, the report is a clear indication that Unicode is listening and taking action.
Photo via quacktaculous/Flickr (CC BY 2.0) | Remix by Fernando Alfonso III | All screengrabs via Unicode