The entire cryptocurrency market is plummeting, and there's no floor in sight.
DigixDAO, a coin that tokenizes gold on the Etherium blockchain, is the only cryptocurrency in the top 100 to rise in value, jumping 38 percent on Friday morning, according to CoinMarketCap. The other 99 leading cryptocurrencies are seeing red, with Bitcoin falling 17 percent and Etherium tanking 30 percent. Other lesser-known virtual coins are falling just as quickly, with 50 of the top 100 declining by 30 percent or more.
The result of these simultaneous declines is an overall market value drop from around $500 billion to $375 billion in just 24 hours, as you can see in the CoinMarketCap graph below.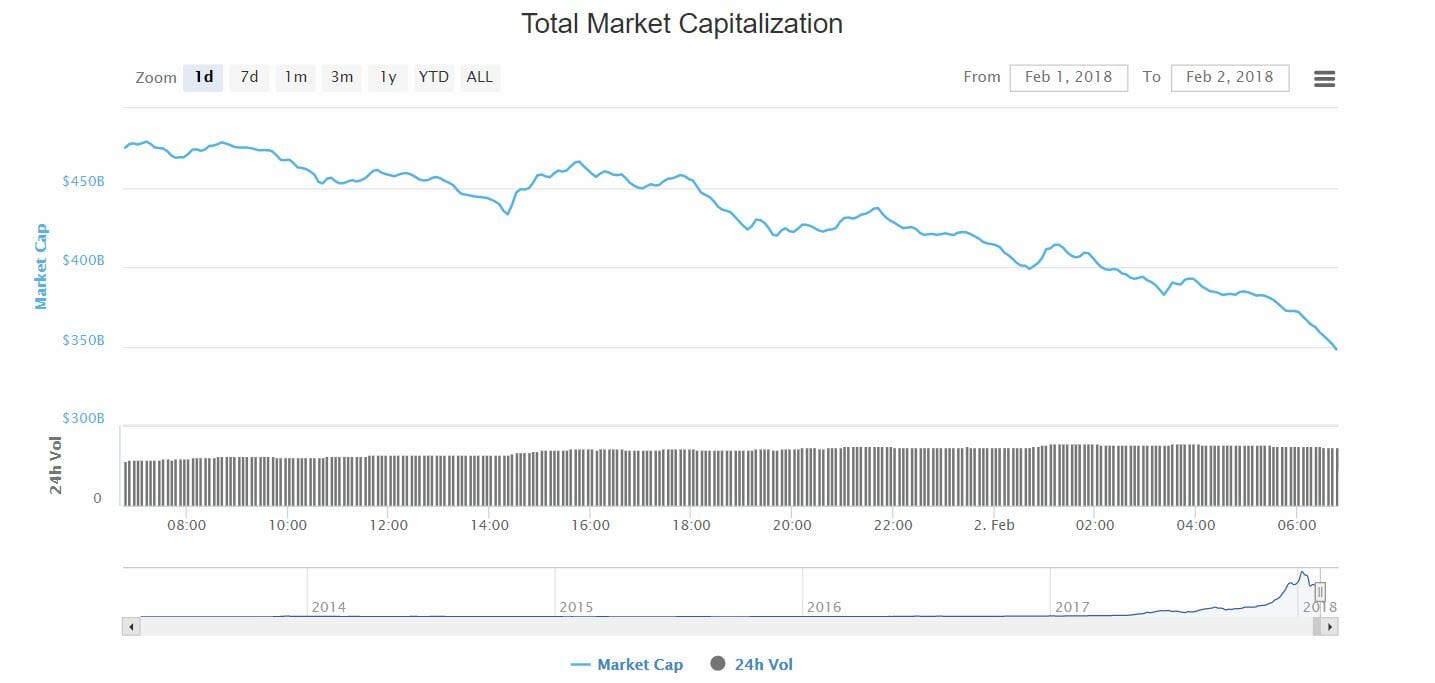 Cryptocurrency is a form of digital money that isn't regulated by banks or the government. It uses cryptography techniques to ensure secure transactions and control the creation of new units.
Bitcoin, the leading cryptocurrency that has dominated headlines over the past 12 months, hit a low of 7,849 on Friday morning, less than 60 percent of the record-high it set just two months ago. The digital coin, which turned a high-school drop out into a millionaire and millionaires into billionaires, has dropped $2,000 in two days. The last time Bitcoin was worth less than $8,000 was on Nov. 24, when it was enjoying a monumental 15-time increase over 12 months.
Bitcoin price

19th December: $17,608
26th December: $15,745
3rd January: $15,130
10th January: $14,890
17th January: $11,141
24th January: $11,399
31st January: $10,297

Now: $8,393

— The Spectator Index (@spectatorindex) February 2, 2018
"The wheels are coming off the bitcoin bandwagon," Neil Wilson, a senior market analyst with ETX Capital, told Business Insider. "The regulatory crunch appears closer than ever and sooner or later this market could be headed back down to earth. Selling pressure at the moment is intense as there has been nothing but bad news for bitcoin bulls of late."
Nouriel Roubini, aka "Mr. Doom," the economist who accurately predicted the 2008 financial crisis, called cryptocurrency the "biggest bubble in human history" and the "mother of all bubbles" in an interview on Bloomberg Television.
"Policymakers and regulators are getting worried. Pretty much every G20 policymaker is talking about a crackdown," Roubini said. "We can't allow it to become the next Swiss bank account for use by criminals and people evading tax."
The new year has not been kind to cryptocurrency. Its decline started a few weeks into 2018 amid fear of government regulation. In September, China said it would stop exchange trading of cryptocurrency, causing Bitcoin to drop 40 percent in one month.
The market's volatility was further exposed earlier this week when confusion surrounding South Korea's stance on cryptocurrency was blamed for major declines. Reports claimed the justice ministry for the world's third-largest cryptocurrency market was working on a bill to ban cryptocurrency trading and exchanges, however, South Korea's finance minister later said the government has no plans to shut down trading.
But cryptocurrencies continued to decline. Now all fingers are pointing at India. The country's finance minister, Arun Jaitley, wants to enact a nationwide ban on virtual coins.
"The government does not recognize cryptocurrency as legal tender or coin and will take all measures to eliminate the use of these cryptoassets in financing illegitimate activities or as part of the payments system," Jaitley said in a budget speech on Thursday.
Facebook may also have something to do with the decline. The social giant announced a ban on cryptocurrency advertisements on Tuesday, citing "misleading or deceptive promotional practices." Elsewhere this week, news broke that the U.S. Commodity Futures Trading Commission is investigating Tether, a controversial cryptocurrency and company.
But don't count Bitcoin and its rivals out just yet. They've proven their ability to bounce back from seemingly insurmountable roadblocks. In fact, Bitcoin jumped $1,200 in less than two hours on Friday morning.