You won't be seeing ads for Bitcoin on Facebook anymore.
After admitting to Facebook's promotion of fake news this past year, CEO Mark Zuckerberg publicly stated his challenge for 2018 is to fix the platform, curbing it away from abuse, harassment, and exploitation. Sticking to his word, this week's most recent change is a ban on advertisements featuring cryptocurrency.
The policy change came Tuesday in Facebook's newly added section for advertising rules.
"Ads must not promote financial products and services that are frequently associated with misleading or deceptive promotional practices, such as binary options, initial coin offerings, or cryptocurrency," the policy states.
Examples of prohibited content are listed, and there are even constraints on the buzzworthy name Bitcoin in future ads.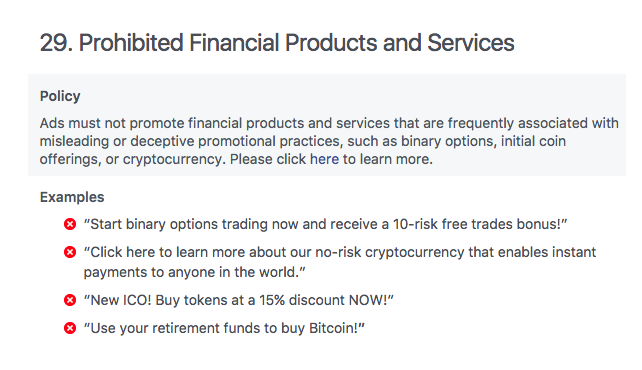 While not all cryptocurrencies are considered illegal, the move comes amid scams and tricky investments brought to light in the post-cryptocurrency boom. In an effort to play it safe, Facebook has decided to remove all ad content relating to the topic in order to lessen harm toward its users.
One of Facebook's ad tech directors, Rob Leathern, told CNBC the policy is "intentionally broad while working to better detect deceptive and misleading advertising practices."
Other platforms owned by Facebook, such as Instagram, will be banning cryptocurrency advertisements as well.
Update 10:00am CT, June 26: Six months after its original decision to ban all cryptocurrency ads on its platforms, Facebook has changed its policy. According to Axios, Facebook will still ban ads about "initial coin offerings," or new cryptocurrencies entering the market, but has "relaxed" its rules around other cryptocurrency ads, which are less risky.
H/T Gizmodo