In 2012, Justin Effron was traveling through southeast Asia with a group of college friends. They had just finished eating lunch at a restaurant their hotel had selected for them when one of his friends realized he had left his sunglasses behind.  
"We wanted to get them back, so we tried to call the hotel," he says.  "We had to look up the hotel's phone number, call them, get in touch with the right person, explain to them what restaurant we ate at even though they should have had it in their records already, because they booked it for us, and then get them to send someone and bring them back to the hotel for us. It was a whole 45-minute process for something that should've taken 30 seconds."
Although the above anecdote is probably familiar to anyone who travels on a semi-regular basis, to a certain extent we've come to regard these inconveniences as a frustrating, yet inevitable, aspect of the traveler's experience. When it comes to customer service, however, Effron doesn't think travelers should have to settle for anything less than the best.
To that end, he and business partner Alexander Shashou have launched ALICE, an app that lets you book dinner and spa reservations, order room and maid service, call a cab, and purchase tickets to a museum or show, all without having to interact with a staff member. Basically, it's like a digital concierge, for travelers with generalized anxiety disorder.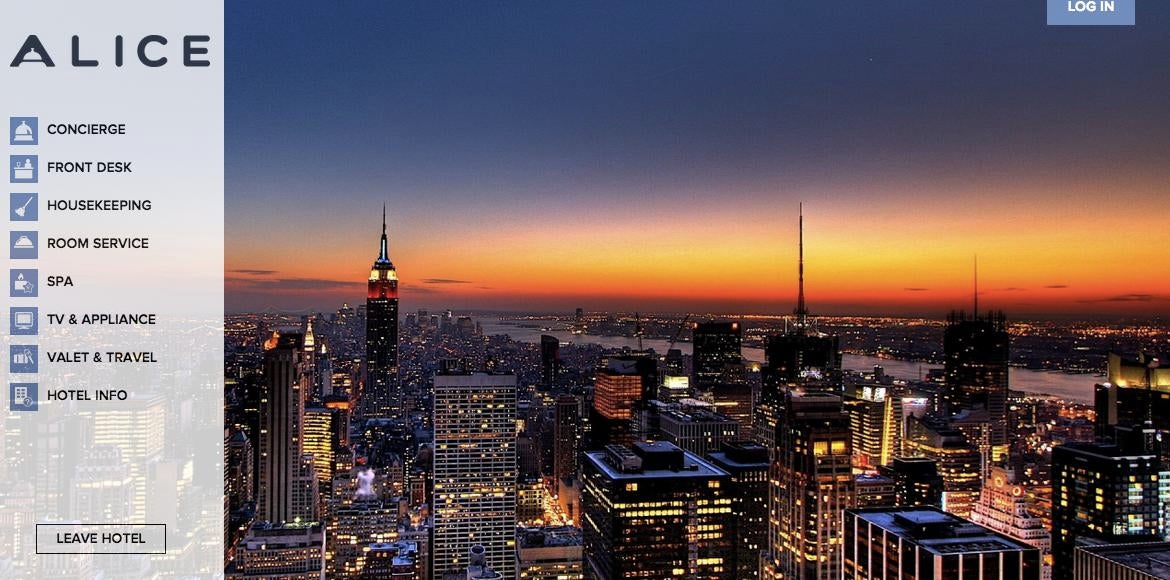 Screengrab via alice-app.com

Screengrab via App Store
If you stay at one of ALICE's partner properties, you'll be asked to download the app (available in iOS) at check-in and then log in with your room number. From there, you can make pretty much any request, on or off hotel property (with the exception of checking in and out, which can only be done at the desk), through your smartphone.
The goal, says Effron, is to help hotel staff avoid snafus by "making it easier for people to request things they're already asking for." "We think as people learn about the app and are able to use it in more and more properties, they're gonna want to use it because of how simple and enjoyable it is to request something you want and get it right away," he says.
With its emphasis on face-to-face interaction and enhanced customer service, the hospitality industry has been slower than others to adopt new technology. Yet ALICE is one of a slew of new hotel apps like Neon, which also allows guests to process requests to the front desk through their smartphones. Hotel chains like Starwood Hotels, which recently announced guests would be able to unlock their doors via smartphone, are also increasingly incorporating mobile technology into their services.
ALICE has been in development since 2012, when Effron partnered up with Shashou, the member of a U.K.-based hotel entrepreneur family, CTO Dmitry Koltunov, and COO Julie Ulrich.. While the two were working at Citibank and Goldman Sachs, respectively, they built off their experience in southeast Asia by developing the idea for the app, and then dove into understanding the hospitality industry. "We spent about 3-6 months talking to as many GMs and employees and owners as possible and trying to understand where the pain points were for us as travelers, and how to marry that with the pain points on the back end for the employees and the hotel staff," Effron says.
In January of 2013, they signed on their first clients, dubbing the app ALICE (an acronym for A Life-Improving Customer Experience) in honor of the eponymous maid from The Brady Bunch. "We really wanted this to be a personality for somebody to use to help them with all their requests," Effron says. "Alice helps the family do everything. She keeps it together, she keeps it organized."
ALICE is currently partnered with a number of small boutique hotels across the United States, including the Atlantic Hotel in Fort Lauderdale and the Hutton in Nashville (Effron is tight-lipped regarding details on future partnerships, and will only say ALICE is in contractual talks with a number of other hotels). Because the majority of their current partners are on the higher end of the price point spectrum, it's not quite accessible to hostel-hopping twenty-somethings, or those who can't afford to spend an evening at an establishment that offers door-to-door spa services. Yet Effron says the company plans to expand their reach to lower-budget hotels in the future.  
The question remains, however: will the hospitality industry, which has always put a premium on the value of quality, face-to-face customer service, be quick to embrace an app that reduces the demand for, or even eliminates altogether, the need for human interaction? ALICE is willing to bet they are—but they don't quite see the app as being in direct competition with hotel st. "We believe we are empowering the concierge to increase their touch points with guests while off premise as a complement to the existing channels," says Shashou. "The concierge[s] at our flagship hotels see this as an amazing tool to enhance their service," rather than eliminate the need for human interaction altogether.  
"Hotels care about personalization and customization," Effron says.  "We're at a point in time where technology can actually achieve personalization on a much larger scale, in a way that no one has ever done before. We don't aim to replace the way things are done necessarily, we want to enhance them. And we think that hotels will realize the need to give guests the ability to communicate with them in more than one avenue."

H/T Skift | Photo Unique Hotels Group/Flickr (CC BY-SA 2.0)