Far-right activist and "Stop the Steal" leader Ali Alexander now says he is considering creating two new separate towns for his fans to live: one MAGA "mega city," location unknown, and another community in South America.
But there is a catch for the communities: Alexander's fans would need to fund the expensive venture.
"In a lot of ways, I have no other choice, but to announce that I am building the future," Alexander, who has been threating threatening to sue people who call him a criminal following the Capitol riots, said. "America is going to have a choice and I promise you that between going on to this dystopian future, or fighting in what I am calling the 'American severity movement.'"
Alexander then stated he is going back to having "indoor gathering," starting in March.
"I have been licking my wounds, but I have been plotting, I have been planning, I have been scheming," he added. "Because we have to do away with this whole system, the free press is not free, and they are not the press, they need to be abolished."
Alexander went onto speak about his plans of creating a MAGA "mega city."
"I am going to create a society, and a community, and a culture, and a language," Alexander stated, adding: "Creating a new mega city, let's build our own city, let's seriously build our own city. Let's have a backup city in South America."
He continued: "Let's all of us put 10 percent of our holdings, take it out of the US system and put it overseas or put it in cryptocurrency."
Alexander didn't immediately respond to a request for comment from the Daily Dot about his plans. However, the right-wing activist did publicly respond on Telegram to Daily Beast reporter Will Sommer when asked about his plans by the reporter via email.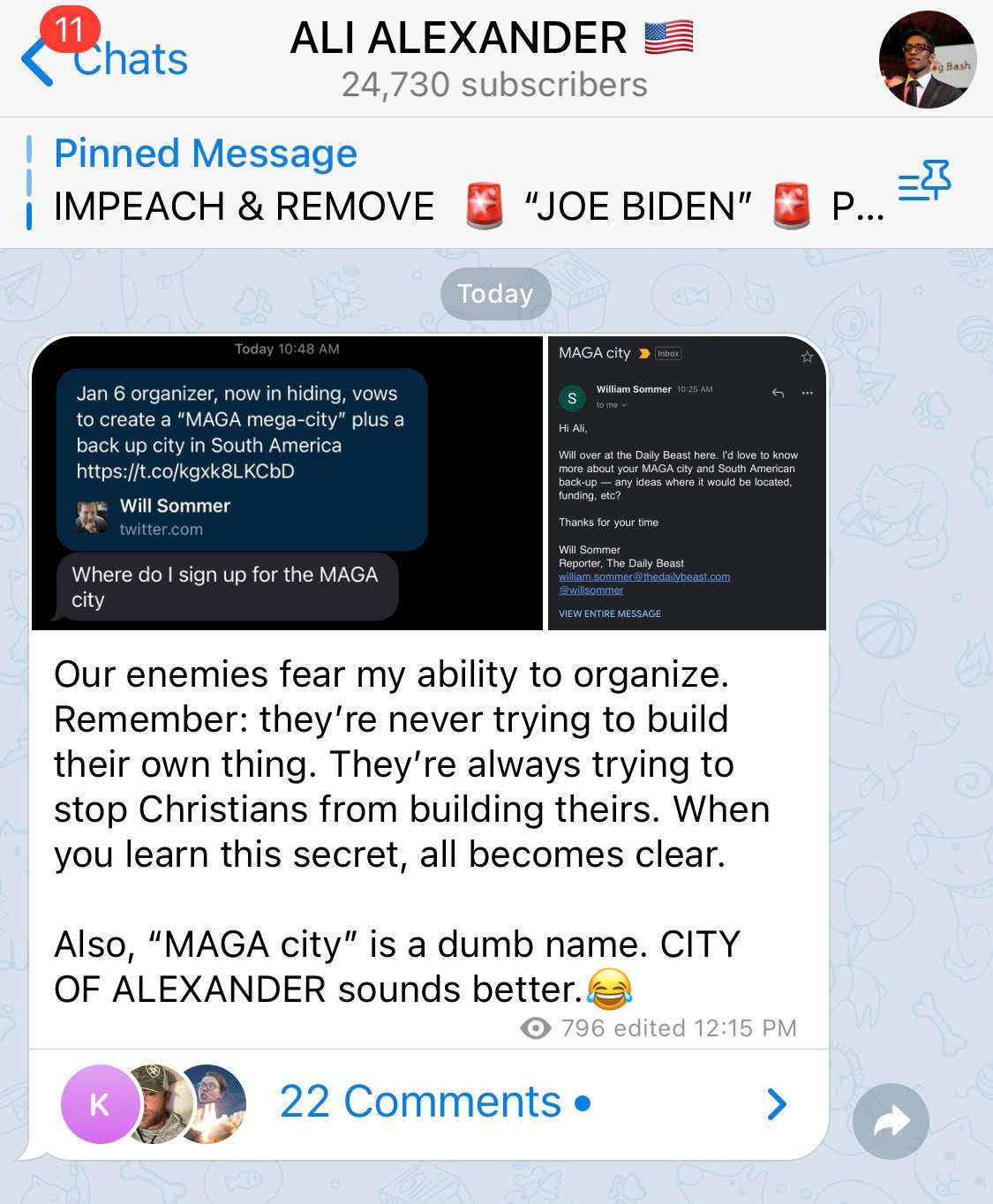 "Our enemies fear my ability to organize. Remember: they're never trying to build their own thing. They're always trying to stop Christians from building theirs. When you learn this secret, all becomes clear," Alexander stated on Telegram.
He further commented, seemingly facetiously, that the name of the town in South America would be called the "CITY OF ALEXANDER."
"Also, 'MAGA city' is a dumb name. CITY OF ALEXANDER sounds better," Alexander added with an emoji.
The former felon turned march organizer was an integral part of the January 6th Capitol riot, even going as far the night before the march to chant at a rally "victory or death!"
On Twitter users mocked Alexander over his plans of fleeing the United States for South America to build a city:
---
Read more of the Daily Dot's tech and politics coverage