"You're your own worst enemy," isn't just a piece of priceless wisdom, it's also the premise for one of this year's most chillingly prescient horror films.
Nobody rules the territory at the intersection of social commentary and horror like actor/comedian/writer/Rennaissance Man/Chelsea Peretti husband Jordan Peele. Get Out, his celebrated first outing was an equally frightening and eye-opening satire not seen since Rod Sterling's The Twilight Zone series back in the late '60s. It's hard to follow up the first-time hit, but once again, the chills were as haunting as they were thought-provoking. Horror stories are often known by their nightmare-inducing antagonists. Who's the big baddie in Us? In short…we are. 
Think about it: is there anyone more frightening than ourselves? Who else knows all our fears and weaknesses more than we do? Or hell, the things and people we care about which can then be used to exploit us. If this sounds vague, it's because the twist is ten times more satisfying than anything M. Night Shyamalan ever dished out. But rest assured, it's a must see. 
READ MORE: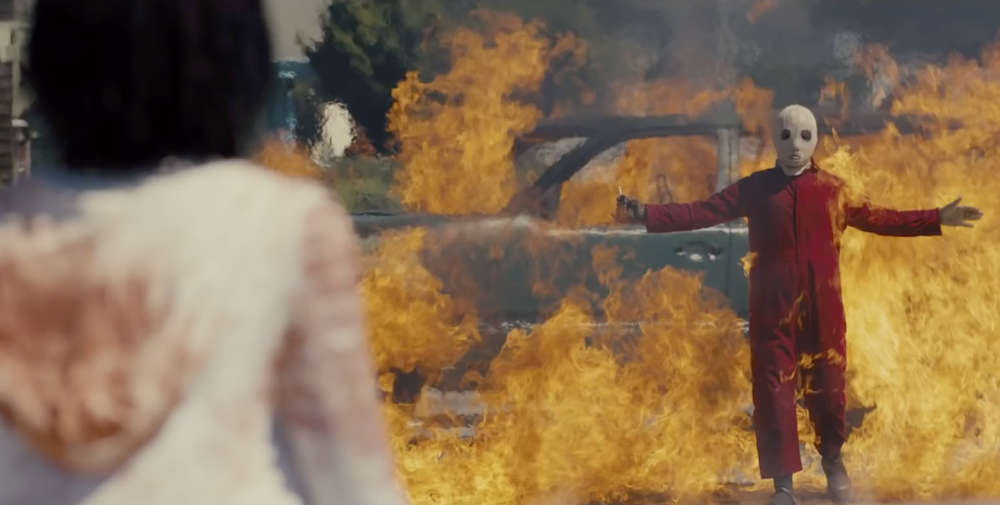 Us cast
Lupita Nyong'o as Adelaide Wilson/Red
Winston Duke as Gabe Wilson/Abraham
Elisabeth Moss as Kitty Tyler/Dahlia
Tim Heidecker as Josh Tyler/Tex
Shahadi Wright Joseph as Zora Wilson/Umbrae
Evan Alex as Jason Wilson/Pluto
Yahya Abdul-Mateen II as Russel Thomas/Weyland
Anna Diop as Rayne Thomas/Eartha
Cali Sheldon as Becca Tyler/Io
Noelle Sheldon as Lindsey Tyler/Nix
Madison Curry as Young Adelaide Wilson/Young Red
Ashley Mckoy as Teenage Adelaide Wilson/Teenage Red
Napiera Groves as Dr. Foster
Lon Gowan as Don
Alan Frazier as Alan/Jeremiah
Duke Nicholson as Danny/Tony
Dustin Ybarra as Troy/Brand
Nathan Harrington as Glen/Jack
Kara Hayward Kara Hayward as Nancy/Syd
How to watch Us
The following are a few venues where you can rent or buy Us. If you want a physical copy, you'll have to wait until June 18, 2019. However, it's available on quite a few platforms to rent or buy digitally right now.

Cost: $19.99 
Devices: Amazon Fire Stick, Fire TV, Fire tablets, and Fire phone; Roku, 

Apple TV

, 

Google TV, TiVo, 

Nvidia Shield TV

, PlayStation 3 and 4, Xbox One, Nintendo Wii
The online retail giant is also one of the premier destinations for online streaming. This is the easiest way to watch Us, no question. If you already have an Amazon account, buying in HD will take seconds, and you can watch it anywhere you stream Amazon Video, from Amazon Fire Stick to Roku.
---

Cost: HD/$19.99, UHD/$19.99
Devices: Samsung Smart TVs, internet browsers, iPad, iOS devices, Roku, Xbox One, 

Google Chromecast

, Android, Visio Smart TVs
Fandango and movies go hand in hand, and not just when it comes to buying tickets online. Plenty of hits and classics are available in the Fandango Now library, along with full seasons of your favorite shows. Us is available on Fandango Now in multiple formats, including 4K. In fact, Fandango Now sports the biggest collection of 4K movies online. If you join Fandango VIP, you can rack up points to spend across Fandango, Fandango Now, and FanShop.
READ MORE:
---

Cost: SD/$19.99, HD/$19.99, UHD/$24.99
Devices: Samsung Smart TVs, Internet Browsers, iPad, iOS, Roku, Xbox One, Chromecast, Android, Visio Smart TVs, PlayStation
Vudu is a no-fuss way to rent movies online if you don't want to bother signing up for anything. There's a massive library of high-quality video content, including 4K movies. There are even piles of movies you can watch free as long as you sit through a few ads. Us is available to buy right now, in SD, HDX, and UHD. You'll have to wait a little longer if you want to rent it.
---

If you happen to prefer streaming on iOS devices, buying Us on iTunes is your best bet. It's not available until June 11, but if you preorder it now you can nab it for only $14.99.
The Daily Dot may receive a payment in connection with purchases of products or services featured in this article. Click here to learn more.