Demetrious "Mighty Mouse" Johnson (29-3-1) is the greatest mixed martial artist who ever lived. For six long years he was such an unflappable force as flyweight champion that the UFC considered shutting down the division out of fear that fans were getting bored with his dominance. His perfection didn't allow for any possibilities—no ascendant underdogs or plausible nemeses. Johnson is the model of a modern mixed martial artist, with world-class ability not just in wrestling, striking, and submissions, but, more importantly, in blending them together, like they were primordial elements waiting all these millennia to be reunited.
At 33 years old, Johnson—who is fighting Danny Kingad in ONE Championship Century on Saturday night in a bout you can stream on B/R Live—is still in the prime of his athletic life. And yet, as of October 2018, the greatest fighter in history is no longer fighting in the biggest MMA promotion in the world.
In no other sport but MMA could one even imagine such a thing happening: a superstar of Johnson's caliber in the prime of his career toiling away in relative obscurity, far from the lights of the major leagues. Imagine LeBron James leaving the NBA to play in Spain or Lionel Messi captaining a soccer team in Russia. That's how strange it is that Johnson fights for anyone but UFC.
But to hear Johnson tell it, when he was, for all intents and purposes, traded by the UFC to the Singapore-based promotion ONE Championship for welterweight contender Ben Askren last year, it happened with his blessing. After all, Johnson had done all anyone could ever do during his time in the UFC. He had driven his division into near extinction and beaten everyone he'd ever fought at 125 pounds. There was nowhere else for him to go, nothing left to accomplish. Even losing his belt to Olympic gold medalist Henry Cejudo in his final UFC fight couldn't take the shine off Johnson's legacy.
Plus, Johnson considers himself a martial artist of the old school. In his soul, he's a traditionalist, enamored with all the talk of honor and respect and quiet mastery that is so at odds with the promotional demands of a multibillion-dollar American behemoth like the UFC, which is always looking for champions with fast mouths as well as fast hands. So Johnson decided to try his luck in Asia, the ancestral home of traditional martial arts and the spiritual home of MMA. Don't forget, the great Japanese Pride promotion was putting on MMA events for 90,000 people back when the UFC was still slogging it out in regional mini-arenas, pining for mainstream legitimacy.
So Johnson went to ONE, where he now stands on the cusp of winning the promotion's flyweight grand prix tournament and a chance to challenge current champion Adriano Moraes. All that stands in the way of his inevitable rise is Kingad (11-1), a relatively unknown and unheralded kickboxer from the Philippines who is about to take a giant leap up. Kingad is a good fighter, with only a single loss on his record (that to Moraes), but he's young and inexperienced—Johnson was already two years into his UFC title reign when Kingad had his first fight—and never in his life has he had to contend with anything like fighting Demetrious Johnson, not his talent nor the attention the contest will bring or the sheer enormity of the spectacle.
Many great fighters have wilted in the face of Johnson's skills and the glaring light of his reflected legend. Can young Kingad handle the moment? Or will he get drowned?
Here's everything you need to know to watch Johnson vs. Kingad.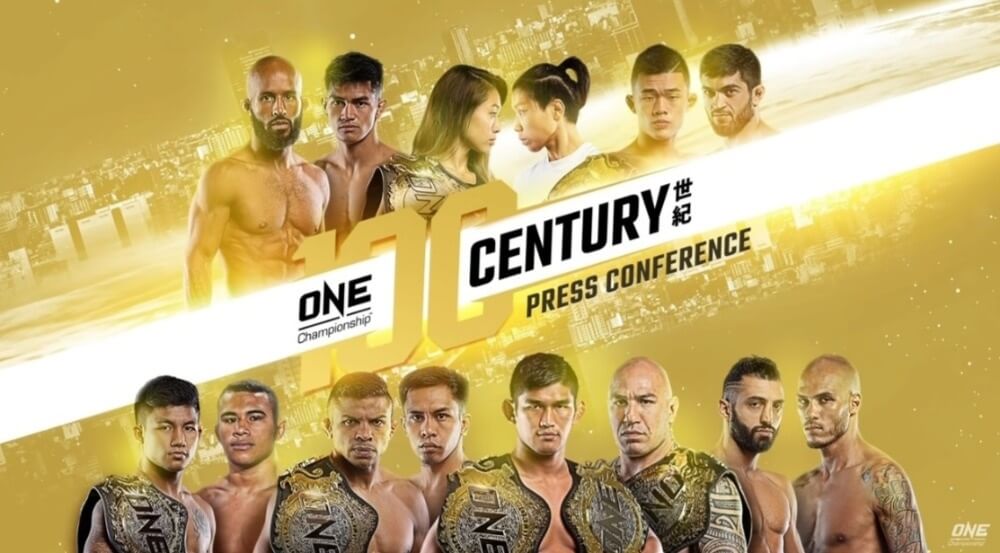 ONE Championship Century: Demetrious Johnson vs. Danny Kingad
When: Saturday, Oct. 12 at 8pm ET
Where: Ryogoku Kokugikan, Sumida City in Tokyo, Japan
Streaming: B/R Live
Demetrious Johnson vs. Danny Kingad: Watch ONE Championship Century
If you've cut the cable cord, one way to stream Johnson vs. Kingad is through B/R Live, the Bleacher Report website's live streaming service that shows everything from international soccer tournaments to national lacrosse events. It also broadcasts replays of the Dan Patrick Show and the Rich Eisen Show, along with plenty of events from ONE Championship.
B/R Live is available on Roku, Apple TV, Amazon Fire Stick and Fire TV, desktop browsers, and iOS and Android devices.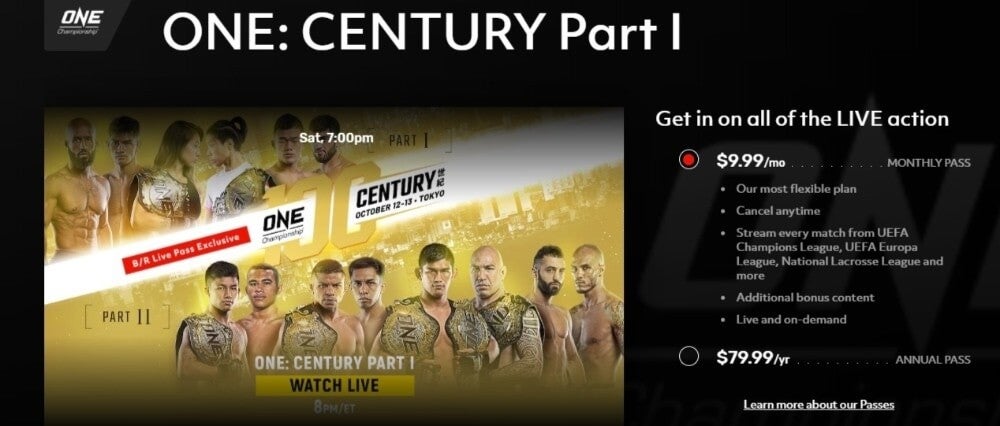 But there's another way to take in ONE Championship on Saturday night. Beginning at 11pm ET, fans can watch two hours worth of live matches on TNT. Even if you exclusively stream your TV content, you can still find TNT on a variety of services.
Cost: $44.99 for your first month and $54.99 per month thereafter 
FuboTV devices: Roku, Apple TV, Amazon Fire, Android TV, iOS and Android devices
Local channels: ABC, Fox, NBC, CBS, the CW (in some markets) (check local availability here)
Cost: $44.95 per month 
Hulu devices: Roku, Apple TV, Google Chromecast, Amazon Fire Stick and Fire TV, Xbox One, Xbox 360, Nintendo Switch, and iOS and Android devices
Local channels: ABC, CBS, Fox, NBC, the CW (check your local availability here)
Cost: $49.99 per month 
YouTube TV devices: Google Chromecast, Roku, Apple TV, Android TV, Xbox One, iOS, and Android devices
Local channels: NBC, CBS, Fox, ABC, the CW (enter your ZIP code here to check your availability)
ONE Championship Century live stream schedule
Angela Lee vs. Xiong Jing Nan
Demetrious Johnson vs. Danny Kingad
Janet Todd vs. Ekaterina Vandaryeva
Christian Lee vs. Saygid Guseyn Arslanaliev
Yuya Wakamatsu vs. Dae Hwan Kim
Sam-a Gaiyanghadao vs. Daren Rolland
Yushin Okami vs. Agilan Thani
Itsuki Hirata vs. Rika Ishige
Senzo Ikeda vs. Lito Adiwang
Phoe Thaw vs. Yoon Chang Min
Sunoto vs. Kwon Won Il
For a year-round sports fix, sign up here to receive our weekly boxing newsletter. You'll hear about all the biggest fights and best knockouts from the Daily Dot's streaming sports guru Josh Katzowitz.
The Daily Dot may receive a payment in connection with purchases of products or services featured in this article. Click here to learn more.