This past February, Matt Mitrione (13-6-1) and Sergei Kharitonov (28-6-2), two imposing heavyweights who routinely nudge up against the weight limits of MMA's largest division, met in the Bellator cage for what would no doubt be a thrilling, bruising, back-and-forth brawl for those who streamed it on DAZN.
Between them, they had 56 fights on their professional records, 47 of which were decided, win or lose, by knockouts or submissions. All Mitrione and Kharitonov did was end fights or get ended in them. Surely it would be no different when they fought each other.
That night, however, all assurances were quickly smashed to pieces. The very first strike thrown, an inside leg kick from Mitrione, missed Kharitonov's inner thigh and smashed instead into his groin with a thud so powerful it was audible even over the cheers of the crowd. Kharitonov collapsed in pain, and after a few excruciating minutes during which doctors tried their best to attend to him and viewers were treated to repeated slow-motion replays of the illegal strike, the referee was forced to call off the fight with a no contest.
Luckily, the rematch between the two will occur Saturday night at Bellator 225 on DAZN.
Kharitonov was rolled onto a stretcher and carried back into the dressing room, Mitrione lugged himself contritely out of the cage, and just 15 seconds into its main event, Bellator 215 died with a whimper.
This is an agony peculiar to MMA fighters. It's the kind of heartbreak that can only come from dragging yourself through an exhausting 10-week training camp, denying yourself all the pleasures that make life bearable, cutting pounds of fat and water from your body, enduring bottomless boredom and mindless repetition—all while praying that you avoid an injury. Then, you walk into a cage to face the person you've been obsessing about for months and have all your dreams dashed in a matter of moments by a single mistake. Next thing you know, instead of celebrating your victory at a local nightclub, you're being treated in a local hospital, mourning not only the fight but all the lost months leading up to it. All that buildup, all that anticipation and anxiety and hope, for nothing.
This was particularly true for Kharitonov. He turned professional when he was just 17 in 2000, and, over the course of a career spent in countless promotions and countries with numerous peaks and valleys, had grown accustomed to the pain of losing. He probably never experienced the agony of meaningless disappointment. And things were no better for Mitrione, who, despite having caused the offending injury, also saw all his months of hard work and sacrifice dashed in a moment of carelessness. That it was his carelessness surely only made things worse, especially since he had seen his promising NFL career ruined by injuries before it really began. Both men would have been better off risking their lives in a cage than watching helplessly as those 15 seconds spun into six months and they wasted away in inactivity. This is a philosophy that fighters live by: The agony of nothing and what might have been are far more destructive than the pain of physical confrontation. One destroys the body, but the other eats the soul.
But sometimes what the MMA gods take away they give back. And this Saturday they're giving  Mitrione and Kharitonov a second chance to cause each other pain. Not the meaningless pain of their first fight, but a pain that's full of possibility. The kind of pain that makes you believe in something.
Here's everything you need to know to watch Bellator 225 and the Mitrione vs. Kharitonov live stream on DAZN.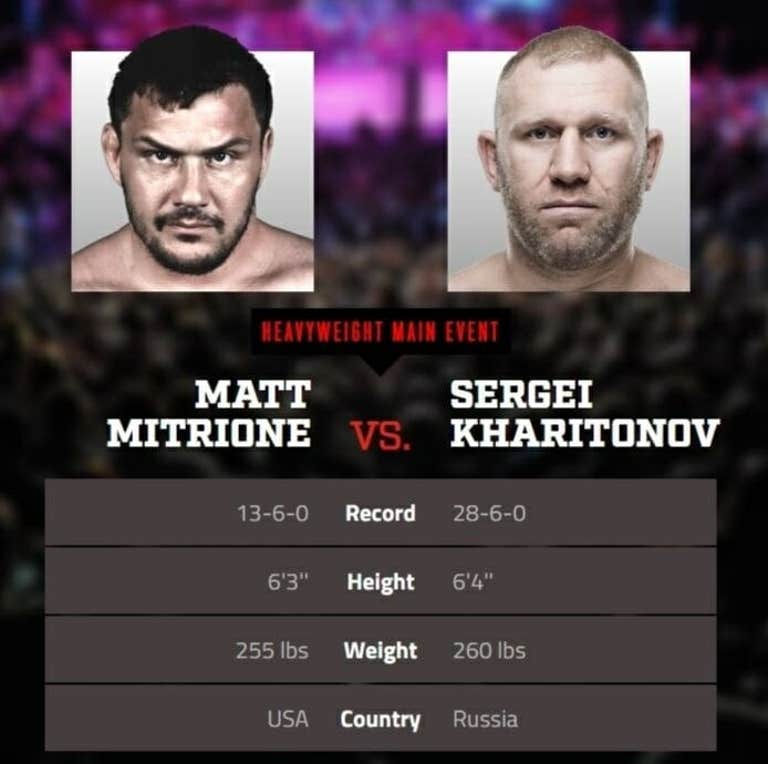 Bellator 225: Matt Mitrione vs. Sergei Kharitonov 2
When: Saturday, Aug. 24 at 9pm ET
Where: Webster Bank Arena in Bridgeport, Connecticut
Streaming: DAZN
If you have cable TV, you can watch the Bellator 225 card on the Paramount Network. But if you've cut the cord, DAZN is the way to live stream Mitrione and Kharitonov. A subscription to DAZN costs $9.99 per month or $99.99 for a year, and it's been a great resource for combat sports fans.
DAZN was introduced to U.S. audiences in September 2018, and since then, it's showcased all of Bellator's biggest events along with featuring some of the most popular boxers (Canelo Alvarez, Gennady Golovkin, and Anthony Joshua) and that sport's rising stars (Regis Prograis, Devin Haney, and Vergil Ortiz Jr.). With the two combat sports combined, DAZN is showing more than 100 fight cards per year.
DAZN works with Roku, Apple TV, Amazon Fire Stick and Fire TV, Xbox One, PlayStation 4, and both iOS and Android phones. All you have to do is download the DAZN app and log in with your subscription credentials. You can also stream via computer browsers Chrome, Firefox, Safari, Edge, Internet Explorer, and Opera. (You can read our full DAZN review here.)
Bellator 225 live stream schedule
All times ET.
Main card | 9pm ET on DAZN
Matt Mitrione vs. Sergei Kharitonov
Vitaly Minakov vs. Javy Ayala
Alejandra Lara vs. Taylor Turner
David Rickels vs. Yaroslav Amosov
Tyrell Fortune vs. Rudy Schaffroth
Prelims | 5:45pm ET on DAZN
Khonry Gracie vs. Oscar Vera
Aviv Gozali vs. Eduard Muravitsky
Grant Neal vs. Alpha Toure
Sabah Homasi vs. Micah Terrill
Austin Vanderford vs. Joseph Creer
Timothy Johnson vs. Azunna Anyanwu
Ricky Bandejas vs. Ahmet Kayretli
Mike Kimbel vs. Chris Disonell
Nick Newell vs. Corey Browning
Kastroit Xhema vs. Connor Dixon
Jon Manley vs. Thiago Rela
For a year-round sports fix, sign up here to receive our weekly boxing newsletter. You'll hear about all the biggest fights and best knockouts from the Daily Dot's streaming sports guru Josh Katzowitz.