Netflix's original animated series Super Monsters returns just in time for Halloween with its second season. The show mixes wholesome values into its stories, while emphasizing having fun. So, in that regard, it's just like nearly every other kids' show.
Super Monsters is about the children of the world's best-known monsters as they get ready for kindergarten. Frankie, Drac, Katya, Lobo, Zoe, Cleo, and Spike make up the Super Monsters crew and they're an amusing bunch. If your little ones are into Paw Patrol, PJ Masks, and the other usual suspects, they'll be just as taken by Super Monsters.
In addition to the second season, Netflix has also released a special Halloween-themed episode, Super Monsters Save Halloween. While story continuity isn't a concern for these kinds of shows, this special offers a good place to jump in. It's a good introduction, as well as Halloween in general. The episode is about the monsters celebrating Halloween and sharing their excitement with a friend, Albert, who is scared by the holiday. Albert, like many young children, is afraid of the holiday's trappings and does not like being scared. So the monsters go above and beyond to help Albert so that Halloween doesn't have to be scary. They also help the show's young audience get a safe, non-scary introduction to the fun of Halloween.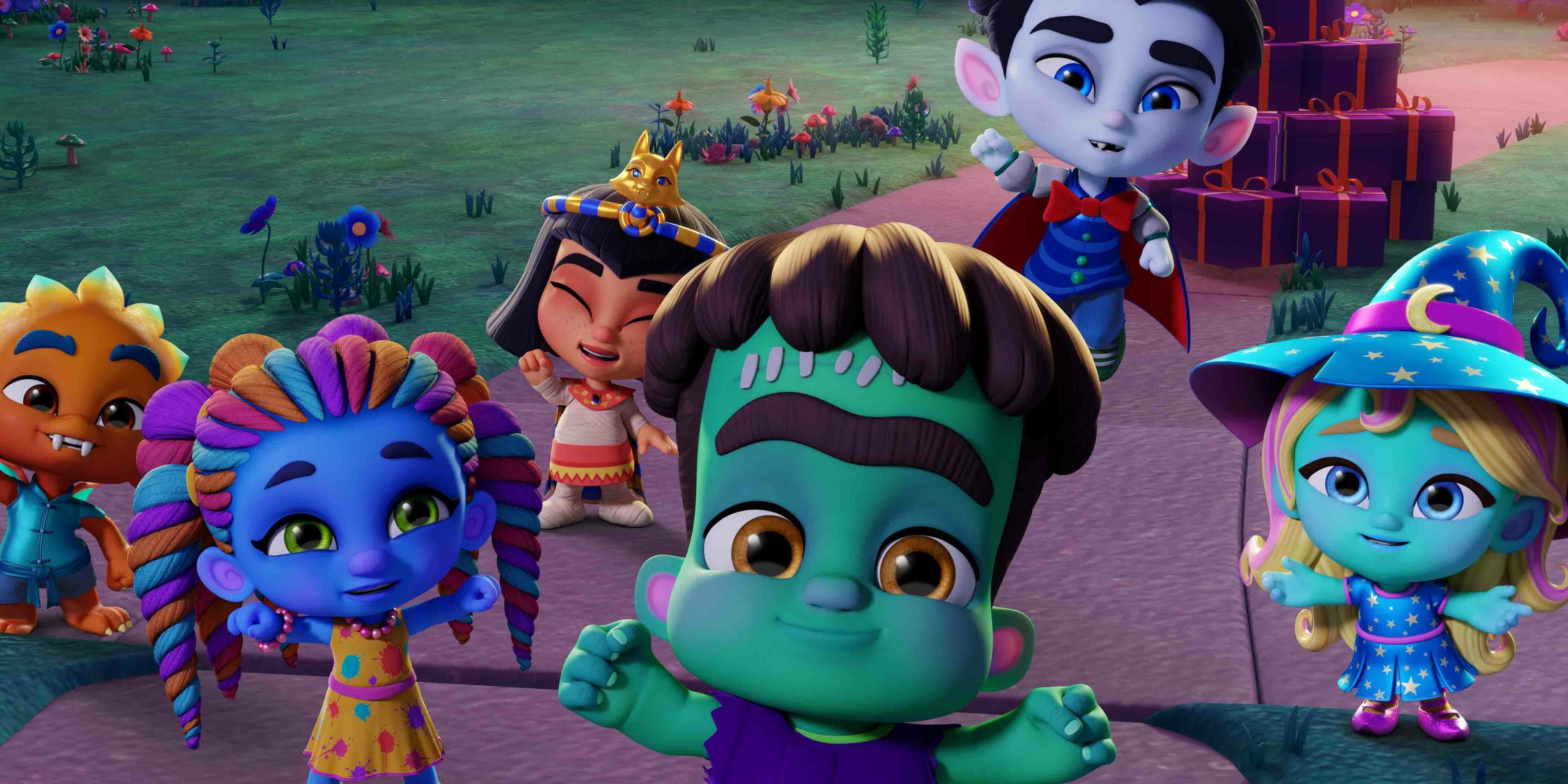 It's a fine representation of the show as a whole. The themes of community, inclusivity, and helping each other are the types of things kids can't hear often enough. Super Monsters Save Halloween is a great way to help introduce kids to the concept of Halloween in a way that encourages curiosity. The special doesn't hide from the spookiness of Halloween, either.
Watching with my kids, I appreciated the way the special handled the balance. Speaking from experience, it can be a crutch to tell my kids they don't have to do something if they don't like it. Instead of nurturing their curiosity, I can be too quick to let them off the hook. What I need to work on is doing a better job of explaining why it's OK for other people to like things that you don't. I appreciated how the monsters explain to Albert why they enjoy the creepy things. Then they turn it into something fun for Albert. Sharing the things you enjoy with friends is one of life's simplest pleasures. Watching kids learn to do this is downright magical.
I can't remember how exactly my kids got into Halloween (it's their favorite holiday). I just know that they love walking around the neighborhood looking at the decorations. They also love to walk around store displays and jump at everything that screams or yells boo! And they've only been into Super Monsters for a couple months—get ready for your kids to explain the various monsters and why they aren't so scary IRL. 
Super Monsters, and Super Monsters Save Halloween, is a good gateway vehicle for any parents looking to help ease their kids into Halloween. Even if your kids aren't big on the holiday, the show is still a worthwhile source of edu-tainment. Plus, anything that breaks up the Paw Patrol marathons is a welcome relief.
Still not sure what to watch tonight? Here are our guides for the absolute best movies on Netflix, must-see Netflix original series, documentaries, docuseries, and movies.
Need more ideas? Here are our Netflix guides for the best war movies, documentaries, anime, indie flicks, true crime, food shows, gangster movies, Westerns, and movies based on true stories streaming right now. There are also sad movies guaranteed to make you cry, weird movies to melt your brain, and standup specials when you really need to laugh. Or check out Flixable, a search engine for Netflix.