The streaming wars have left consumers with plenty of options—but not a ton of variety. Services tend to be either free or require a subscription, with little middle ground. That's why we regularly turn to Vudu. What is Vudu? Why, it's the best of both worlds. Here's how to stream Vudu.
Originally launched as a streaming video rental service, Vudu has become a streaming catch all for media fans. Offering affordable video rentals up to 4K and free streaming content, Vudu has a little bit of everything.
Why do you need Vudu, how does it work, and what does it cost? Here's everything you need to know before breaking out your wallet.
What is Vudu?
Vudu is a digital video-on-demand service currently owned by Fandango. For over a decade, it has offered a simple way to rent digital TV and movies from home.
In 2016, Vudu added an ad-supported free steaming service similar to Crackle to its app. Now, Vudu offers a staggering streaming library that sets apart from competitors whether you pay or watch free content.
New releases—along with new catalog titles from across film history—are added every week for sale and rental. Vudu also offers early access to movies before they hit other digital storefronts.
Movie selections aren't limited to blockbusters; they include small indie titles as well. In fact, Vudu's "Still in Theaters" section is a godsend to indie cinema fans who live far away from an art house.
For viewers looking to save money, the free section provides thousands of ad-supported movies and TV series to watch.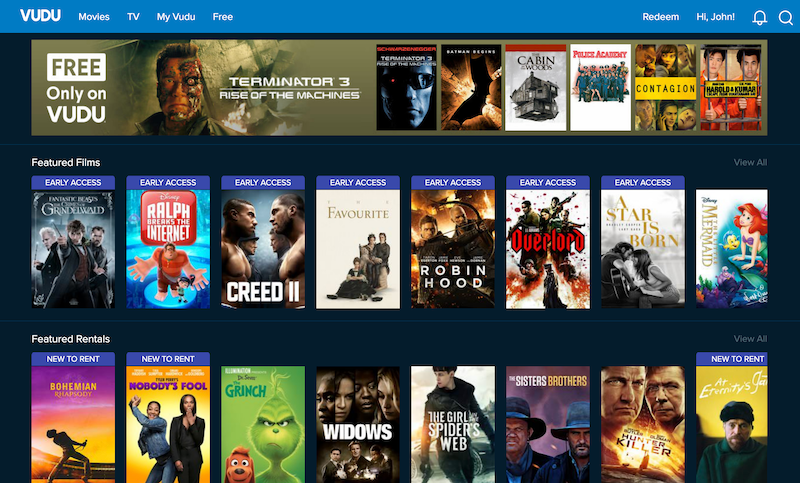 How does Vudu work?
Vudu separates its content by Movies, TV, and Free content. On some platforms, like Roku, there are also tabs for Deals and Collection. Deals collect the biggest sales happen on the platform.
The Collection sections offers groups of movies sorted by theme. This is where you'll find movies based around topics like "Black History Month" or "Still in Theaters."
Users browse titles via sliding panels, similar to Netflix and Amazon Prime's interfaces. Users can expand these panels by selecting the "View All" option at the end of the slider to see more titles in the category they're exploring.
It's important to remember while browsing Vudu that the store offers content for sale, for rent, and for free viewing. Sometimes you'll find a title you want to watch, only to discover it's just available for purchase. If you're dead-set on renting, give it a few weeks. Everything is eventually available for rent.
How do you rent content on Vudu?
When you select a title on the service it will give you the option to rent or buy. Once you've selected the rental option you'll be asked to pick the video quality of your stream.
Vudu supports up to 4K Ultra HD video (if your internet is fast enough to handle it). Video content comes in standard definition (SD), high definition (HDX), and 4K Ultra HD (UHD).
For new releases, Ultra HD releases can sometimes cost more than standard HD. Usually the difference isn't more than a few dollars, but you should take note.
After paying for a rental you have 30 days to watch it before your rental expires. Once you start watching, users have 24 hours to finish the title before it gets deleted.
How do you watch free movies and TV on Vudu?
All of Vudu's free content is clearly marked with a "Free with ADS" banner. If you'd rather rent the movie—either to skip ads or watch in 4K—you can do that. Just make sure to select the Rent option instead of the Watch for Free button.
Free movies and TV is available in HD in most cases, though there are some exceptions. Vudu averages one to three ads per break during a two-hour movie, with roughly three to four commercial breaks per film.
This is where Vudu excels: In total, you'll only see maybe three to five minutes of ads during each movie. That's fewer ads than you have to watch during an hour-long TV show on a paid Hulu subscription.
Some programming, particularly in the TV section, has more advertising. But overall, Vudu has one of the least intrusive ad experiences of any service.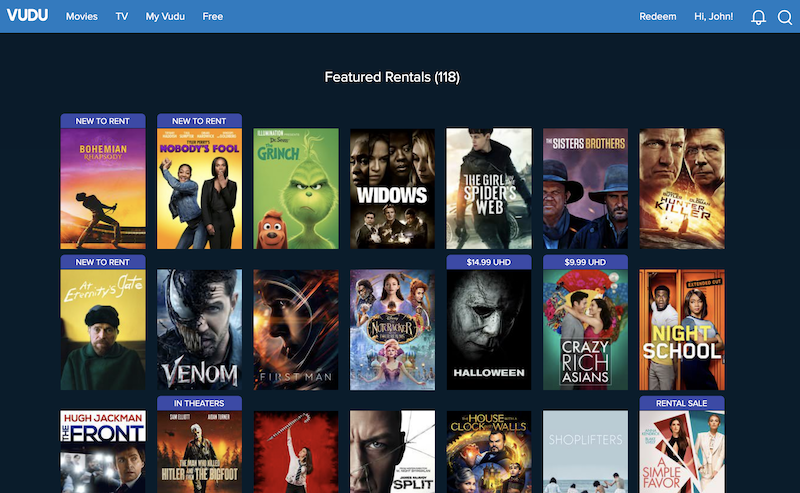 Is Vudu free? How much does Vudu cost?
Yes and no. It's completely free to access Vudu. You don't even need to make an account to browse its content. The content itself comes in two flavors, paid and free. Paid content includes movie rentals and purchases, while Free content is made up of ad-supported streams.
Renting a movie ranges from $3.99 to $19.99 for new theater at home releases. Buying a movie ranges from $9.99 to $19.99.
What is Vudu's free content like?
At press time, Vudu offered around 3,400 free movies and 248 TV series. The free content you'll find is understandably a little dated but still recognizable enough to grab your attention. Movies skew from the '80s to the mid-2000s with titles like Boondock Saints, V/H/S, The Collector, The Love Witch, and more.
The TV section is full of shows worth binge-watching on a lazy Saturday. Diverse titles include Kitchen Nightmares, Beyond Belief…, The Dead Zone, Unsolved Mysteries, and even the anime classic Naruto, Ranma 1/2, and JoJo. We wish there were more sitcoms, but the plentiful episodes of Grounded for Life soften the blow.
How much do rentals cost on Vudu?
Movie rentals for catalog titles on Vudu typically cost between $0.99 and $5.99. The cost of your rental usually depends most on your video quality. However, you'll regularly be able to find UHD video for rent at the same cost as SD and HD titles.
Occasionally, new releases and UHD content are more expensive. This is particularly true for movies that are still in the theater. During the pandemic more titles than ever are making their debut via streaming early access.
Early access titles can cost up to $19.99 to rent, which isn't absurd when you consider the cost of a movie ticket.
How much do movies and TV shows to cost to own on Vudu?
When it comes to buying titles, Vudu offers the same flexibility in pricing as its rentals. Movies cost between $4.99 and $24.99, depending on video quality and if the title a new release.
TV shows are slightly more expensive, particularly episodes. Single episodes cost $1.99 to $2.99 apiece, while full seasons run $14.99 to $45.99.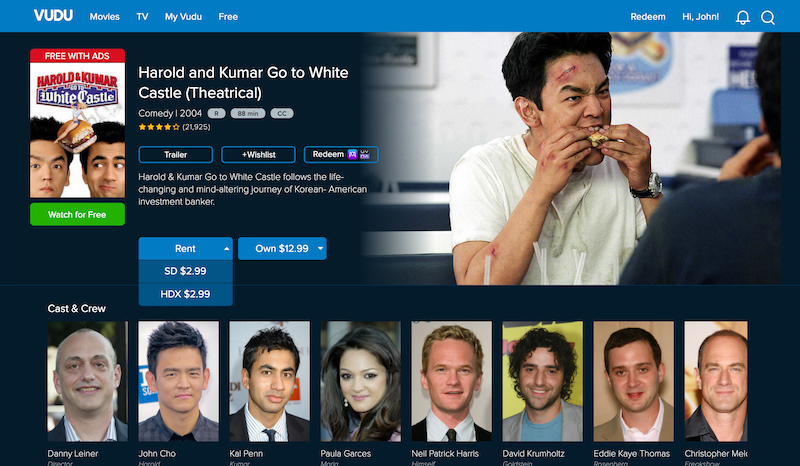 What devices can I stream Vudu on?
One of Vudu's biggest selling points is the sheer number of devices you can use to watch its content. Here's how you can watch Vudu at home.
Smart TVs
Select models of Vizio, Samsung, and LG Smart TVs support Vudu. Check the apps section of your TV to find out if your model offers the service.
Vudu app
Vudu's smartphone app is available on every major mobile platform, so Android and iOS users can download it on any modern device.
Streaming devices
Because it competes with the services of other streaming devices, Vudu isn't available on every platform you might think. Currently, Roku, Apple TV, Tivo, and Chromcast are the only streaming devices Vudu supports.
It can't officially be used on Amazon Fire, because it competes with Amazon's Prime Video service.
Game consoles
If you use your game console as your main streaming source, Vudu is ready and waiting for you. Currently, Vudu offers an app for Xbox 360, Xbox One, PlayStation 3, and PlayStation 4. Nintendo owners are out of luck.
Web browsers
Don't want to download an app? Vudu can be watched on any modern browser. We've tested it on a MacBook in Chrome and Firefox with wonderful results. Make sure you close unneeded tabs and other open windows when you're streaming for the smoothest experience.
Vudu is a no-fuss way to rent movies online if you don't want to bother signing up for anything. There's a massive library of high-quality video content, including 4K movies. There are even piles of movies you can watch free as long as you sit through a few ads. Countless titles are available to buy right now, in SD, HDX, and UHD.
---